Jo Davey is a British travel writer who admits that sometimes a picture really is worth a thousand words. Her travels have taken her across six continents with notebook in one hand, camera in the other, but her favourite place is Japan (which is a good thing, as she's currently writing Bradt's guidebook to Japan's Southwest Islands).
Mesmerised by colour and art since childhood, Jo sees countries through a colourful lens: Morocco is orange and blue, Romania burgundy and white, Japan is shot through with scarlet.
"I'm a bit like a magpie, attracted to pretty or vibrant things. When I started taking photos, I just wanted to capture the colourful side of each country. For me, colours and palettes have a really strong character and feel – much like a country – and the way we experience both are delightfully unique. Now I find it hard to separate a place from its palette."
Jo's photos seek to capture a location's life and vibrance, its hardships and history, through colour. Sometimes these are universally iconic – the Golden Gate's international orange, Santorini's white and blue – while others subvert expectation or are purely personal. Here, she opens up her photographer's paintbox and takes us on a prismatic trip around the world.
Japan
At 17, I exited Asakusa station and came face to face with Tokyo's bright red Sensō-ji temple: my first view of Japan. That scarlet has stuck with me ever since. The country is littered with it – red-bibbed statues in cemeteries, vermillion torii gates tucked away in forests, crimson-lined temples on mountain lakes or in the midst of a metropolis.
Though colour can capture the life of a place, its absence can be similarly striking. A year after the 2011 tsunami, I visited Ishinomaki – one of the worst affected cities in Tohoku. It has a pretty hill-top temple fronted by a mighty stone gate, which towers above the now stripped-bare bay. As I sat on a bench trying to fathom the empty brown landscape below, I captured two locals discussing the devastation and prospects for rebuilding the bay. The torii under which they stood wasn't the traditional scarlet, but grey – one of the few times Japan seemed entirely absent of colour.
The Nansei Islands
The southwest Nansei Islands, once a separate kingdom from Japan, have such a different feel and history to the rest of the country that it should come as no surprise they have a unique palette too. On my first visit I was struck with tropical teals, bougainvillea pinks and sun-bright whites – far removed from the Japan I'd known.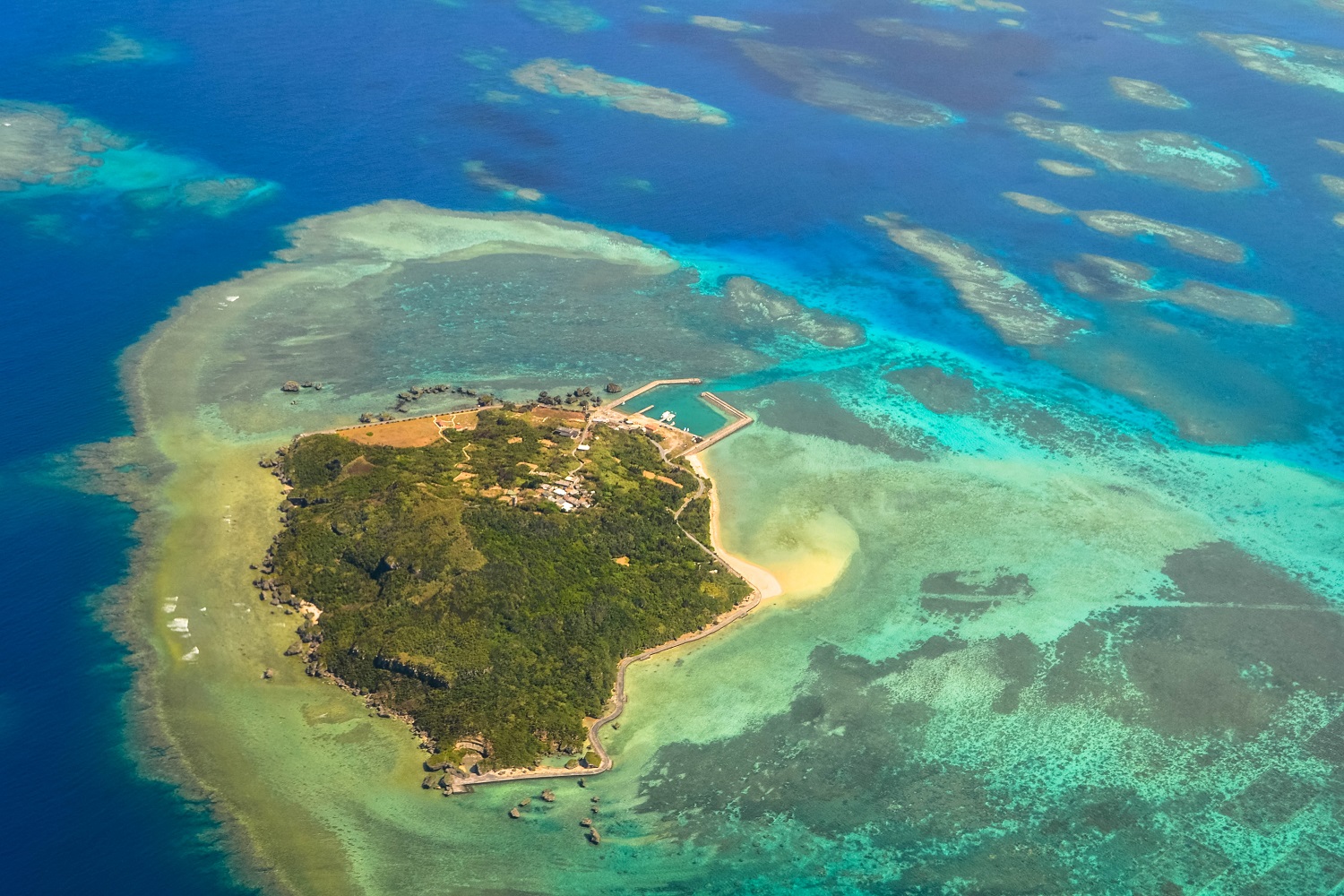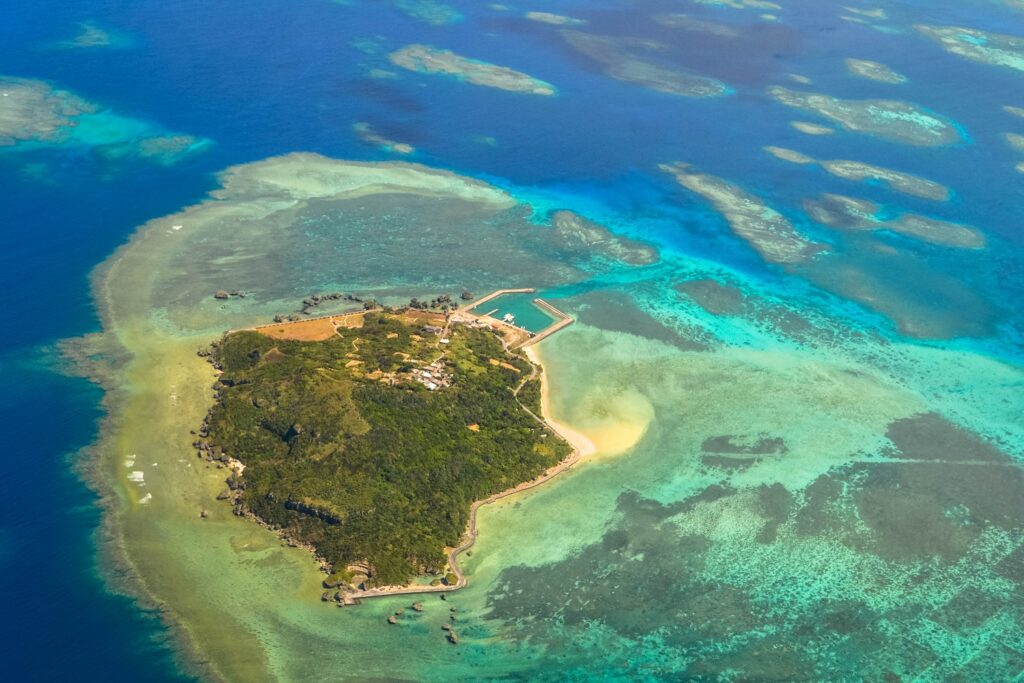 This shot of Ōgami was taken from the window of a small plane as I left the island of Miyako – one of the few times a plane photo has come out well. I've never actually set foot on this island: despite being easily accessible, Ōgami is a mystical, holy place where tourists are allowed, but aren't necessarily encouraged. This photo is on my wall at home, which has made this unexplored island strangely familiar and only adds to its mystery. No one believes this is Japan – which goes to show just how strong our expectations and preconceptions can be.
Morocco
I've taken photos from myriad moving vehicles, but camels, it turns out, are the worst transport for good pictures. Even when standing still they're a rickety nightmare. Needless to say, the majority of my Saharan shoot went straight in the bin, but a few photos thankfully survived the dromedary disaster zone.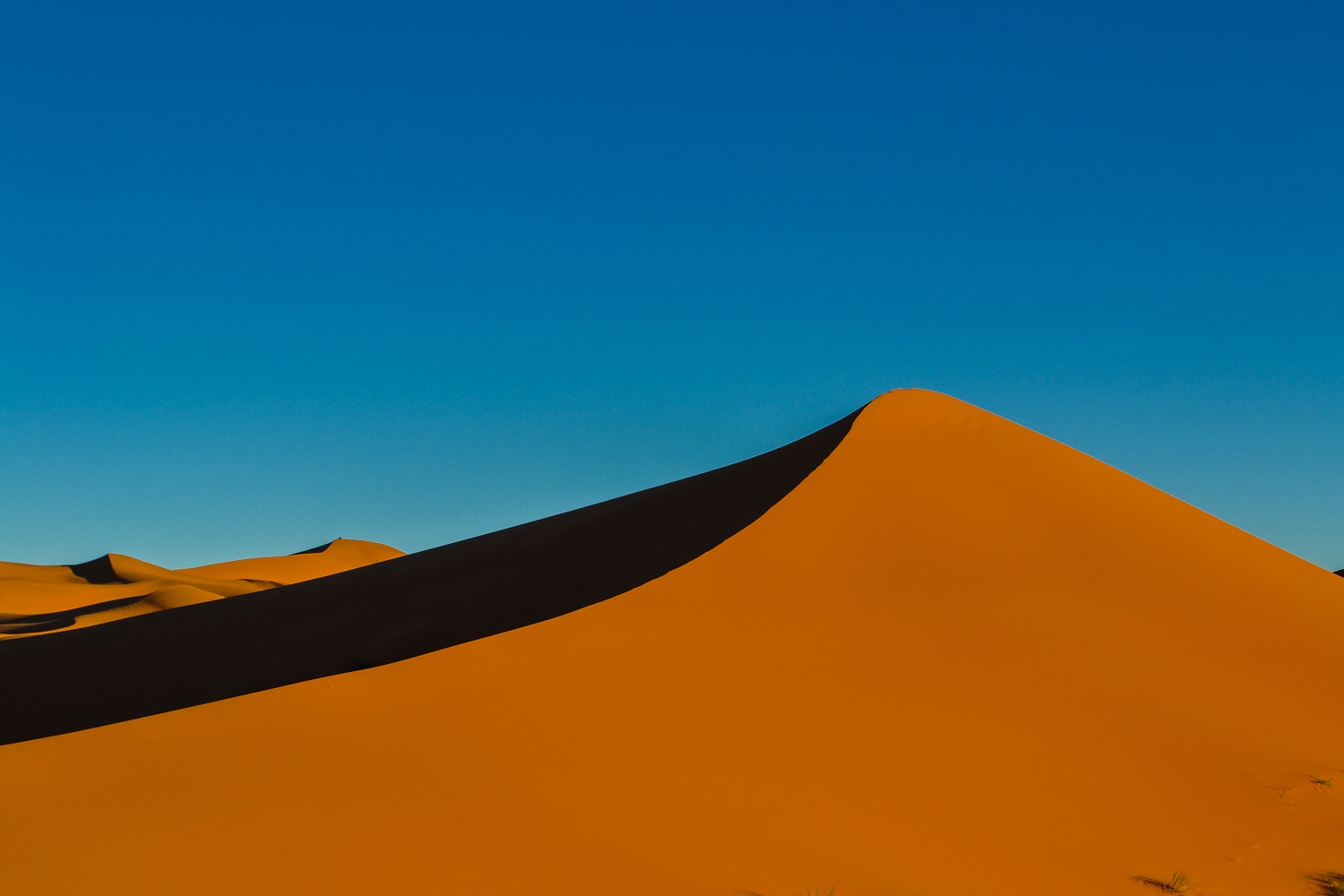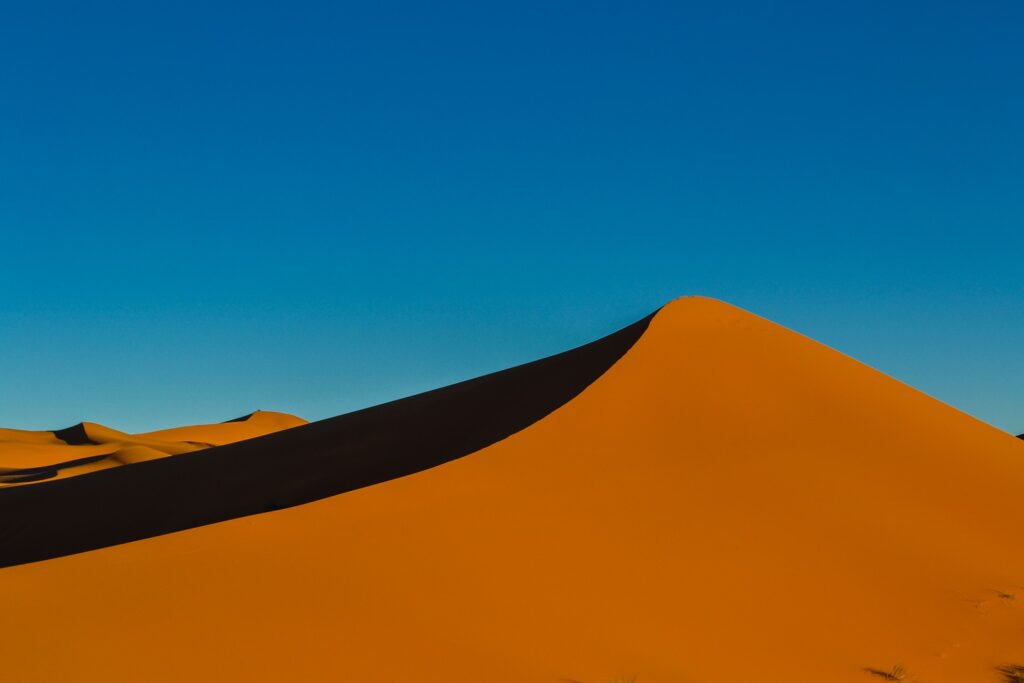 I had been in the Atacama a few months prior to my Moroccan trip, and the Sahara was a vast sight different from the rugged, purple-pink Chilean plateau. Here, smooth tangerine sand dunes sloped up into a painfully blue sky, cutting it clean across before disappearing into thick black shadows. Though the dunes disappeared far into the horizon, the crisp lines of wind-whipped sand made the whole scene look 2D, like a Matisse paper cut-out.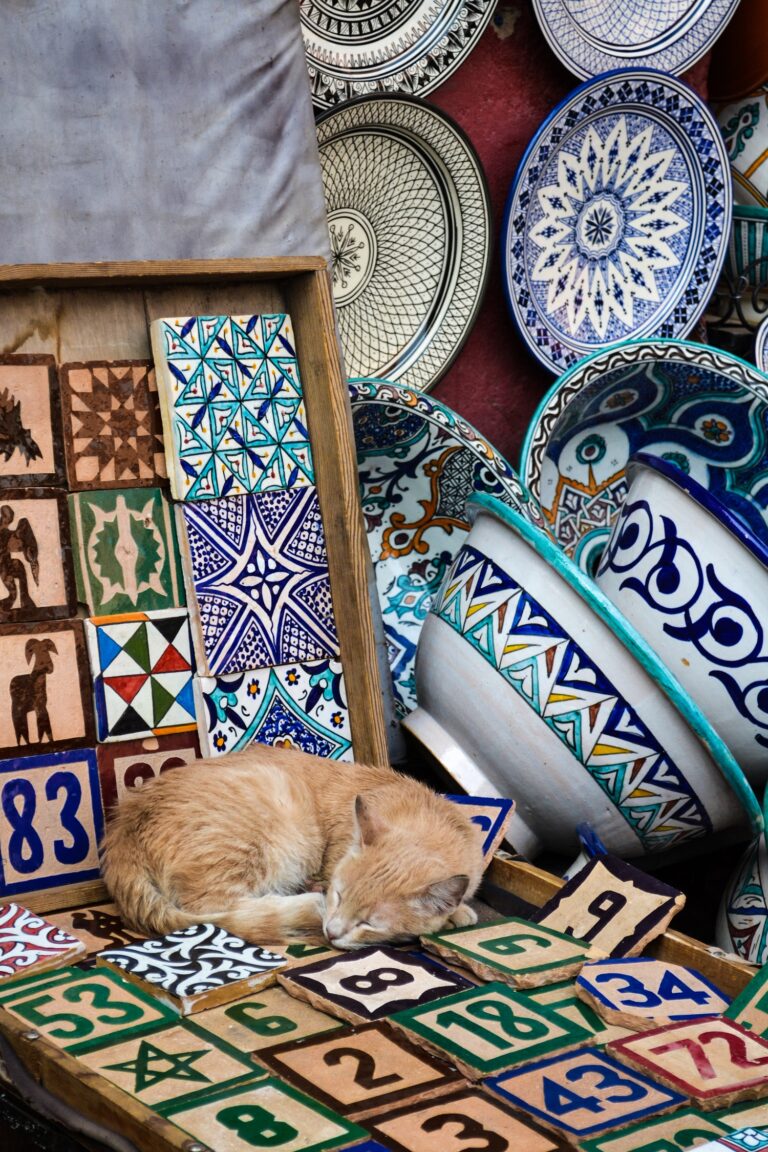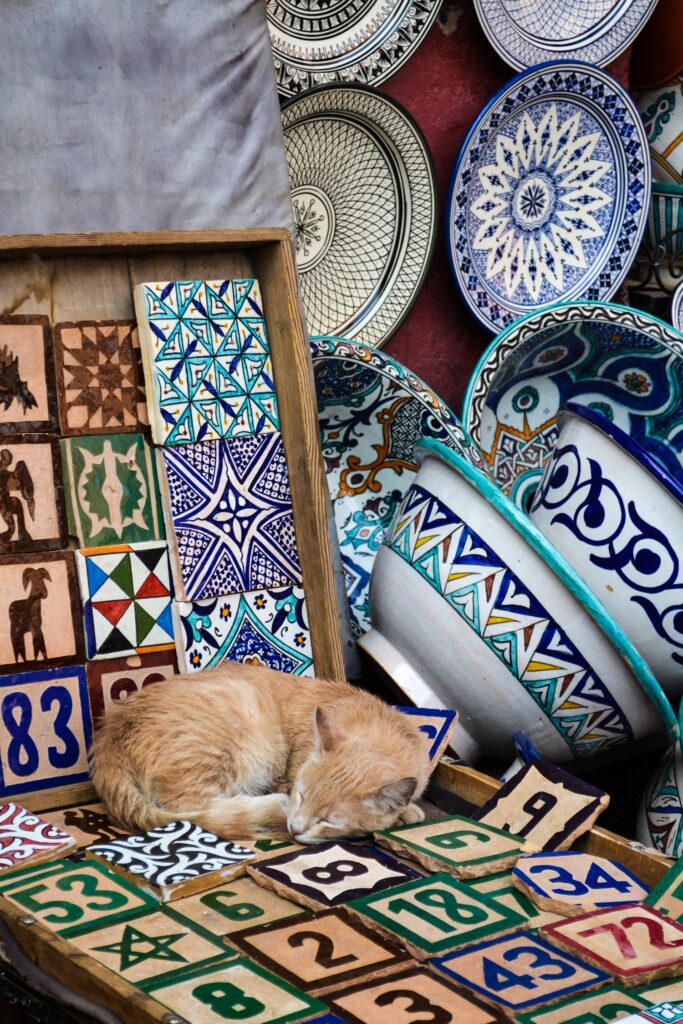 Wherever I went in Morocco, the blues and oranges kept cropping up: terracotta kasbahs, indigo oases, souks with salmony walls and vendors selling piles of deep lapis pigment. Even the ginger kitten napping in some hand-painted tiles was in-keeping with Morocco's colour scheme.
Scotland
Scotland is green. Viridian, emerald, olive, forest and fern – every shade under the shrouded sun, but most definitely green. It's as if the colour is trying to escape from the brown crags and grey cliffs like Playdough from a press.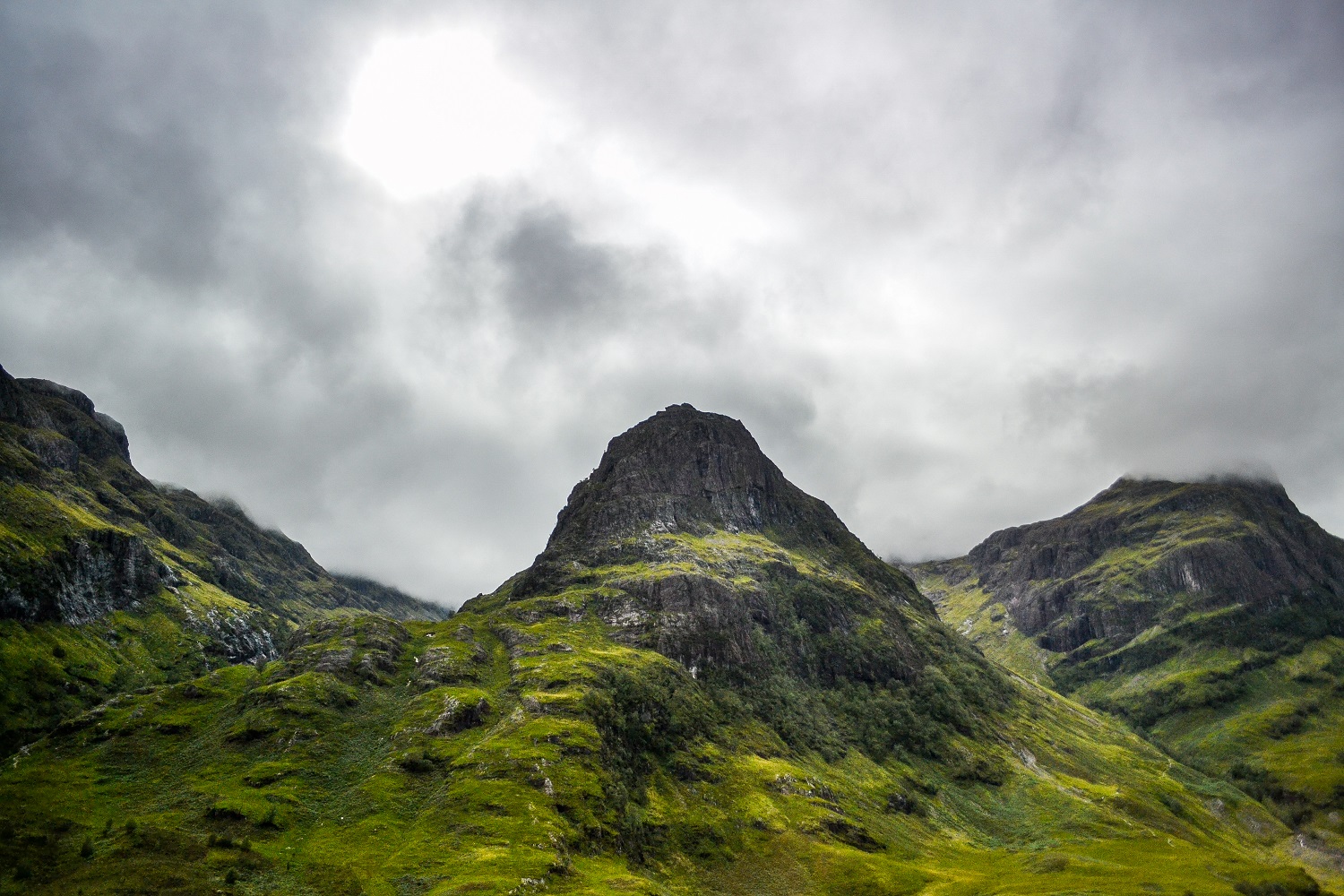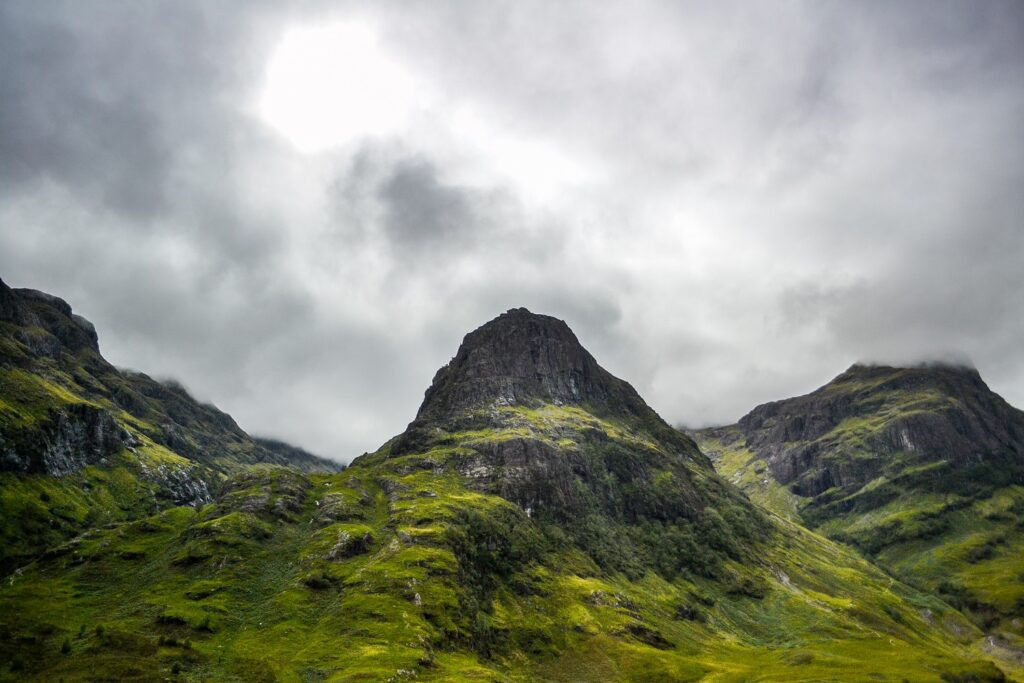 I travelled the Highlands in autumn so ominous clouds were plentiful, but the steely sky helped balance the overwhelmingly jade colour scheme. This photo of the Three Sisters peaks in Glencoe, with rain-laden clouds ready to burst above the moss, is a tribute to Scotland's green and grey.
Malaysian Borneo
I'd dreamt of going to Borneo ever since I read about it in a childhood book. Needless to say, expectations were high when I travelled to the Malaysian side of the island, but it didn't disappoint. I fell in love with the vibrancy of the Sarawak city, Kuching, and the jungles of Gunung Mulu, near the Bruneian border.
The vivid playground of Kuching's food markets, mosques and riverside were a stark contrast to the dark, dense jungle. Exploring the national park at night made for tricky photography – especially with my beloved but ageing camera – but every so often the black would give up some colourful secrets.
Flores, Indonesia
I'm not a portrait photographer, but I couldn't leave the village of Bena without getting a photo of this striking grandmother. She had been watching over her grandson while her daughter wove traditional turquoise and orange ikat on a handheld loom.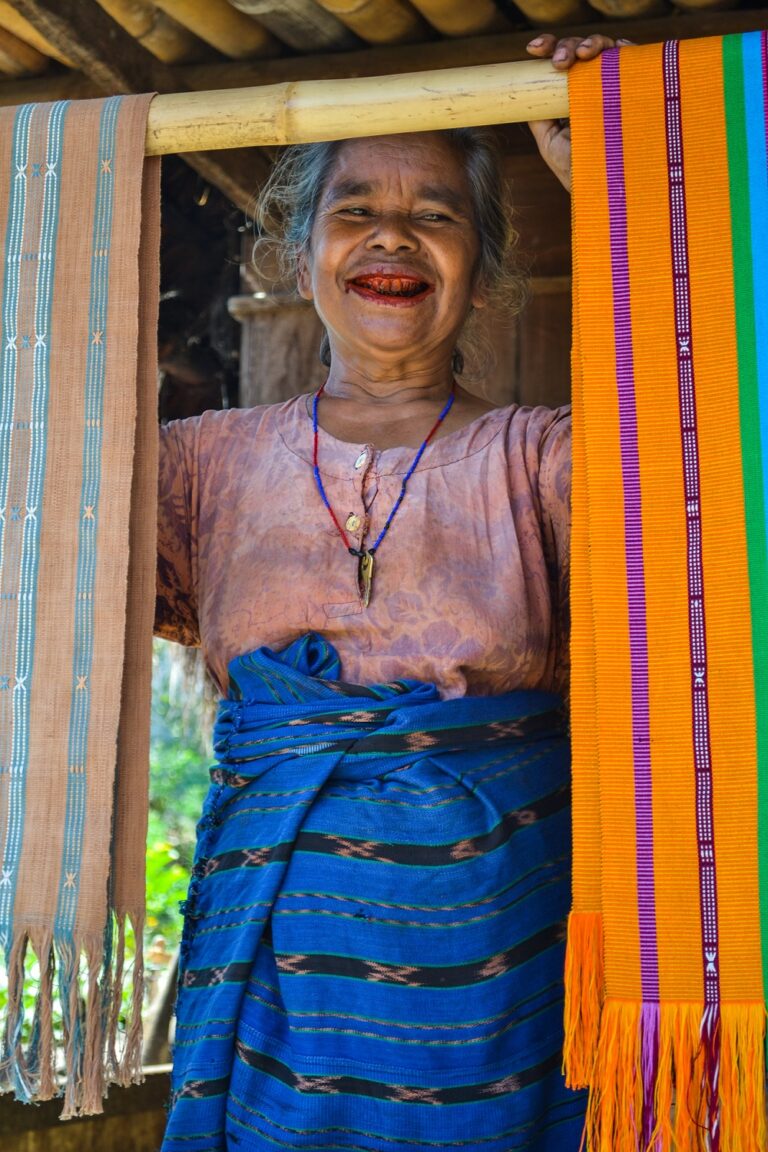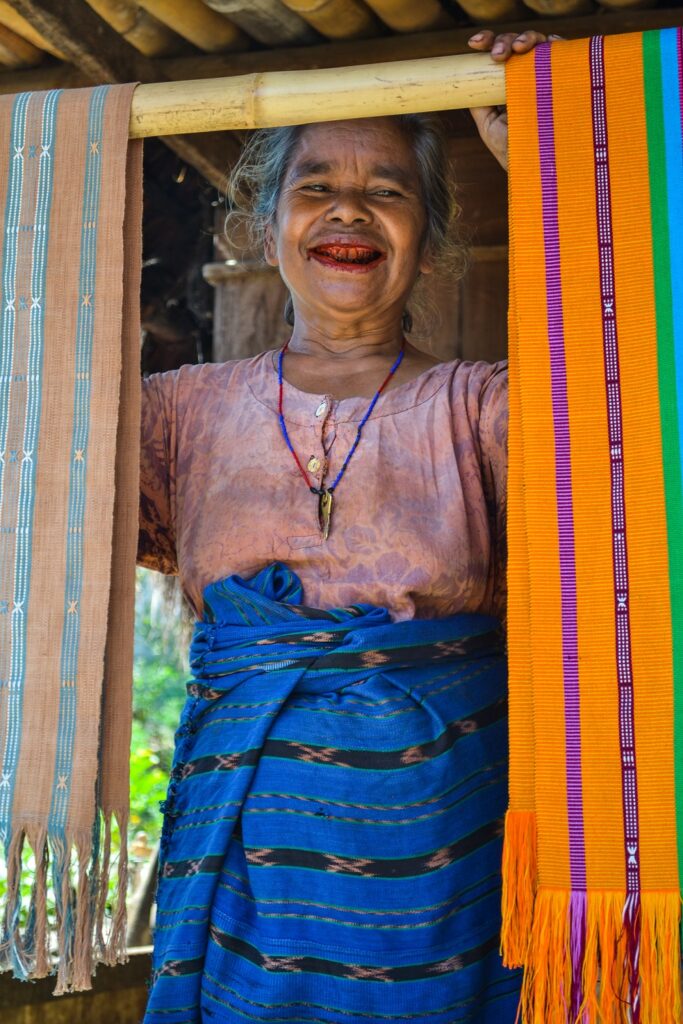 Her mouth is the result of the betelnut, which has been chewed in Asia for centuries. It produces a caffeine-like high and is said to have medicinal properties, and in some countries women with betel-stained teeth are considered beautiful. Unfortunately, the nut is now known to be carcinogenic and governments are trying to crack down on its use.
For some, these blood-red teeth are far from attractive but I can't help but find that deep, rich crimson stunning. Framed by the bright orange and cyan handiwork of her daughter, this matriarch was more than happy to show off her garnet grin, matched perfectly by the beads in her necklace.
Costa Rica
When I visited Costa Rica in 2014, we landed in the middle of the World Cup quarter finals and Los Ticos were playing Greece. The radio in our airport taxi kept us abreast of the score as we passed overflowing San José streets and cafés, flooded with flags and kits of red, white and blue. By the time we reached our hostel, it had gone to penalties. When Costa Rica – who claim to be the biggest football fans in the world – won, we were hurried out into the streets by the owner, who brooked no opposition. Thankfully, I remembered my camera.
The sea of red was staggering. Thousands gathered to celebrate and we were towed along with the crowd – an hour into our trip, jet-lagged, out-of-place and agog. The party lasted all night (we did not) and though we spent nearly a month travelling the country's incredibly colourful landscapes, Costa Rica will forever be in my mind a patriotic sea of red, white and blue.
Chile
Stretching down South America's west coast, Chile is a traveller's smorgasbord. The sheer length of it means that each area could well be a different country in its own rights – and each certainly had different colours.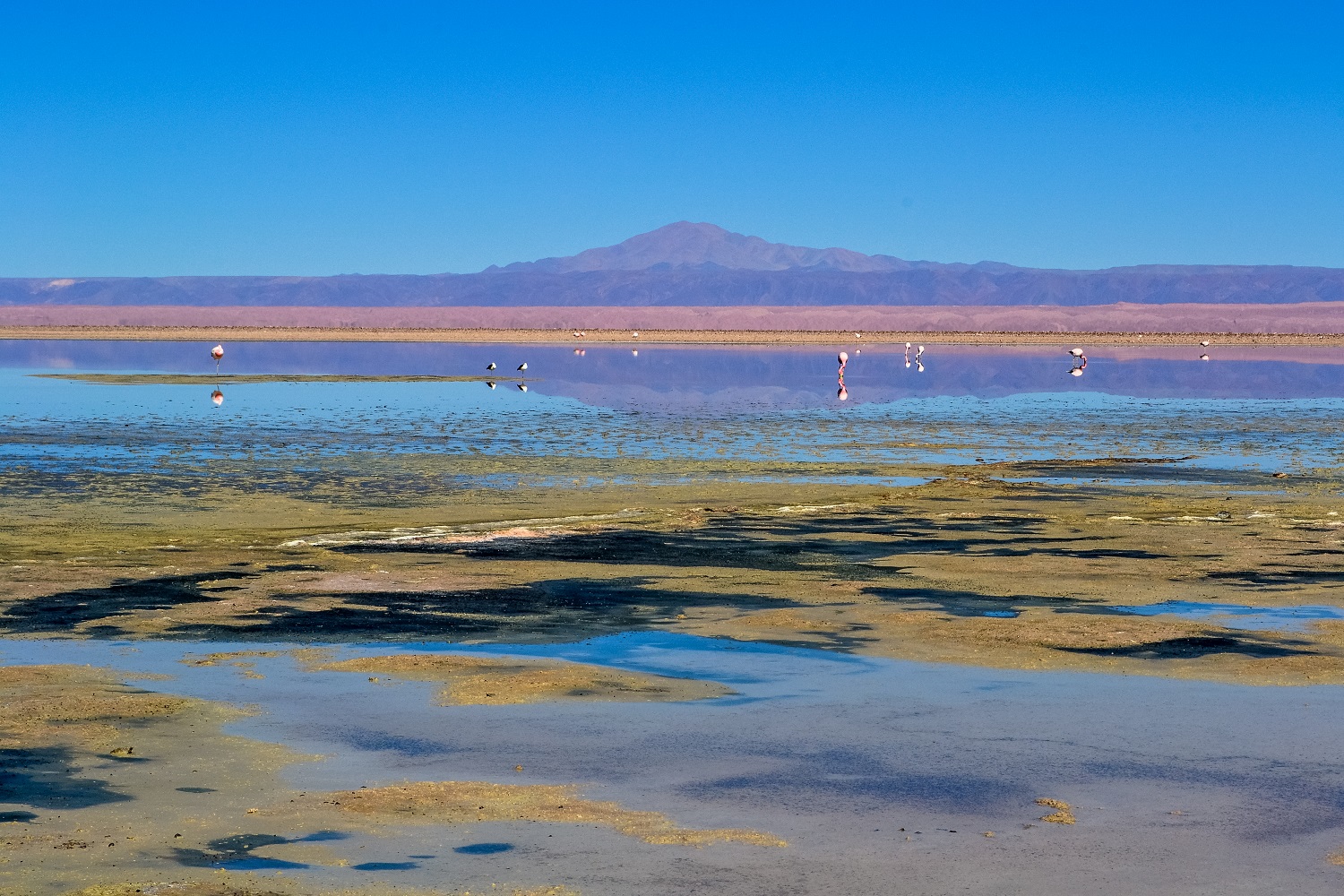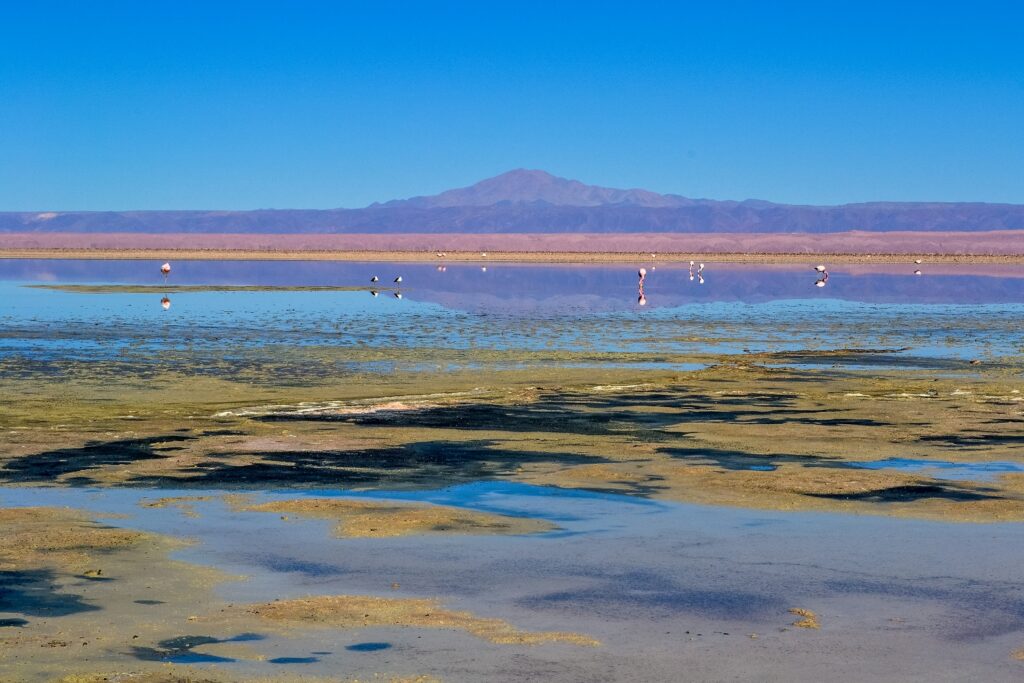 The Atacama Desert in the north was a remarkable palette of purple, pink and yellow; a perfect complement to its pale-pink residents, the Andean flamingos, who forage in the Salar de Atacama waters. It wasn't the easiest place to capture, as blistering sunlight bounced off searing white salt and blew out shots.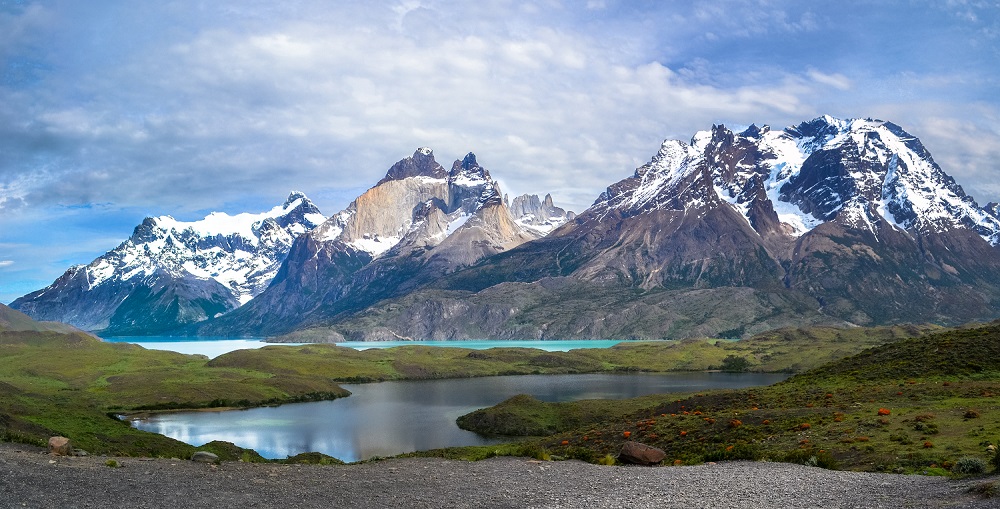 Meanwhile Patagonia, at Chile's southern tip, is a region of icy whites and blues, of glaciers, mountains and lakes, and one of the most picturesque places I've had the privilege of photographing. Most of Torres del Paine National Park required days of hiking to reach, but this burst of green, blue and grey was on the bus ride in – luck usually plays a part in my photography.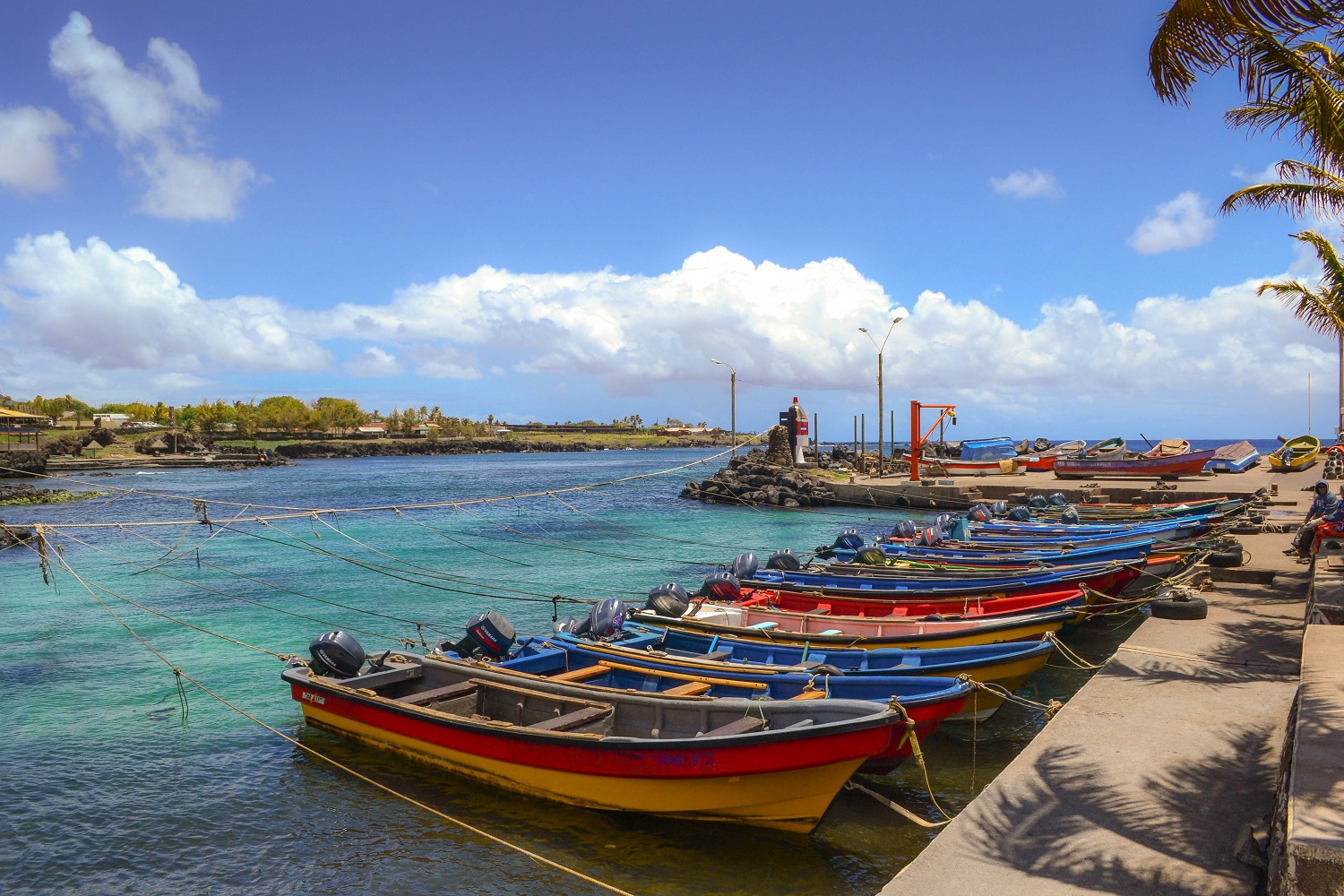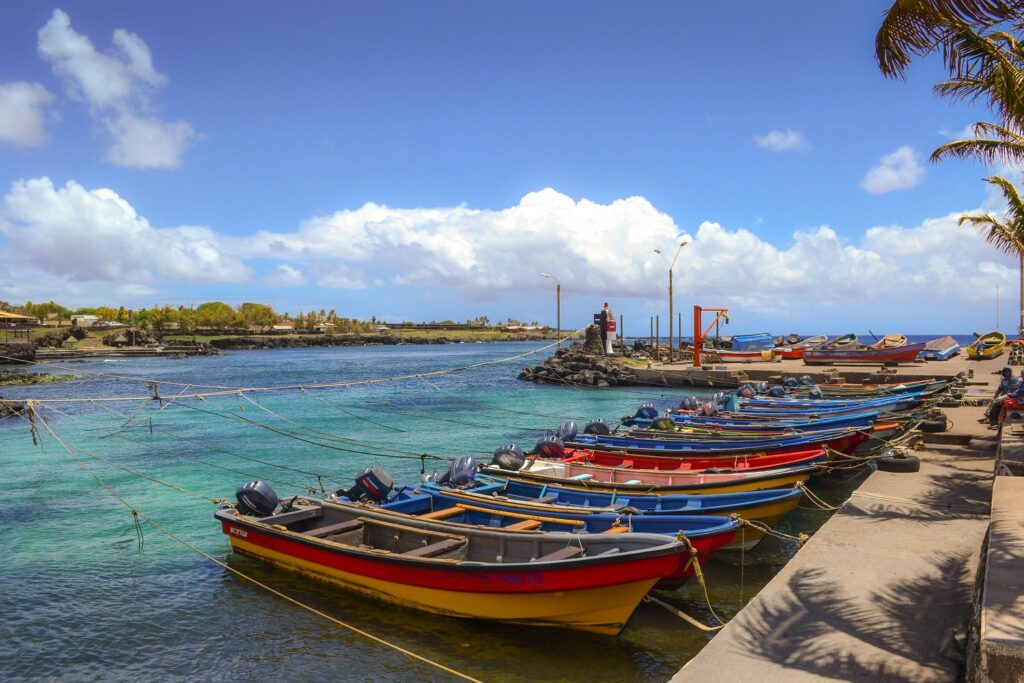 And then there's Rapa Nui, some 3,512km west into the Pacific Ocean, with an amazing array of primary colours. This row of rainbow boats summed up Easter Island and its residents perfectly: vibrant, vital and immensely fun to photograph.
Transylvania, Romania
Transylvania is a region steeped in legend, and its castles are one of its major draws. Having already visited austere Bran Castle (supposed home to Dracula) and gothic Corvin Castle, Peleș seemed almost homely in comparison. Its ivory walls, burgundy woodwork and elaborate spires rose radiantly from a bright winter's morn of mist and mourning.
My visit to Transylvania coincided with the death of Romania's last king, Michael I, who had been exiled decades before. The castle grounds were littered with floral tributes from around the world, but despite the sombre occasion the sun was shining and Peleș glittered, framed by the cherry-red tones of the remaining autumn foliage.


Transylvania in winter is awash with white, from the tops of the snow-covered Carpathians down to the depths of the Turda salt mines in the northeast. Those russet tones were rarely far behind though. In cities, castles and houses were topped with deep terracotta, such as the citadel at Alba Iulia – alba meaning white. In the countryside, landscapes like Râpa Roșie (literally 'red ravine') and the Racoș Volcano were mottled in madder, the result of soapstone, scoria and clay.
---
Jo Davey is a freelance travel writer and photographer who specialises in Japan, culture and food.