At the end of the afternoon in a bay in north Karpathos, and island in the Dodecanese, the sea is so clear you can see every pebble on the seabed. When the sun goes behind the hills there's a soft, dusky light, and wind blowing through the olives and pines.
I sit alone to watch the metallic-blue and silver-green water and the orange-pink sky. Except for goats clambering over the cliffs, there's no-one to be seen, nothing on the horizon. It is true wild beauty, agria omorphia, as the Greeks call it.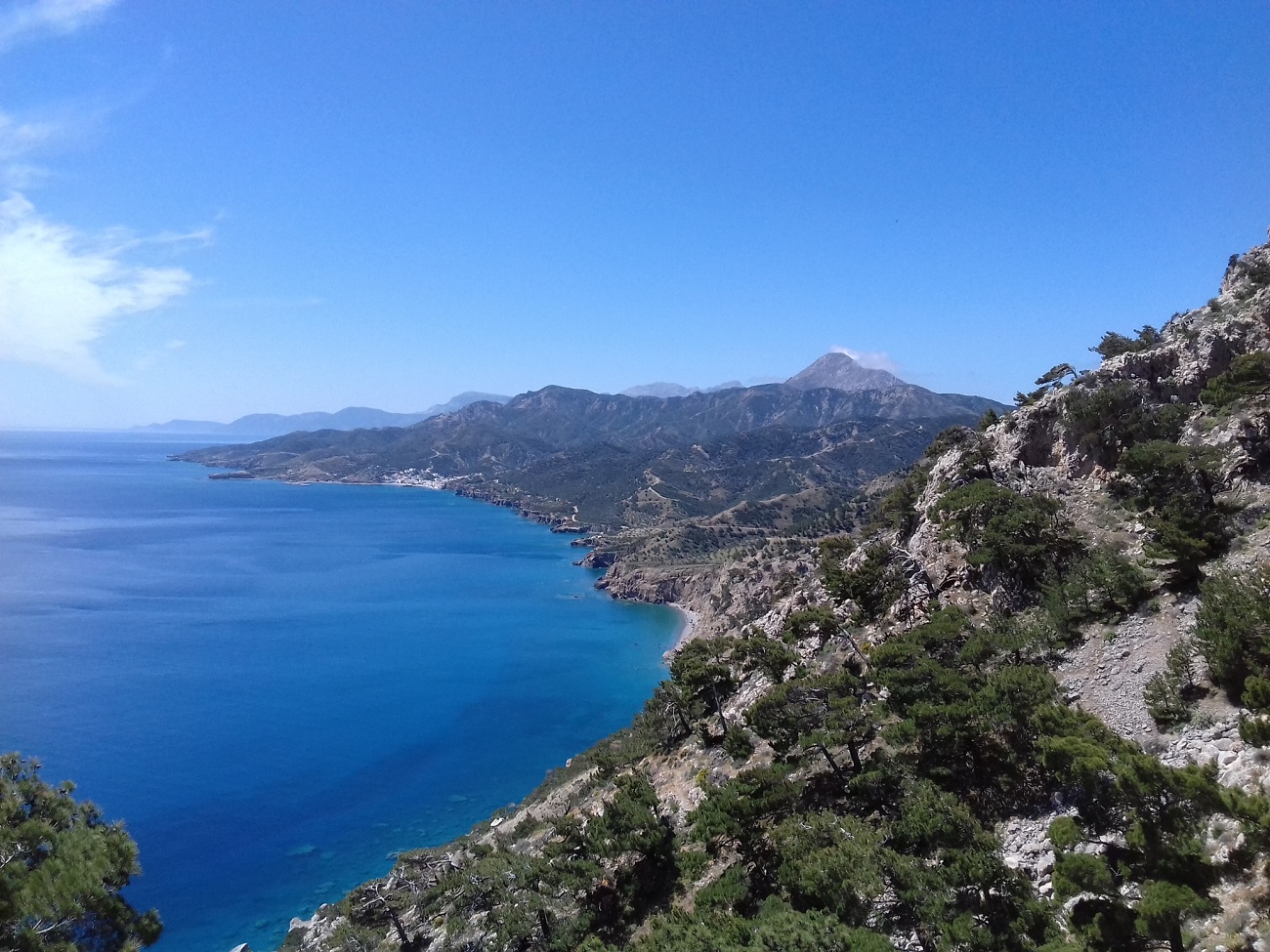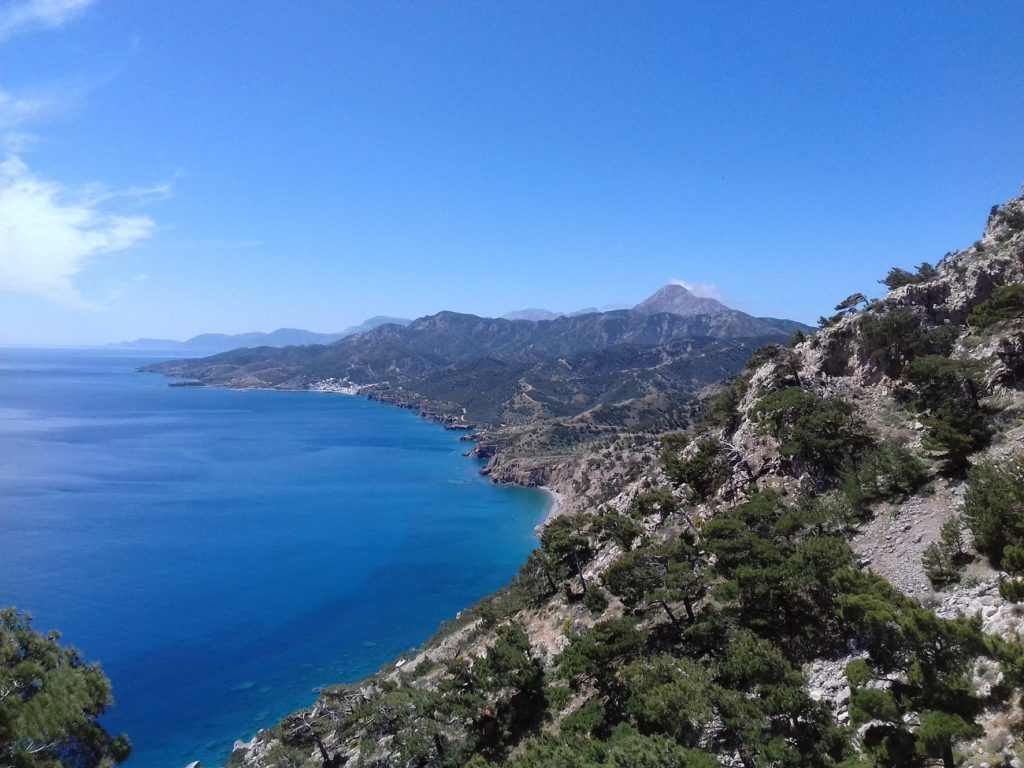 Sometimes I swim when the moon is casting its brilliant light over black water. I've been camping in a field, the Milky Way a stripe across the starry sky above. Taking my sleeping bag and pillow, I head down to the beach where the sound of the waves is mesmerising, hypnotic, the lapping and slapping of sea against the rocks. I look up to see a shooting star, then close my eyes and let sleep take over.
While most of the world rushes to build more roads and houses and fill spaces, struggling to house a growing population, a cluster of Greek islands at the southeast edge of Europe have been doing the opposite. A century ago, the Dodecanese in the South Aegean were thriving and densely populated; but decade by decade, for reasons of misfortune at home and opportunities elsewhere, swathes of the archipelago were deserted, slowly to be reclaimed by the wild.
At home in the wild
Exploring the abandoned places of the Dodecanese has often meant immersing myself deep in the outdoors. I've lived here for almost ten years and it was an excuse to have exhilarating adventures. I've done a lot of walking for hours in empty mountains with my dog, Lisa, scrambling over rocks, wild camping.
I've been lost alone deep in a forest, been desperately dehydrated – I've scared myself several times. But getting a few scratches and scrapes is part of the fun, for someone who grew up in a village surrounded by moors on the edge of the Pennines. And the more wild and remote I experience, the more I can handle.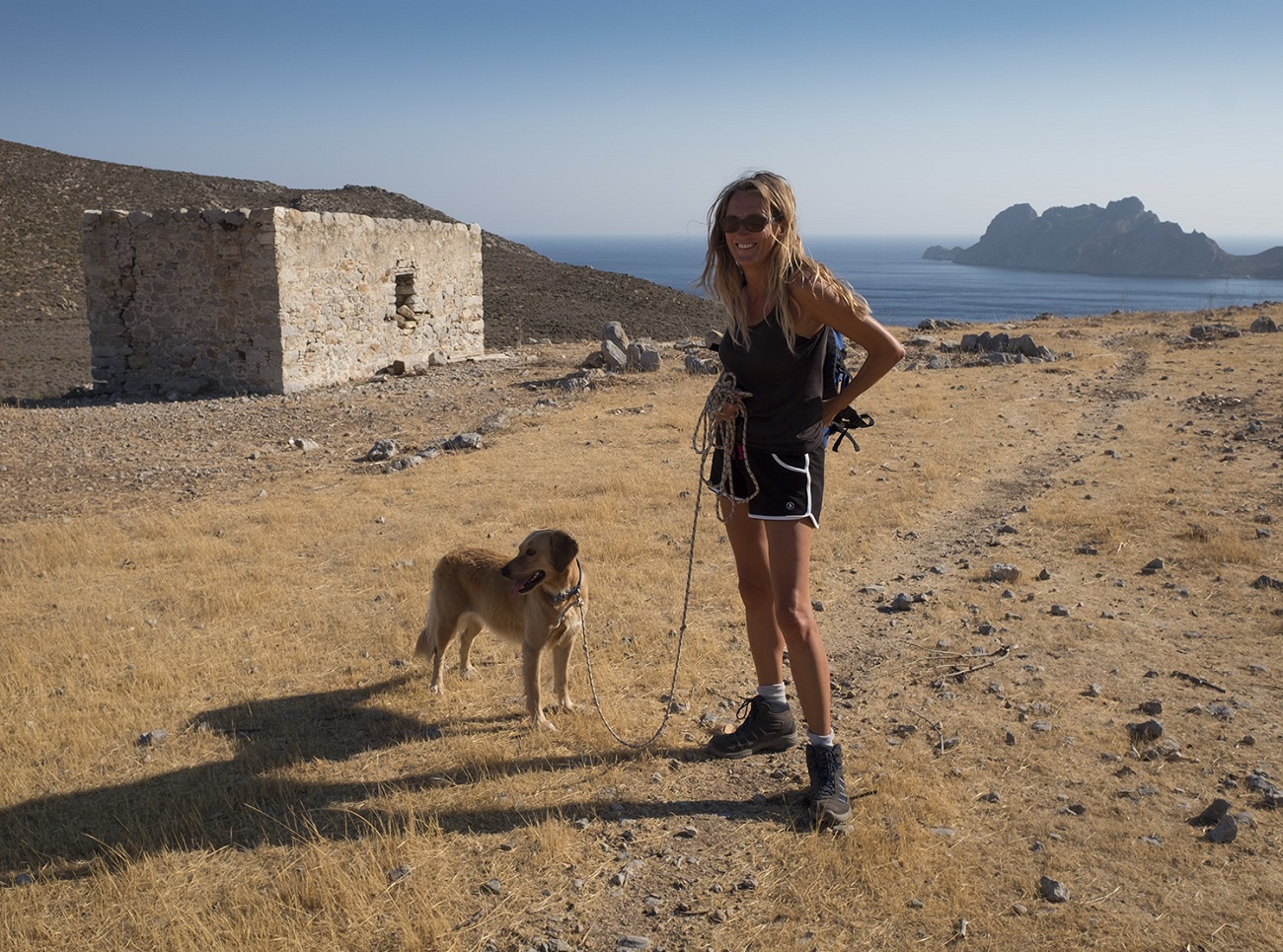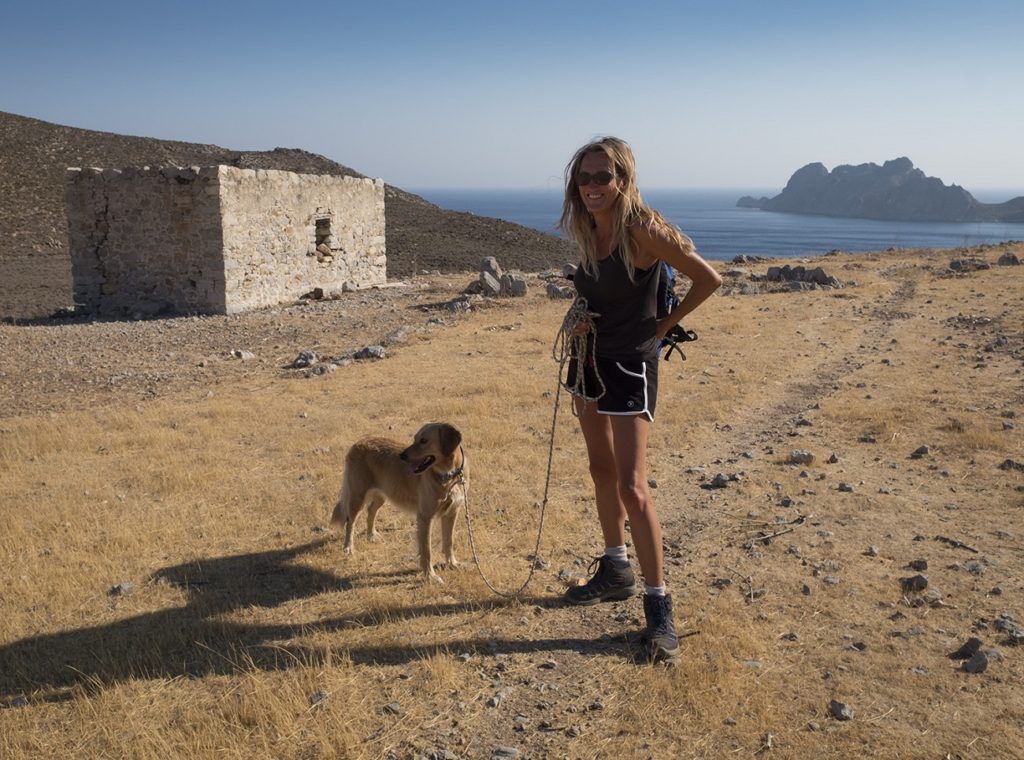 My home is now on Tilos, an island of 64 square km known for its nature. The permanent winter population is only a few hundred and the island has been subject to a hunting ban for three decades, allowing wildlife to flourish.
I love the emptiness that allows me to wander at random, an antidote to a world cluttered with rules and regulations. Moving here, I wanted to be stronger, braver, healthier, more self-sufficient and resilient. Now, my body becomes impatient to swim after just a few weeks away from the islands.
But more important is what a century of abandonment – the drastic drop in population on small islands and in the mountains and remoter parts of the big islands – has done for the nature.
A process of rewilding
Isabella Tree's landmark book Wilding, which I have just finished reading, shows the return of nature to a British farm through an open-ended process of non-intervention on land that had been intensively farmed. A radical initiative in Britain, it drew criticism from some who said the land was 'just being abandoned… turning it into this wilderness'.
As I mention in the introduction to my new book, the word 'abandon', originating in Old French, meant 'to open a forest freely for anyone to use as pasture or for cutting wood'. It came to mean letting go, deserting, with an association of recklessness, lack of control.
Incorporated into the English language, however, it also came to suggest freedom from inhibition and convention, a surrender to natural impulses, to nature. Abandon has this duality, negative and positive.
The Sussex Wilding project was a success, demonstrating the opportunities for wildlife possible when given space for habitat, and how natural death and decay of animals and birds helps other species to thrive. Isabella indicates that as farmland in Europe becomes abandoned through increased competition and a move away from the hardships of that life, it presents an opportunity for nature.
Another example of this is the De-Militarised Zone between North and South Korea, a strip of land separating the two heavily populated halves of the peninsula since the Korean War, which has become a sanctuary for wildlife. The best thing for nature, in other words, is to take away the people.
A natural paradise
The Dodecanese islands were much more densely populated and farmed for centuries – mountains often being terraced right up to the peaks – but in a holistic way and on a smaller scale, without the detrimental effects of chemical fertilisers and with the beneficial effects of using animals rather than machinery – similar to that in Britain before the Victorian era. Now mostly untouched, the scrub-covered land offers protection for some species, healthy for the ecosystem.
Tilos is an important stopover for migrating birds such as bee-eaters, and a safe habitat for endangered monk seals. The limited tourism – helped by the lack of an airport, and the protection of Natura 2000 preventing over-development – and the continuation of some subsistence farming is all good for the wildlife.
A summer evening walk and a swim at a remote beach yields sightings of chukars (partridges), a Bonelli's eagle, Eleonora's falcon, a hoopoe, a moray eel, an octopus, crabs, the remains of a turtle and a snake, a scorpion, a hedgehog, an owl – as well as goats that roam wild, drinking seawater when the spring-fed streams dry up. Trees include a mix of wild pears, almonds, oaks, olives, turpentine, carob and mastic – all used in centuries past. Bushes of sage and thyme and oregano release their essential oils in the heat of summer, and caper bushes hang from sea cliffs.
Winter storms can last for days, water gushes down hillsides, lightning takes out the electricity, waves thunder in and the ferries cannot come so supplies dwindle. But after each storm, sunshine returns and streams flow, new wildflowers and orchids appearing in the fields and bursting through footpaths.
Winter makes everything green and full of life again, and from September to May the best way to appreciate all this nature is by walking. Many of these islands are criss-crossed by paths – some of them ancient stone paths, suitable for donkeys and strong enough to withstand the rains. There are rural tracks and even the roads are seldom busy.
From the most populous Dodecanese islands with airports – Rhodes and Kos – to the tiniest, there are fascinating hinterlands, often vast and forbidding because they are so empty of everything but wild nature. Armed with a map, the more time I spend exploring, the more I find to explore and enjoy, returning again and again. This is nature tourism at its best, on a sustainable level.
---