As many of us prepare to take our first family holiday in months, we're beginning to look forward to a true British summer, of fish and chips on the pier, sandcastle competitions on the beach and gorgeous walks through the countryside.
But as we all know, family holidays never go quite to plan. We've all experienced the long traffic jams, the row over whose turn it is to use the iPad, to inevitable tears when a seagull nabs one of the children's ice creams – all of these are part and parcel of what it means to enjoy a staycation in the UK.
But have you ever been got lost on a mountain and then witnessed a wildlife spectacle so great that it could have come straight out of Attenborough's Planet Earth? Perhaps not. But that is exactly what happened to Nicola Chester, during a family holiday to rural Scotland with her husband and three children.
---
There is not a passport between us, in our family of five. Our three children (the eldest is 17) have yet to board a plane and fly anywhere. Yet last night, we saw four of the five species of owl resident in the UK – all within a mile of home.
We travel. Mostly, it has to be said, circling away from the doorstep in repeated arcs of a few miles or so, hare-like, haring about – as many families do. But we know our wild neighbours intimately and getting to know them is our first mission whenever we arrive anywhere. Travel for us has always been on a tight budget. We often camp and when we are there, we explore our new temporary home from the doorstep (or awning) on foot, as freely (and cheaply) as possible.
Once, we camped in two small tents to give the children a greater sense of independence (and us a little peace). Only, we left one of the tents behind. The sight of all five of us and our collie dog leaving the two-man tent in quick succession the following morning caused a great deal of hilarity for our fellow campers among the Cumbrian hills.
Another time, we camped on a Welsh clifftop after a heatwave broke with a vengeance. Within hours, our tent blew down, the windup lantern hanging from the apex swinging wildly as a ship's bell before hitting me in the face at midnight. Yet, huddled in the car before the wind rocked us back to sleep, the storm blew through, leaving a washed-clean, star-filled sky, and we watched the first Perseid meteors fall through the sweep of the lighthouse beam from St Ann's.
My elder daughter has developed the habit of wild swimming to really immerse herself in a new place, whatever the season. My son likes to get the new mud of a place ingrained as soon as possible, disappearing off with map and mountain bike. Together we greet after-dark bin-raiding badgers and barbecue-licking foxes. We make a point of pointing these things out to others who might not have noticed, or celebrating them with locals, striking up conversations with strangers. These are our real passports to place. Through the wild things that live where we merely visit, we have learned to notice more, and on a deeper level.

We travelled to Scotland on the proceeds of a book I wrote about otters, clutching an ambitious list of animals we'd like to see. The Glen Orchy mountain range filled the windows of the white croft cottage that was to be our home for the next week.
With a rucksack each, compass and map, we walked from the doorstep to the summit of Beinn na Sroine, the mountain behind the house. We left in warm sunshine that bookended a week of mizzle.
It's a wonder we could move at all. Everywhere the family looked, we saw something new. The small, dark, velvety flight of Scotch Argus butterflies. A path imprinted by the feet of high-altitude water voles. There were red squirrel, wildcat, pine marten and golden eagle in these forests, and we thrilled to think of it.
We cleared the treeline with a sense of achievement. Rosie, just seven, was indefatigable in the lead. Below us, a corrie lake sparkled brilliance and the wide River Orchy snaked round its own hairpin bends with the blackness of a race track. On the open mountain, the path expired and the children struck out confidently on a compass bearing to the summit, like the good scouts they are. We stopped for lunch just as the expected weather closed in. We pulled on waterproofs and watched as the moor flared into radiance and small rainbows appeared around and below us. Then the sun disappeared for the week.
As it began to rain, the view changed and changed again, disappearing then reappearing. Walls emerged out of nowhere and granite boulders became sheep became boulders. Thinking I'd spotted the triangulation point, I lifted the binoculars – but with something of a shock, what I focussed on leapt up on broad, wide wings and vanished into the cloud. 'What's that?' I cried. Nobody else saw it. Its sheer size meant it could only have been a golden eagle. If, indeed, it was there at all. 'Was that…?' I faltered.
With the summit reached, my husband altered tack so we began our descent, straight down the mountain. Until this point, I'd been content (and lazy) enough to follow, marvelling at how well the children could navigate and orient themselves. Now a little, nagging voice came back to me, from when I had first properly travelled, with my own passport, aged eighteen. I'd gone native, living with cowboys and cowgirls on a ranch in Canada's Rocky Mountains.
Occasionally, we'd meet members of the Tsuut'ina Indian First Nation community. An elder, intrigued by my British accent, offered me two pieces of advice. The first, that yarrow root was good for colds (he blessed me when I sneezed) and the second – given gravely and with pause – was this: 'Remember. You cannot just walk off a mountain.' I had puzzled over its wisdom and meaning but never thought to consider it literally until now, some twenty-six years later.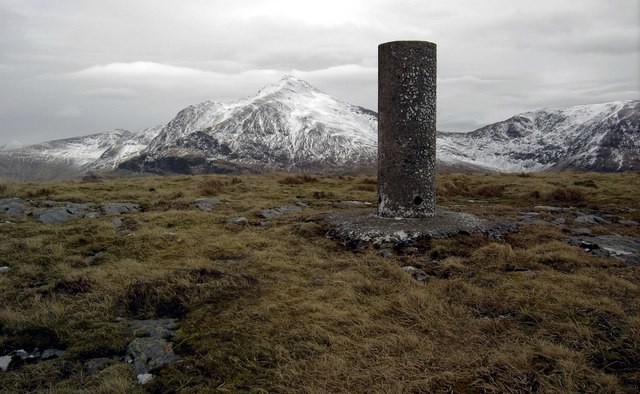 My wisdom – probably because I had not engaged with map or compass to get us up here – was not listened to now. Purple moor grass, sedges and moss gave way to low heathery mats and dense tangles of bilberry and crowberry. Negotiating such complicated terrain for so long was exhausting. We bickered about whose fault it was to abandon map and compass, and about how much difficulty we were really in – or not. Visibility had become poor and it was now raining hard. But we chivvied and goaded and cheered each other on.
The going became increasingly steep and difficult, and we were thwarted again and again by scree or sheer drops. The mountain began to gather the rainwater to its burns and throw it off outcrops, as if they were gargoyles on a slate church roof. Glimpsed through cloud on the opposite hillside, they looked like static white forks of lightning.
As the waterways deepened, so did the chasms we crossed and as the bracken thickened treacherously, our slips became more frequent and more alarming. Yet when we reached at and grasped handfuls of myrtle, it held, releasing its wonderful scent; and when we did fall – and Rosie rolled – the purple heather was soft, yielding and, according to Rosie, 'bouncy as a mattress' and thus ripe for staged, clown-like falls, accompanied by contagious shrieks of laughter.
To the children, this was now a proper adventure that they were stoically trying not to tire of, making up 'marching songs' about being lost on the mountain and what they were looking forward to when they got back. But my husband and I – experienced walkers – were beginning to feel a little irresponsible and foolish. We stopped, reconsidered, drank the last of the hot chocolate and ultimately, scrambled back up on all fours to reach a point where we could angle our descent less steeply. We finally reached the soft hush of pinewood and the road with relief and a humble sense of achievement, not long before dark.
On our last evening, when the sun returned, we cooked tea in the shingle crescent of an ox-bow in the cola-coloured river. Wet otter prints were drying on the stones. We gazed up at Beinn na Sroine, 'The Offended Mountain', and hoped that it wasn't. A very large bird came over the summit. Heart thumping wildly, I yelped and grabbed my binoculars. 'What's that…? Surely that's…!' Even at three thousand feet up and still struggling with a sense of proportion, there was no doubt: here were the 'flying barn door' proportions of a golden eagle's two-metre wingspan.
Then something extraordinary happened. We were about to get a last lesson in scale. What appeared to be rabbits suddenly poured over the ridge. With astonishment, I realised they were red deer, Britain's largest land mammal, and the eagle was driving them forward. Nothing could have prepared us for what happened next.
With two pairs of binoculars between the five of us, we watched hinds and calves bound down the mountain, the eagle in leisurely airborne pursuit. The raptor separated the herd and singled out a fleeing calf, sandwiched between two hinds, and swooped on it repeatedly. We swapped and reswapped the binoculars, hopping up and down when we don't have them, reporting live when we do: 'What's it doing now?' I asked. 'It's chasing them off the mountain!' came the reply. 'Wait, no, the deer are standing up to it!'
With the calf losing pace, the herd stopped to face the bird, which hovered momentarily just above the leading deer. I have never seen a deer look skyward before, but on the ridgeline, the two hinds did just that: looked helplessly up at the great, dangling, feathered shanks of the bird. One reared and struck out. The eagle dropped onto the calf, hitting it on the withers. The youngster jinked away and the three scurried into the safety of the trees. The eagle, defied yet defiant, drifted back along the ridge without a single wingbeat, and vanished near the trig point.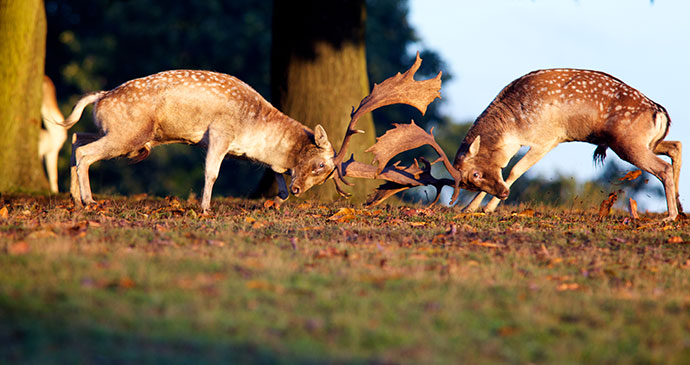 The mountain had offered us a second, intense, memorable experience. Eagles have been known to try and cause injury to larger prey beyond their capabilities, in the hope of picking it up later. It is rarely witnessed. We were lucky, but we'd also had all our senses open.
We were better acquainted, the mountain and us. And as a family too. Our shared adventure had involved discovery, peril, wonder, arguments, support, hilarity and absolute awe. The wild landscape and its inhabitants had allowed us a deeper understanding, a richer experience.
Our eldest is on the cusp of independent travel. We're planning to buy him a passport for his eighteenth birthday – the age I was when receiving the Tsuut'ina elder's wisdom. But he already has his own real passport to anywhere – a reason to travel, to meet new neighbours from the doorstep, with gentle inquiry and a willingness to be surprised, eyes and all other senses wide open for the best experience ever. He will travel knowing its full worth, gift and boundless opportunity, with the joy of discovery and learning in his heart.
With nature as his and his sisters' passport, their lives will be all the richer. It makes the difference between being a tourist and an explorer, anywhere.
---
The following piece was taken from our family travel anthology, Kidding Around. Nicola Chester lives with her family in the North Wessex Downs and endeavours to spend more time outdoors than in. She is an avid naturalist, nature writer, school librarian and the RSPB's longest-running female columnist. She blogs and tweets about her interactions with the natural world and runs 'wild writing' workshops for anybody in almost every situation, from museums to woods. She dreams of wilder travel.