There are literally hundreds of national parks, game reserves and other protected areas in East Africa, ranging from savannah reserves the size of a small European country to tiny community-protected enclaves of swampland or rainforest, and it would take the best part of a year to explore them all thoroughly – so here are the best bits!
See also our article on how to overland in Africa.
Serengeti National Park, Tanzania
Renowned for the million-strong herds of wildebeest and zebra that undertake an annual migration across its grassy plains, Serengeti National Park has topped a list of Africa's Top 50 travel experiences published in the magazine Travel Africa.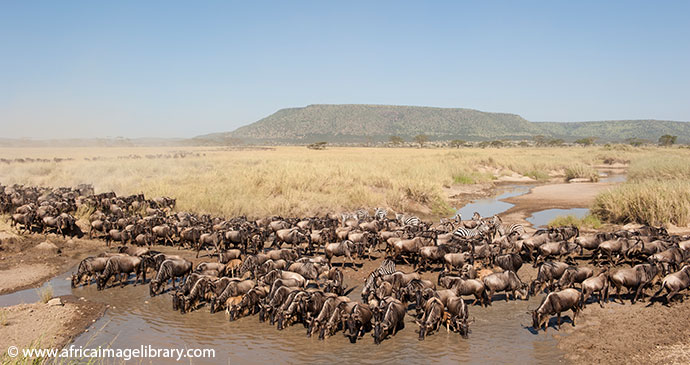 Justifiably so. This, quite simply, is Africa's finest reserve, a boundless ocean of koppie-studded grassland that supports incredible densities not only of ungulates but also of predators – indeed, it's not unusual to see lion, leopard, cheetah, serval, spotted hyena, bat-eared fox and a couple of jackal and mongoose species in the same day. The Serengeti is so vast that any sense of overcrowding is restricted to the southeastern plains centred on Seronera Lodge (one of the top three sites in East Africa for leopard, incidentally).
Lake Manyara National Park, Tanzania
Lake Manyara National Park lies on the Rift Valley floor in a setting extolled by Hemingway as 'the loveliest I had seen in Africa'. Only 330km2 in area, it's the archetypal 'grower' – seldom will any given game drive compare to a few hours in the Serengeti, but protracted exposure leaves you with the feeling that here, more than any other Tanzanian reserve, anything could lie around the next corner.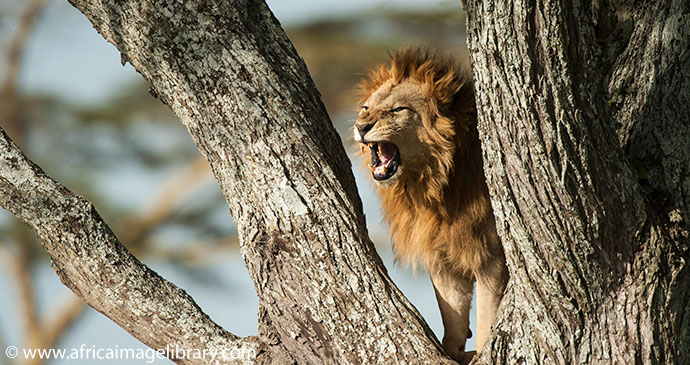 The elephant population is among the most substantially tusked and least jittery in Tanzania, and the celebrated tree-climbing lions are observed in arboreal activity with fair regularity.
Maasai Mara, Kenya
Kenya is a compelling travel destination, boasting a compact but varied selection of tourist attractions that can be explored as luxuriously or adventurously as you choose. Most-first time visitors centre their attention on a south-central circuit combining the Maasai Mara, Kenya's most popular game reserve and the one that the purists most love to hate.
Fair enough, the Mara (as it's widely known) does carry a heavy tourist traffic compared with most of its counterparts, but for the very good reason that no other East African reserve protects comparable game densities. The best time to visit is between July and October, when the wildebeest migration crosses over from Tanzania, offering visitors unforgettable sightings of these manically braying, croc-dodging beasts as they cross the Mara River.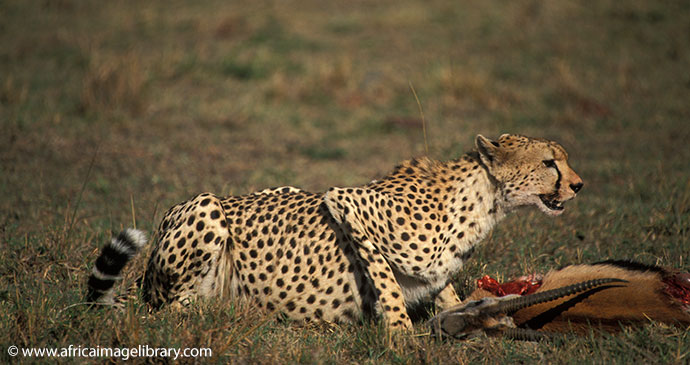 But the reserve supports a profusion of wildlife throughout the year, including large numbers of buffalo, zebra and various antelope, as well as a solid population of elephant and a few relict black rhinos. Above all, the Mara is a fantastic reserve for predators, in particular cheetah, spotted hyena and prides of 20-plus lion, whose high degree of habituation makes them easy to watch and photograph.
Lake Nakuru National Park, Kenya
Lake Nakuru National Park protects the most famous of the string of lakes that lines the Rift Valley west of Nairobi, mainly thanks to its concentrations of up to two million flamingos, an avian spectacle to match the wildebeest migration of the Mara.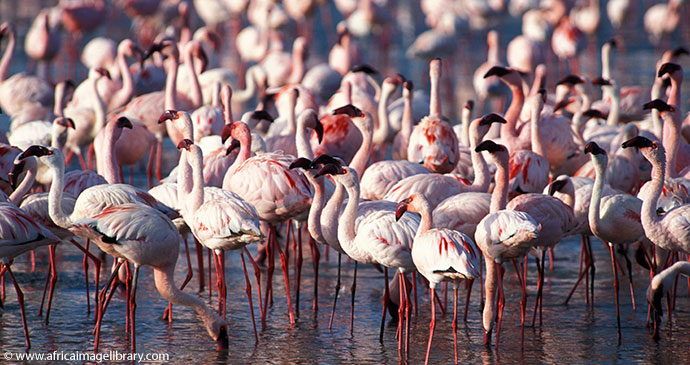 Encircled by hills and fringed by yellow fever trees, Nakuru is a truly gorgeous spot, especially when viewed from the surrounding cliffs, from where the individual flamingos merge into a solid shimmering pink band separating the alkaline water from its bleached rim. Fenced in its entirety, this park is an important relocation site for endangered animals, and a good place to see both species of rhino and the Rothschild's giraffe.
Bwindi Impenetrable National Park, Uganda
The highlight of most visits to Uganda is tracking mountain gorillas in Bwindi Impenetrable National Park, which protects approximately half the global population of this endangered creature.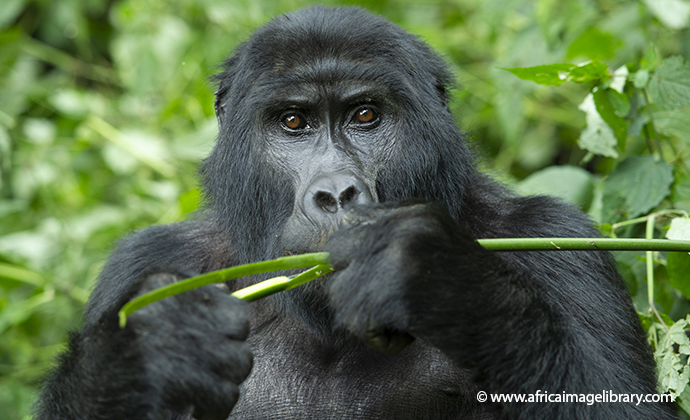 There is more to Bwindi than gorillas, however: the wide tracks around the park headquarters offer superb forest birding, with several of the park's 20 Albertine Rift endemics likely to be identified in the company of a knowledgeable local guide, along with dozens of butterfly species and localised forest mammals such as the outsized yellow-backed duiker and handsome L'Hoest's monkey. Deeper into the park, Mubwindi Swamp is the only non-Congolese locality for the eagerly sought African green broadbill, and it is also the favoured haunt of the park's small population of forest elephant.
Queen Elizabeth National Park, Uganda
Uganda's Queen Elizabeth National Park is arguably the single most ecologically diverse reserve in Africa – you're looking at a checklist of 600-plus species, exceeding that of many African reserves ten times its size (Kruger, Hwange, Serengeti and Selous, to name a few).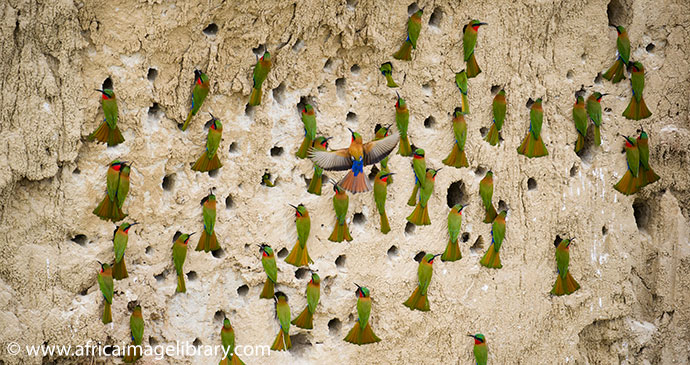 You'd need a full week to explore this fabulous park in its entirety, but popular highlights include the launch trip down the hippo-infested Kazinga Channel, chimpanzee tracking in the forested Chambura Gorge, looking for tree-climbing lions on the southerly Ishasha Plains, and the lush crater lakes and million-strong bat colony in the Maramagambo Forest.
Volcanoes National Park, Rwanda
Rwanda's most popular tourist attraction is Volcanoes National Park, the site of Dian Fossey's celebrated gorilla habituation and anti-poaching project, and location of the film Gorillas in the Mist. A most memorable location it is too, protecting the upper slopes of the Virungas, a chain of free-standing volcanic mountains whose daunting slopes, swathed in giant bamboo clumps and montane forest, rise imperiously to above 4,000m.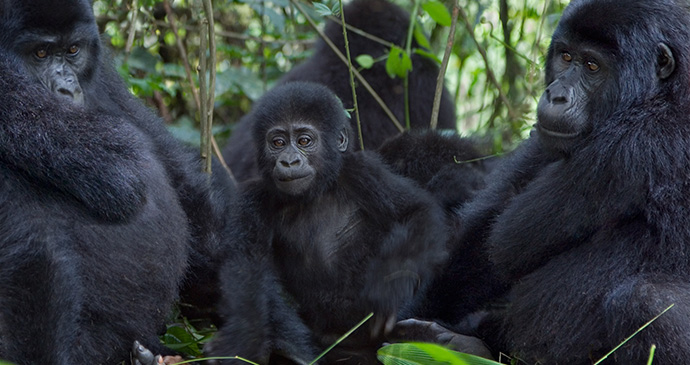 Gorilla tracking, arguably the most emotive and haunting wildlife experience in the world, is the main activity here, with some 96 permits issued daily, and photographic opportunities are generally better than in Uganda, with the gorillas often hanging out in the open bamboo zone rather than the murky forest depths.
Nyungwe Forest National Park, Rwanda
Extending over 1,000km2, Nyungwe Forest National Park is the largest extant montane forest in East Africa and possibly the most scenic, covering a succession of tree-swathed mountains as they run south to the Burundi border. It has few peers in terms of primate biodiversity, with troops of up to 400 Ruwenzori colobus easily located near the park headquarters, and a dozen other species present including L'Hoest's, red-tailed, Dent's and silver monkey, and an estimated 500 chimpanzees.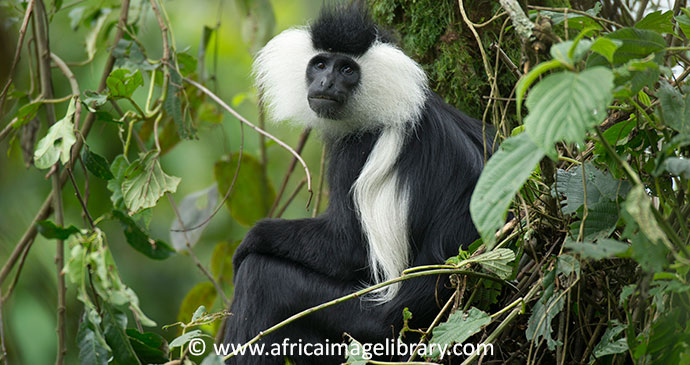 Prominent among 310 bird species are the delightful great blue turaco and 27 Albertine Rift endemics, while a remarkable floral diversity includes 200 orchid species.
---
More information
For more information, check out our guide: