Senegal boasts a remarkable coastline, and many visitors never stray more than a few dozen kilometres from the beach during their stay. Here's a two-week itinerary for the perfect beach holiday in Senegal.
Soak up the culture in Dakar
A blast of humidity, a statue on a hill, and something sweet in the air. Arriving in Dakar is a thrill for the senses, and the city practically swims in ocean humidity, swaddling your aeroplane-desiccated body in its warm, pillowy grasp as you breeze into the city from the swish airport outside of town.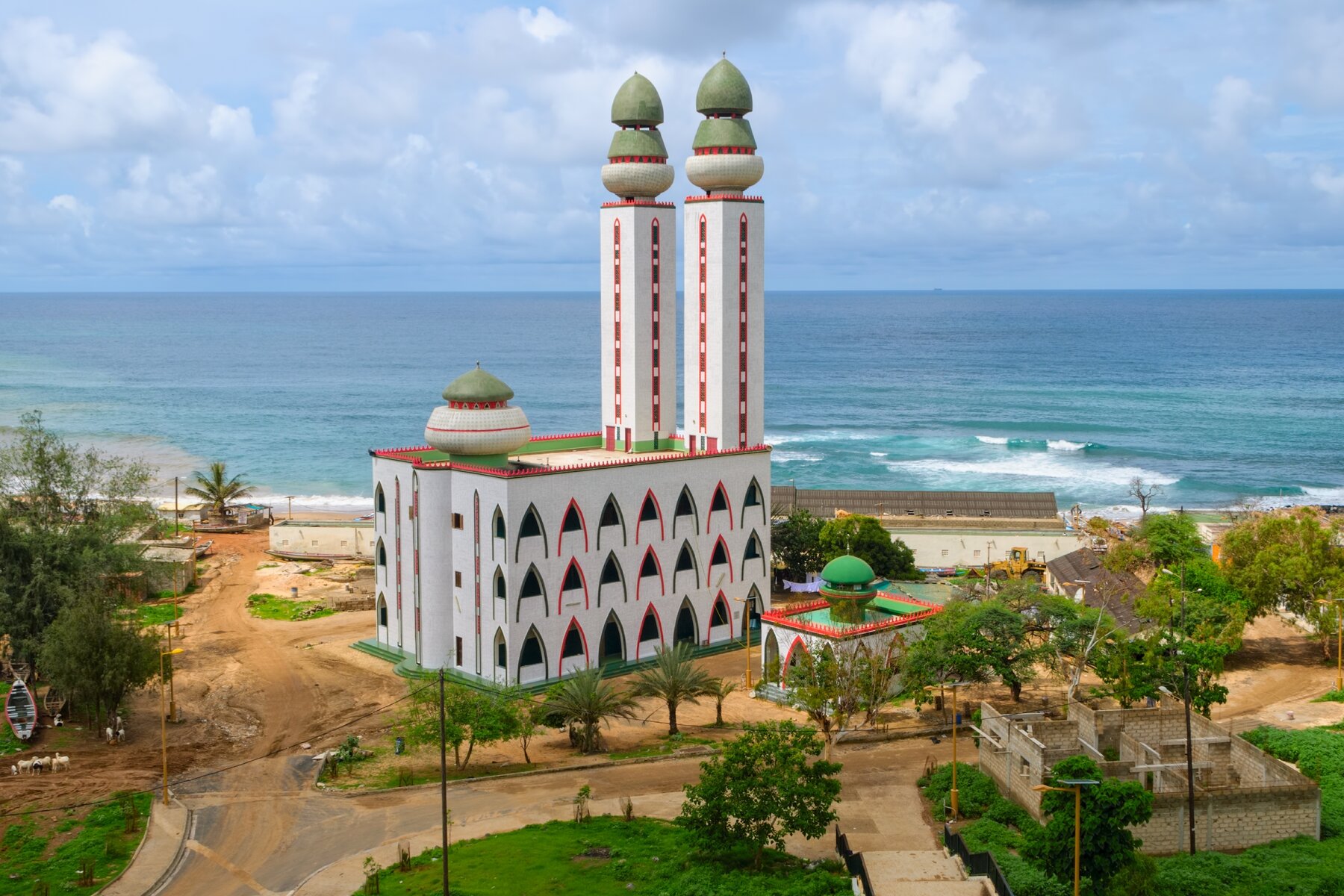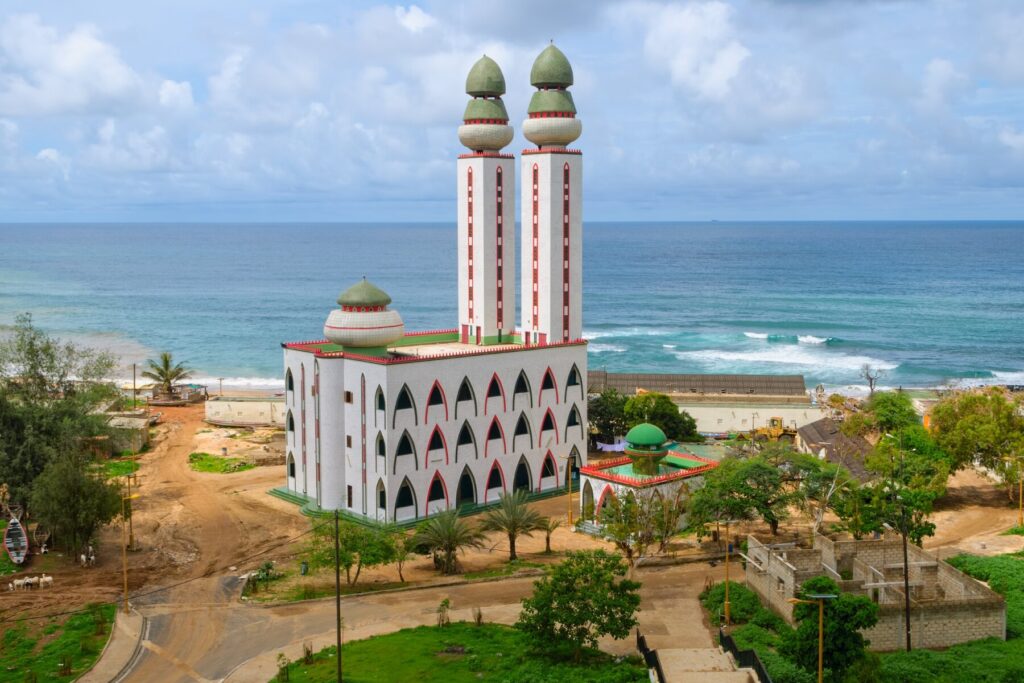 The enormous African Renaissance Monument slowly enters your line of sight, and an ever-so-faint smell catches you by the nose. Perhaps it's what acclaimed Polish journalist Ryszard Kapuściński called 'the scent of the tropics', the 'almonds, cloves, dates and cocoa', the 'vanilla and laurel leaves, oranges and bananas, cardamom and saffron' that decorate the. Or perhaps it's just thiouraye, the gummy, herbal Senegalese incense burned over hot coals in every home.
Art enthusiasts should check out the works displayed at Galerie Antenna and Galerie Le Manège. Any Dakar itinerary should also include a visit to the Cathédrale du Souvenir Africain, inaugurated in 1936 in an extravagant week-long ceremony led by Cardinal Verdier of Paris. Other unmissable spots include the Grand Mosque, the Corniche des Almadies and the Place de l'Indépendance.
Relax on the beaches of Toubab Dialaw
Having explored the museums of Dakar, it's time to relax on the beaches of Toubab Dialaw. This sprawling fishing village has developed into something of a low-key vacation colony for affluent Dakarois and expats seeking a beachside retreat close to the city.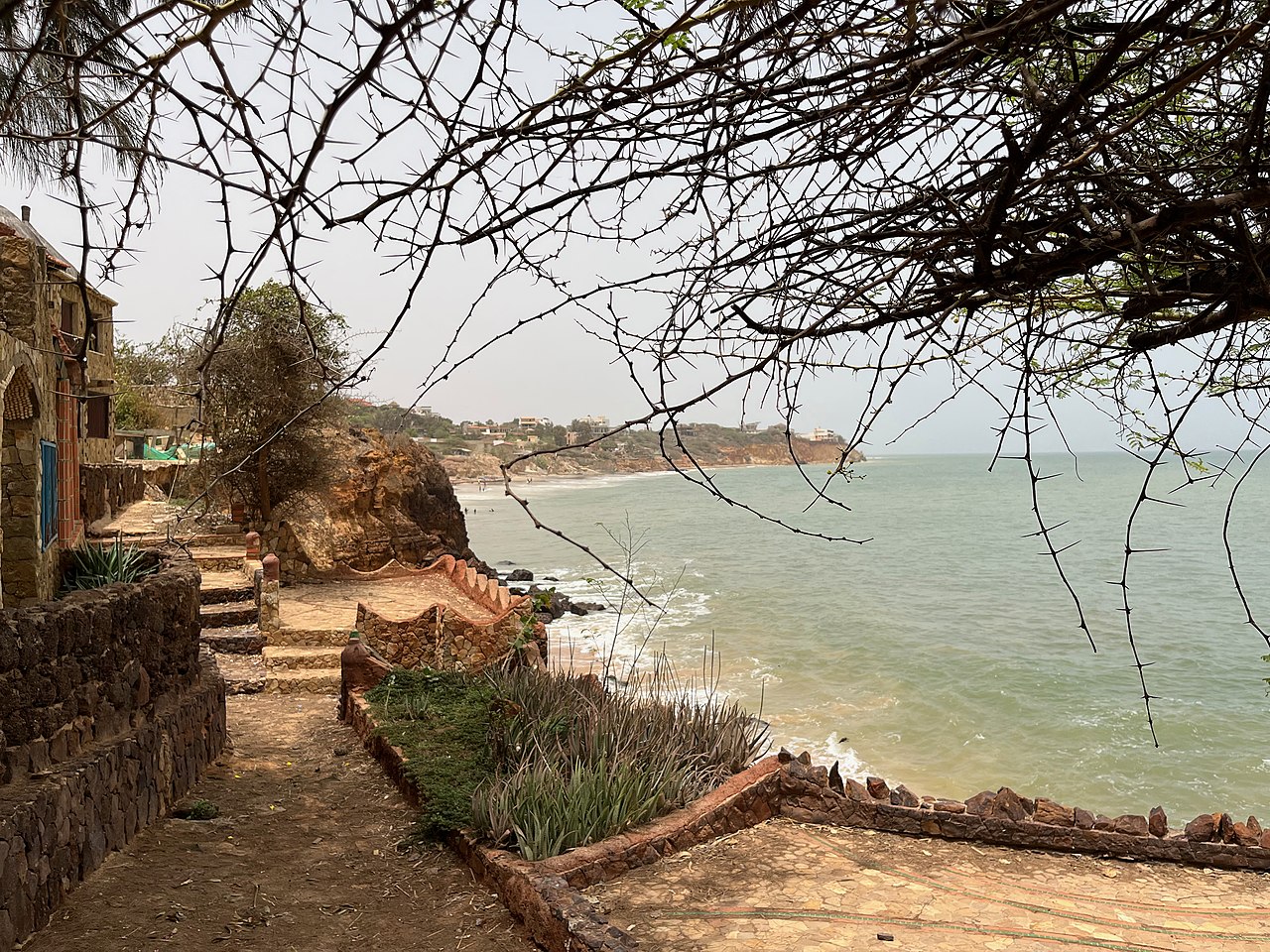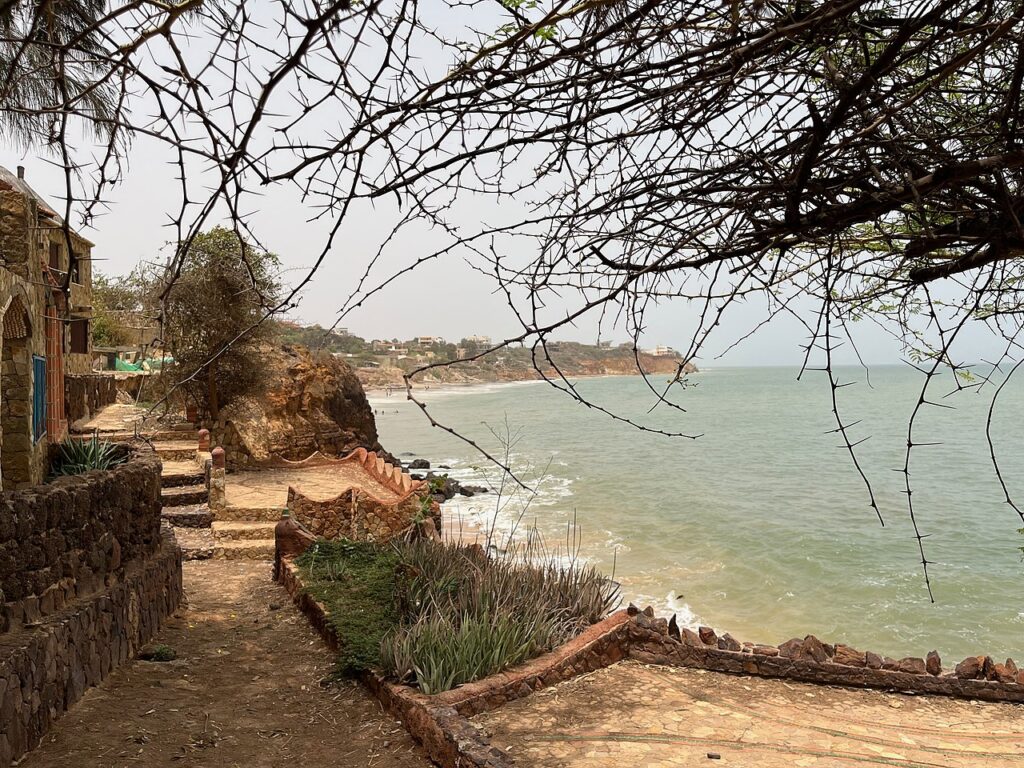 The beach exerts a nearly irresistible pull; you'll probably share the sand with a local football side or two practising in the surf, and some love-struck couples out for a bit of privacy and a barefoot stroll. Besides the myriad opportunities here in art, music and dance (don't miss Sobo Badè, the oceanside domain of Haitian-born artist-architect Gérard Chenet and a hotspot for bohemian-types), relaxation really is de rigueur. Pull up a picnic chair from one of the beachside watering holes and watch the world go by.
Explore Popenguine's nature reserve
Having developed a suitable tan, it's time to leapfrog your way down the coast, starting with the sleepy town of Popenguine. Site of the community-based Réserve Naturelle de Popenguine and home to the most important shrine in the country for Senegal's Catholics, the mixed Wolof and Serer town is a thoroughly agreeable oceanside escape. Slung over a series of low, baobab-studded hills, the award-winning reserve is home to a hugely impressive 11,000 trees, and a staggering 50,000 mangroves. Well worth a visit.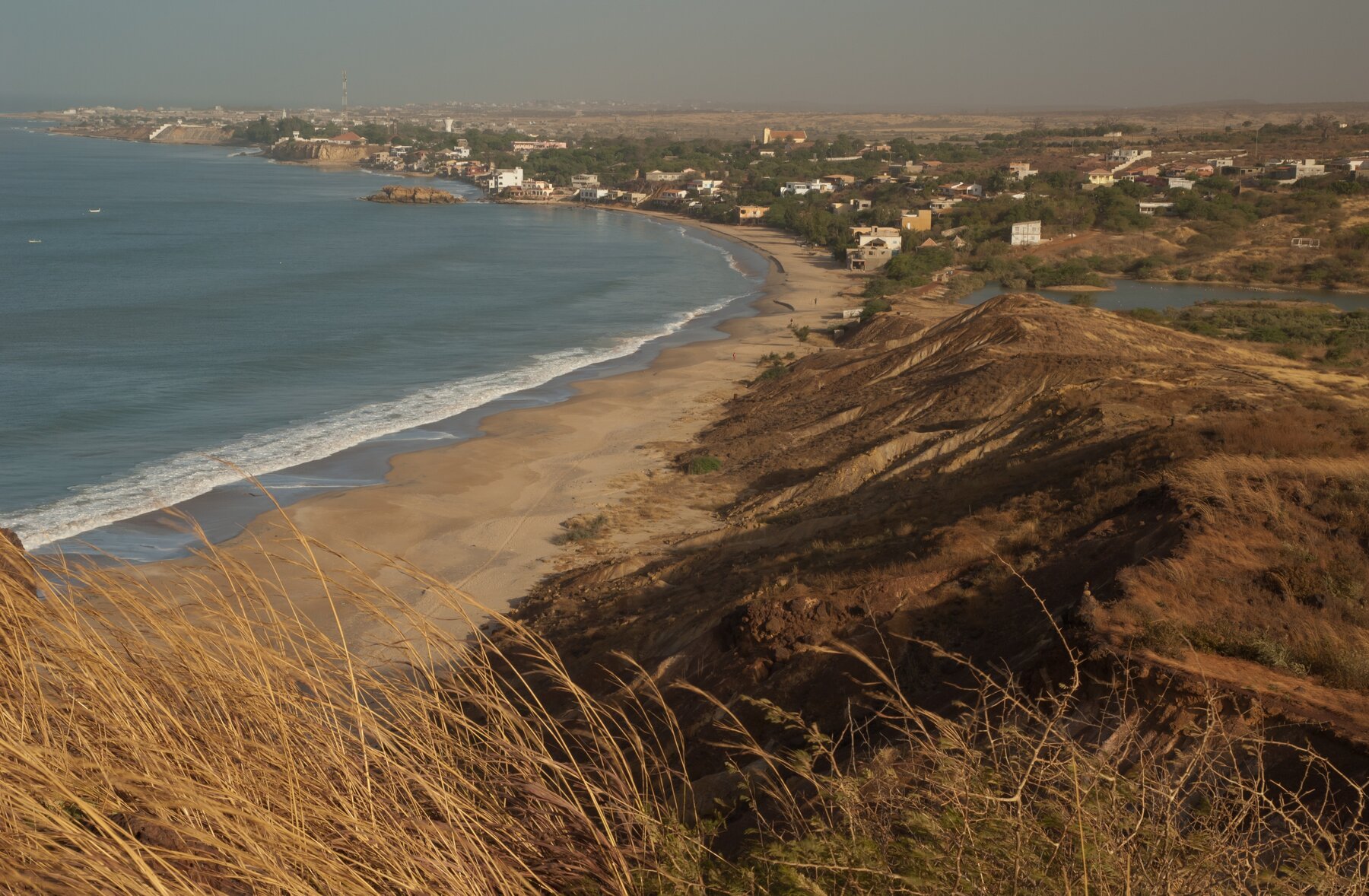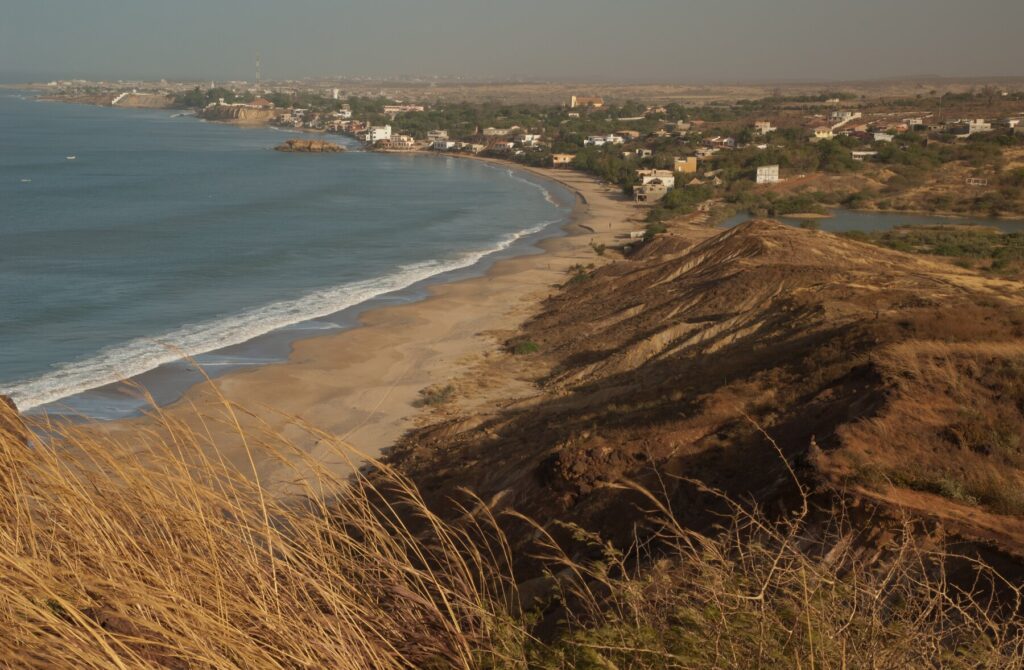 Much like its neighbour Toubab Dialaw, it's remained refreshingly free of the mass-market tourist development and mushrooming resorts to be found further down the coast. Popenguine will easily satisfy both water babies and dedicated ramblers, and there's a handful of charming accommodation to choose from, all situated some metres above the beach at the south end of town.
Take up surfing at La Somone
From Popenguine, head to La Somone. Hemmed in to the west by the ocean and to the north by the delightfully tropical lagoons and mangrove creeks of the Réserve Naturelle d'Intérêt Communautaire de la Somone, this charming town strikes a balance between the sleepy villages to the north and the fast-paced development just a few miles south.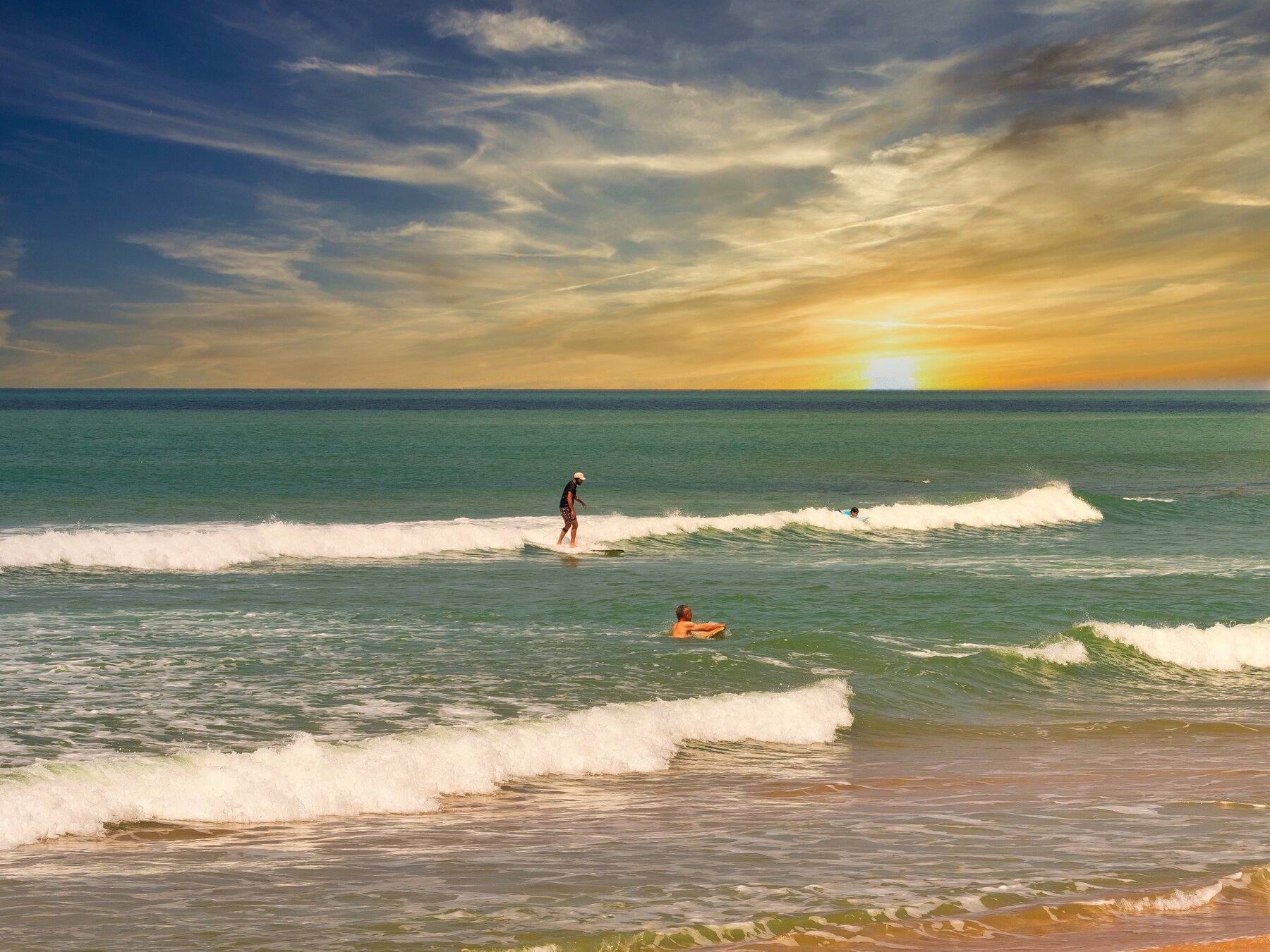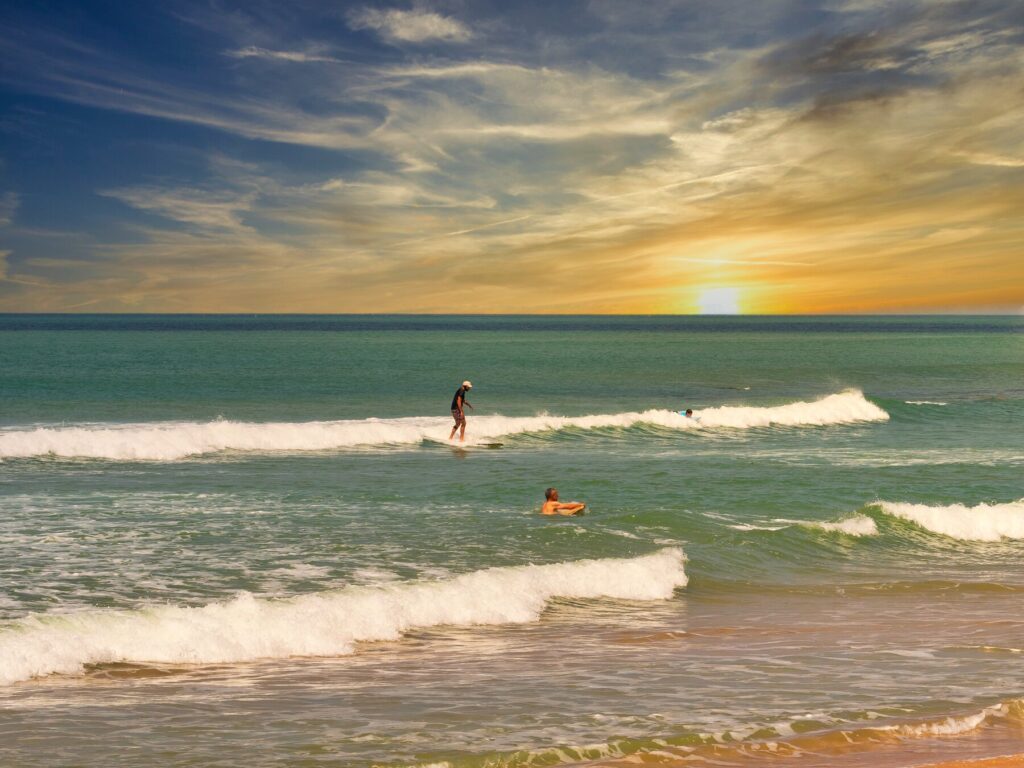 La Somone isn't known as one of Senegal's surfing hotspots, but for that very reason Secret Bay is a fabulous place for beginners to get their board skills down without worrying about getting knocked down by a roller. It's right next to the restaurants on the far side of the lagoon, and private lessons go for 23,000F for 2 hours, with deals to be had for longer courses. They've also got canoes, kayaks and the like, and are a great destination for most any water-based activity around La Somone.
Enjoy a hedonistic weekend in Saly
Having mastered the art of surfing, continue on to Saly. The beating heart of Senegal's package-tourism industry, Saly is polarising to say the least. A place in the sun to its fans and an irredeemable tourist trap to its detractors, it offers all the sun and fun you could ask for and then some. Still, even for those allergic to all-inclusive, if you're itching for a bit of pampering and immoderation – or simply a couple of days in a chaise longue after one too many days in a sept-place – it's a fine place for an indulgent weekend.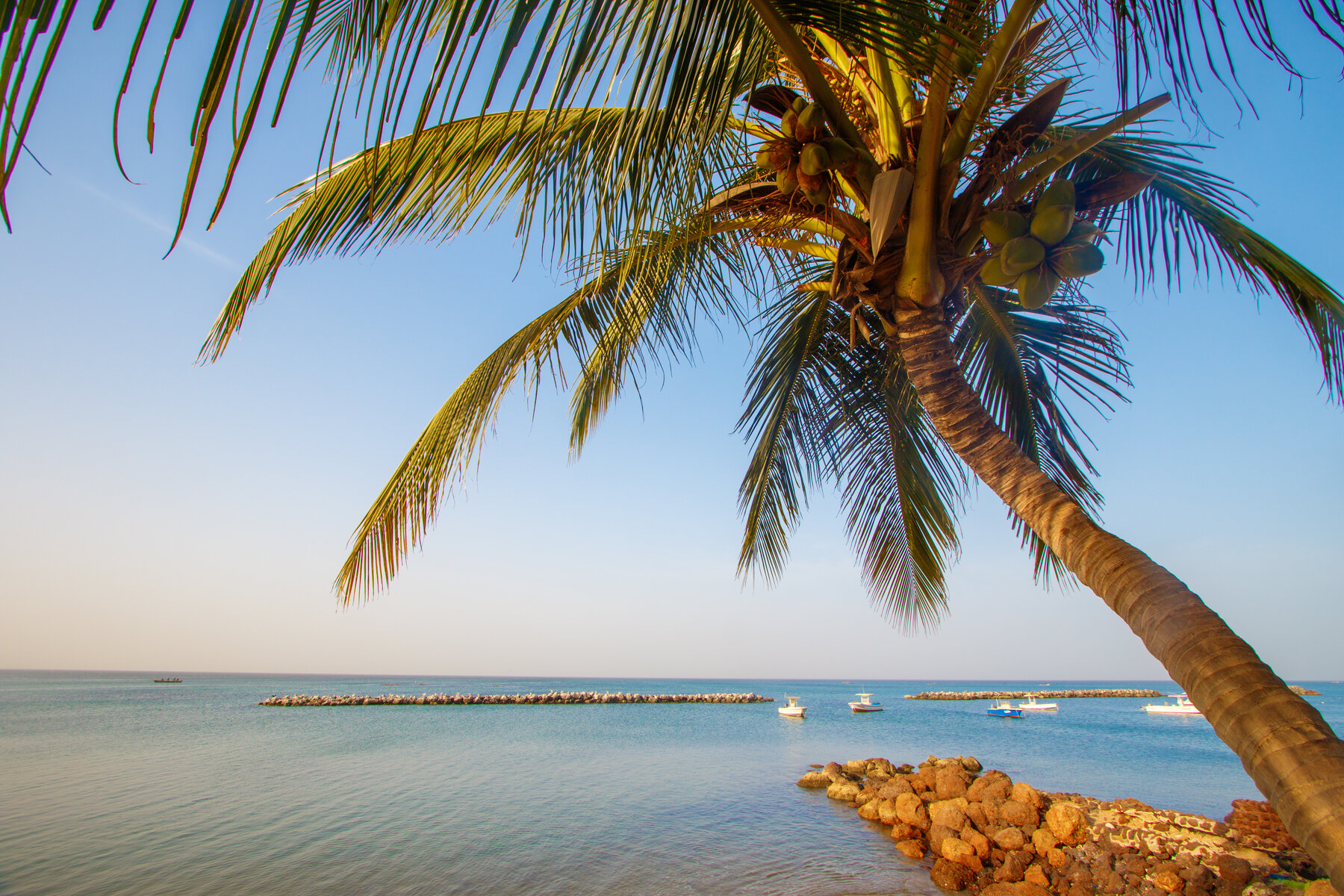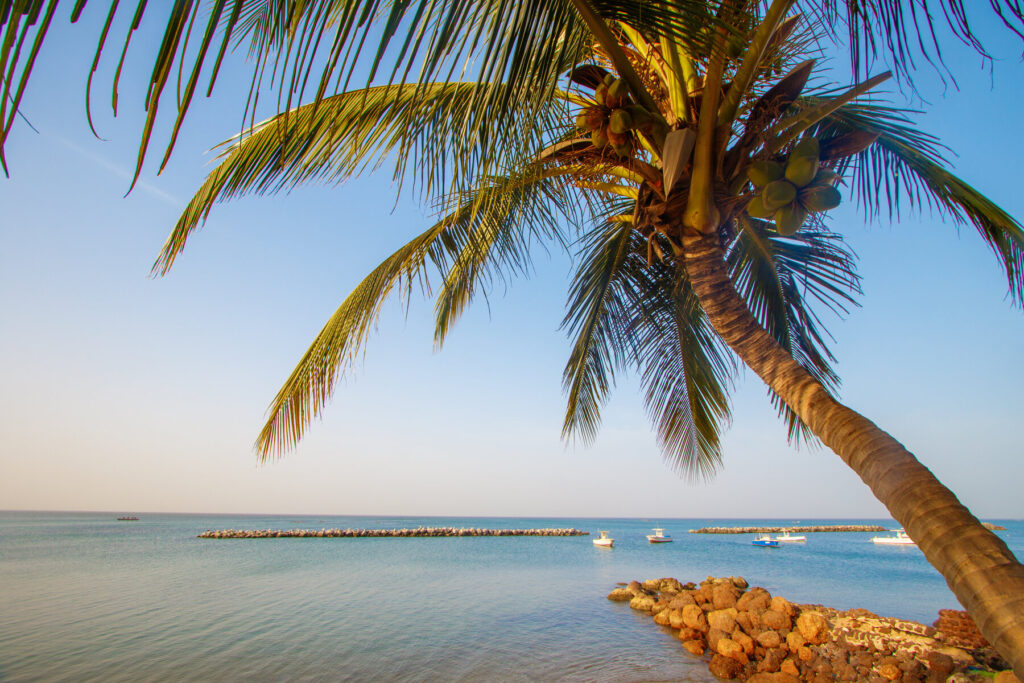 Saly-Portudal is a beach scene worthy of any tourist boardwalk around the world: a higgledy-piggledy assortment of roaring quad bikes, thumping tunes, speeding jet skis, and certainly the best suncream selection anywhere in Senegal, just in case you've run out.
Saly-Niakhniakhal, even though it's just steps down the beach, looks positively sedate by comparison, with a grid of sandy streets running between the city's many vacation homes. It's a good place to base yourself if you want to be within striking distance of the main drag, but still with a bit of breathing room.
Recuperate along the Sine-Saloum Delta
Having had your fill of eating, drinking and dancing, head down to the Sine-Saloum Delta. Recognised in various overlapping permutations as a national park, Important Bird Area, UNESCO World Heritage Site and RAMSAR wetland, it's safe to say the Sine-Saloum Delta is nothing short of spectacular – any visit to Senegal without at least a peek into this wild and disorienting expanse of saline bolongs (creeks), lofty palms and gnarled baobabs would be woefully incomplete.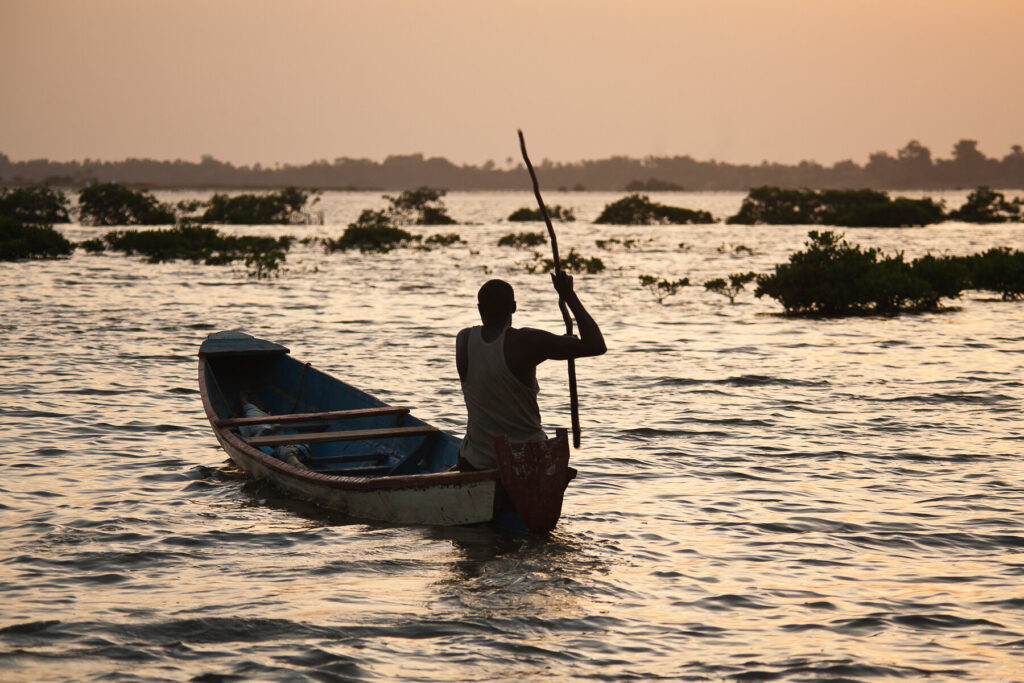 While here, take the time to recuperate at one of the fabulous lodges around Fimela or the car-free island of Mar Lodj. Spend the night in huge mud-&-straw domes at Ecolodge de Simal, sleep in an isolated wood-and-thatch bungalow in the forest at Hakuna Lodge, or while away the hours in a sheltered hammock at Auberge Sakado.
Finish your trip with an idyllic boat trip
It is only fitting to finish your exploration of Senegal's coast with a boat trip. Board a vessel and sail the winding creeks of the delta to Palmarin, Foundiougne or Toubacouta.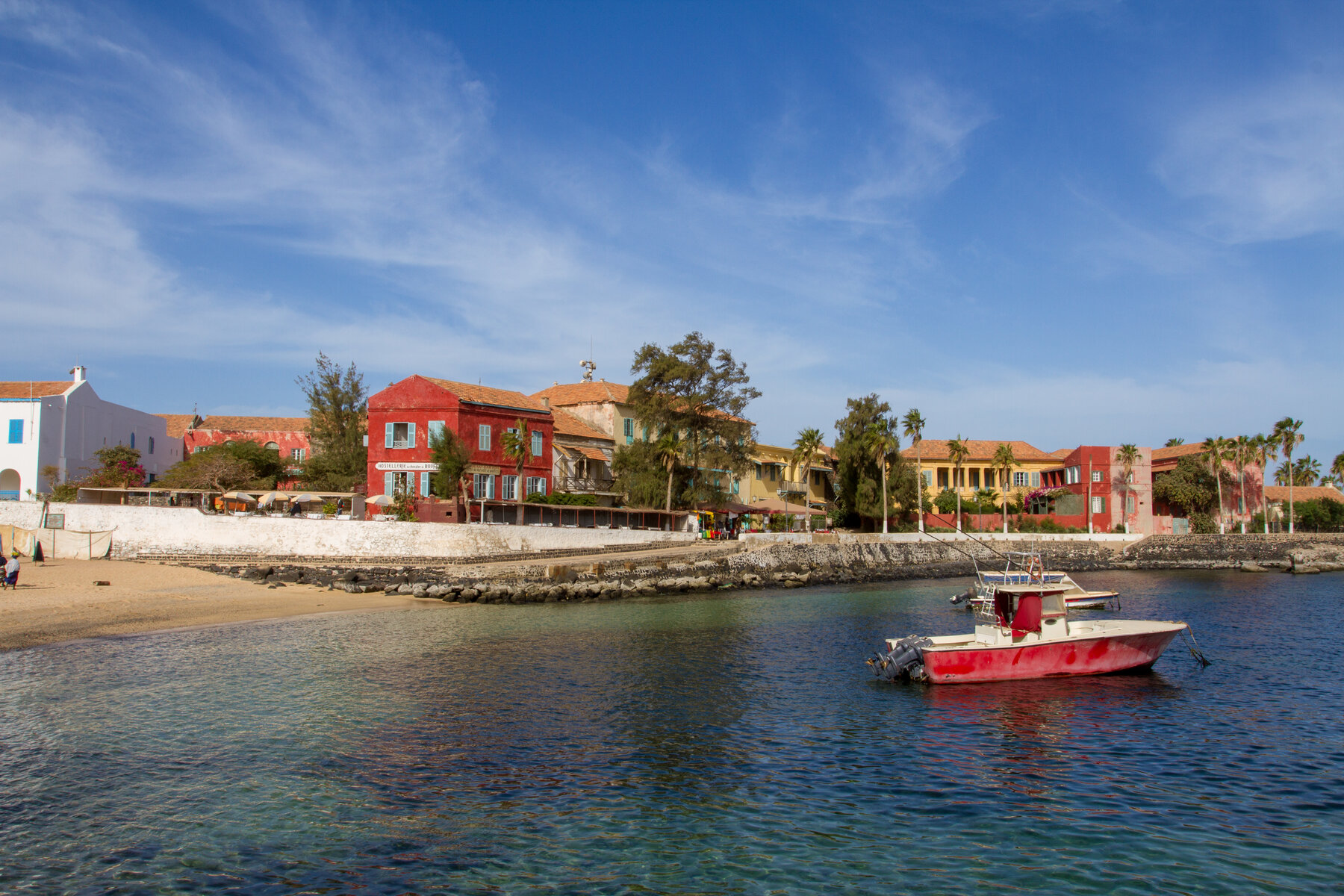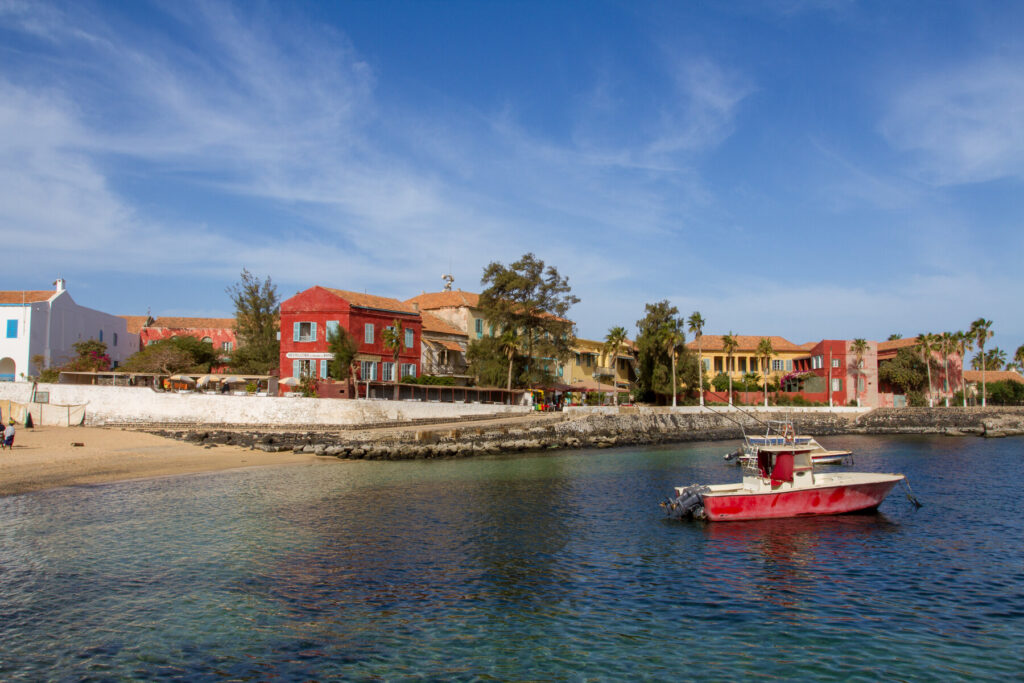 Having returned to dry land, it is time to start heading back to Dakar. Consider spending your last night in peace on quiet Île de Gorée. Soak up the last of the tranquility and have one final swim before getting the boat and making your way to the airport.
---
More information
For more information, see our guide: