We asked Benedict le Vay, author of our hugely successful Britain from the Rails and Eccentric series, to write a special guide to what is surprising and fascinating about the Chiltern Railways service from London Marylebone direct into Oxford – and he's come up with some cracking oddities!
Marylebone
What bone? That odd name comes from the village of St Mary's by the bourne, and that stream, the Tyburn, is one of London's seven lost rivers that has gradually been built over and gone underground. It still flows from Hampstead past here and under Buckingham Palace to the Thames. Marylebone High Street, a few blocks walk southwest, is worth exploring due to its wonderfully old-fashioned shops, including the lovely Daunt's bookstore.
The winding Marylebone Lane that links this down to Oxford Street is that shape because it used to run beside that village stream – hard to imagine nowadays. If you say Marylebone ten times quickly, people may think it sounds like you are in railway carriage speeding along a country railway with those joints in the rails giving that familiar clicketty-clack rhythm. Or they may think you're rather strange!
Marylebone Station
The friendliest London terminus, on a scale that would suit a country town like Norwich, because it serves only Chiltern's routes, so it's easier to find your way around than its grander – I didn't say more pompous! – cousins such as Victoria and Waterloo. Yet somewhat cheekily this upstart – it was the last London terminus to be built – got on the Monopoly Board, which they didn't.
Details to look for: on the railings outside Marylebone the initials GCR are inscribed in Art-Nouveau style, which give a clue to the date it was finished – right at the beginning of the 20th century, much later than the other railways. And what do those initials stand for?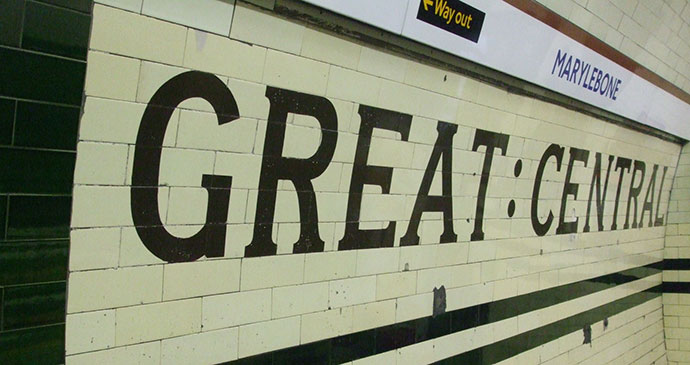 Well, the answer is written out not here but on the northbound platform of the nearby Marylebone Station on the Bakerloo Line in the original tiling – Great Central (Railway). In a way, that tiling is advertising the connection to the Great Central about 100 years too late – the GCR became part of the London & North Eastern in 1923, then British Railways in 1948, and Chiltern Railways took over in 1996.
It was even proposed to close the lovely route back in the gloomy 1980s, provoking a local fight back as ferocious as the more famous one that saved the Settle & Carlisle Line at about the same time – thank goodness they didn't close this route, as under more imaginative management, it's thriving now as never before.
Wembley Stadium
Not long after leaving Marylebone we reach the white lattice arch of the new Wembley Stadium, the home of English football. But no matter who plays the cup final at Wembley, Middlesbrough FC will always come out on top. Why? Because fans of the Boro worked at the steelworks that constructed the famous arch over the pitch and secretly welded their club's shirts, scarves and programmes in the top section (in heatproof bags, so they didn't burn).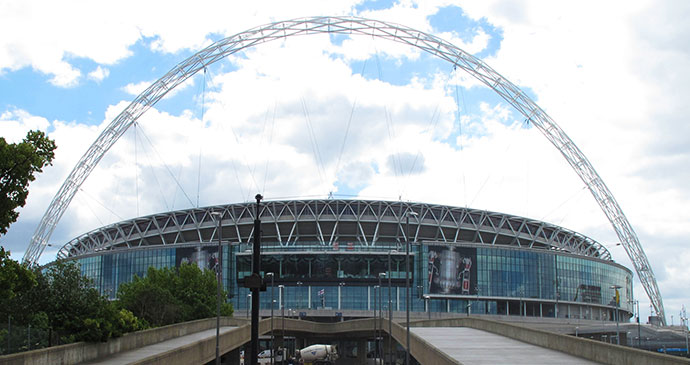 They will remain there for every cup final for centuries. As well as sport, the stadium hosts pop and rock stars – but, if you can bear to, leave before the last Bruce Springsteen encore to avoid queues at the station.
Northolt Park
Northolt is worth a special mention because of its famous airbase a little further west, after the railway junctions. This is Britain's oldest continuously run airbase and was going by 1916, even before the RAF was formed in 1918. It is famed for being the base of the Polish No 303 Squadron in World War II, which scored more victories than any other squadron in the Battle of Britain, and is commemorated by the Polish War Memorial at the A40 end of the airfield.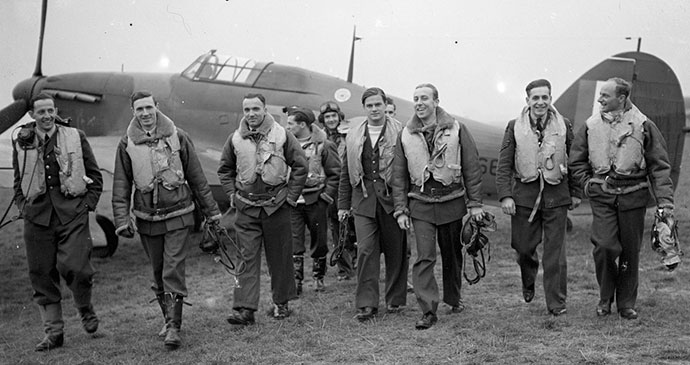 Camouflaging the airfield in the war was a real problem, as a countryside effect wouldn't have worked – being set in a sea of housing. So it was disguised as fake suburbia, with hangars done up like houses and a fake road and stream painted across the runway to break it up. This was very effective, as of 4,000 German bombs dropped within two miles over a 15-month period, only two hit the airfield (whereas Northolt-based aircraft downed 148 Luftwaffe planes, with 25 more 'probables' and 52 more damaged. With figures like that, you begin to see why the Battle of Britain was won.) But the excellent camouflage of the base created a problem – British pilots sometimes couldn't find it either and had to land elsewhere!
After the war, it was made to look like an airfield again. Fine, until a jumbo jet pilot landed at Northolt thinking it was at nearby Heathrow. The passengers and luggage were bused across to Heathrow, but the airline was nervous about the lumbering plane taking off from a military runway – even the seats were stripped out to make sure it cleared the shortened lampposts on the A40 for the 5-minute hop to Heathrow. Now, the giant gasholder at Southall has a huge arrow painted on the top to help prevent a recurrence. This way, stupid!
Ruislip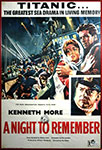 Some say the strange name comes from a spot where you could jump the River Pinn – 'rush leap'. It has a lake that was one of the great 1930s lidos, having been adapted from a reservoir intended to keep the Grand Union Canal topped up. This is where Titanic sank – not the real one but a large model in the 1958 film A Night To Remember, the most historically accurate of all the Titanic films. As the studio didn't have a big enough water tank, it was filmed partly here. The star, Kenneth More, said when the actors looked as if they had jumped into dangerously icy cold water, they weren't acting!
The Central Line of the Underground reaches as far as West Ruislip next to us, but although the earthworks for laying track continue for a while, it never achieved its ambition of reaching Denham, as the pre-war plan envisaged. This is because after the war the Green Belt around London was invented to stop further uncontrolled sprawl. This is important, because otherwise the green Colne Valley around Denham would have been plastered with wall-to-wall suburbs.
Denham
Famed for being the home of late 'national treasure' Cilla Black, Denham is also known as the home of Denham Studios, which turned out many classic films in its short lifespan (1936–52) such as Henry V, Brief Encounter and In Which We Serve.
This was part of a brilliant creative crescent of studios northwest of London stretching from Elstree and Borehamwood to Leavesden, Pinewood, Bray, Shepperton and Ealing that produced more films than Hollywood at times, many of which are assumed to be American-made, such as Star Wars and Blade Runner.
Gerrards Cross
We are in the gin and Jag belt now, with very impressive house prices and plenty of grammar or private schools. In 1969 singer Lulu married Barry Gibb (of the Bee Gees) here, and born here was – guess who? – Kenneth More, already mentioned above.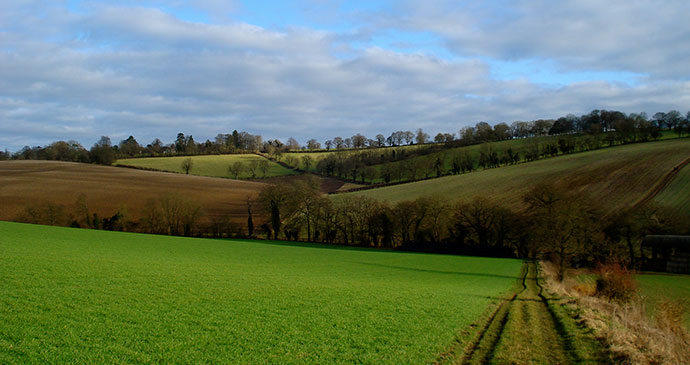 He was star of another film about a boat going down, Sink the Bismarck. Cripes! I wouldn't have risked going punting at Oxford with the chap. From here on, we are in the Chilterns Area of Outstanding Natural Beauty.
Seer Green and Jordans
Famous recent residents have included cardiganed crooner Val Doonican and Day of the Jackal thriller writer Frederick Forsyth at Seer Green, and Sharon and Ozzy Osbourne at Jordans. The latter village is important to Quakers, being the burial place of William Penn, who founded Pennsylvania.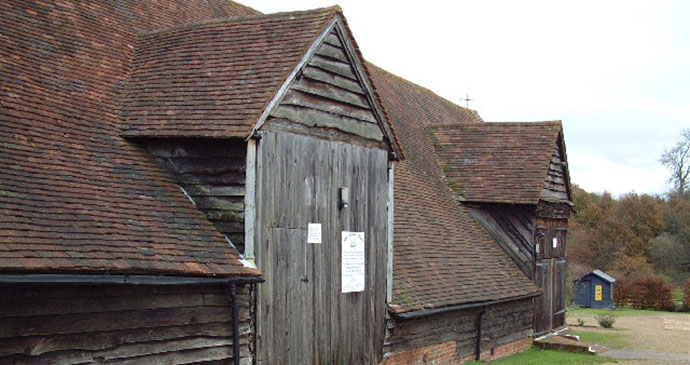 It is also home to the Mayflower Barn, which is allegedly made from the timbers of the famous ship that carried the Pilgrim Fathers to America. I say allegedly because it has never been proved or disproved, but why would they end up so far inland? Also, if all the buildings supposedly made from Mayflower wood (including a pub in East London) were taken apart, you could build a half-timbered aircraft carrier…
Beaconsfield
The name means 'clearing in the beech forest', and another nearby town is called Burnham Beeches, which all helps explain why the area is known for its furniture-making.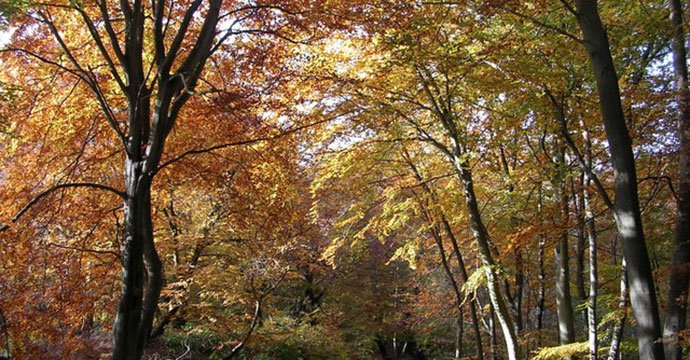 If there is anything more beautiful than strolling or cycling down a quiet country lane through these rolling beech woods in early spring, with sunlight dappling through the new green leaves… let me know.
High Wycombe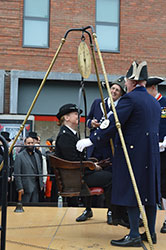 This is a centre of the just-mentioned furniture industry, particularly chairs. The legs and stretchers between them were made by bodgers who set up their pole lathes in the forest and lived in bodgers' hovels (it is the correct term, meaning temporary shelters in the woods). They would make 144 chair legs and the necessary stretchers in a day, then walk to a chair factory to sell them. It isn't really fair to mix up 'bodge' (a skilled job) and 'botch' (to make do with whatever is to hand), but people do.
Another reason for liking High Wycombe is what they do to their mayor. Each May, they weigh him or her in public to see if he or she has been enjoying too many free lunches. Outside the Guildhall on the High Street, the outgoing town mayor is publicly weighed and the results compared to those of a year before. If he or she is heavier, the mayor is given a good-natured round of boos and cries of 'Shame!', the traditional assumption being that this means a lazy year. If the mayor is lighter – and the police chief, certain councillors and various council officials also go in the balance – then resounding cheers will be heard. Needless to say, the incoming mayor and others are carefully weighed.
About a mile after the station, as the line begins to curve to the right leaving town, look left to catch a glimpse of a church with a golden ball on top. You are roughly at the site of West Wycombe station, which was closed in 1958 due to the competition from private cars and buses. And home to an amazing set of eccentricities, such as the Hellfire Caves, once the setting for the deeply strange goings-on of the 18th-century Hellfire Club, whose members were rakish aristocrats and perverted politicians (see my Eccentric Britain).
Saunderton
We whizz down through the increasingly pretty Misbourne Valley to Saunderton, set amidst great walking country. Shortly after this village our railway does a strange thing – our track separates from the other London-bound line and swoops left while the other track (as you will see on your return) even goes through its own short tunnel. We rejoin after three-quarters of a mile. The reason for this is that we are speeding down what was the original Wycombe Railway, a broad-gauge single track.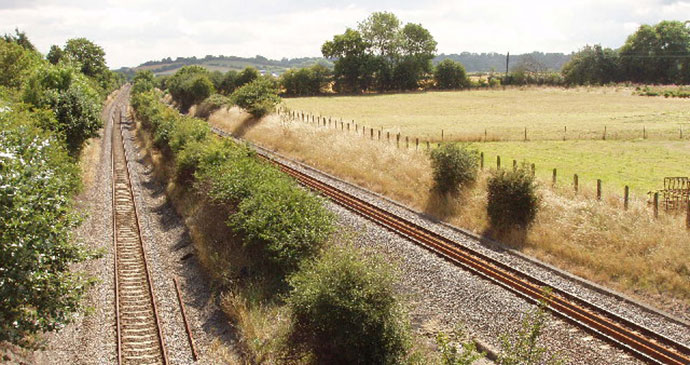 This wasn't the ideal gradient when the route came to be made high-speed double track, so engineers chose a better path for uphill trains. The old railway was slow, unlike today's smooth, fast ride, but it did once get to Oxford via another cross-country route, now closed. Today we can do it again, but far quicker and far more comfortably! Talking of civil engineering, if you look at aerial shots of this area, you can see in the fields the dead-straight marks of what looks like a Roman road crossing us at this point. Before legions of commuters whizzed through here, Romans marched across these hills.
Princes Risborough
Crossed by an even more ancient trackway, the Icknield Way from Wiltshire to Norfolk, this town is an important railway junction, too, with five different routes a century ago. Surprisingly enough, four of them are still working – to the sharp left is the private Chinnor Railway, which once went through to Watlington and is now preserved. Not so sharp left was the old, slow Wycombe Railway route to Oxford through Thame (closed), then there's our route straight on, and to the right there's a charming cross-country route to Aylesbury (also reached directly from Marylebone through Harrow).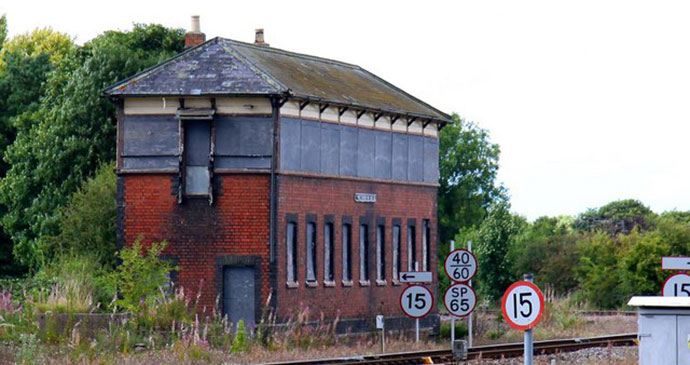 Chiltern Railways have even built a new station up there called Aylesbury Vale Parkway, and beyond that is an intriguing steam railway at Quainton Road, with an interesting relic from Oxford (which we will come to later). At Princes Risborough, don't miss the massive grand old signal box on the left just beyond the station that once controlled all these junctions with semaphore signals (those waving arm ones) and point levers. The box, a listed building, is the length of a cricket wicket, and was once part of a pair with a South Box controlling the other end.
Haddenham and Thame Parkway
Pretty Haddenham is one of only three wychert villages in England – that is, places where the buildings are made with clay and straw walls topped off with thatch or tiles. So picturesque it is that it often features in TV shows such as Midsomer Murders. It is also home to Tiggywinkles, the famous hedgehog hospital. It does other veterinary work, to be fair, but isn't there something cute about the word for the young ones – hedgepiglets? Ok, some people call them hedgehoglets but let's not be too prickly about that.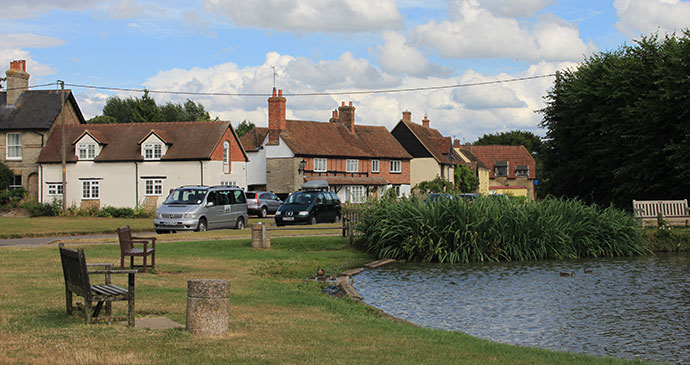 Haddenham © geograph.org.uk, Wikimedia Commons
Thame 'Parkway' means it isn't at Thame proper, but handy for it. The Victorians would have called it Thame Road, and sometimes at such stations they were fibbing gloriously and one found oneself nine miles from the village in a remote moorland (while a rival company had a station in the actual village!). Here, thankfully, the town is only a couple of miles west, a country stroll or quick bike ride, and easy for car-borne commuters. Both this station and Thame's own one (on the old Wycombe Railway) closed back in 1963, but in the 1980s British Rail had the sense to see that was a mistake and reopened this one.
Passenger numbers have grown ever since and the station has had to be doubled in size. Soon after leaving it, look out as we take the new curve left (leaving the main line on the right to go to Banbury and Birmingham). This is the only totally new bit of line on the new route, a brilliant move to link us to the old Oxford–Cambridge route coming from the northwest. We turn southeast for the last few miles to Oxford.
Bicester Village
One of the few, if not the only, stations in Britain where the announcements are in Mandarin Chinese. This is because Bicester Village is a hugely successful international shopping village – even Kate Middleton used to come here before she married Prince William.
You will certainly see on our return journey tourists getting on board festooned with bags from an array of designer outlet stores.
Islip
This section, by the way, a bit of the old Oxford–Cambridge line, was reopened in a limited way to Bicester a few years back but has now been jazzed up with double track and a 100mph speed limit. Islip is a lovely little village, and is on the end of a really charming patch of Oxfordshire that time forgot – left over after the ice age – called Otmoor, with great views, wonderful wildlife and good pubs. Read my book Eccentric Oxford to find out about a great little cycle circuit around here taking in fascinating places. One of the best.
Oxford Parkway
Built for the reopening of this line, this station on the Oxford Ring Road gives a much more convenient access for people from nearby towns and villages. But don't get off here thinking you are in Oxford. You are in Water Eaton!
Oxford
This needs little introduction as the world-famous 'City of Dreaming Spires'. Or rather it does, as you find that much is hilarious, secret, remarkable and fascinating in my book Eccentric Oxford. But if you like tiddly bits of ironic history, come with me on a short explore near the station and find a curiosity. Or just read about it before heading to see the colleges and churches.
If you turn right out of the station, and right under the railway on the footpath beside the main road, and then right up the second road, Abbey Road, go to the far end, about 200 yards. Turn left to find your way to the Thames towpath behind the houses. Cross the footbridge over the linking canal and turn right on the towpath. Duck under the railway bridge you have just crossed by train (mind your head). There ahead of you, behind a wire fence, is a remarkable thing – a railway swing bridge, unseen from road or rail and not known about by most Oxford citizens.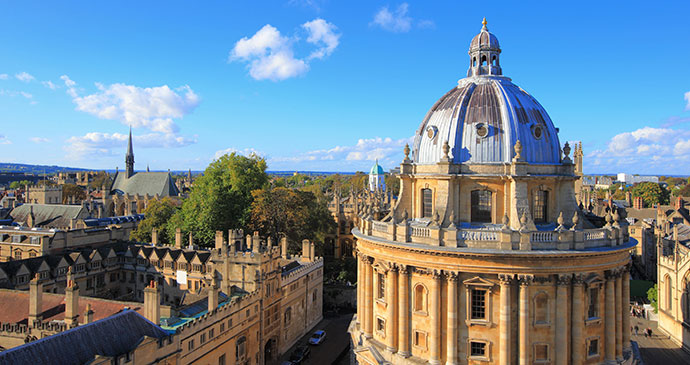 © aslysun, Shutterstock
Just as today's Chiltern Railways have offered a rival service to the Great Western from Paddington, so the London & North Western did exactly the same down the Oxford–Cambridge route in 1851, leaping over the canal here to reach their own station, Oxford Rewley Road, on the site now occupied by the Said Business School opposite today's station (the building with the green ziggurat spire, a stepped pyramid). It closed a century later in 1951.
And what evidence do we have of that lost Oxford station? Well, one reason is that I can remember it standing there, being used as a tyre fitter's (very common that, the usurper motor car taking over the railway buildings it helped close down). Two, there is a plaque showing the building in the pavement outside the business school. And three, the rather lovely building – it resembled in its iron frame construction the famous Crystal Palace in London, in a small way, but then it was designed by the same chap, Joseph Paxton – has been saved (unlike the palace, which is merely a football team now). It was re-erected at Quainton Road mentioned earlier, at the Buckinghamshire Railway Centre.
What with all those rival railway engines getting ready each morning, Oxford must have once been a veritable City of Steaming Fires. Either way, enjoy your visit to this glorious city.