Orkney offers some of the best wildlife experiences to be had in the UK, home to an abundance of avian delights, fascinating marine life and eye-catching wildflowers. In spring and summer, some islands can feel as though they have been totally taken over by nature, the air full of birds and their song, the lochs speckled with bobbing otters and the beaches dotted with lazy seals.
For many visitors, though, the showstopper is the majestic gannet, which you are sure to see arrowing seawards in almost any bay, plunging into the water to catch a fish. Although you're likely to see wildlife in almost any location on the islands, these are the best places to get up close with the islands' natural inhabitants.
Marwick Head
For decades, this promontory has been spoken of in hallowed tones on account of its magnificent seabird colonies; it is the RSPB's flagship reserve on Orkney. In recent years, the number of birds has dropped disturbingly; nevertheless, in spring the air can still seem filled with the confetti-like assemblage of kittiwakes and fulmars.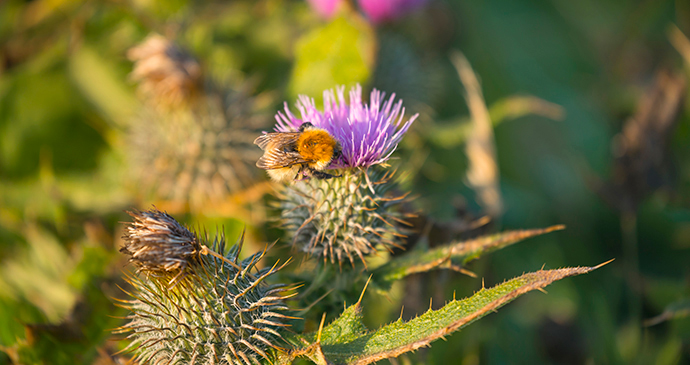 Wildlife is abundant: in winter, swans and ducks such as wigeon and red-breasted merganser can be seen in the lagoon-like water; meanwhile, greylag geese and curlew feed in shoreline fields alongside the ever-present oystercatchers. In summer the sky is filled with fulmars, while Arctic skuas and great black-backed gulls patrol the skies. Also look out for the rare great yellow bumblebee.
Mull Head
In spring and summer, the wildlife here makes for an outstanding spectacle: oystercatchers, lapwings and curlews nest in the fields; bonxies, Arctic skuas and Arctic terns nest on the moors; puffins, fulmars and kittiwakes nest among the cliffs; and gannets sweep past off shore.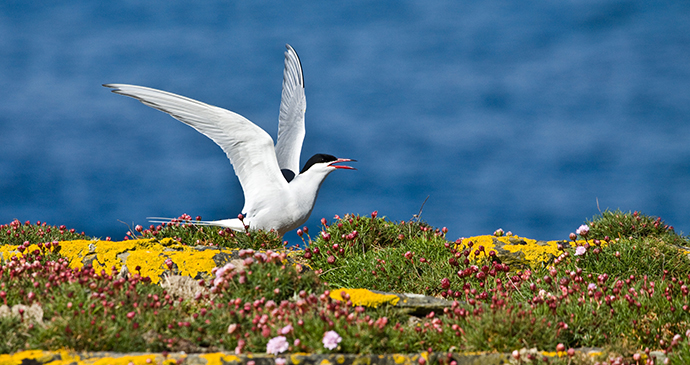 The strong tidal currents of Mull Head make for rich feeding grounds so attract many cetaceans, including orcas, Risso's dolphins, white-beaked dolphins, longfinned pilot whales and minke whales. You will almost certainly see both UK seal species here. Mull Head has never been ploughed; its abundance of wildflowers contrasts hugely with the snooker-table farmlands you travelled through to get here.
North Ronaldsay
For wildlife lovers, North Ronaldsay has few equals. Located as the first and last staging post for birds flittering between Arctic breeding grounds and the shelter of more southerly climes, the island bursts with avian activity during spring and summer migration.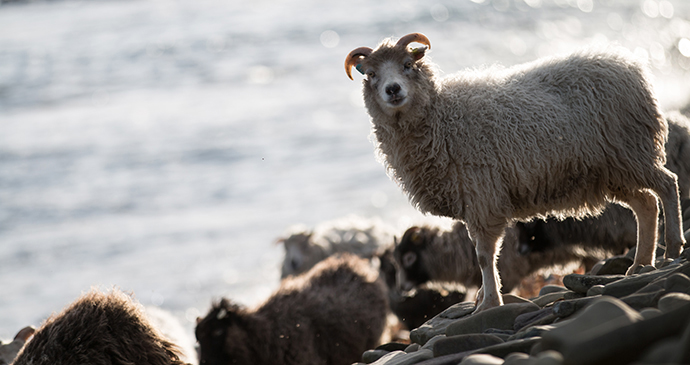 This is also the land of the North Ronaldsay sheep, sometimes locally called 'rollies', famous for living almost entirely on the beaches, nourished by a diet of seaweed. They are kept off the heart of the island by a sturdy 13-mile-long, 19th-century stone dyke, thought to be the only structure of such stature in the world.
Hoy
Hoy is arguably the best place to see the famous bonxie (greater skua), boasting more than 1,400 pairs. Other common birds include lapwing, with its distinctive 'quiff', which thrives in fields of barley, oats and potatoes, and red-throated diver is spotted on inland lochans.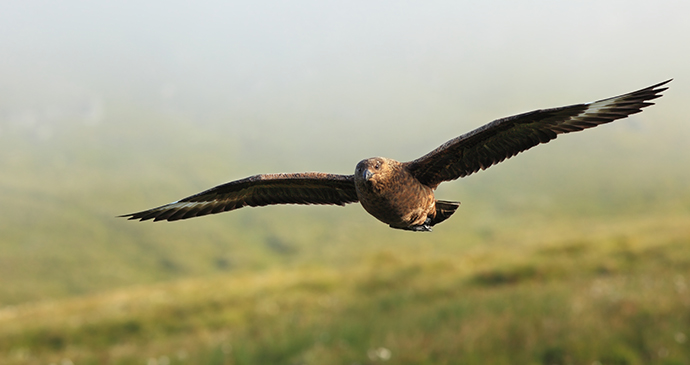 Mountain hares were introduced to Hoy in the 6th century and thrive to the extent that there are thought to be around 30 individuals per square mile. You also have a good chance of spotting otters along the Scapa Flow coastline and in the Rackwick Burn.
Eday
Eday's bucolic landscape provides perfect habitats for a range of wildlife. The moors are a fine place to spot short-eared owl, hen harrier and the tin merlin on the hunt. Whitemaw Hill and adjacent Flaughton Hill are among the very few breeding sites on Orkney for the whimbrel, a rare relative of the curlew. Mill Loch is also home to one of the UK's densest concentrations of red-throated diver.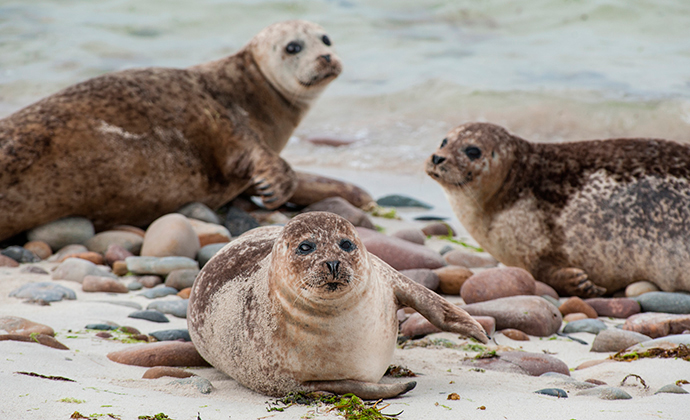 On land, Eday has a substantial resident population of otter: as well as along the shoreline you may see them wherever there is fresh water, such as sand dunes and quarries, to where water trickles down from the hills, or simply collects during heavy rain. It is not uncommon to even see them on the flanks of the moors, seeking a break from saline waters. Substantial populations of both harbour and grey seal can be found around the coasts while the west coast and Calf Sound are places where orca can be spotted.
Sanday
Sanday's isolation and rich vegetation make it appealing to a wide range of animals. On the avian front, every species of bird that nests on Orkney can be seen on Sanday. Otters are numerous here, though, as ever, patience is required to see them: Tresness beyond Cata Sand is a good spot. Harbour and grey seals seem to bob up all over the place; they are the one animal you are just about guaranteed to see, from the high tide mark behind the pubs in Kettletoft to Cata Sand and the Holms of Ire.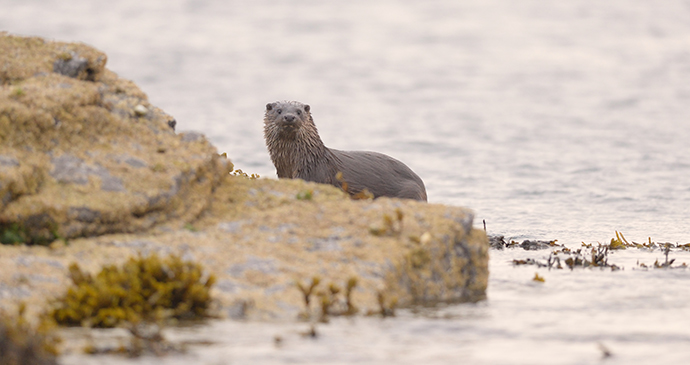 Finally, beachcombing for seashells is a delight and among those to be found on the shores at Cata Sand, for example, are Faroese sunset, pelican's foot an Hungarian cap.
Papa Westray
The maritime heath of the RSPB reserve at North Hill supports huge colonies of wildflowers, notably Scottish primrose, and is also a major nesting area for seabirds (including great and Arctic skuas), gulls and ravens.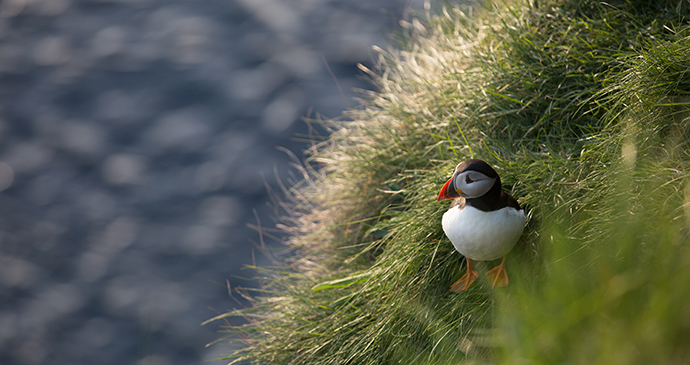 The cliffs, ledges and geos at Fowl Crag are good places to see kittiwakes, fulmars and puffins. Tysties nest on the lower ledges, while the dainty Arctic tern is a regular sight overhead. Autumnal fungi are quite noticeable on Papay and cowpats are fertile sources of growth for inkcaps. 
---