Looking for something to entertain the children but don't want to venture too far from home? Why not enjoy a couple of 'daycations'?
Our round-up of the best places to enjoy a day out in England is guaranteed to put the whole family in a good mood.
The Southwest
Pennywell Farm
Forget conservation and endangered species, this hands-on animal place is just that – its aim is to bring humans and animals as close together as possible and as such it offers one of Devon's most rewarding experiences for children.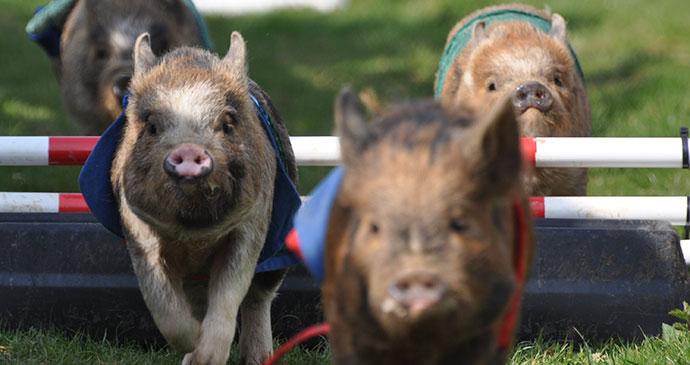 Just look at the expression of a little girl as she spots a tiny dozing piglet, and you'll see how well it works. Pennywell has been selectively breeding miniature pigs since 1992, with the result that a piglet weighs just eight ounces at birth and grows to about the size of a springer spaniel.
It's not just the miniature piglets here: every half hour there is something different happening, such as ferret racing, pig racing (14.30 daily, in season), bottle feeding or a falconry display, and there are plenty of non-animal activities for children too; much of it is under cover.
Exmoor Pony Centre
About four miles west of Dulverton is the hamlet of Ashwick and the Exmoor Pony Centre, home of the Moorland Mousie Trust (named after one of the most popular pony books of all time, published in 1929). This charity was set up to give the surplus foals from moorland-bred herds a future by training them to be useful family ponies, so lovers of this distinctive native breed get a chance to meet them face to face and perhaps 'adopt' a pony to help with its upkeep.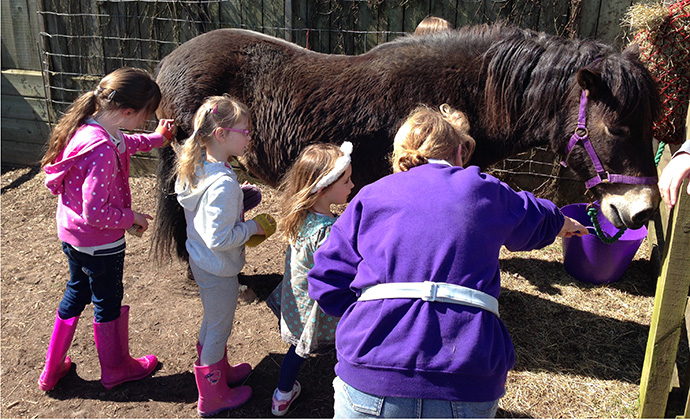 There's an informative display about the trust in the Green Room. Currently, the centre is only offering trekking trips for experienced riders who are able to mount and then adjust their own stirrups and girth without assistance. It is advised to book well in advance.
Abbotsbury Swannery
By far Abbotsbury's best-known attraction is the swannery on The Fleet lagoon, which is home to around 600 swans (and various other canny birds who have taken up residence and exploit the very pleasant living conditions).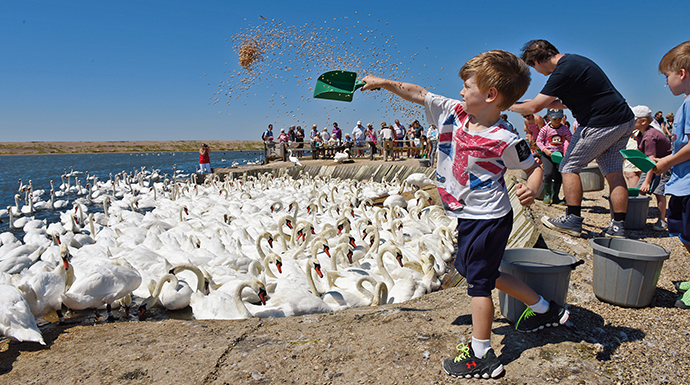 It was established by Benedictine monks during the 1040s, when they farmed the swans for food. Sir Giles Strangways bought the swannery from Henry VIII in 1543 and it is still owned by his descendants, the Ilchester Estates, making these the only swans in England not owned by the Queen.
Clearly the swans you see here today won't end up on anyone's plate – this is a sanctuary – and you won't see swans in pens, they are free to roam. You can wander along the paths among the nesting mute swans, and hides allow you to watch the birds out on the water. On display over the waterways are also some rather dastardly looking old-fashioned duck traps.
The south and southeast
Drusillas
It would be hard to find any child or indeed accompanying adult who wasn't fascinated by something at this particularly intimate-scale zoo. Mice live in a Mouse House like a doll's house, tiny monkeys look as curious about the visitors as the visitors are about them and children can go through a tunnel to look at the meerkats through a clear dome right inside their enclosure, and greet the snoozing ring-tailed lemurs.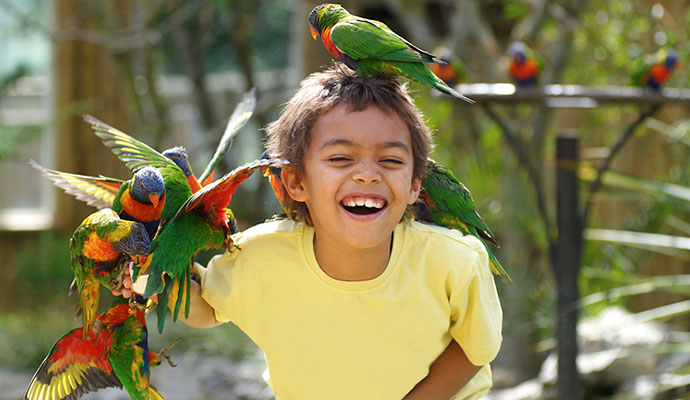 Elsewhere there are otters, pigs, macaques and penguins, a Hello Kitty Secret Garden with three children's rides, Drusillas' very own railway and some very innovative play areas including an interactive maze called Eden's Eye. Drusillas has an accent on learning too – at key holiday times there's a rogues' gallery of confiscated illegally traded objects like crocodile shoes – and they carefully place labels at child level.
Bekonscot
In an age of VR headsets and TikTok, Bekonscot's attractions are solidly old-fashioned but, when it opened in 1929, it was the first model village in the world. Over 15 million visitors have passed through its gates since then, including the young Princesses Elizabeth and Margaret.
Bekonscot is a not-for-profit company, raising money for needy causes and charities in the UK and abroad. Profits are distributed to charities each year via the Roland Callingham Foundation and the Church Army. It would probably be better described as a model community, as there is more than one village. There is Bekonscot Town, the punningly named mining village of Evenlode and Hanton with its aerodrome.
Some of the shops and buildings are based on real-life examples (the world's smallest Marks and Spencer was added in 1990), while others such as Leekey the plumbers and Argue & Twist the solicitors push the pun envelope. There's also a model of Green Hedges, the house where Enid Blyton lived, complete with Noddy in his car on the driveway, and a display in a seating area by the playground about Blyton's work.
BeWILDerwood
A little way along the A1062 Horning Road, BeWILDerwood describes itself as a 'curious treehouse adventure park'. Certainly, it's designed to exercise and stimulate the mind as much as the body. It's a magical place for children – forest folk like Mildred, the vegetarian Crocklebog who lives in Scary Lake, and the Twiggles, litter-hating goblin-like figures, are BeWILDerwood residents, as is a giant spider called Thornyclod.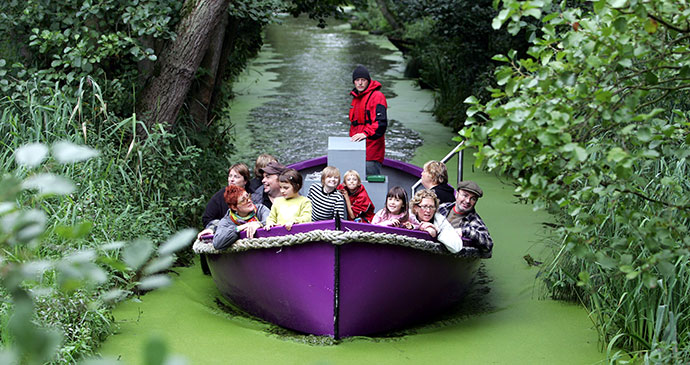 BeWILDerwood's environmental pedigree is certainly impressive too. The treehouses, ropewalks and boardwalks are all built from sustainable wood, while the 50 acres of marshland and woodland that make up the site are entirely pesticide-free, guaranteeing that no harmful chemicals leak into the broads. If that were not enough, some 14,000 broad-leaved trees have been planted since the park's creation and the food on site is mainly locally sourced and organic.
Green Dragon Rare Breeds Farm & Eco Centre
Here be no dragons, but most other feathered, furry and cold-blooded friends are somewhere on this 44-acre farm. The farm runs daily animal encounters with an educational aim, so that children can learn about animal health care while getting up close with ponies, barn owls, donkeys and so on. The rare breeds include an Oxford sandy and black pig who was trying to open the enclosure to let itself out when we visited.
The 'eco' part of the visit is embodied by the Eco Centre, a barn built from sustainably sourced timber that is run using biomass, photovoltaics and solar panels; and by the walled garden, where you can find an aquaponics system, solar water pump, compost area and a small greenhouse made from plastic bottles.
An innovation for 2018 was the opening of a three-acre British and European wildlife zone featuring birds of prey, red fox, red squirrel and pine martens, with the overall aim of this section being rescue, rehabilitation, captive breeding and eventual release into the animals' most natural environments.
Cotswolds Farm Park
On Bemborough Farm, the home of BBC Countryfile presenter Adam Henson, this farm park is home to over 50 breeds of animal – sheep, cattle, pigs, poultry and horses – positioned around an informative history trail, giving visitors a chance to meet them all. It begins with native breeds from the Neolithic period, then Roman and Viking right up to modern, commercial breeds.
Visitors can see how farmers have changed and adapted to meet demand. In addition to visiting the farm park, visitors are free to wander a two-mile waymarked Wildlife Walk around the farm and view a farming landscape that has been shaped over 6,000 years. There are butterflies and birds, and over a hundred species of wild flowers and grasses on the walk, including typical limestone-loving flowers and some unusual species as well as the very rare Cotswold pennycress.
The Midlands and the Northwest
The Ice Cream Farm
A theme park dedicated to ice cream – it's a no-brainer in Cheshire, where the lush grass nourishes the local dairy herds. The Ice Cream Farm sells more than 50 flavours of its Cheshire Farm Ice Cream, from vanilla to Cointreau and orange (there are even gluten-free cones), which are served in the world's largest purpose-built parlour. Additionally, their brand-new Drive Thru allows visitors to sample these tasty flavours from the comfort of their own car.
It's perhaps advisable to treat the kids to an ice cream after they have enjoyed the rides in the farm's play park, which has attractions with lip-smacking names such as Strawberry Falls and Honeycomb Canyon, and promises rollicking good fun with indoor sand and water play, climbing frames, inflatable slides, battery-powered quad bikes and the like.
The Heights of Abraham
Part of the fun of The Heights of Abraham is the journey – a cable-car ride. It hovers mid-point, allowing you to drink in the views of the Derwent Valley, the riverside town of Matlock Bath and Cromford flanked by the rocky outcrops of the Black Rocks. You can also spot the Arkwright mills, Willersley Castle and Cromford Canal beyond. Once at the top, though, there's plenty to see.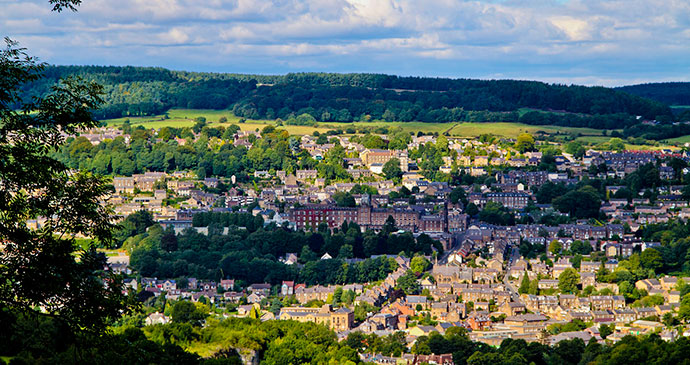 Take a guided tour of Masson Cavern, a lead mine later worked for fluorspar. Squeezing between the rocks, you get an inkling of the dark, damp and claustrophobic conditions the miners worked under, some of them children. In the Great Chamber, you'll be awarded for your efforts with a multi-coloured light show. There are a lot of steps and uneven ground, so wear comfortable shoes – and bring a jumper. Further down the hill, Rutland Cavern has fewer steps.
It's smaller than Masson Cavern, but its museum setup gives you a feel for the miners' existence. Check out the Long View exhibition, telling the story of Matlock Bath's development as a tourist town along with Heights of Abraham. Children can enjoy the hairy spiral climb to Prospect Tower with its 360° view of the surrounding area and the exceedingly long slide in the playground.
Hawkstone Park Follies
This restored 200-year-old pleasure garden was described by Samuel Johnson as: 'its prospects, the awfulness of its shades, the horrors of its precipices, the verdure of its hollows and the loftiness of its rocks … above is inaccessible altitude, below is horrible profundity.'
Walking where whimsy and fabricated surprises meet with naturally dizzying cliffs and crags, it's pleasing to imagine the reactions of Georgian and Victorian visitors who weren't spoiled as we can be today by theme parks and manufactured thrills. There's something exhilarating about following one of the trails up sandstone cliffs and steep steps, over crags and through caves so dark your eyes may as well be closed, to discover the follies created by the Hill family of Hawkstone.
For more ideas on family days out in Shropshire, click here.
The Northeast
Nidderdale Llamas
Nidderdale Llamas is based at Kiln Farm in Wilsill, a tiny hillside village between Pateley Bridge and Summerbridge. It's run by Suzanne Benson who fell head-over-hooves in love with llamas when she discovered their intelligent and loving character.
You don't ride llamas, but you walk with them and they carry your stuff while they amble along at the pace set by you – and sometimes by them should they find an irresistible blade or two of grass to eat on the way. It is one of the most gentle and sociable ways to explore the countryside, strolling at a pace far slower than you would go during a normal hike across the hills.
Suzanne tailors each trek according to the people that are booked. Therefore, it is not possible to simply turn up to the farm unannounced to look at the llamas (the chances are, they won't be there), or to expect a trek immediately. It's not advisable for children under ten years to trek with a llama because of the pace ('young children tend to get bored with the slow speed,' says Suzanne) but children from the age of 12 will easily be able to lead a llama, so long as they have an accompanying adult with them. Don't be surprised if you find yourself talking to the animals!
The Forbidden Corner
West of Middleham, Coverdale's major attraction is the Forbidden Corner, a fantasy-based series of mazes and follies in the four-acre garden of an old racing horse stables, Tupgill Park. It quite justifiably advertises itself as 'The Strangest Place in the World' and is brilliantly unique. Although it regularly features on national lists of top days out, it was never intended to be anything more than a private family folly.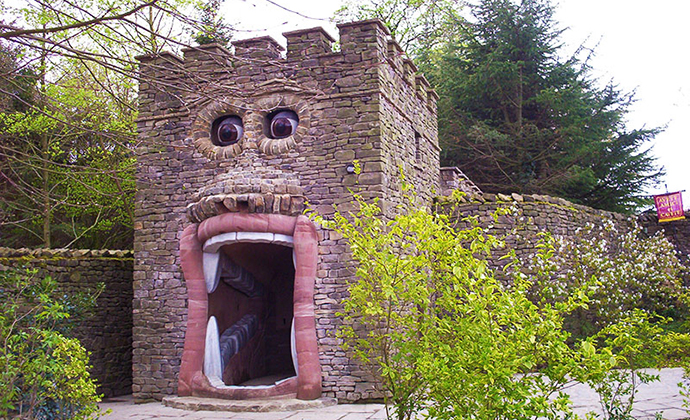 It was the brainchild of the owner of Tupgill Park, Colin Armstrong, who in the 1980s teamed up with architect Malcolm Tempest to design a series of walled gardens, tunnels, grottoes and towers which linked into a three-dimensional maze for his family and friends to explore. As it developed it was opened to the public and its fame spread quickly by word of mouth.
What makes it so good is that it is a genuine adventure. On arrival you are given a leaflet which is not a map, but a series of cryptic messages. The entrance though the gaping mouth of a giant stone monster sets the tone and away you go. You'll undoubtedly spend hours climbing, crawling, getting lost, studying clues, groping along dark corridors, planning routes from battlement viewpoints, getting lost again and finally finding the way to the underground temple.
This is a must-see place, especially if you have children, but its best to come at less busy times to make the most of the sense of exploration.
More information
Discover more great days out for the family in our Slow Travel series: