After spending three years living in Italy, my family and I moved to France and sent our children to the local school. On the first day, we asked our 10-year-old son how it went. All good, he said, until I asked about the school lunch, imagining budding Gallic gourmets feasting on a daube, a fluffy omelette, or maybe some cassoulet? Instead, I was met with a look of horror. 'Mamma, they put the pasta in the water before it was boiling!'
Italy makes gourmets out of even the youngest children. Because when it comes to food, the Italians are fussy, obsessed and – annoyingly – always right. Nowhere more so than Emilia-Romagna, the Po Valley region renowned for art cities such as Piacenza, Parma, Modena, Ferrara and Ravenna, but nicknamed 'Food Valley' for the delicacies it produces: Italy's finest pasta, Parmesan, Grana Padano, provolone and balsamic vinegar. And that's before we mention the host of cured meats: Parma ham, pancetta, coppa, fiocchetto, strolghino and most prized of all, culatello, in spite of its name, 'little arse'.
With such superb local ingredients, there's little fancy about Emilia-Romagna's cooking. Above all, it seldom changes. And why should it need to, ask the locals? It's perfect as it is – refined and democratic, with its feet in the muck and its head in the stars. The small farmers doing things the old-fashioned way means just as much to it as the famous chefs and venerable culinary academies.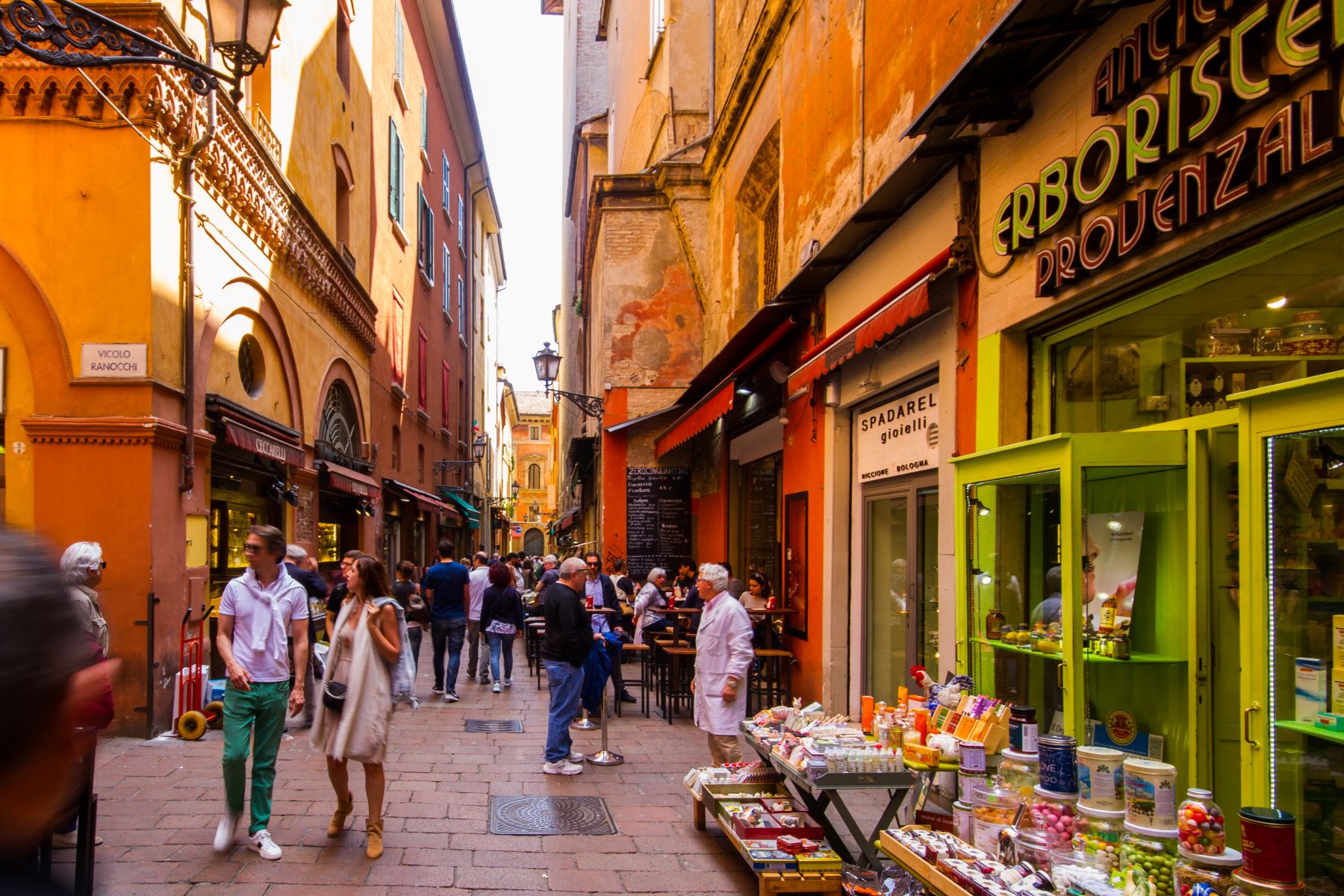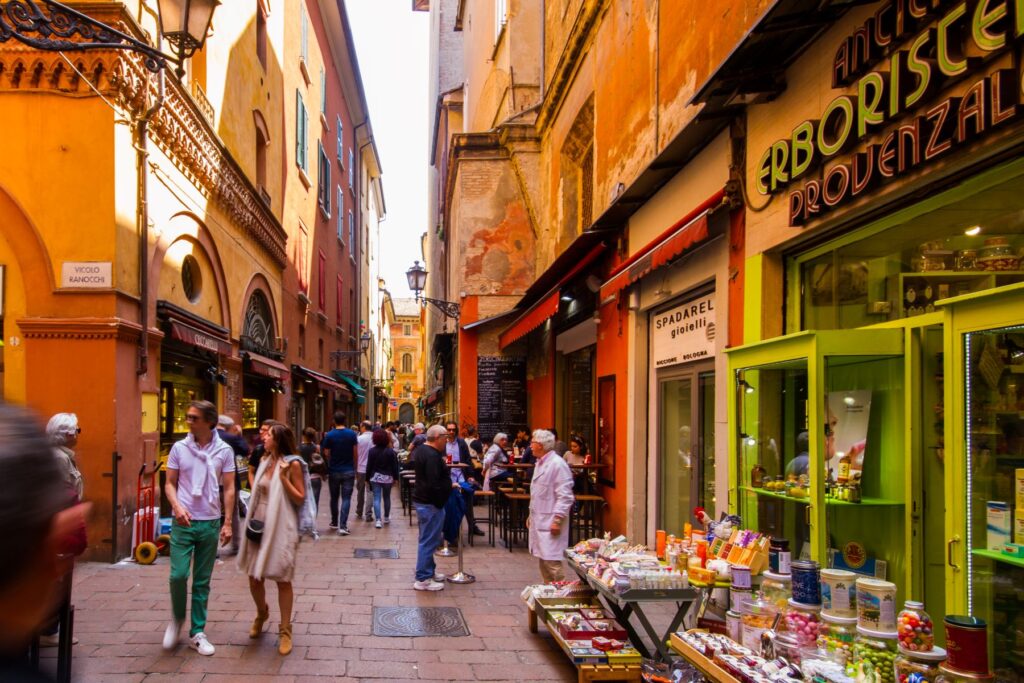 And Bologna! If the capital of Emilia-Romagna didn't have to share a country with divas like Rome, Florence and Venice, the city's palazzi, churches, museums, opera and its wonderful pair of wonky leaning towers, the Asinelli and Garisenda, would be swamped with tour groups. Instead, Bologna deftly combines fascinating art and architecture with the atmosphere of a real working city. Its symbols are the endless porticoes that provide shade in summer and shelter from the winter rains.
Its centuries-old osterie (inns) are filled with students from Europe's oldest university, founded way back in 1088. This preponderance of youth, along with a head start in Italy's industrial revolution (it's no accident that Emilia-Romagna is also Italy's 'Motor Valley', home to Ferrari, Lamborghini and Maserati) has traditionally made it one of the country's most left-wing regions. Hence Bologna's trio of nicknames: La Dotta ('the learned'), La Rossa ('the red') and La Grassa ('the fat').
All the crooked little streets between the leaning towers and ginormous main square, Piazza Maggiore, fall under the rule of La Grassa. This area, known as the Quadrilateral, has been the city's stomach for millennia, lined with some of the finest food shops in Italy. It's irresistible and always my first stop in Bologna. I especially love it on early winter evenings, when the illuminated porticoes give the city the air of an enormous urban palace, arch after arch disappearing into shadows.
The Quadrilateral's little food shops radiate contentment and well being, wafting tantalising aromas, amid the happy chit-chat of folks heading home from work, stopping for something to take home for supper or an aperitivo. Also in winter, indulging in the 'fat' part of the deal feels more or less guilt-free: you need it to stay warm on those nippy nights.
Fattest of all is Bologna's own contribution to the regional pork-o-rama, mortadella, the noble ancestor of baloney. The confusion began with the late 19th-century American habit of calling all Italian sausage 'Bologna sausage', but mortadella is nothing like those rubbery pink discs of lunchmeat you see in the supermarket. The real deal resembles a red cannon, half a metre in diameter and two metres long, set up on trestles.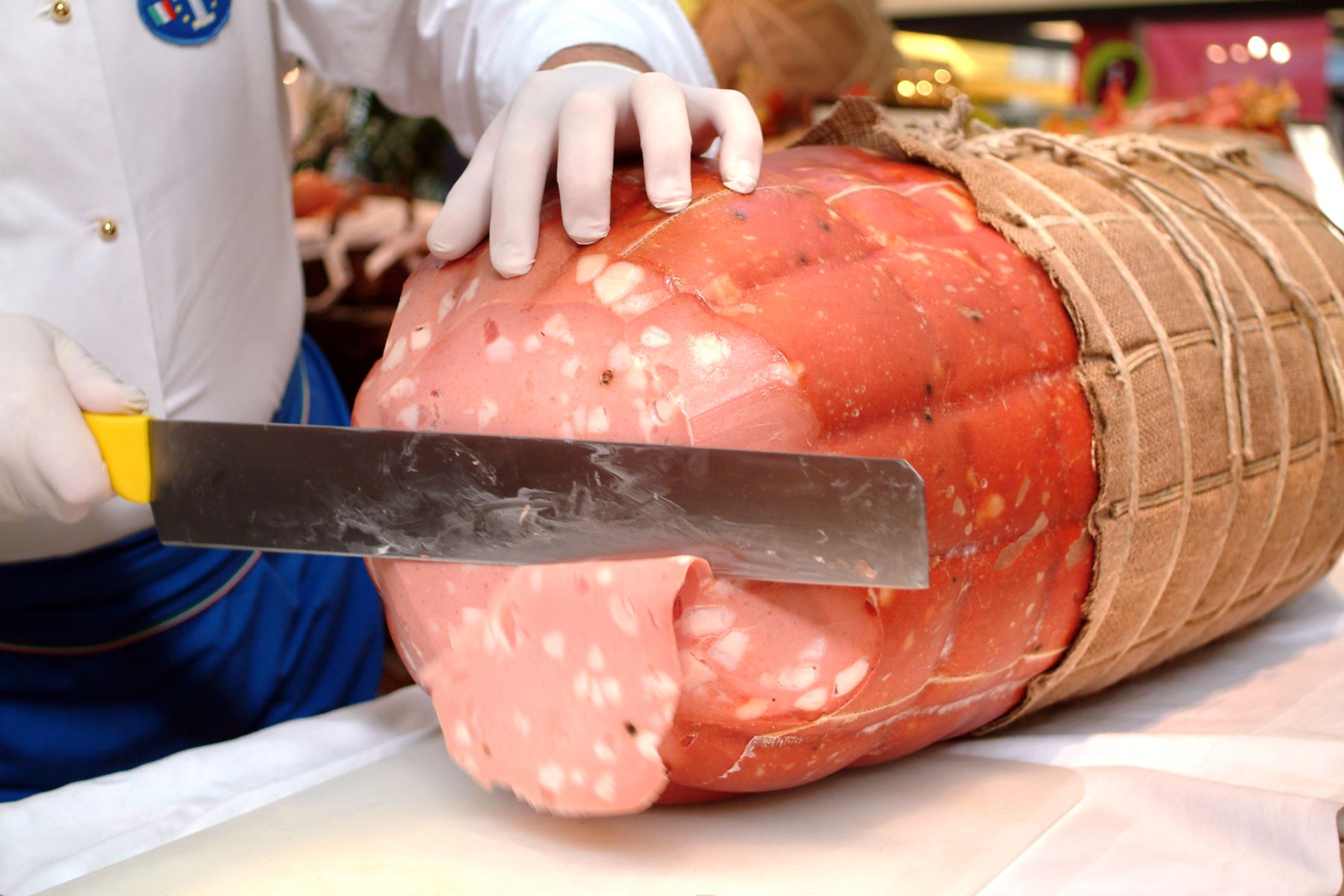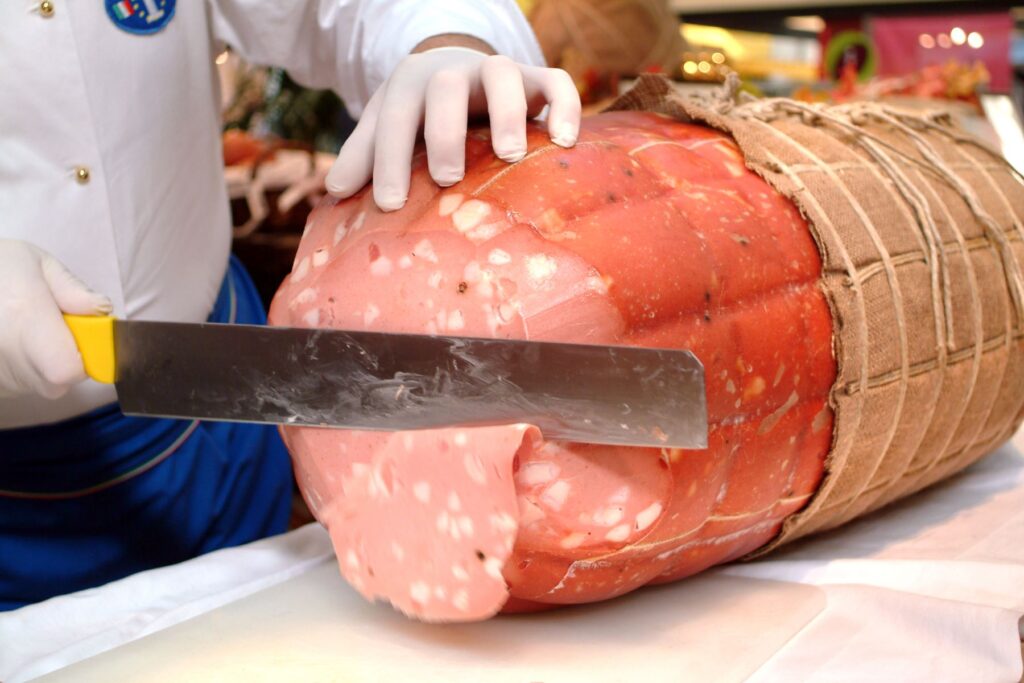 The recipe – prime cuts of pork, ground fine in a mortar (hence the name), sprinkled with small cubes of fat (lardarelli) and spiced with whole grains of pepper and sometimes pistachios – was codified by the Corporazione dei Salaroli ('Sausagemakers' guild) in 1367. Back then, mortadella was so prized that it was used as currency.
Mortadella is also a key ingredient in tortellini, plump rings of egg-rich pasta arranged like jewellery in the Quadrilateral's shop windows. As the old Bolognese saying goes, 'If the first father of the human race was lost for an apple, what would he not have done for a plate of tortellini?'. The first tortellini were allegedly modelled on a woman's navel, a navel so beautiful that it could only have belonged to Venus herself (the story goes she arrived incognito in Bologna, checked into an inn and was spotted while undressed by a cook).
The Bolognese have even fought for the honour of their beloved pasta – in the 1920s, when a visiting Venetian disparaged tortellini, a postman beat him up so badly that one ended up in the hospital and the other in jail for six months, without tortellini.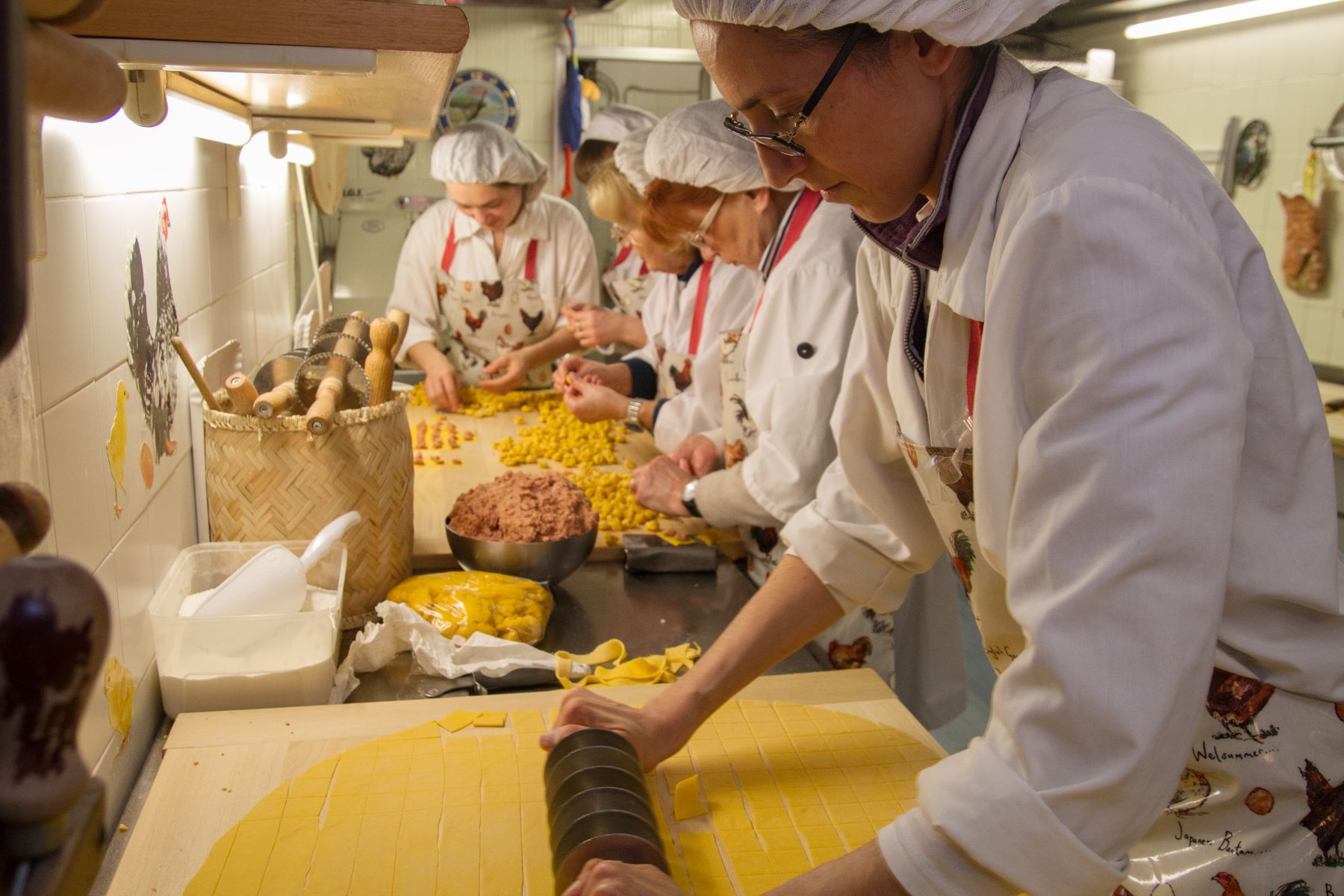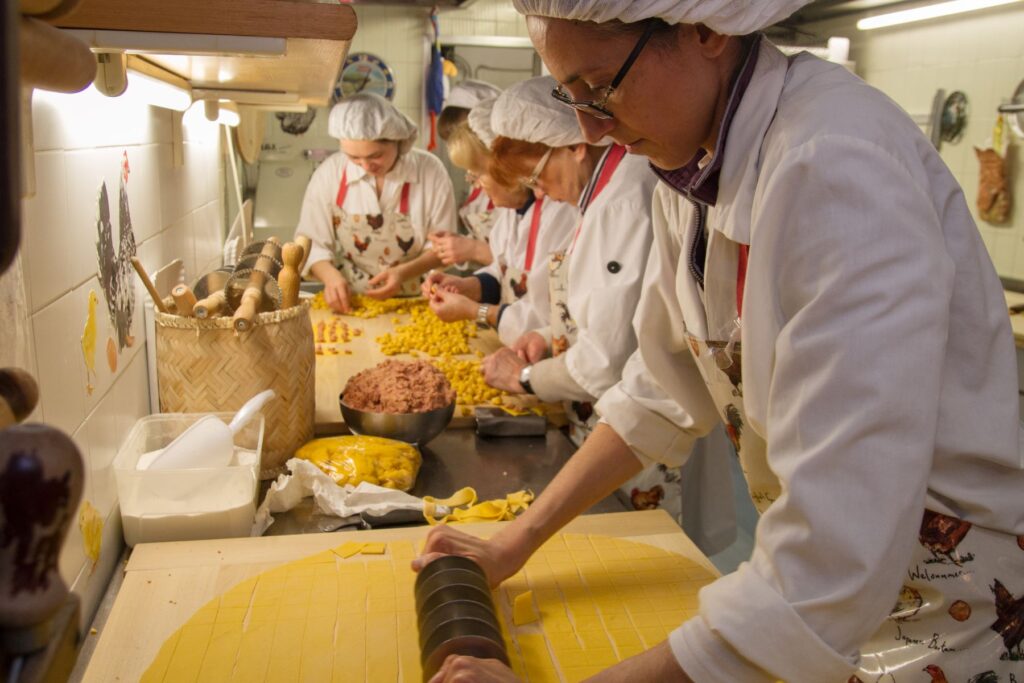 Although tortellini have been made since the Middle Ages, it wasn't until 1821 that a certain Adelaide came up with the canonical filling of minced veal, ham, mortadella, Parmesan cheese and nutmeg. In 1963, the Accademia del Tortellino (yes, there is such a thing) was founded to perfect and preserve Adelaide's recipe. The locals love them best swimming in a rich capon broth.
Feminine pulchritude also led to the creation of tagliatelle, the third star in the Bolognese culinary firmament, laid out in tempting golden skeins next to the tortellini in the Quadrilateral's shops. Lucrezia Borgia, daughter of Pope Alexander Borgia, was famous for her long blonde hair, and the story goes that these long ribbons of golden egg pasta were invented by a local chef named Zafirano in honour of her wedding in 1487.
Since then, the Bologna-based Academy of Italian Cuisine has decreed that to be called 'tagliatelle' their width must be 1/1,270th of the height of the Torre Asinelli (ie: 9mm) – no more, no less. The precise measure is kept closely guarded by the city's Chamber of Commerce. The dough has to be rolled out so thin it's almost translucent, and they say it takes about 15 years of practice to get it right.
And the classic sauce to complement those gorgeous silky strands? Ragù bolognese. Comparing tagliatelle al ragù bolognese to its descendent, British spag bol, probably won't land you a fist in the snoot these days, although I personally wouldn't risk it. It's always the first dish I order after my prowl through the Quadrilateral, the confirmation nothing has changed, that Bologna is still Bologna.
Inevitably too I'm reminded of the religious silence that greets a plate of pasta as it arrives from the kitchen, even at a table of the most garrulous Italians; it's not only because it tastes better when it's hot, but it's a sign of respect, acknowledgement for the art that went into its creation.
---
More information
Dana Facaros has written more than 20 guidebooks to Italy and its regions, including Bradt's guide to Emilia-Romagna: