The best beaches in North Cyprus are some of the most beautiful in Europe – whether you want to spot turtles in the sand, soak up the sunshine by cerulean waters or get involved with watersports, there's one for you.
For more information, see our guide to North Cyprus.
Alagadi
At 18km from Girne, this is the longest stretch of sand on the north coast and unquestionably one of the most beautiful spots on the island – it has now been designated a 'Halk Plaj' (public beach), so there's no access fee. Inland the view looks directly on to the five peaks of Beşparmak Mountain. Access from the main road is either through the village itself, where you'll find the famous turtle project, restaurants and a free car park, or further east, from a metalled road leading to a large, well-defined car park where charges apply in high season.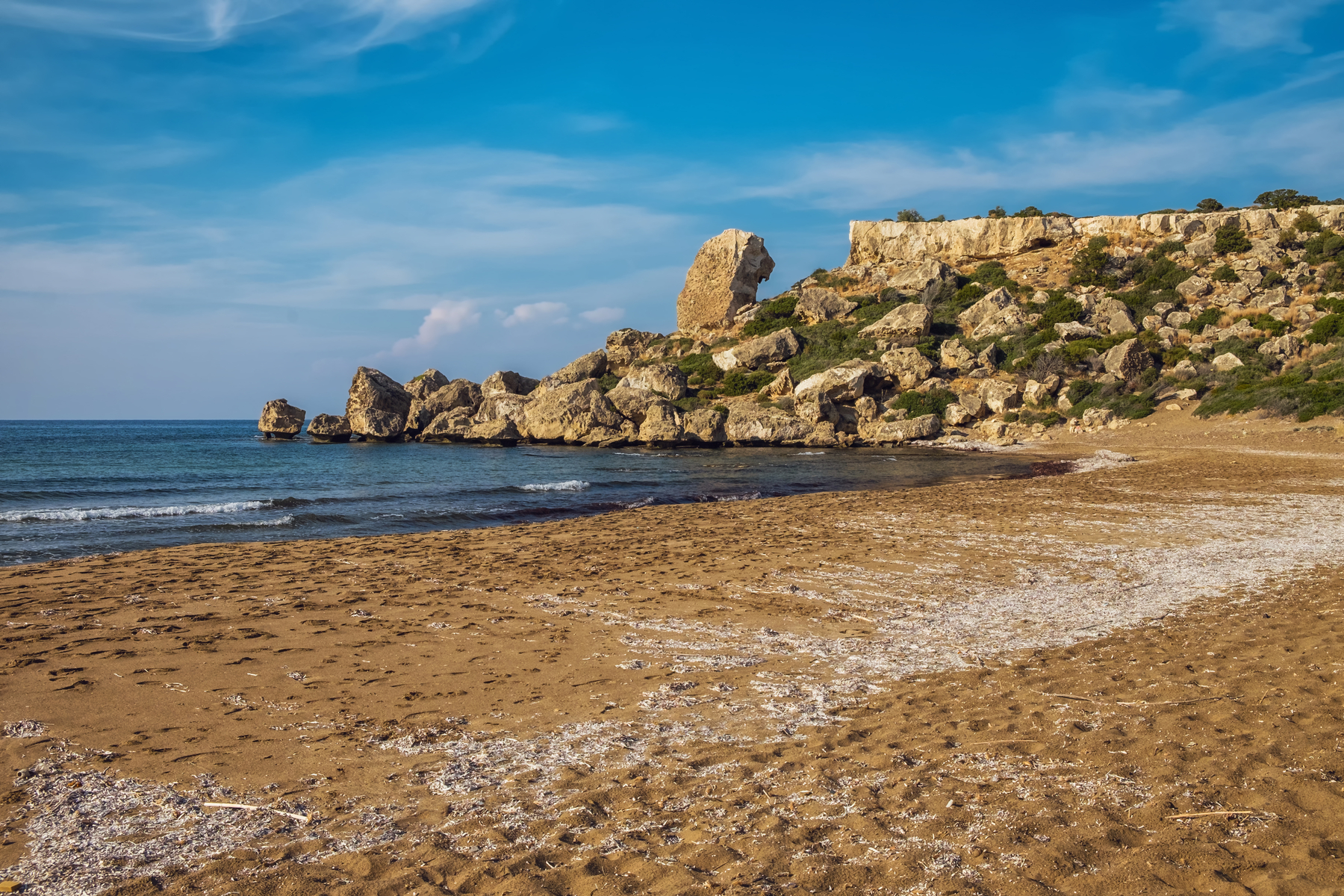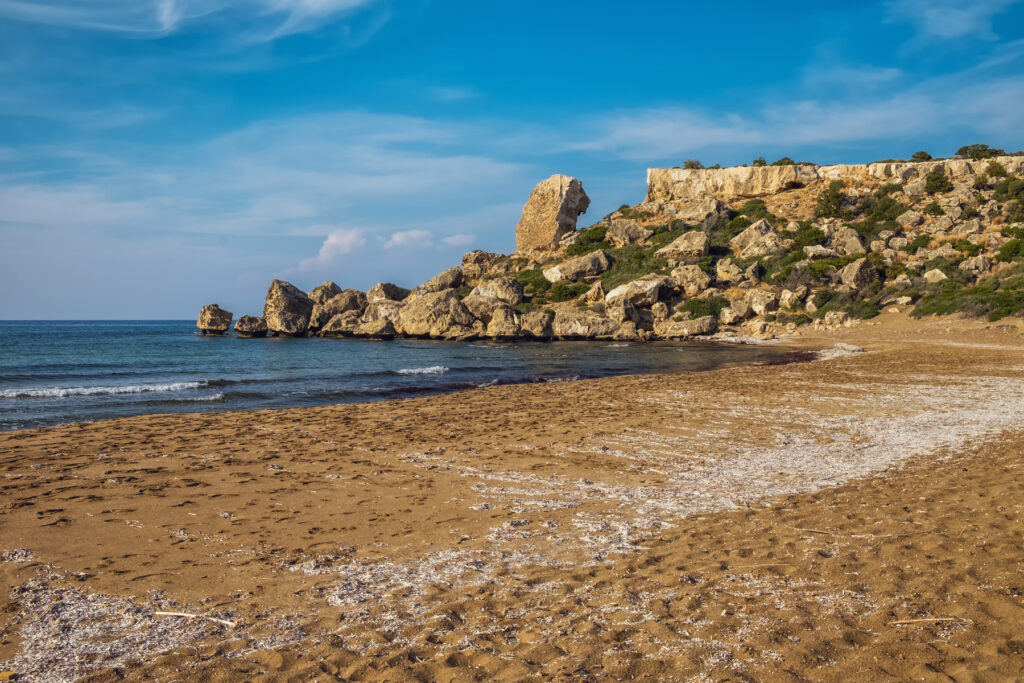 Next to this is the reasonably priced Turtle Paradise restaurant. Alagadi is often referred to as Turtle Beach as it is a favoured spot for loggerhead turtles to come ashore and lay their eggs. Volunteers try to keep the beach clean and access is limited in nesting season to guided turtle-watching groups between 20.00 and 08.00.
Palm Beach
If beaches are your priority, then the Gazimağusa region is for you. The immense sweep of Gazimağusa Bay is one of the finest stretches of sand anywhere in the Mediterranean and Palm Beach is an excellent place to start. This short stretch next to the Arkin Palm Beach Hotel is clean sand and excellent for swimming. You'll have the deserted hotels of abandoned Varosha as a unique backdrop.
Buy a day pass (TL50) from the Arkin to use their sunbeds and umbrellas, from the adjacent Devran Bar and Restaurant for a more reasonable price (TL15), or simply make your way to the southern end of the sands and plonk yourself down for free in the public section. The sea is usually calm and safe.
Glapsides Beach
Pronounced 'Glap-seed-es', this beach is signposted 3km north of Gazimağusa town. It's a large stretch of sand that's free and very popular in season with locals. It's not associated with any particular hotel, but has a restaurant and club that plays host to a lively open-air disco at weekends and offers sunbeds and umbrellas between April and October.
Litter can be an issue in late season and off season but the beach remains a gorgeous place to soak up the island's atmosphere.
Silver Beach
This pleasant beach is signposted off the main road, around 6km north of the walled city of Gazimağusa. There is a free public section here and also a year-round restaurant/bar with sunbeds and umbrellas. While this is not the most popular beach in North Cyprus, its picturesque setting and delightfully laidback atmosphere makes it well-worth visiting for anyone in the area.
Escape Beach Club
For those looking for a more tailored experience, a visit to a beach club can be a great choice. The reasonably priced Escape Beach Club Restaurant is at the end of a long sandy bay. The water is shallow and safe for children desperate to use air-mattresses and dinghies – there is an island, known as Golden Rock (or 'Island of the Free'), protecting the entrance to the bay. It is so close that you can wade across to it.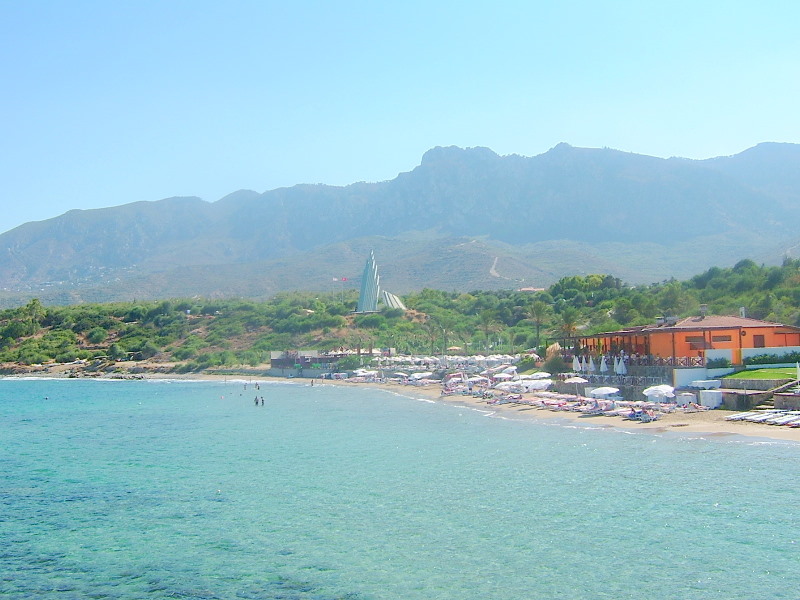 If you just want to swim and then sit on the sand, or just have a drink at the bar, you should be able to avoid the entrance fee. Watersports are also available for anyone with an interest in activities as well as sun-bathing.
Acapulco
This beach 'belongs' to the holiday village, Acapulco Beach Club, 10km east of Girne. Probably the best beach on the north coast for children with its shallow water and gentle shelving, it features a long stretch of clean sand bounded by rocky promontories. Straw umbrellas and sunbeds are available.
On the eastern promontory stands the excavated Neolithic site of Vrysi, though accessing it is now virtually impossible. There's also a good self-service beach restaurant that means you don't have to interrupt your relaxation in search of food.
Diana Beach
A compact, neat strip of sand located east of Girne, Diana Beach is furnished with sun-loungers and umbrellas, with a beach bar for refreshments. Usually kept clean, at least between April and October when the bar and facilities are open, this is a peaceful and enjoyable spot for those hoping to while away an afternoon on the sand.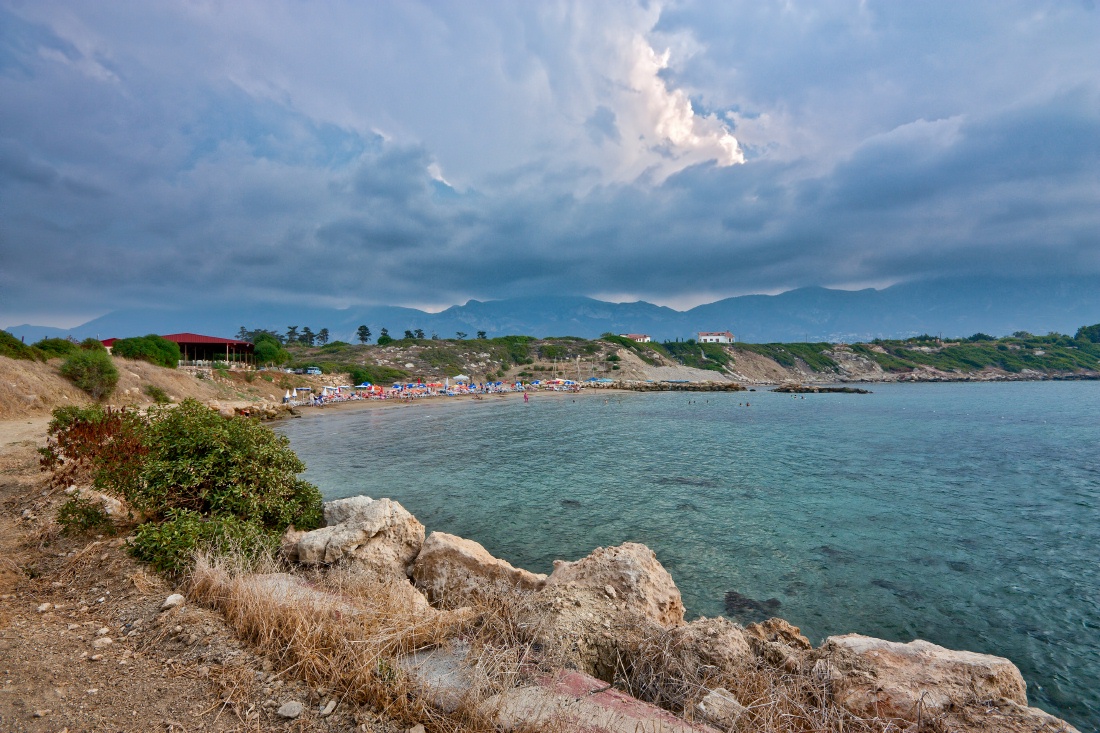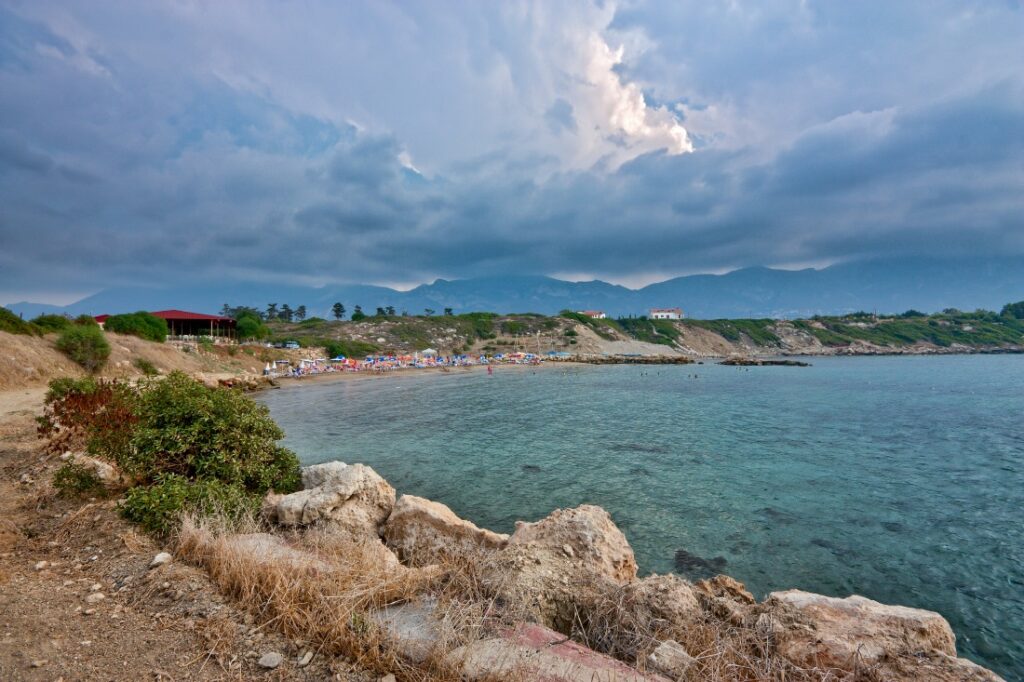 Entry fee gets you the usual sunbed and umbrella. To reach here, head 5km east out of Girne and turn left off the main road at the huge Sah supermarket sign.
Yeni Erenköy
Roughly 2km east of Yeni Erenköy, a signposted road leads down on to the small, pretty, sandy Halk Plaj or public beach, which has a high-season restaurant, sunbeds to hire, showers and toilets that function from April to October.
Out of high season, it's often deserted and so is the ideal choice for travellers seeking a quieter beach experience.
Lara
Lara is 2km east of the Acapulco resort and is a very pretty bay with rock and sand. The cliffs behind these rock slabs are also fun to explore, with caves and other weird formations. Access is now via an expensive day pass from the garish Elexus Hotel: it includes use of the beach, aquapark and pools.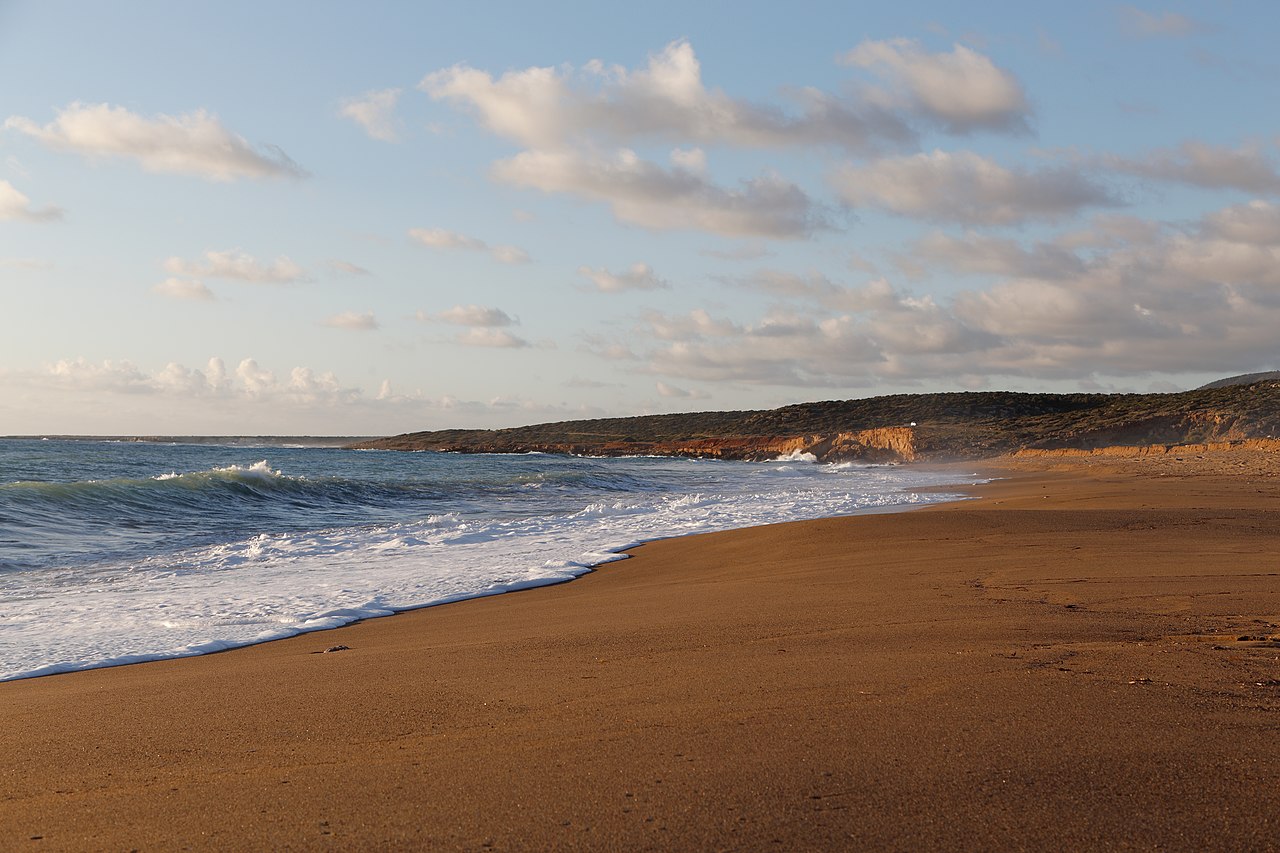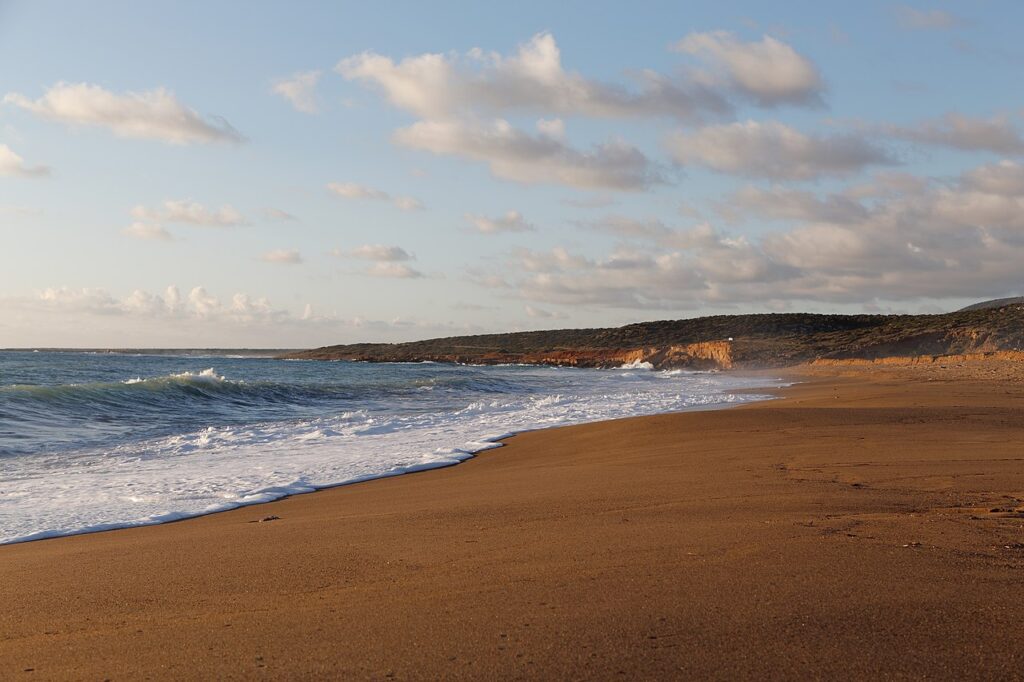 In theory, you should be able to use the sand, but not the facilities, for free, although it might be more hassle then you want on holiday to argue your case.
Aphendrika
Around 10km north, then east, of Dipkarpaz, currently at the end of the road on the northern coastline, where a group of three picturesque ruined churches stand.
The walk to the sea is a long one, 1.5km to the east of the ruins across the fields. The beach is sandy with advancing dunes and is utterly deserted.
---