I travelled in January and stayed in the one bedroom Anantara cliff pool villa, which starts from £1213. Other rooms start from £358.
Address
No 110
Al Jabal Al Akhdar
Nizwa 621
Oman
Contact
T: +968 25 218000
W: anantara.com
Map
Anantara Al Jabal Akhdar Resort overview
So amazing are the views of the canyons that there is a dedicated 'Diana Point' where the late princess once stood, admiring the same vista.
You can see the mountainous range from the pretty outdoor pool, restaurant and select fantastic rooms and villas. Be sure to book in for the Three Village Culture Walk where you'll be guided through the winding irrigation systems, through villages dating back four hundred years. With wild red foxes in the distance and falcons above, you'll stop for an Omani coffee and date to perk you up along the way.
The area is famous for roses and you can buy the rose water in the eclectic hotel shop which has a great selection of handmade crafts and unique perfumes as well. For a real treat, book the 90 minute Rose Ritual in the spa and let all your senses be transported to a local rose garden.
Décor and vibe
Of course, the natural scenery plays a big role, however the building itself blends in well, from the infinity pool to the careful consideration ensuring views, no matter where you are, are outstanding.
Natural materials are used throughout, from polished wooden floorboards to shining marble and exposed rock. The colours range from warm browns to cool greys, emitting a peaceful environment.
Lanterns and lattice work create a Middle Eastern feel, whilst white washed walls provide a calm, neutral backdrop. The library showcases drawings of Omani costumes in days gone by, as well as antique objet d'art, which add to the context.
Services and facilities
Room service
Pool
Laundry
Parking
Fitness centre
Sauna
Steam room
Rooms (and suites)
You can choose from garden or mountain views, accommodating from three adults all the way up to the Three Bedroom Royal Mountain Villa which can house nine adults.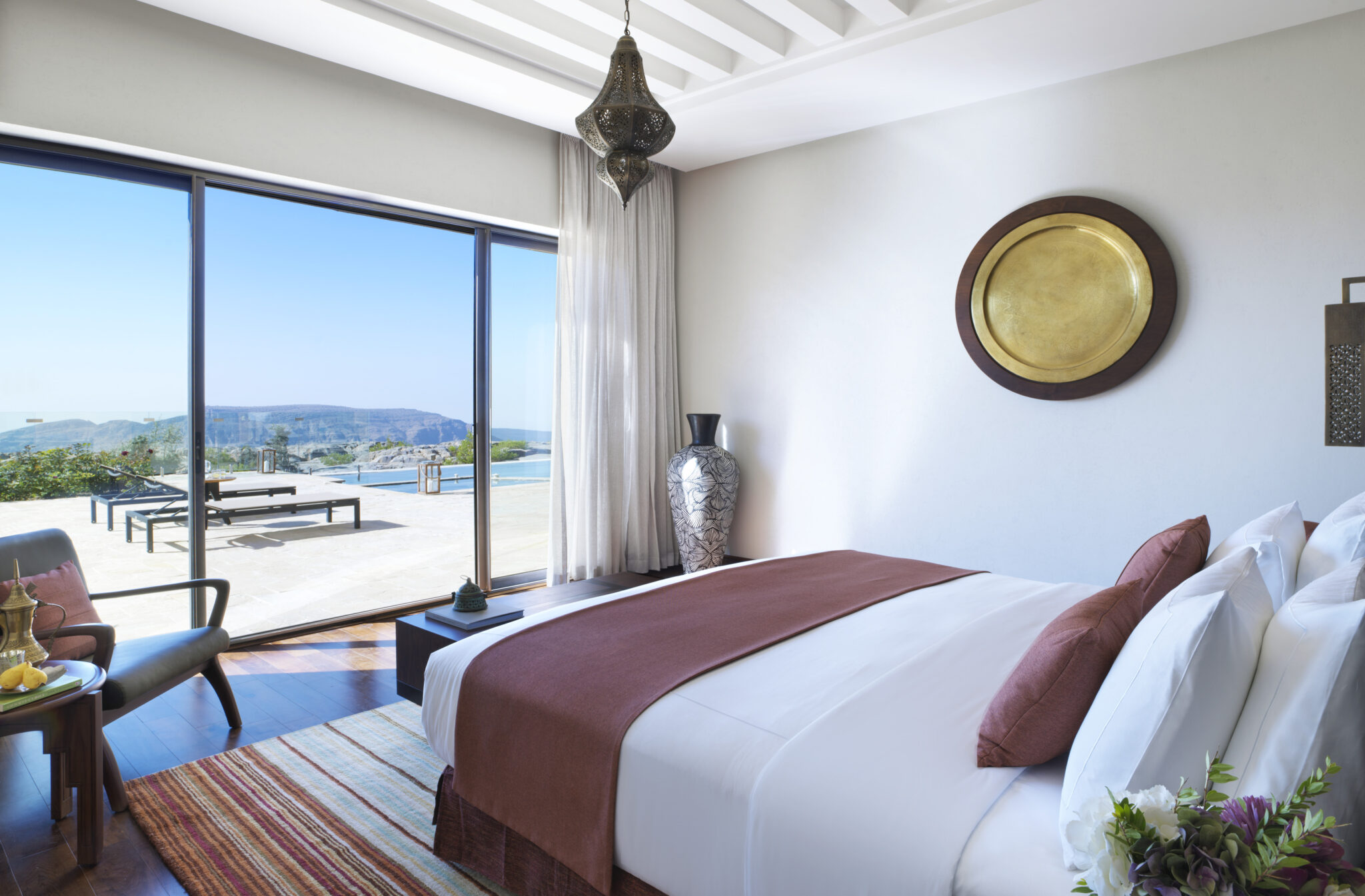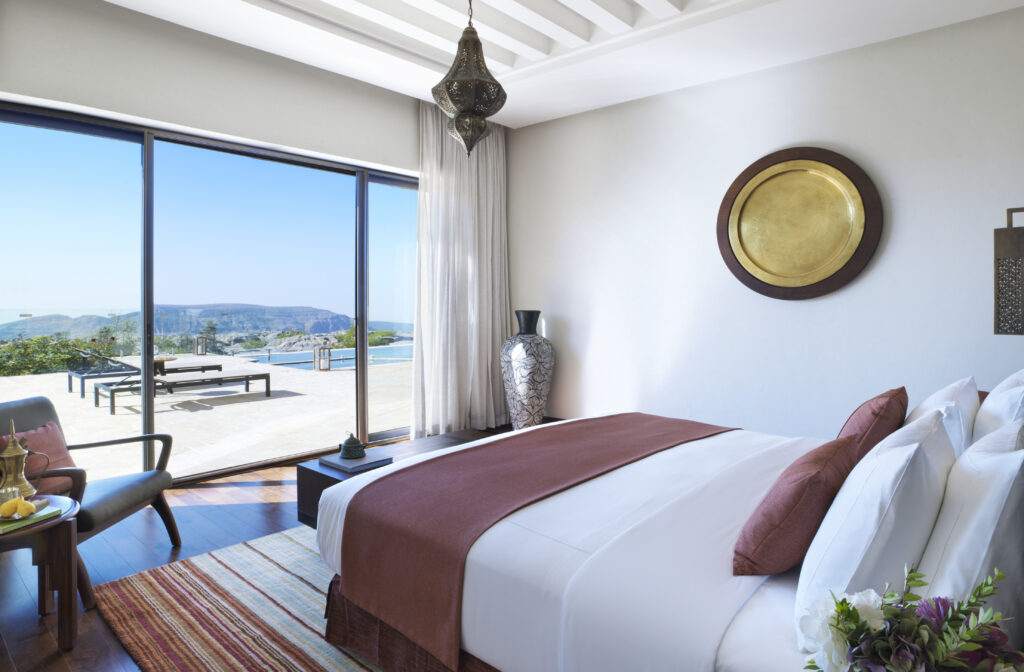 A pebble with my name painted on outside my villa already set the scene for a special welcome, then upon entering my eyes could not turn away from the private pool with a direct Canyon backdrop.
Occasional intricate local paintings, warmth of the terracotta scatter cushions and throw on the bed, as well as woven rugs on the floor, create an uncluttered, luxurious homely environment in the rooms, whilst the mod cons such as the Nespresso machine, give a good balance.
The smart marble-tiled spacious bathrooms with bath salts and golden spoon at the ready, as well as the optional steam shower add a touch of Middle Eastern grandeur.
Food and drink
There are a few places to dine in the hotel, including Al Maison which serves a delicious breakfast touting both local dishes such as dango – a hearty chickpea delight, as well as continental options and diverse fruit selection, it was dragon fruit and rambutan season when I was there.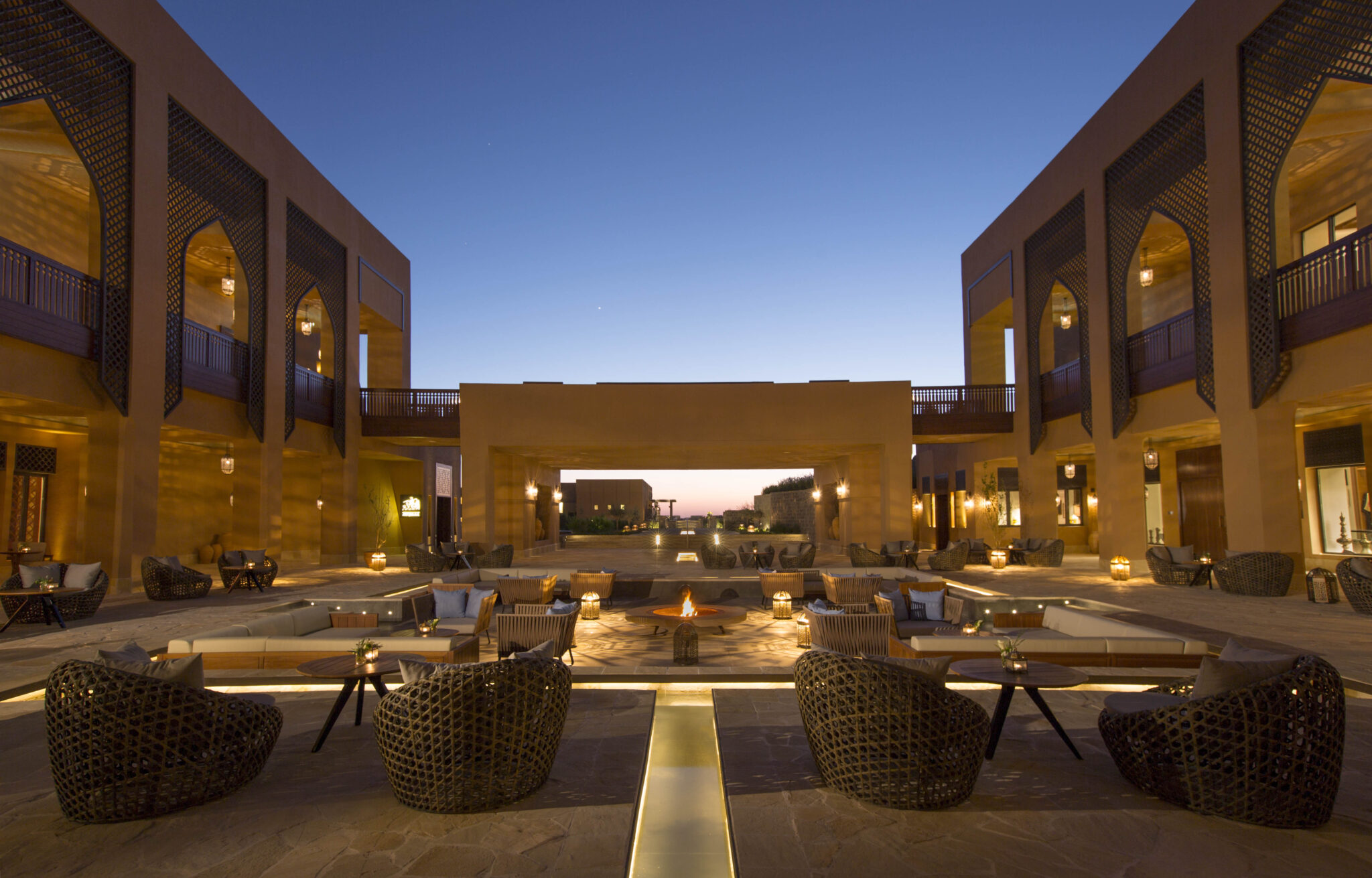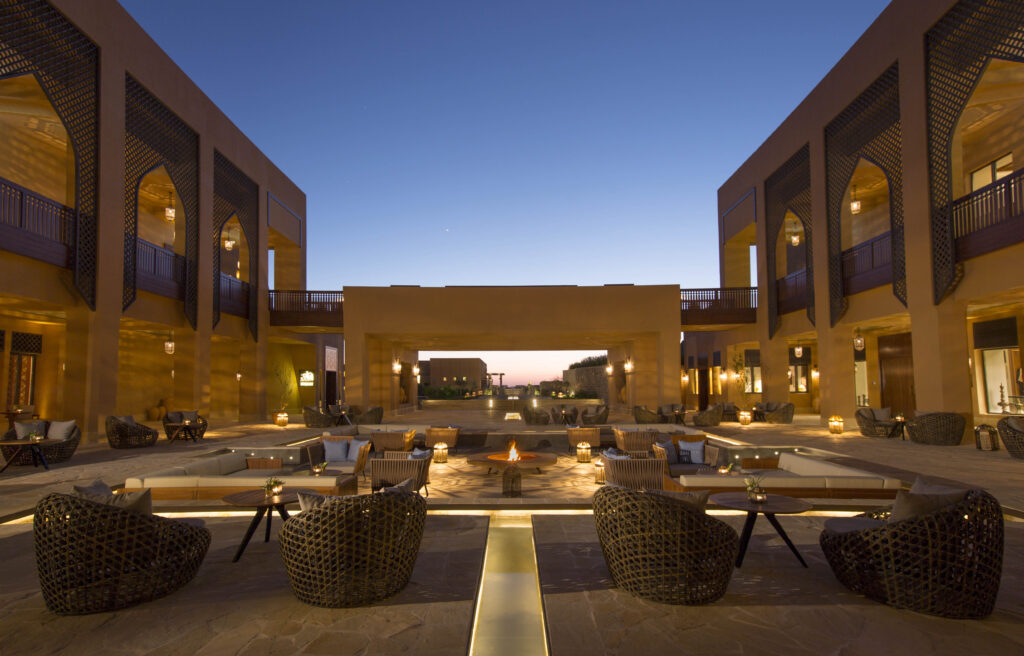 Bella Vista has a Mediterranean twist, for lunch, I started with gambas prawns and toast followed by a chef salad, which featured fresh ingredients from the hotel kitchen garden, followed by a tantalising, tuna tartare topping a creamy avocado base decorated with carrot shavings and edible flowers.
I dined in Al Qalaa, their Middle Eastern restaurant for dinner where I had homemade Arabic bread with black garlic hummus and labneh, followed by local speciality shuwa lamb which was so succulent it fell off the bone and complemented the tart, tanginess from the Omani lemons accompanying it.
For shisha lovers, the Al Burj bar serves it alongside creative cocktails.
More information
For more information and bookings, visit the hotel website: anantara.com/en/jabal-akhdar.