I arrived in Malta in early December without a plan. The island-nation between Sicily and Tunisia would be a landing spot for a few days while my husband, a director, scouted the large water tanks that Malta is known for in the film industry. As a travel writer, I was lucky to join the ride as a companion; given the pandemic, I was lucky to be traveling at all.
The first morning brought balmy, spring-like sunshine and I itched to get outside while it lasted. Having received a negative test result (at the time, arrivals were required to take a test in order to reduce quarantine measures), I did some online research and historic Valletta churches caught my attention. It turns out that Malta is one of Europe's most Catholic countries with one of the highest density of churches in the world (359 to be exact). I'm more spiritual than religious but historic houses of worship have always enticed me while travelling, and I've visited churches, mosques and temples from Casablanca to Bangkok.
I settled on a self-guided church tour of the capital, Valletta, where there were more than a few dozen options. After experiencing months of strict lockdowns in California and Ireland, I was happy to be able to create a trip itinerary once again. It was settled. My first stop was the concierge who handed over a map of Valletta.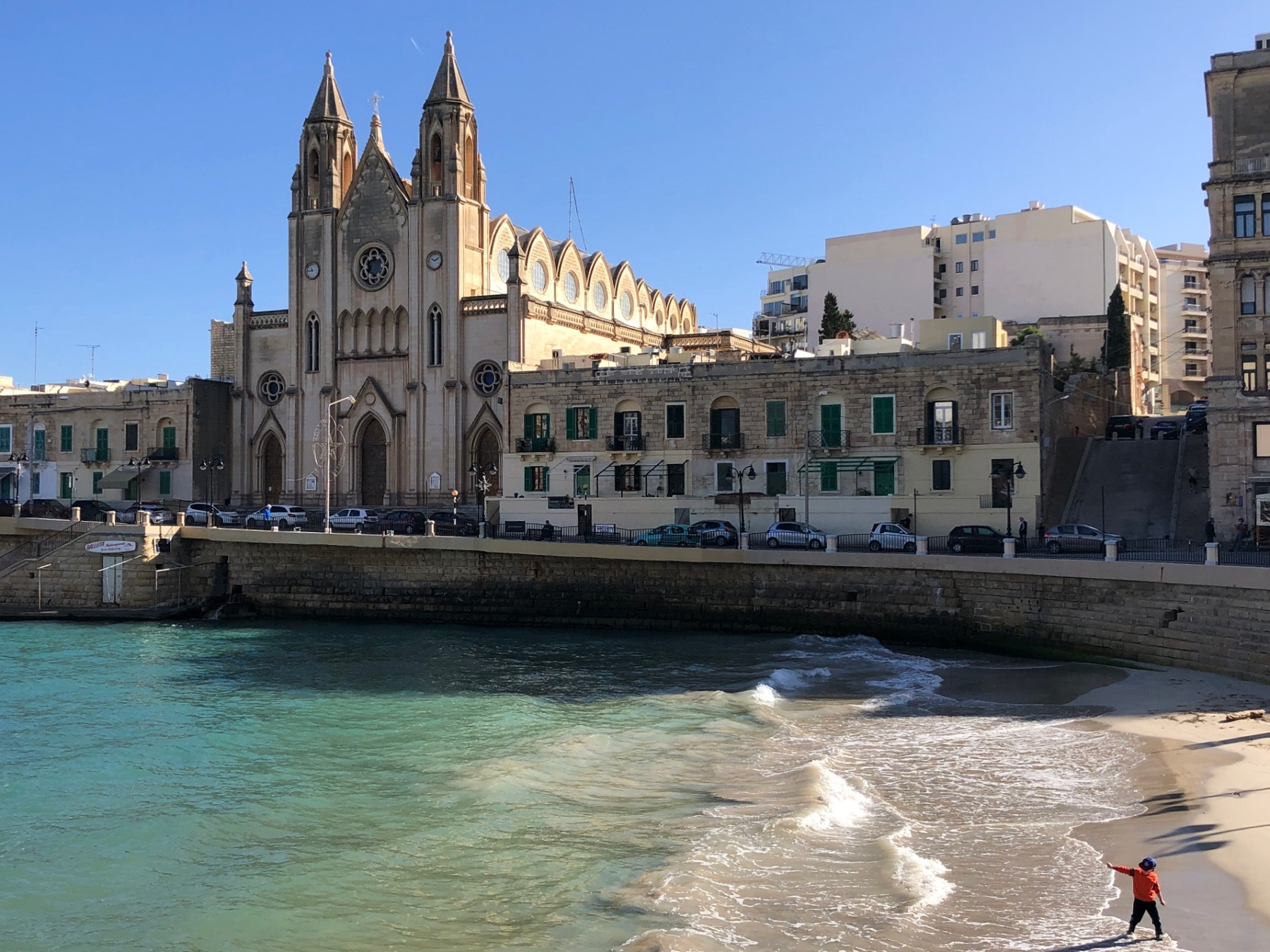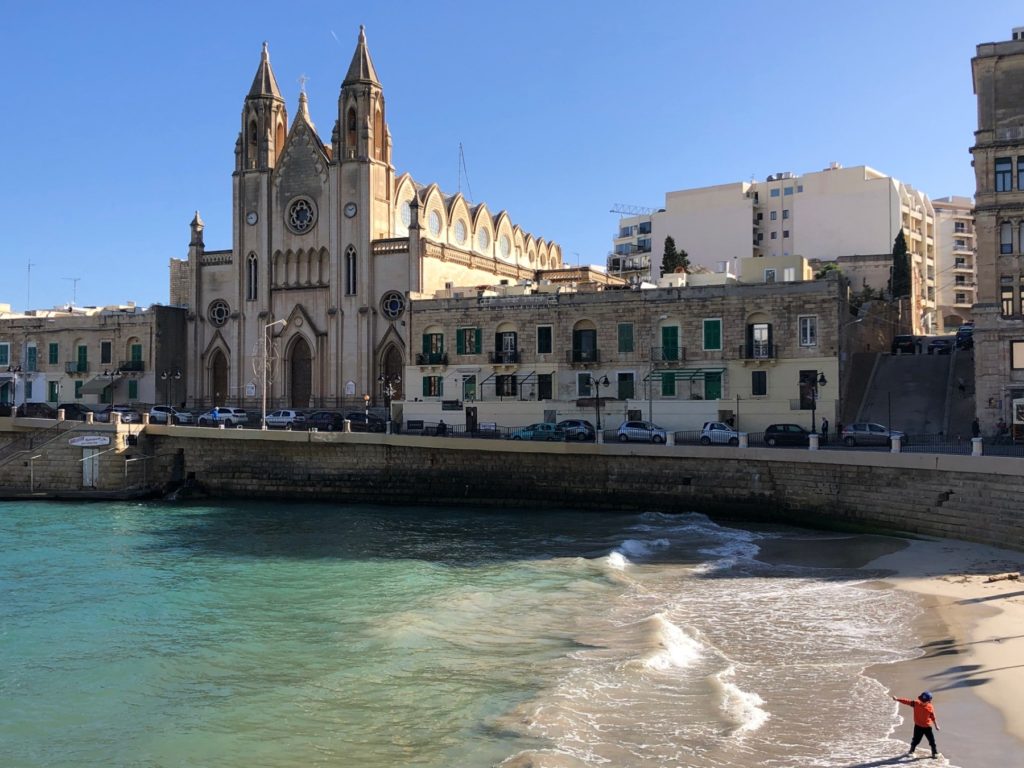 I chose a slow route that combined an hour-long walk and a 10-minute ferry. Slinging on my mask and backpack with water, snacks, some coins for the ferry and, of course, a bottle of hand sanitiser, I winded around the bobbing fishing boats of St George's Bay towards Spinola Bay on a glorious seafront path where locals enjoyed the fortunate weather.
I could have continued walking around the waterfront in Sliema but instead opted for a slight shortcut through the hidden streets tucked beyond the modern buildings. Here you'll find endless traditional row houses in Art Nouveau style along with an occasional cafe, music store, and glimpse of the sea. You could spend hours wandering aimlessly along these streets with their beautiful doorways painted in every shade of the rainbow.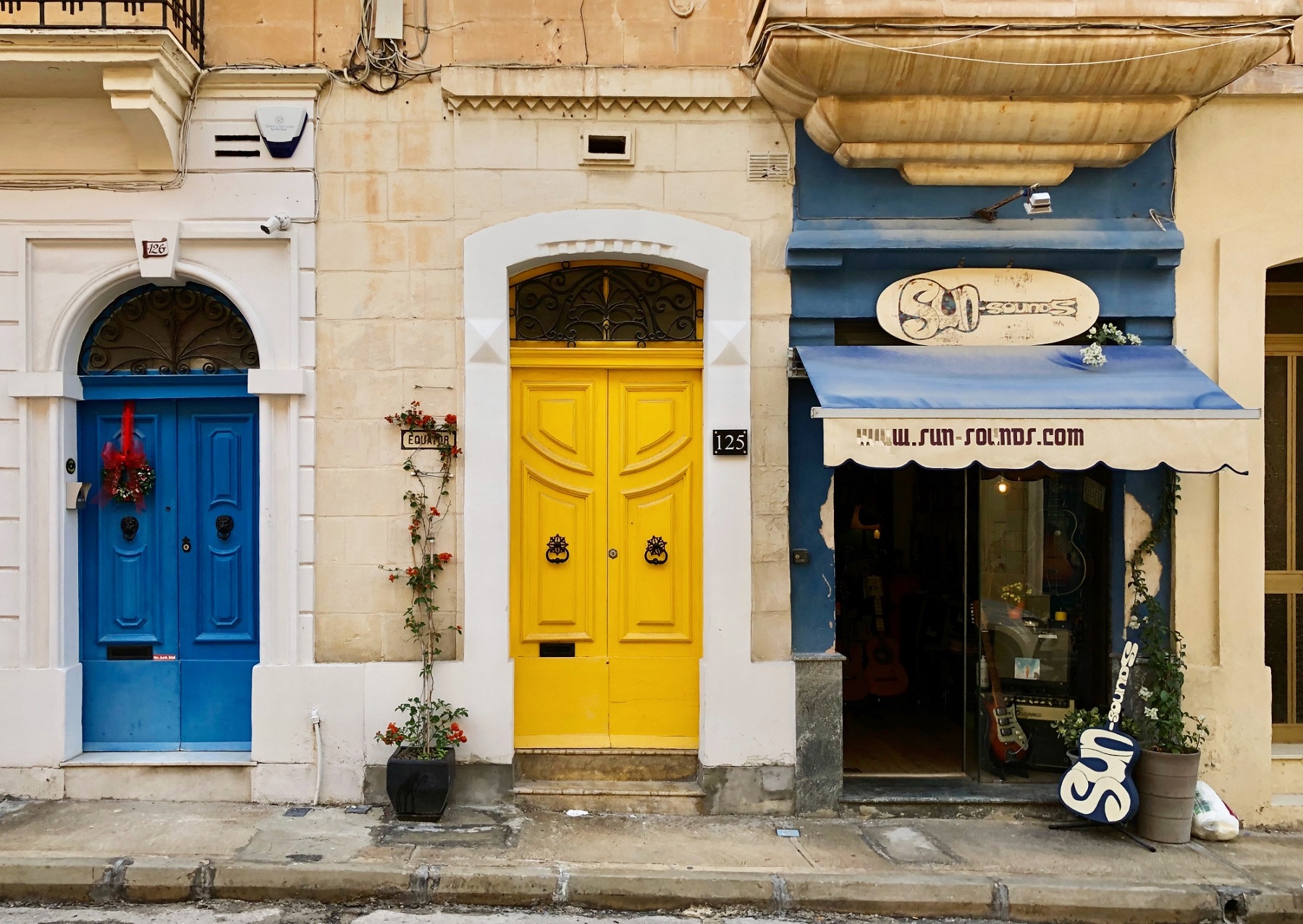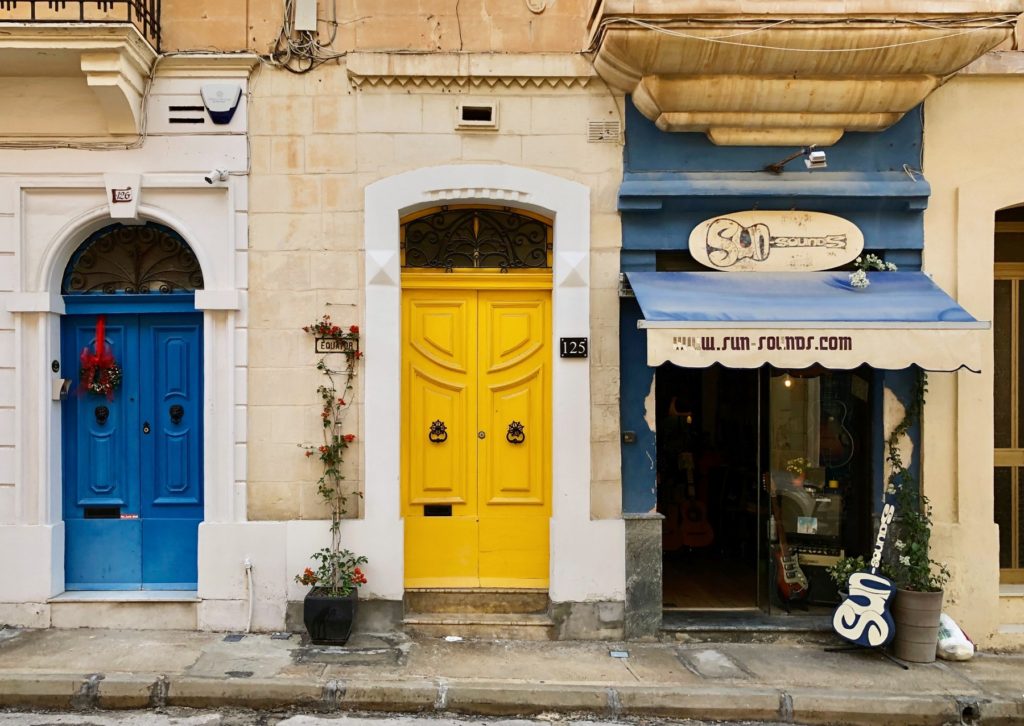 On the other side of Sliema is the ferry to Valletta that runs twice an hour for €2.50 – well worth it for the Mediterranean views, especially from the open-air top deck. The boat crosses Marsamxett Harbour where you can see the city on one side, and Fort Manoel, built by the Knights of St. Johns in the 18th century to protect the vulnerable seaside capital, on the other.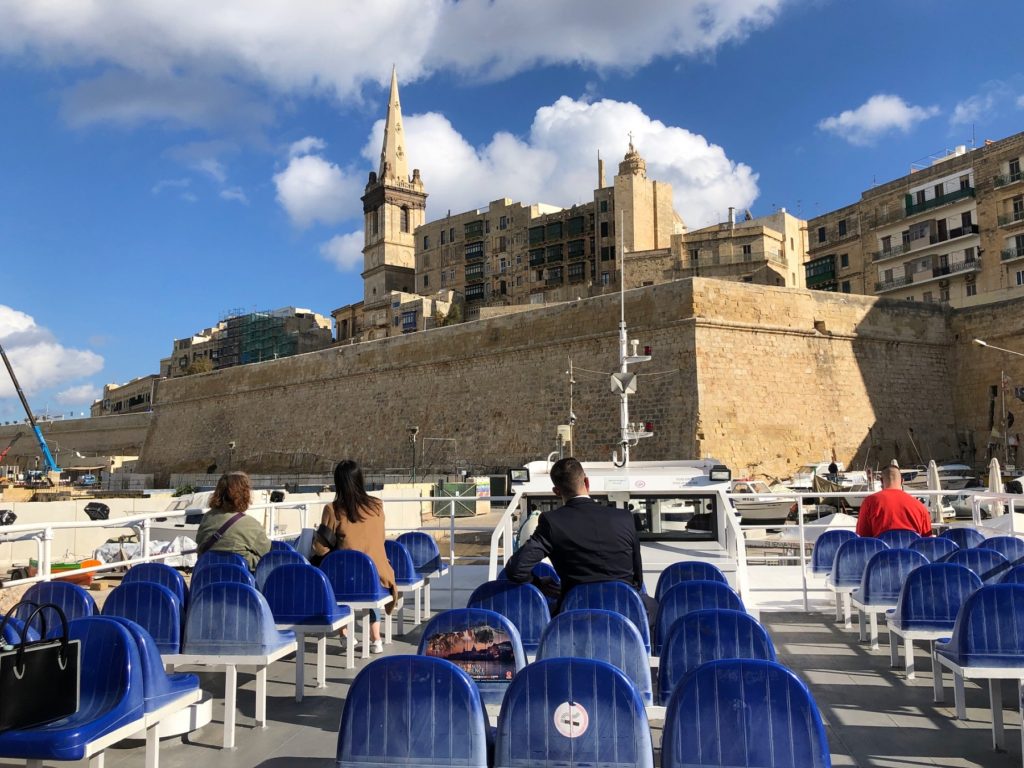 Debarking the ferry led to a steep climb, from where I confirmed that Valletta seemed compact enough to skip the map. There was only one place to start: the striking dome that dominated the UNESCO-listed city's skyline, which I thought must be a church. As I wandered the hilly streets, the dome flickered in and out of sight, hidden behind the surrounding buildings, but I kept walking until it stormed back into view right in front of me.
Not knowing if I could enter or not, I meekly opened the door and noticed two women praying. It was indeed an enormous Roman Catholic church called the Basilica of Our Lady of Mount Carmel. Though founded in 1570, the church was badly damaged during the Second World War, thanks to a fascist dictator named Mussolini, and was rebuilt from 1958 to 1981 – and it showed. While the church was certainly impressive in terms of size and height, the interiors lacked the wow factor of other Valletta churches nearby, save for the marble red columns. I lit a candle for family and friends and continued on my way.
Navigating Valletta proved easy with the helpful corner street signs pointing the way towards major landmarks. Next on my list was arguably Malta's most famous church, St John's Co-Cathedral, just off Republic Street. The opulent Baroque-period structure was built between 1573 and 1578 by Maltese architect Girolamo Cassar, who designed many prominent buildings in the city, and it was only slightly damaged during World War II.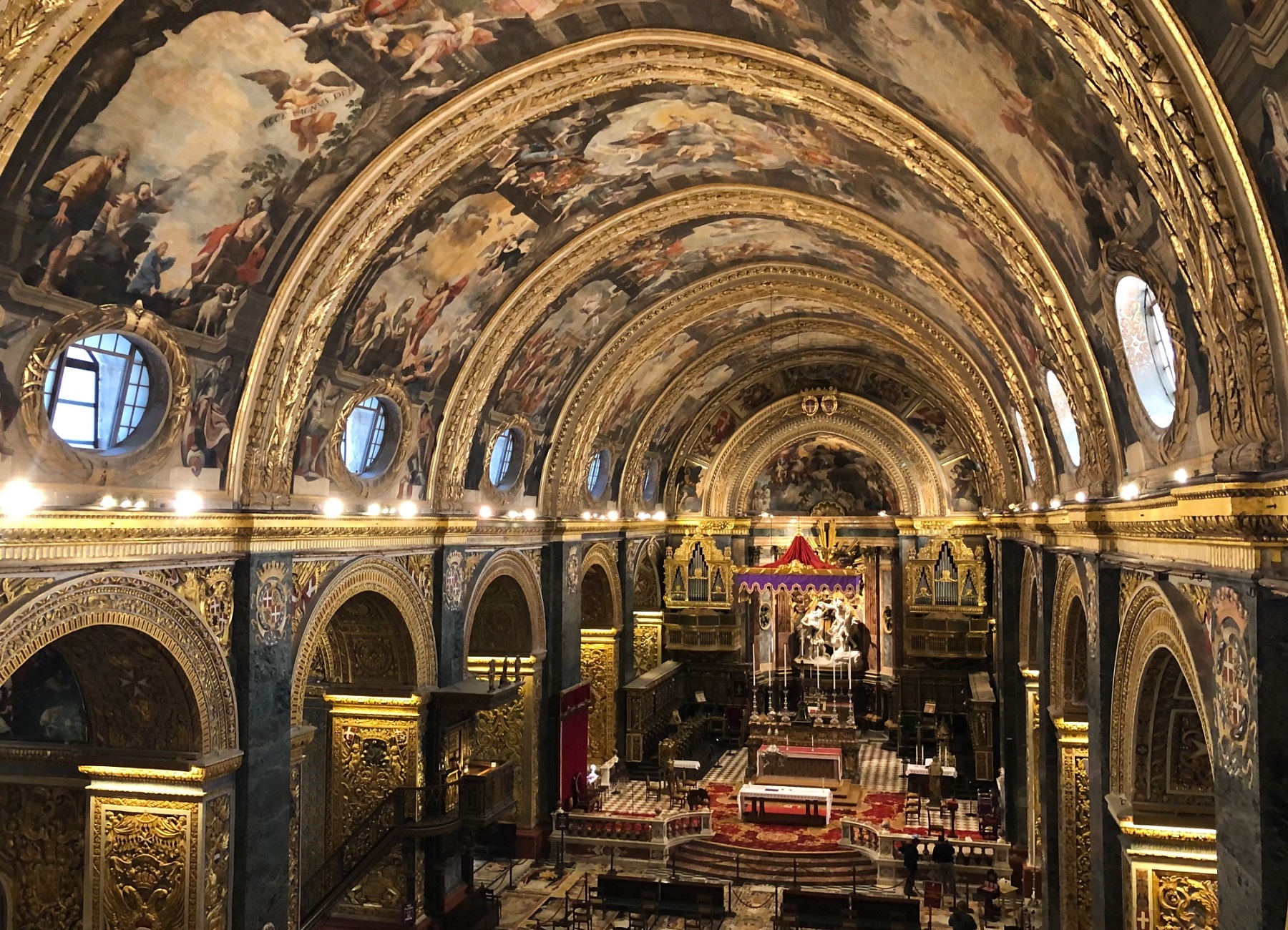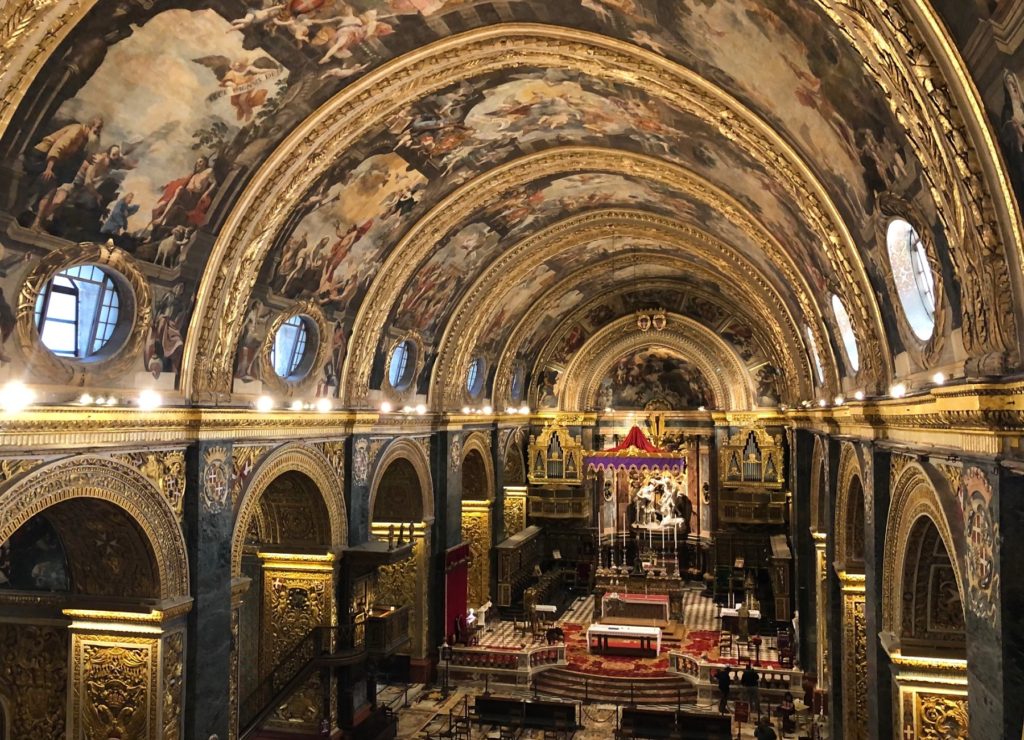 An advantage of travelling during low season (and a pandemic) meant that I had the cathedral to myself, save for two men doing some restoration work – their boombox playing choral music added to the serenity. I was giddy to explore this marvel at my own pace, without having to compete with the crowds and elbow my way in.
The interior alone kept me busy for an hour with its intricate carved stone walls, sculptures, tapestries and a floor made of marble tombstones. I purchased the audio guide and visited its eight chapels, as well as the crypt and the balcony, while ending with the largest Caravaggio painting in the world, The Beheading of Saint John the Baptist. Considered one of Caravaggio's masterpieces, this is the only work that he signed, seen from the red paint spilling from the Baptist's throat. The canvas is displayed in the Oratory where another Caravaggio is located, Saint Jerome Writing. The artist painted both works here after fleeing Italy for Valletta in 1607 to escape murder charges.
A few blocks away revealed a large open square and I clocked its location for a future picnic. Now that I had crossed off two megawatt Valletta churches, I joined office workers during their lunch hour as they ambled along pedestrianised streets while Christmas music played on large speakers. I received a few glances of surprise at seeing a tourist wearing a camera and backpack and was proud to serve as a reminder that travellers would someday return.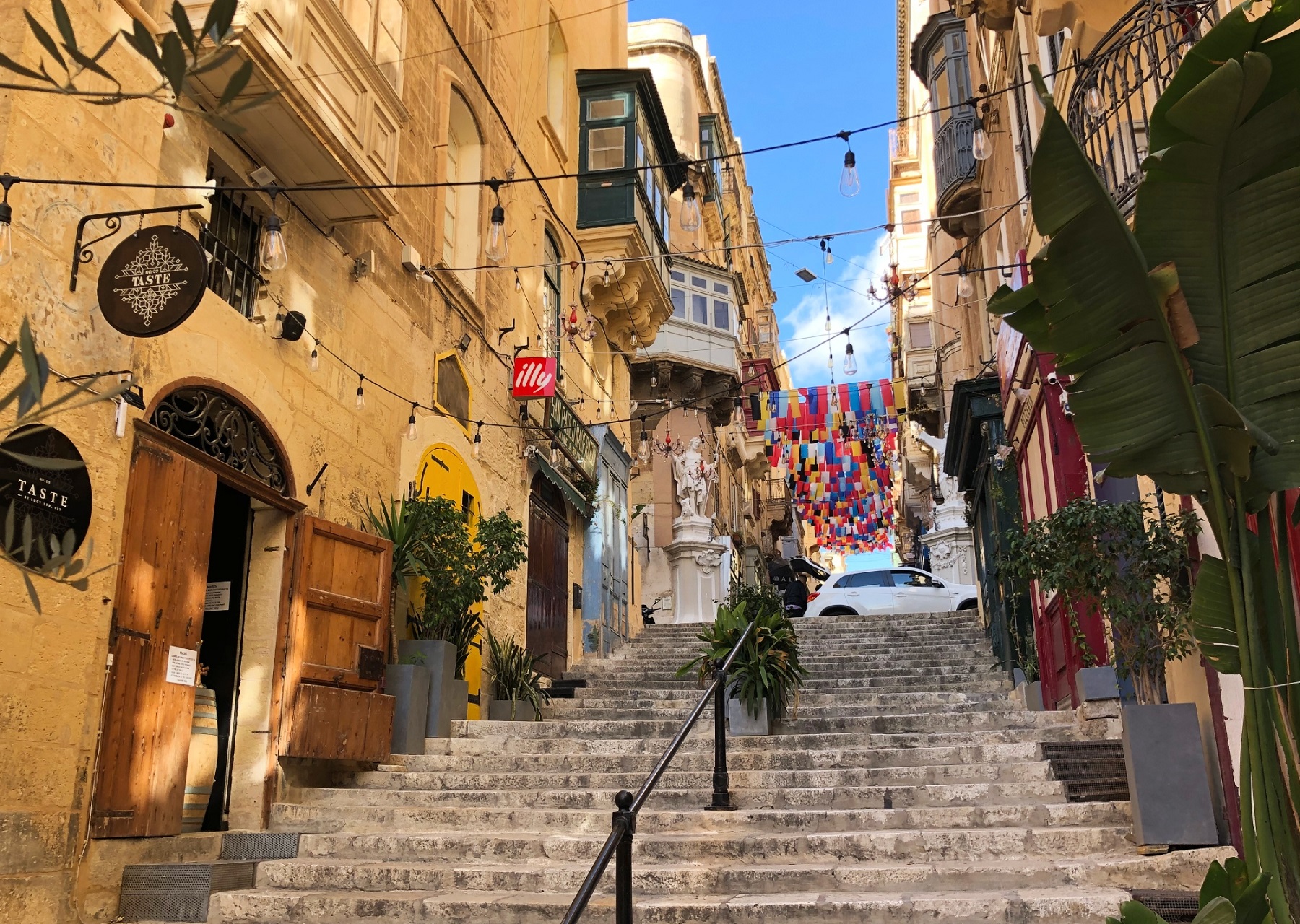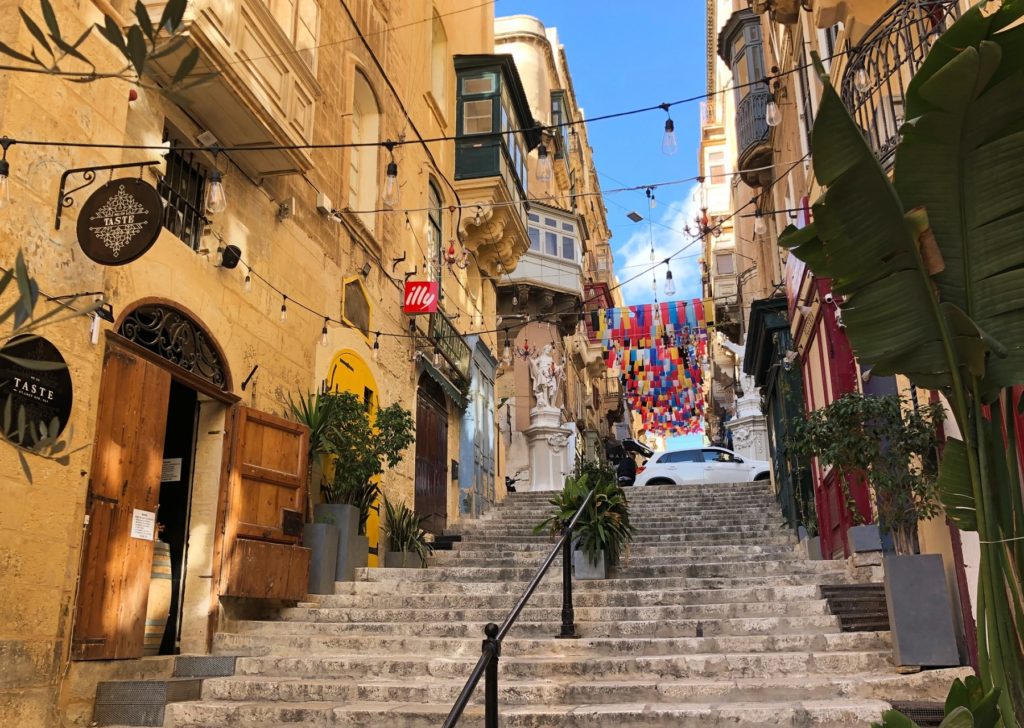 Everywhere I went off the main streets appeared empty stairwells with outdoor tables, Mediterranean plants, flags floating in the breeze, and perfectly rustic façades that were impossible to ignore. Without the crowds I could take as many uninterrupted photos as I pleased. On more than a few occasions another of Valletta churches would catch my eye. If the door was open, I'd step inside to see a mass taking place. Sometimes they were closed, but the exteriors always left me in awe regardless.
A bathroom break was needed halfway through the day and I happened to run into the Valletta food market, an upscale food court in a beautiful 19th-century building, with a range of international eats. From here, I continued down another street where I came across Greek Catholic church and spent 10 minutes photographing its magnificent Byzantine architecture before finding my way back to the previously noted large plaza, called St George's Square, where I noticed a plaque displaying a quote from Franklin D Roosevelt from his visit in 1943 expressing the American people's admiration for Malta's contribution to democracy.
I ate my snacks at the fountain while gazing at the palm trees shifting in the breeze. From here, there were more narrow alleyways where I was sidetracked time and time again by statues, churches, colourful doorways and street art.
I was about to call it a day when I read a sign pointing to a garden with an elegant couple walking hand-in-hand towards it. How could I turn back now? I followed them through a gate and entered the Upper Barrakka Gardens. Built on a demi-bastion, the grand space drew me in, with a large fountain to my right. Further exploration revealed a number of monuments peppered across the manicured gardens and trees, including one of Albert Einstein and a bronze statue dedicated to Winston Churchill on his 80th birthday.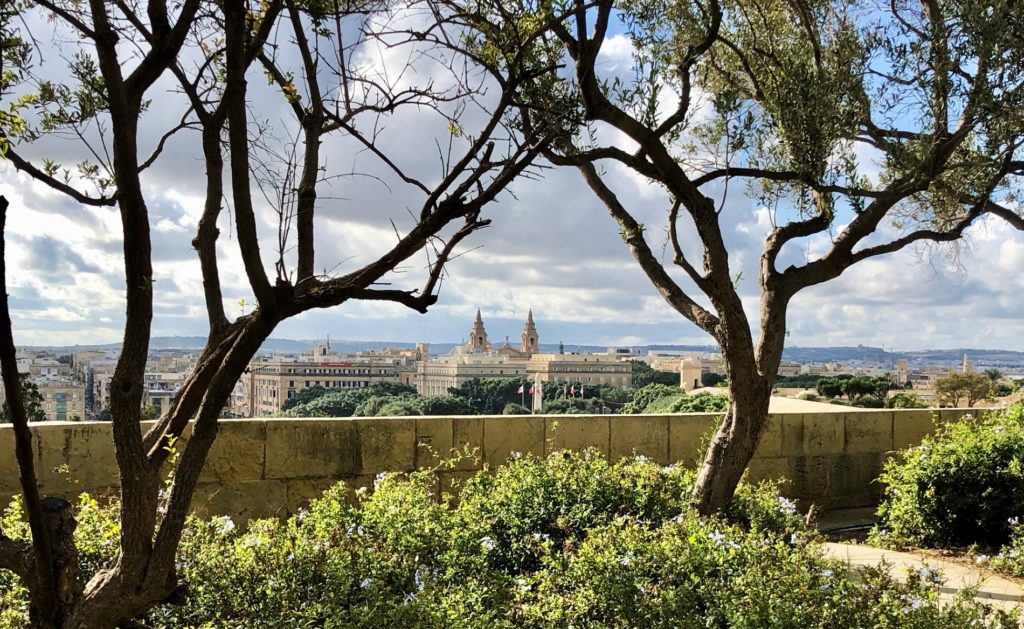 Locals chatted to each other softly on benches and large archways offered glimpses of olive trees and the occasional white cap adding mesmerising contrasts to the quintessential bright-blue Mediterranean Sea views. It seemed we were at the highest and most peaceful spot in Valletta and I took advantage of more time to sit in the late autumn sunshine. It was the perfect way to cap off the day. I made my way back to the ferry, more confidently now, and hopped on the top deck.
My feet and camera batteries were tired, but I was determined to walk back through a different area of Sliema on my return and was surprised by a field of wild roosters. I returned to the hotel in time to reunite with my husband for an early sunset. We were leaving the next day, but would be back soon to film with more time to uncover this fascinating country.
Someday the museums, restaurants, wine bars, theatres and buzzy rooftops will reopen to the public. Like everyone else, I am anxious for the pandemic to end, yet I can't help but feel grateful for the silver linings – like seeing Malta in a quiet light, when all there was to do was walk.   
---
Lilly Graves is a travel writer and photographer based in California. She also owns a travel planning service called Lilia Hill Travel, specialising in elegant, custom-made itineraries. Her favourite kind of trip to plan is a romantic one.