The island of St Helena sits isolated in the middle of the South Atlantic, thousands of miles from anywhere. Over its 500-year history, the island's way of life has been influenced by so many different countries and cultures: British, European, African, Chinese, Indian and Malay, among others. Given its remoteness, St Helenian food has been forced to adapt to what is available at the time, hence the melting pot of dishes we see today.
One particular island favourite demonstrates this fusion of cuisines more than any other: plo. While this one-pot rice dish looks similar to Spanish paella, its flavours and heat intensity are more akin to an Indian curry. Moreish and creamy rich, fragrant and spicy, it can be enjoyed either hot or cold, never failing to entice you back for a second helping. Or a third.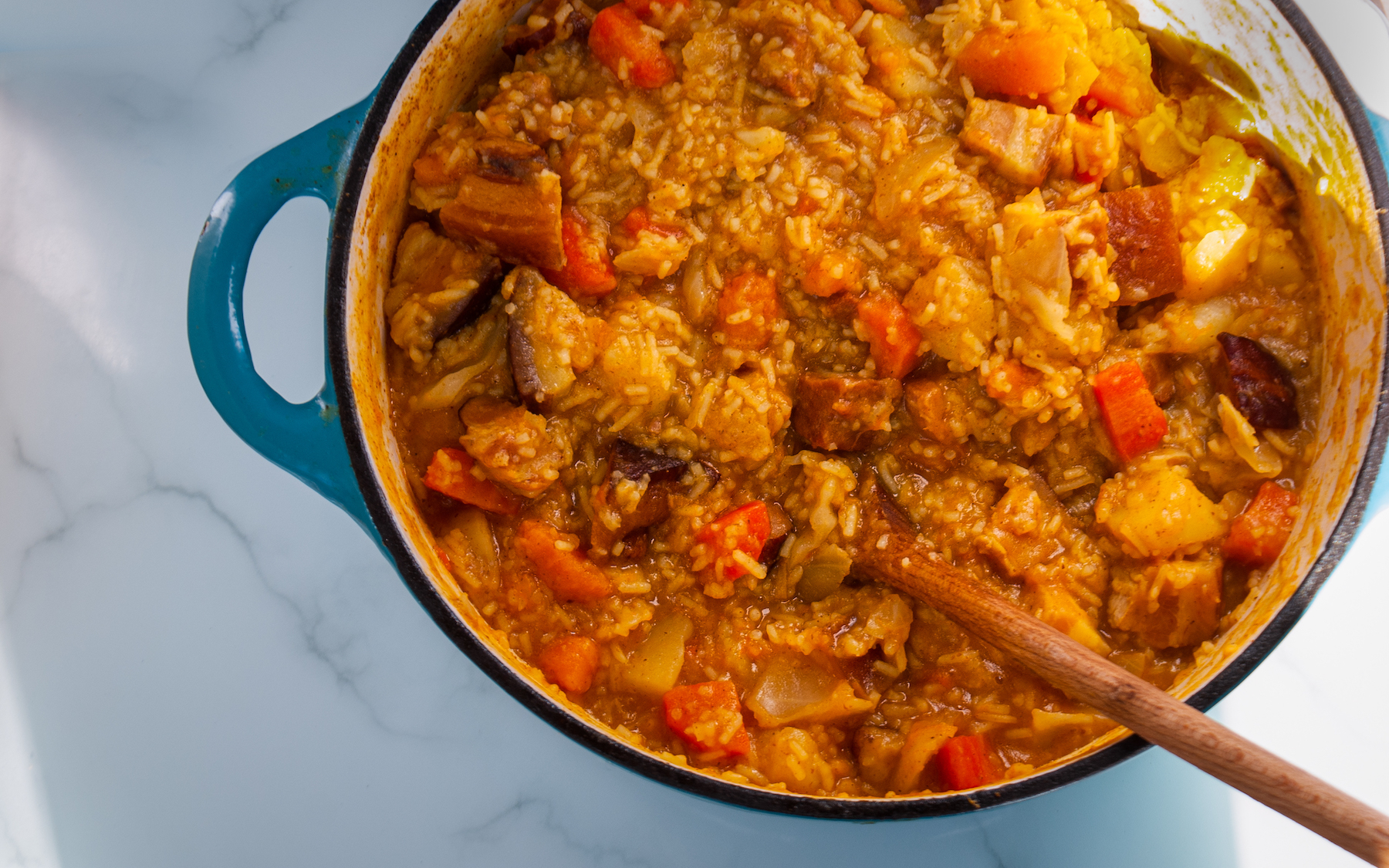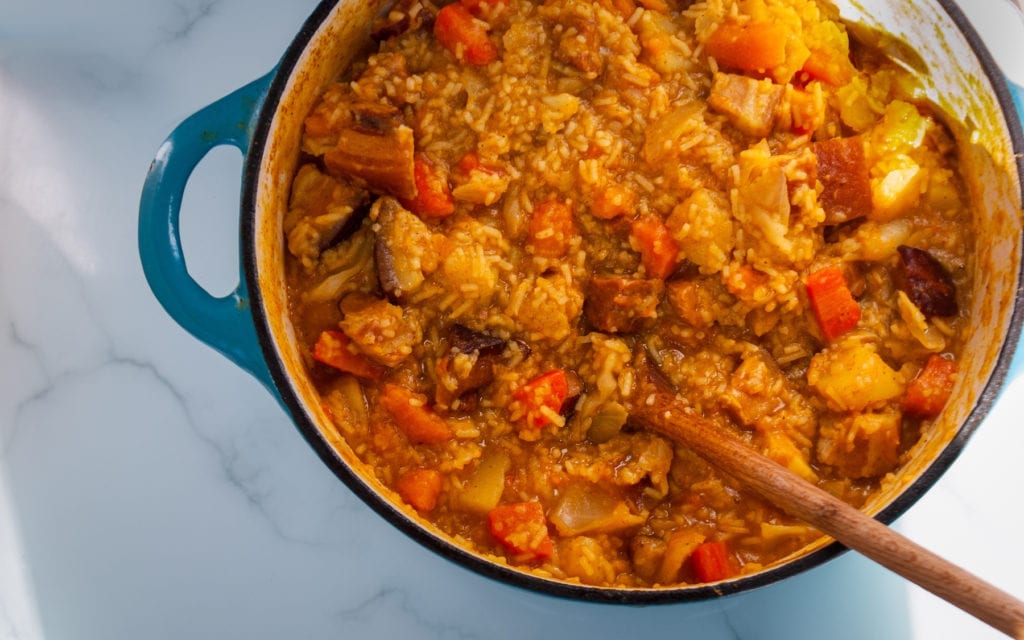 Plo itself is incredibly adaptable and lends itself to communal and celebratory eating, whether during a weeknight family meal, cooked up in a pot 'on the rocks' during a fishing expedition, or on a campfire during a traditional Easter holiday.
With just a handful of ingredients (curry powder, rice, meat, vegetables), something delicious can be made quickly, anywhere and at any time. This steaming plate of pure comfort food is guaranteed to fill your belly and nourish your soul.
Ingredients
450g piece bacon or smoked pork belly, diced (or diced beef/chicken/fish – Saints use tuna, but any meaty fish works)
225g basmati rice
1 onion, diced
2 carrots, chopped
4 potatoes, chopped
1 small pumpkin or butternut squash, diced (optional)
1⁄2 white cabbage, shredded (optional)
1 large tomato, chopped (optional)
1 heaped tbsp medium curry powder
3tbsp vegetable oil
1tsp sugar
Pinch of salt
Tomato ketchup
Worcestershire sauce
Method
1. Heat the oil in a large saucepan and fry the onion until it turns translucent.
2. Add the curry powder and cook for about a minute until fragrant. Stir in the sugar and a dash of tomato ketchup.
3. Add your choice of meat and brown. Add enough water to cover and simmer until the meat is half cooked (roughly 11–15 minutes, although more time might be needed if using beef, which typically needs longer to tenderise). If making a fish plo, it is added later – see below. If making a vegetarian plo, no action needed.
4. Add the chopped carrots, potatoes, squash, cabbage and tomato. Add sufficient water to cover all ingredients. Cook for about 10 minutes.
5. Meanwhile, wash and rinse rice thoroughly to remove excess starch. Add the rice to the pan and season to taste with salt and a dash of Worcestershire.
6. Cover and bring to the boil. Reduce to a gentle simmer for about 15 minutes until the water has almost evaporated, and the meat, vegetables and rice are cooked. Be sure to stir occasionally to avoid sticking to the bottom of the pot. If making a fish plo, stir in the chunks of fish once the rice is about 5 minutes from being cooked.
7. Serve hot with tomato sauce or mayo and fresh buttered bread on the side. Leftovers can be used as a spicy sandwich filling the next day, or heated in a frying pan with an egg stirred through for breakfast.
Other variations
Saints also make a 'white plo' version. For this, follow all steps above but omit the curry powder and be more generous with your dash of Worcestershire sauce.
Adding pulses such as cooked red kidney beans or runner beans to the above makes for a hearty vegetarian version.
Some islanders choose to serve theirs with an egg. Simply mix in roughly chopped or sliced hard-boiled eggs when serving.