Written by Hilary Bradt
In 2018 several of our adventurous women authors contributed to our Women in Travel month by confirming that travel can be more rewarding for women than for men. This has encouraged me to ponder the changes I've seen over the past half century, not just in travel, but in the way women are seen and see themselves. It was all so different in 1960 when I took my first trip without my parents. I travelled by train to Greece with two girlfriends and it seemed, indeed was, a huge adventure. We slept on the flat roofs of hotels and houses, hitchhiked, and fended off the advances of lecherous Greek men. Women of my generation took for granted that we would be hassled, groped and propositioned in southern Europe. We not only expected it but we prided ourselves on how well we could deal with it. We felt empowered. How different it is these days, with the tidal wave of the Me Too movement. Admittedly this is mainly to do with harassment in the work place, but most of my generation dealt with this in the same way. It was no big deal.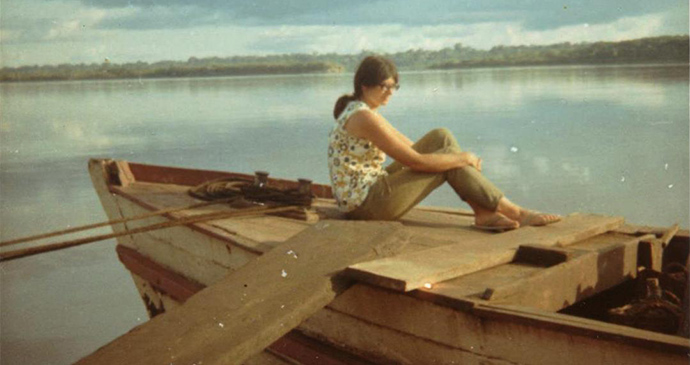 Women travellers are much better than men at 'feeling the fear and doing it anyway' © Hilary Bradt
How much, I wonder, has this new sensitivity changed how young women travel these days? Has it made them less open to engaging with local people? Do they express their dismay at what is still, I believe, normal male behaviour in the Mediterranean countries, with aggression and outrage? If so it would be a shame, not only because of the rudeness, but because one of the great advantages we women have over men when travelling is that we can choose to be strong or vulnerable, depending on the circumstances. I remember the great Dervla Murphy, in an article in the 1970s, describing 'homophobia' (she coined the term, using it more accurately to mean fear of men) and recommending women who feel threatened by a group of men to turn the tables and ask for their help. Interesting advice.
Women travellers probably are more often afraid than men. And afraid of men because there's no pretending that rape, though rare, isn't a possibility. But I think we are better at 'feeling the fear and doing it anyway.' When I was collecting stories for our anthology Roam Alone, almost all the contributions were from women who had faced the fear and had some tremendous adventures with happy endings. But I was always touched to read an account by a man who was equally nervous about travelling alone. And willing to admit it. Maybe that's the difference.
I look back on my 50 years of travel and I admit it — I was often afraid. It took courage to hitchhike to the Middle East (with a girl friend) in 1963. But the three month trip taught me about politics, beauty, and the kindness of strangers. And it gave me the confidence and skill to travel widely and adventurously in the future. I faced the prospect of going alone to the USA to work and thus earn enough money to travel to South America, with utter dread. Not because I'm a woman but because I'm often a fearful woman where social situations are concerned. And so it goes on. I didn't want to travel on my own through South America in 1969 but it was a marvellous adventure and the warmth and generosity of South Americans was inspiring and life-affirming. And the hassle from those hot-blooded Latinos irritating but not dangerous. Or only once or twice, and I dealt with it.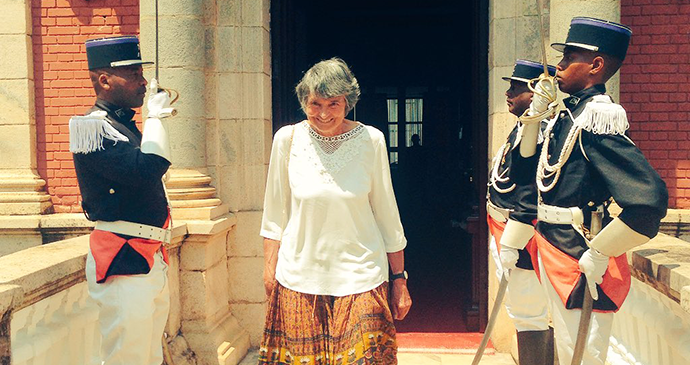 It was a great honour to be made an Officer of the National Order of Madagascar last year © Présidence Madagascar
Women who make a life of travel are usually single. And that's the nub of it. I'm ashamed to say that if anyone had asked me to marry them when I was in my twenties I would have said yes and followed the standard route for those days of looking after the house and having children. So lucky me, no offer of marriage until I reached a sensible age and realised that my enthusiasm for travel was far more important than a conventional home life. So I married someone who wanted to see the world. And that started a whole train of events which has culminated 45 years later in a Madagascar honour and a successful publishing company. What seemed a disaster when I was young has turned out to be the biggest stroke of fortune!
---