Written by Chris McIntyre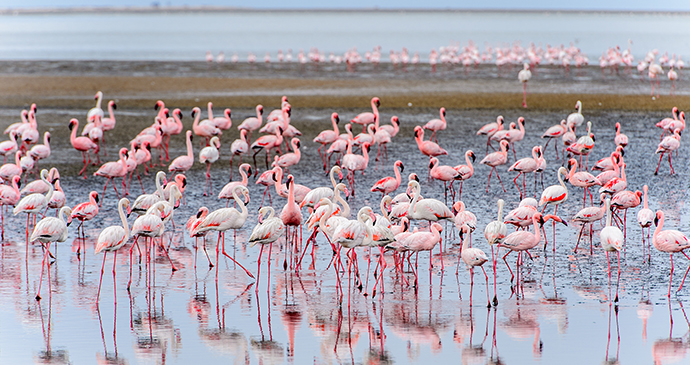 South African flamingos at Walvis Bay, where up to 90% of them spend the winter © Anton Ivanov, Shutterstock
Walvis Bay lagoon dates back some 5,000 years, making it the oldest lagoon on the Namibian coast. A safe haven for over 150,000 birds, including avocets and black-winged stilts, it also acts as a feeding station for a further 200,000 shorebirds and terns on their biannual migration to and from the Arctic; in all, more than 50 species of bird have been identified here. Up to 90% of all South African flamingos spend the winter here, while 70% of the world's chestnut-banded plovers depend on the lagoon for their survival.
Pressure on the lagoon in recent years has built up from a number of areas: construction of housing to the southeast, salt-pans to the south and west, and a road dyke to the east and south. All these factors have served to reduce flooding, which would naturally keep up the water levels. Added to this is the knock-on effect of the diversion of the Kuiseb River in 1967, since when the dunes have effectively 'marched round' and headed straight for Walvis Bay. The sand blown from the desert contributes significantly to the silting up of the lagoon.
The salt-works that surround the edge of the lagoon in Walvis Bay are South African-owned on a very long lease; salt is exported raw from Namibia, then processed in South Africa for industrial use (as against that from Swakopmund, which is for human consumption). The salt-pans in Walvis Bay are entirely manmade, with the company now owning as far as Pelican Point and expansion ongoing; it is estimated that they cover some 80% of the area that was once lagoon. As salt extraction increases, it is forecast that the entrance to the lagoon will eventually close up and the lagoon itself will dry up. Initiatives to reestablish the natural flow of water include the construction of culverts under the road leading to the salt-works, but there are no guarantees; on the basis of current information, the lagoon could one day disappear completely. And this in spite of the fact that it has been protected as a wetland of international importance under the Ramsar Convention since 1995.
---
Learn more about Namibia with our 2019 guide to the country: