Out on Solva Harbour, all is calm. Skiffs and dinghies lean into the mud of a low tide, their outlines silhouetted against the fading afternoon light. Gusts of wind tug at slack ropes, a pair of oystercatchers poke quietly at the waters edge.
Inside our car, things are less so. As our two year old excitedly mashes chips into the car radio, her little sister chases a half-eaten pear with her mouth – from bib to lap to seat then footwell – and a chewed prawn skids across the dashboard. Our final meal of the holiday was meant to be one to remember – but as crab meat is rubbed with glee into a headrest, the anticipated memory of us all peacefully eating with legs dangled over the harbour wall had swiftly escalated into something a tad more frenetic.
It had been that kind of week; where what were initially low-key plans each day had us flopping on to sofas exhausted by mid evening. The promise of somewhere new – a week of change – and the glazed look that came across anyone who spoke to us about Pembrokeshire had us full of excitement.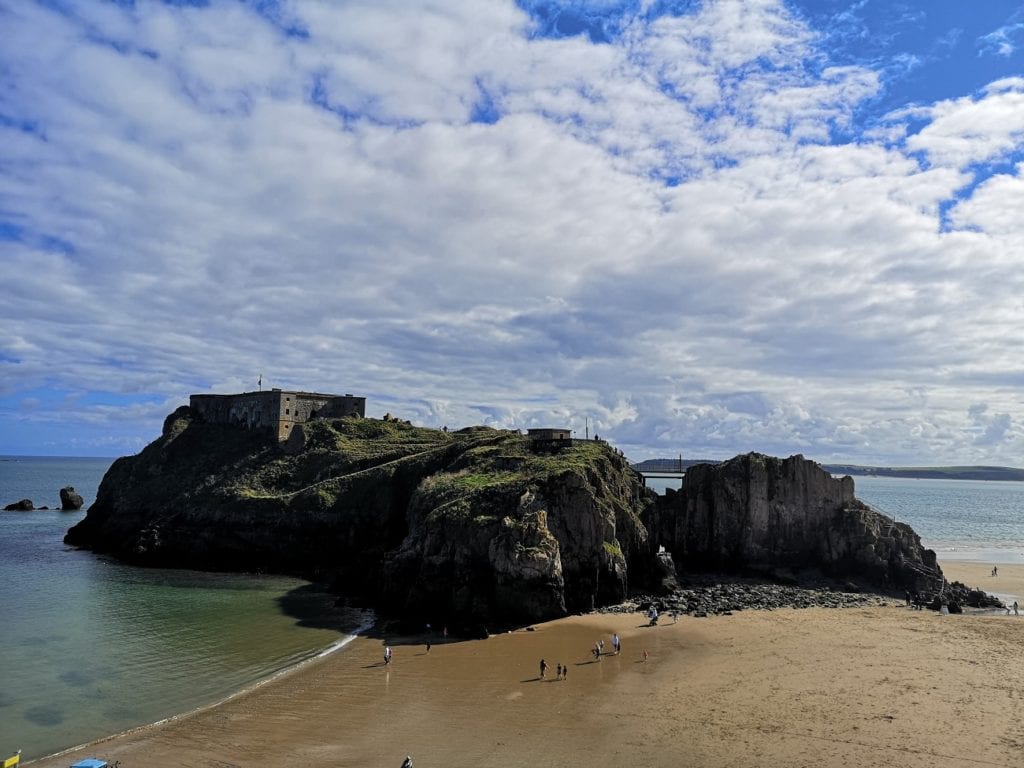 We'd spent hours making lists of places to see; a coastal region steeped in history and natural beauty meant there was no shortage of sights to choose from, yet as we crossed the Severn into South Wales we opted instead to just take it as it comes, and just as well. An afternoon spent at Tenby on the way in set the tone for the week ahead – huge wide beaches backed at first by dramatic cliffs and then rows of coloured houses skittled above the harbour – a charming town clinging onto raw coastline. Ice creams were demolished under the shadow of Tenby Castle as we dipped our toes into the waves with sun on our faces; after months inside, it was wonderful to be away.
While there's plenty Pembrokeshire can offer inland, we yearned for the sea and slowly, we began to explore. When the weather permitted, we sought out beaches. At Marloes Sands we half dragged, half threw the pram down an all-too-narrow path to the raised eyebrows of all onlookers (there was a perfectly good alternative path we'd missed) to find at first a slim strip of shingle, which then unpeeled with the tide to expose a wonderfully wild expanse of sand scattered with rocks to be clambered on.
An afternoon was soon lost prodding at pools with nets and buckets, as it was at the long sweep of Freshwater West, where we ate fresh crab sandwiches and watched surfers lining up out at sea. A trip to Stackpole Quay and the short hop over to Barafundle rewarded us with fetching clifftop views and then – amazingly – by late afternoon, we had the beach almost to ourselves.
Standing neck deep in water and watching your toes wiggle is not common in the British Isles, but it remained a constant here. At Broad Haven we paddled across mirrored wet sand to a shoreline littered with razor clam shells. There was no urgency to our plans, no strict itineraries or must-sees, and the chaos and confusion of normal life was soon forgotten.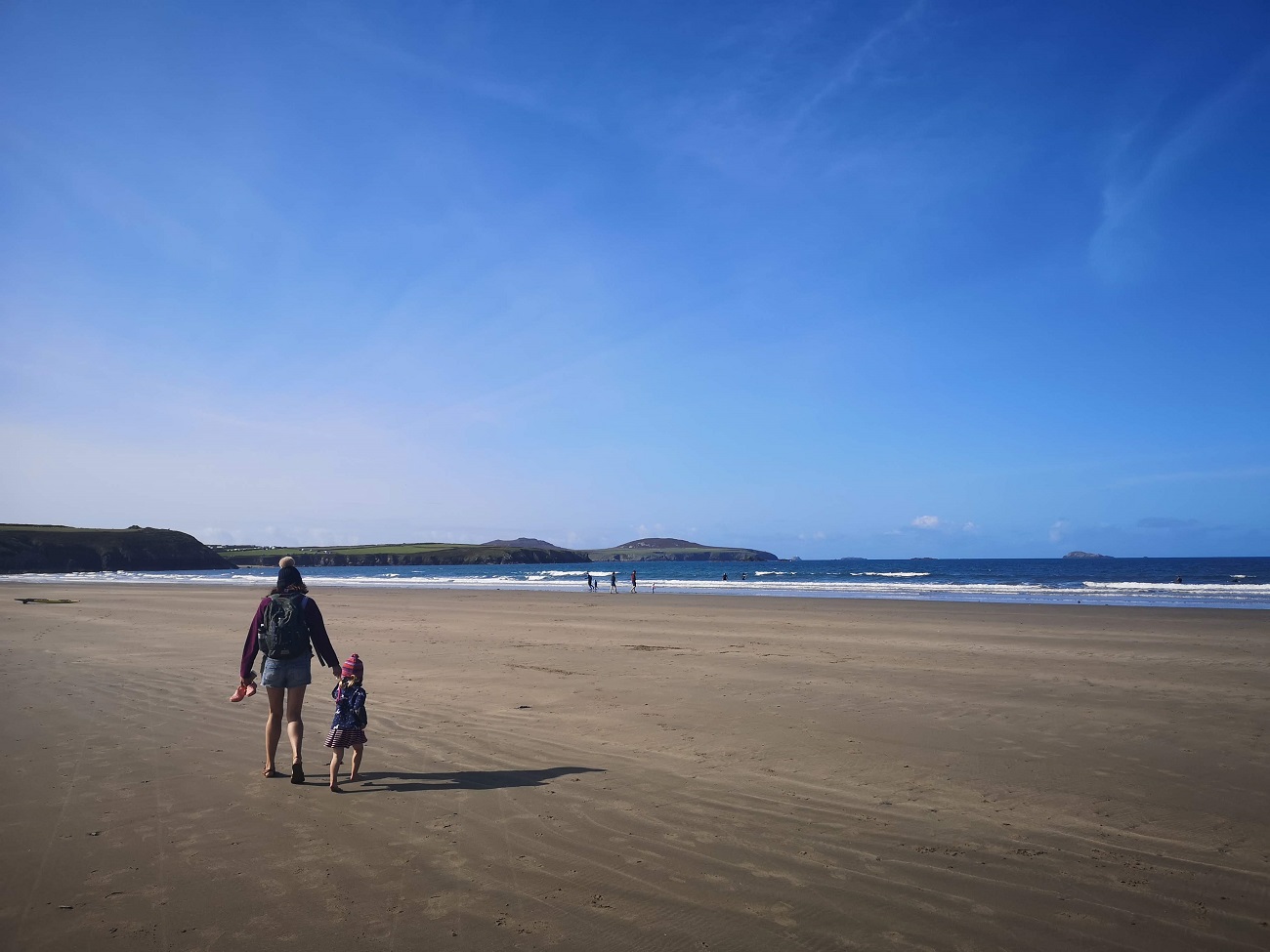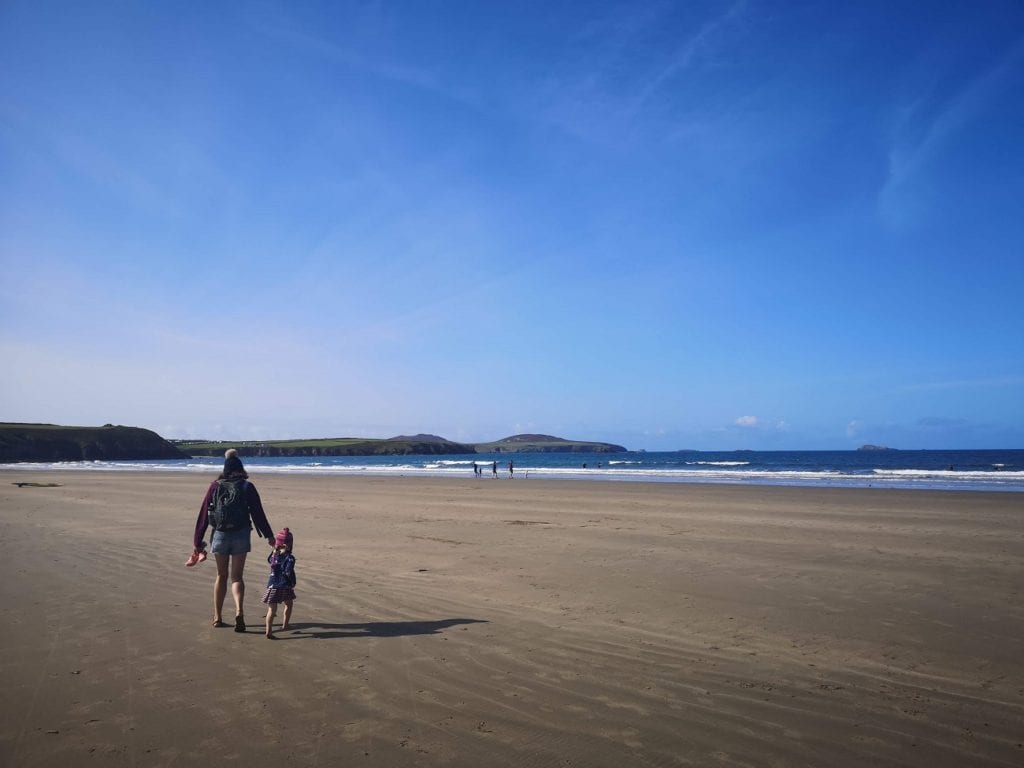 As with all British holidays, there was inevitably some rain to contend with. St David's and its inexplicably large and exquisite cathedral and well-stocked and well-catered info centre offered some respite, but keen to keep outdoors we headed back to the coastline. Armed with anoraks and gritted teeth we took on chunks of the coastal path – firstly from the long stretch of Newgale beach over to Solva, and then (exceedingly well fed on fish and chips from The Shed in Porthgain) we climbed above the harbour and across to the ruins of Trefin Mill.
Both stretches equally rewarding; skirting over stiles and through kissing gates tucked between dramatic cliff edges and swathes of farmland, we clambered along undulating hills with babies on backs, spotting seals in coves below. As we made our way we bumped into plenty of fellow walkers; all cheerily enjoying the spitting rain and non-existent views, and those above a certain age took great pleasure in telling us they too had tramped these same tracks decades before with their own children attached. It's clearly a place that keeps people coming back.
As our first holiday as a family of four and with our eldest now of an age to actually do things – or as with most two year olds, choosing not to do things – it was with much joy that we were able to revisit the holidays of our own youth again. While still too young for the storybook legends that litter the coast – from piracy and smuggling to shipwrecks, ancient burial chambers and ransacked castles – there was still plenty here to captivate little ones.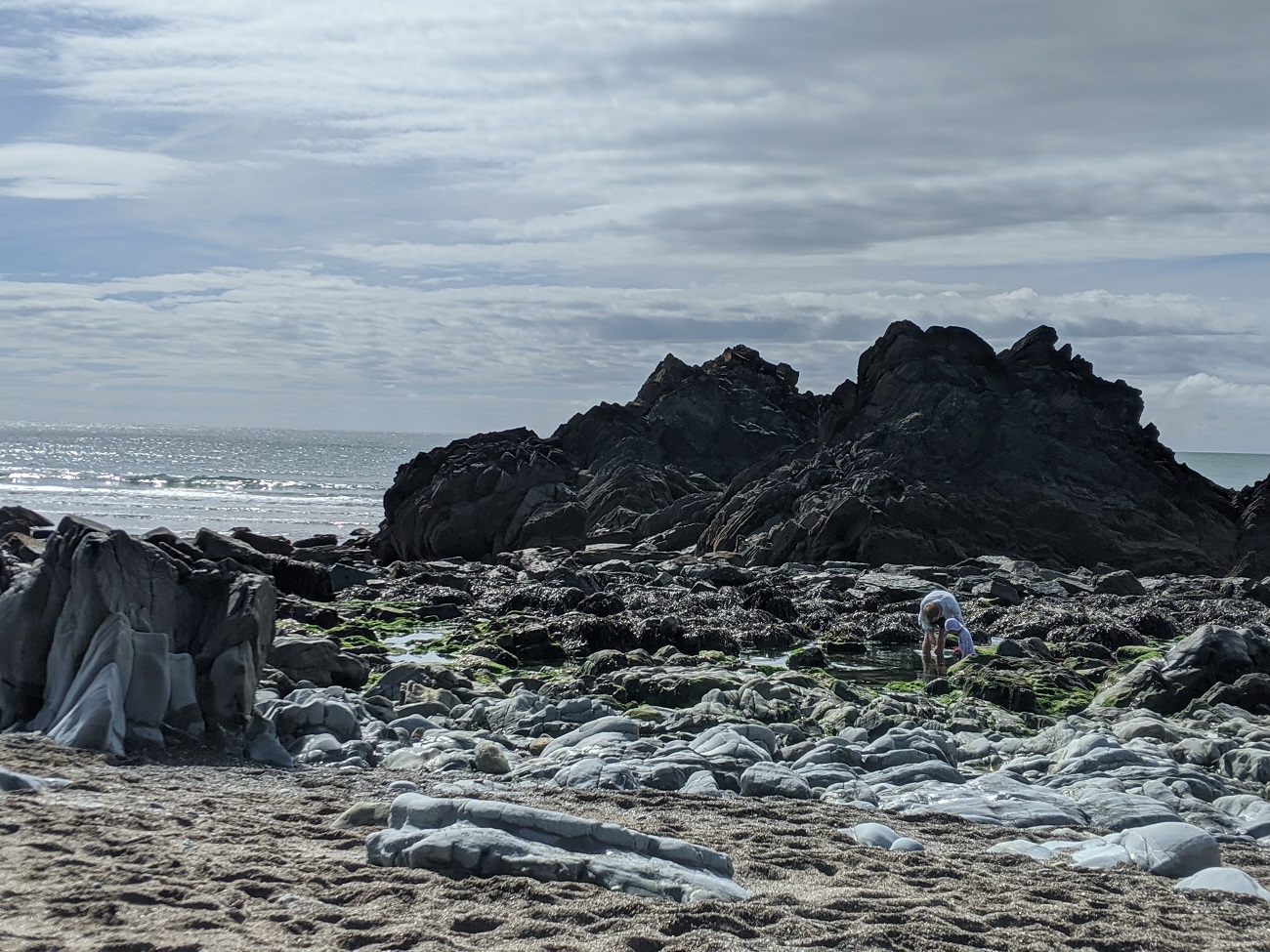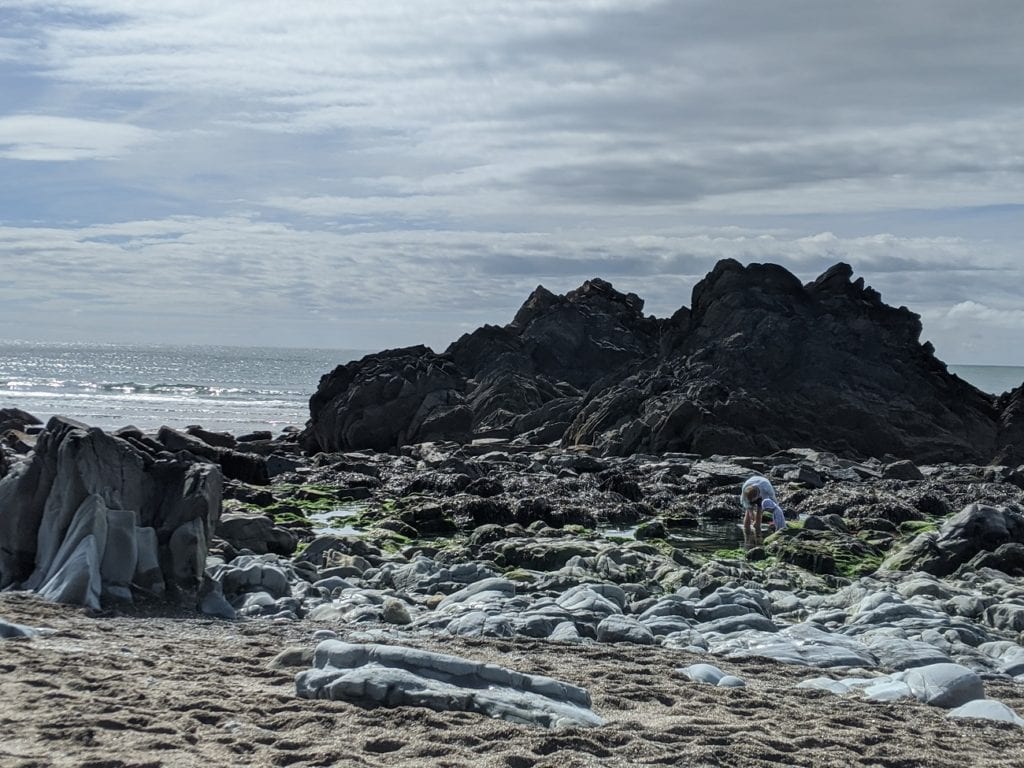 Rock pooling was relatively successful – interest was held for at least 15 minutes before the fun of bottom dipping was discovered – and then we tried crabbing at Solva. Again, it started well – huge Daddy points were gained with the almost instant success of not one, but two crabs clinging on to the attached bacon – before any credibility was lost (as nearly was a small child into the harbour) as one of the marauding crustaceans made a run for it with said child sitting in between bucket and water.
By night, we returned to our lodgings for the week: one of a few converted barns hidden amidst a tangle of high-banked single-track lanes inland. Sweeping views over hillsides speckled white with sheep, Scrabble (no Welsh words allowed, that's cheating) and a more-than-welcome log-burning stove allowed us to reset and recharge each evening.
The week ambled along; we stuffed ourselves with Welsh Cakes (and found they are just the right consistency to keep a child claggy mouthed and therefore quiet for a good amount of time), got stuck behind every tractor in Wales and enjoyed the clearest and quietest night skies we'd seen in years, but eventually it was time to head home.
We managed a couple of final trips to the sea – first to the splendour of Whitesands Bay and then on the way out to Saundersfoot, a place teetering on the edge between quaint and tacky – before we made for the M4 and back to Blighty. Within hours, reality was back with us. A closed M5 motorway causing havoc, inexplicably managing to get lost on a dual carriageway somewhere on the border and then right on cue, a vomiting toddler in the back. The wonderful memories of Pembrokeshire would be lasting an awful long time, but with a new array of smells forever ingrained into our car, I suspect we'll be oft reminded of this holiday for some time to come yet.