Lemurs are endemic to Madagascar, and it's impossible for these furry creatures not to come to mind when thinking about the country. Due to Madagascar's highly seasonal climate, lemur evolution has produced a level of species diversity rivalling that of any other primate group.
Lemurs are intelligent creatures, and are also regarded as entertaining (especially the lively ring-tailed lemur!) they often use a wide range of visual signals to accompany their scents and sounds, making them amusing to watch. A lemur's dexterous hands allow for it to swing across the lush Madagascan canopy, and this can be quite the spectacle for tourists to behold.
With around 100 different species of lemurs living on the island, you are likely to encounter them all over on a trip to Madagascar. Here are the best spots for guaranteed sightings of these well-loved animals.
Ranomafana National Park
Ranomafana is extremely popular with visitors to Madagascar, all eager to see the rich and diverse wildlife it has to offer. The park is home to around 20 different species of lemur and you are most likely to encounter black-and-white ruffed lemurs, red-fronted brown lemurs, grey bamboo lemurs and the rarer red-bellied lemur.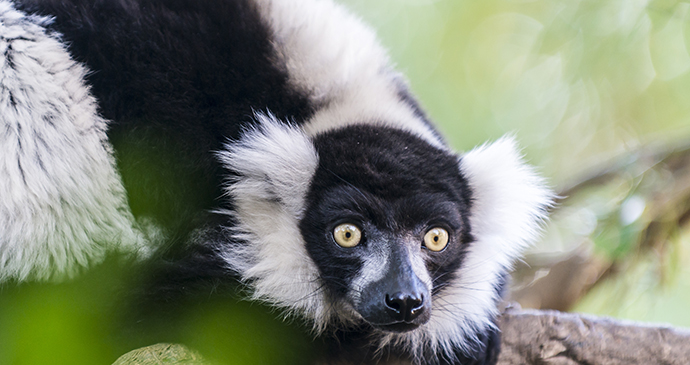 In addition, star attractions such as the greater bamboo lemur and golden bamboo lemur are now fairly frequently seen, and Ranomafana is the best place to spot these rare species. There is also the spectacular Milne-Edwards' sifaka – recognisable due to its rich dark brown colouring with cream-coloured sides.
Berenty Reserve
Berenty is one of the most famous reserves in Madagascar, not least for being the site where renowned primatologist Alison Jolly studied lemurs for five decades.
Berenty offers a broad range of forest trails that allow for safe, independent exploring and host some exceptional wildlife. The reserve is renowned for its lemurs; if you have ever seen lemurs in a TV documentary, chances are they were filmed here. There are guaranteed sightings of brown lemurs, ring-tails and sifakas.
Berenty proudly homes approximately 500 confident and friendly ring-tailed lemurs, as well as 300 adorable Verraux's sifakas. The red-fronted brown lemurs were introduced from the west and are now well established and almost as tame as the ring-tails.
Additionally, a guided night walk in the Spiny Forest is not to be missed for the chance to see the many nocturnal lemurs that live in Berenty, such as grey mouse lemurs and the white-footed sportive lemur.
Loky-Manambato, Daraina
The main reason to visit the small village of Daraina is to pay a visit to Loky-Manambato, a protected area that is home to the beautiful golden-crowned sifaka.
This glorious species is one of the rarest of all the lemurs and is among the 25 most threatened primates in the world, and here you are almost guaranteed to see one in its natural habitat. They're most likely to be seen snoozing during the day but many visitors have been lucky enough to see these creatures effortlessly gliding up to 10m through the air.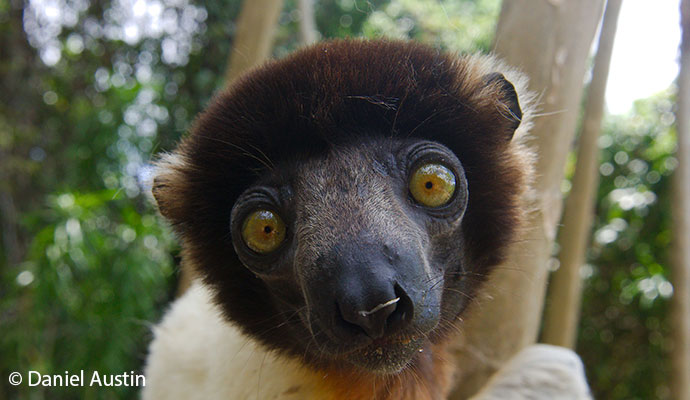 Golden-crowned sifaka are regarded as sacred and therefore are not hunted, this means they do not feel threatened by humans and are in fact confident around visitors, offering a memorable experience for many.
Another reason to pay a visit to Loky-Manambato is here because in recent years there have been an increased number of sightings of the fascinating, and rarely seen, aye-aye, it's recommended to stay overnight for your best chance to catch a glimpse.
Andasibe National Park
This is now one of Madagascar's most popular parks, due to its close proximity to the capital city of Antananarivo as well as the exceptional fauna it hosts.
Andasibe protects the largest of the lemurs, the indri and these are the best place on Madagascar for a guaranteed sighting. Enjoy watching in amazement as they propel themselves up to 10m from tree to tree. The indri is also known for its distinct call – a cross between a whale song and a siren that carries for up to 3km.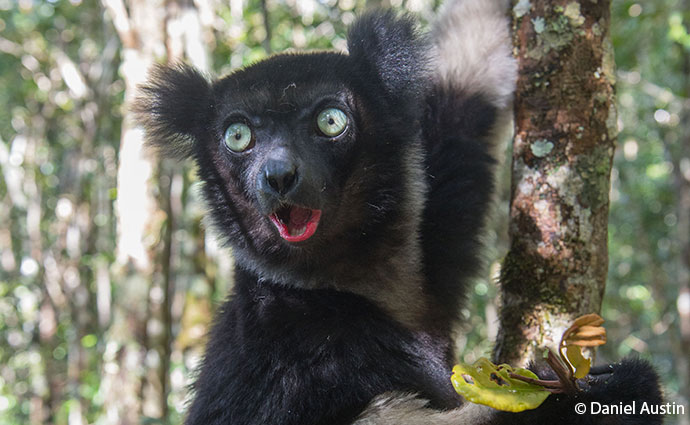 There are 11 species of lemur altogether in Andasibe, although you probably will not see them all. You may find grey bamboo lemurs, common brown lemurs and perhaps a sleeping woolly lemur.
You're in safe hands when visiting Andasibe as the guides are among the best in Madagascar, with a great degree of knowledge, enthusiasm and awareness of what tourists want.
Aye-Aye Island, Mananara
The majority of people visiting Mananara have come with the hopes of seeing the illustrious aye-aye at Aye-Aye Island. The Island was set up for the protection of aye-ayes and is also home to some white-fronted brown lemurs. Normally aye-ayes live high in the rainforest canopy and have large territories.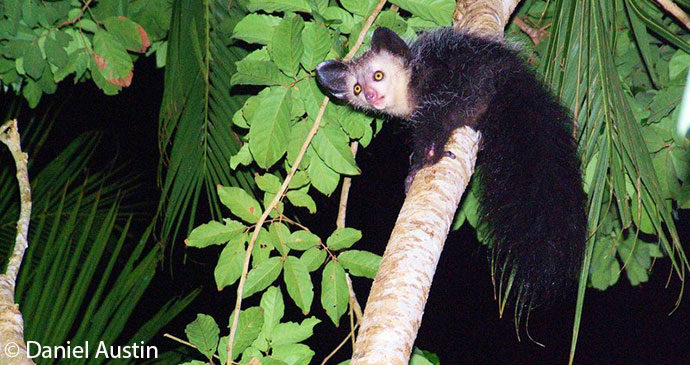 On Aye-Aye Island, however, their range is restricted by the island's small size and the trees are much lower and less dense, so they are comparatively easy to see. They are also lured out by the abundance of coconuts on the Island. A sighting is by no means guaranteed, but at least half of the tourists who make an evening visit to the island are lucky.
Anja Community Reserve
This is a community-run reserve which offers supreme scenery and is home to several troops of cheeky ring-tailed lemurs. Lemurs are viewed as sacred to the local people here, so they have never been hunted, which brings out the confident and playful side to the 300 ring-tails that live in this well-maintained park.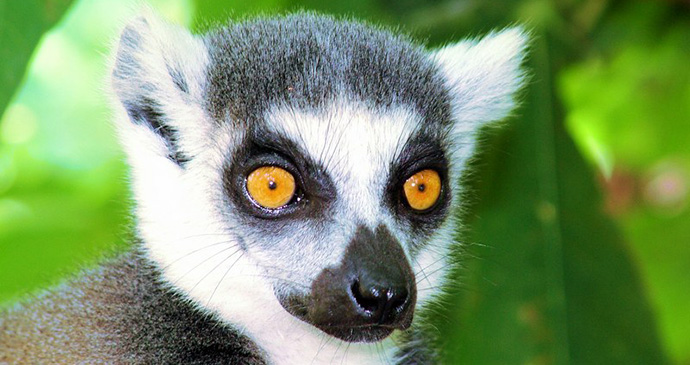 Given some of the lemurs of Berenty go quite bald in the dry season because of feeding on an introduced toxic tree; this park provides a worthwhile alternative for tourists wanting a lemur fix.
Park Ivolina
This is a wonderful conservation centre that is run by the Madagascar Fauna & Flora Group. You can explore the park at your own pace through a network of forest and lakeside trails which offer sightings of a great number of lemurs.
Free-ranging lemurs include black-and-white ruffed lemurs, white-fronted brown lemurs, red-bellied lemurs and crowned lemurs.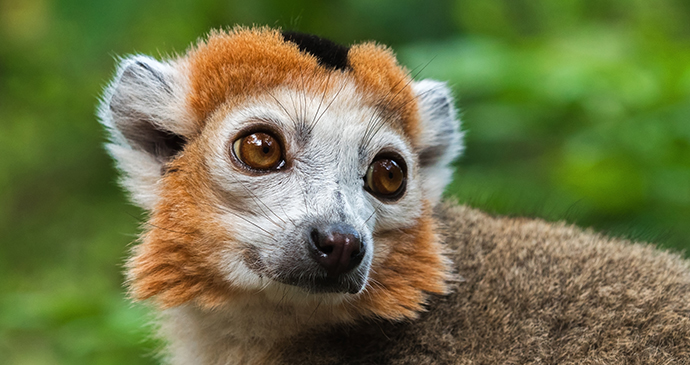 The park is also home to five aye-ayes that are held in captivity for conservation purposes, after hours visits can be arranged to see these rare nocturnal creatures with advanced notice. This is an ideal space for guaranteed lemur encounters if you only have a limited amount of time in Madagascar.
Ankarafantsika National Park
Ankarafantsika is an easily accessible national park home to an abundance of wildlife.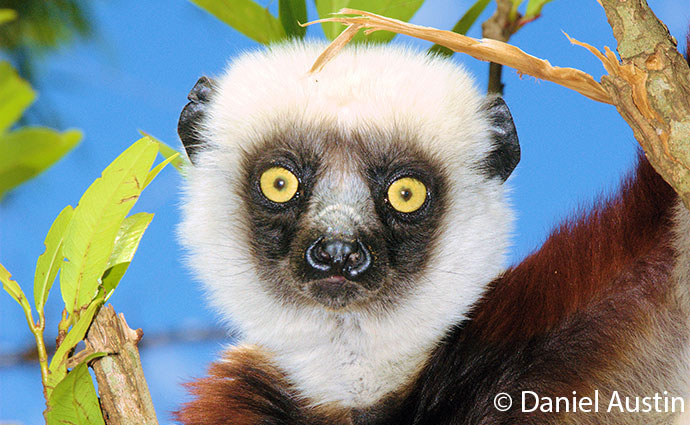 There are eight species of lemur here, and you are likely to see Coquerel's sifakas, mongoose lemurs, Western woolly lemurs, common brown lemurs and sportive lemurs. Ankarafantsika is also the only place in Madagascar where you may encounter the rare golden-brown mouse lemur. 
---
More information
For more information on lemur conservation, check out the Lemur Conservation Network. For more on Madagascar, take a look at our comprehensive guides: