Written by Bradt Travel Guides
Spilimbergo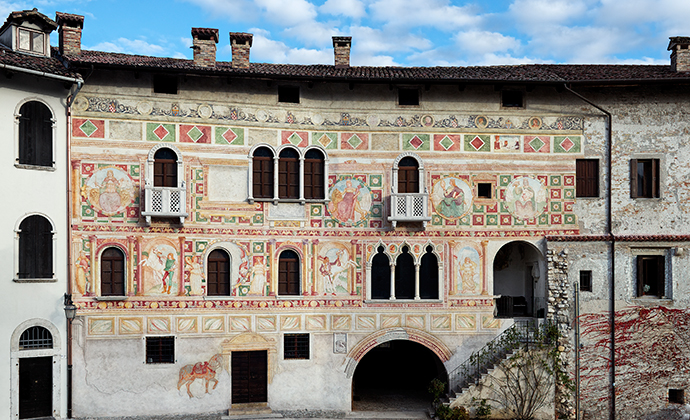 The frescos at the Castello di Spilimbergo are attributed to Andrea Bellunello © PromoTurismoFVG
Painting on the façades of buildings was common all over north Italy in the Renaissance, but perhaps most popular in Friuli, where they add a delightful grace note to many towns. Proper fresco weathers better than you might think, though the colours tend to fade into a lovely palette of sea green, russet and gold. Examples survive all over the region. Most are by unknown artists, but the best of them all, the brilliant early Renaissance figures on the Castello in Spilimbergo are in part by Andrea Bellunello. Spilimbergo is the joyful open-air museum of Friulian frescoes, with over a dozen beautifully painted buildings, including the cathedral.
Pordenone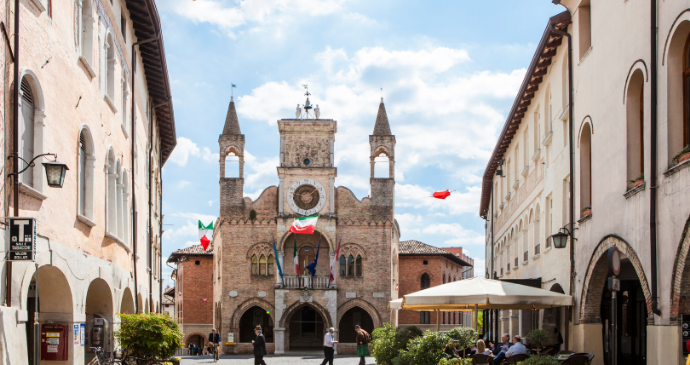 Pordenone was home to the artist Il Pordenone © Fabrice Gallina, PromoTurismoFVG
If Pordenone is known outside Italy, it's primarily due to self-taught artist Giovanni Antonio de Sacchis (1484–1539), who, after falling out with his brother, who wounded him in the hand, signed his works Antonius Portusnaonensis, or De Portunaonis), but is more commonly known as Il Pordenone. In his day he was known as a pictor modernus, a 'modern painter' for his monumental Roman style, quick brush strokes and tendency to the bizarre. In the Lives of the Artists, Giorgio Vasari (who wrongly identified him as Giovanni Antonio Licinio) said he painted 'with speed, vigour, and deliberate coarseness of expression and execution – intended to shock'.
Udine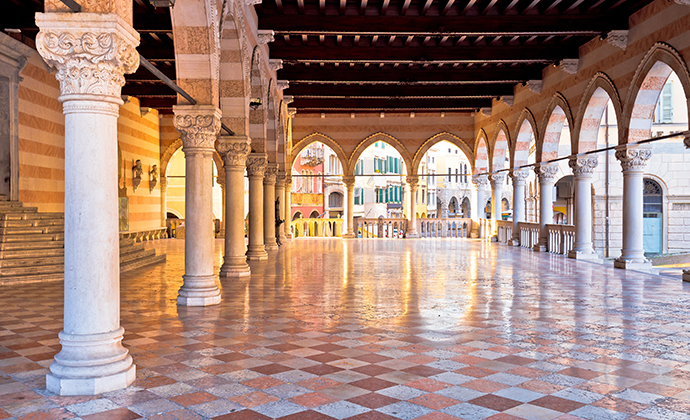 Piazza della Liberta was built in the Venetian Gothic style © xbrchx, Shutterstock
Udine's spectacular centrepiece, Piazza della Libertà is the essence of Venice on the terrafirma. Exquisite Venetian Gothic architecture, a handsome arcade – all that's missing is the water. there's even a Lion of St Mark on a column like the one in front of the Doge's Palace. This one, though, is a surprising bit of nostalgia, added only in 1883. Perhaps the Udinesi were already having second thoughts about being part of the Italian Kingdom.
Udine is also the city of Giovanni Battista Tiepolo. Even after Tiepolo became world famous he never forgot his first patrons in Udine, and in 1759, when he was at the height of his powers, he returned to decorate the Oratorio with this masterful Assumption, of Mary in chaste white, raised into Heaven in cushions of clouds.
Cividale del Friuli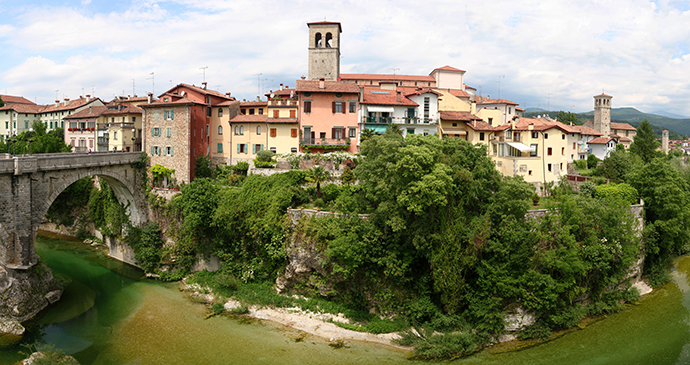 Cividale del Friuli was founded by Julius Caesar © RP Studios, Shutterstock
East of Udine, Cividale del Friuli is a jewel with an impressive pedigree. Julius Caesar founded it in 50BC and named it Forum Iulii after his family – a name that was condensed over the centuries into 'Friuli'. But it was the Lombards who followed and left Cividale the remarkable relics given World Heritage status in 2011. Don't miss the wonderful Altar of Ratchis, commissioned by the eponymous Duke (and later King) of the Lombards in AD749 and which can now be seen at the Museo Cristiano.
Aquileia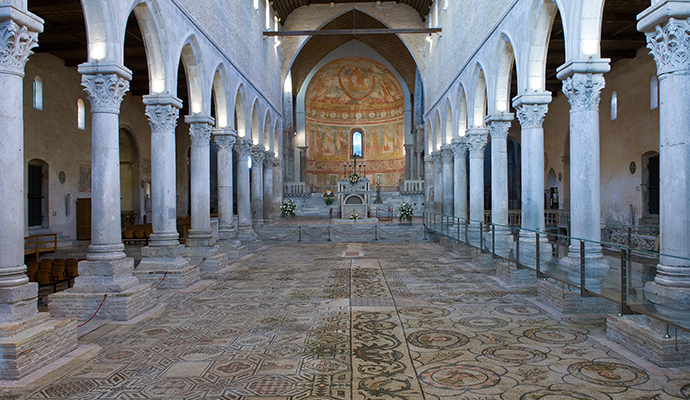 Aquileia's magnificent basilica and its campanile are a city icon thanks to the early Christian mosaics © Gianluca Baronchelli, PromoTurismoFVG
Aquileia is unique in that it was the only great Roman-era city in Italy to shrink into a village; all the others not buried in volcanic mud evolved into modern towns or cities. Though a tiny town, it is an exceedingly handsome one, with scores of stately cypresses, and bits of antique sculpture set into its walls. Aquileia's magnificent basilica and its campanile are a landmark on the Friulian plain for miles around. The Basilica was founded in AD313 by Bishop Theodore, but wrecked by Attila in AD452. It was rebuilt four times, lastly by Patriarch Poppo (1020–31) in the Romanesque style with later Gothic improvements. The upper part and hull-shaped timber roof were redone by the Venetians in the 15th century.
---
Keen to explore more of Friuli Venezia Giulia? Start planning your trip with 10% off our guide: