At Bradt we love to share the talents of the fantastic photographers who supply images for our guides, events and promotional materials. To celebrate them, we'll be inviting a different photographer to share their photos on our website and social media each month.
This month's photographer is Shane Dallas, who encourages you to explore The Road Less Travelled.
Shane Dallas is a travel photographer, social media specialist and trainer who has visited more than 100 countries and inspires people to explore the road less travelled.
He is a founder of #TRLT – The Road Less Travelled – one of the world's most successful and longest-running travel Twitter chats, and the largest based outside of North America.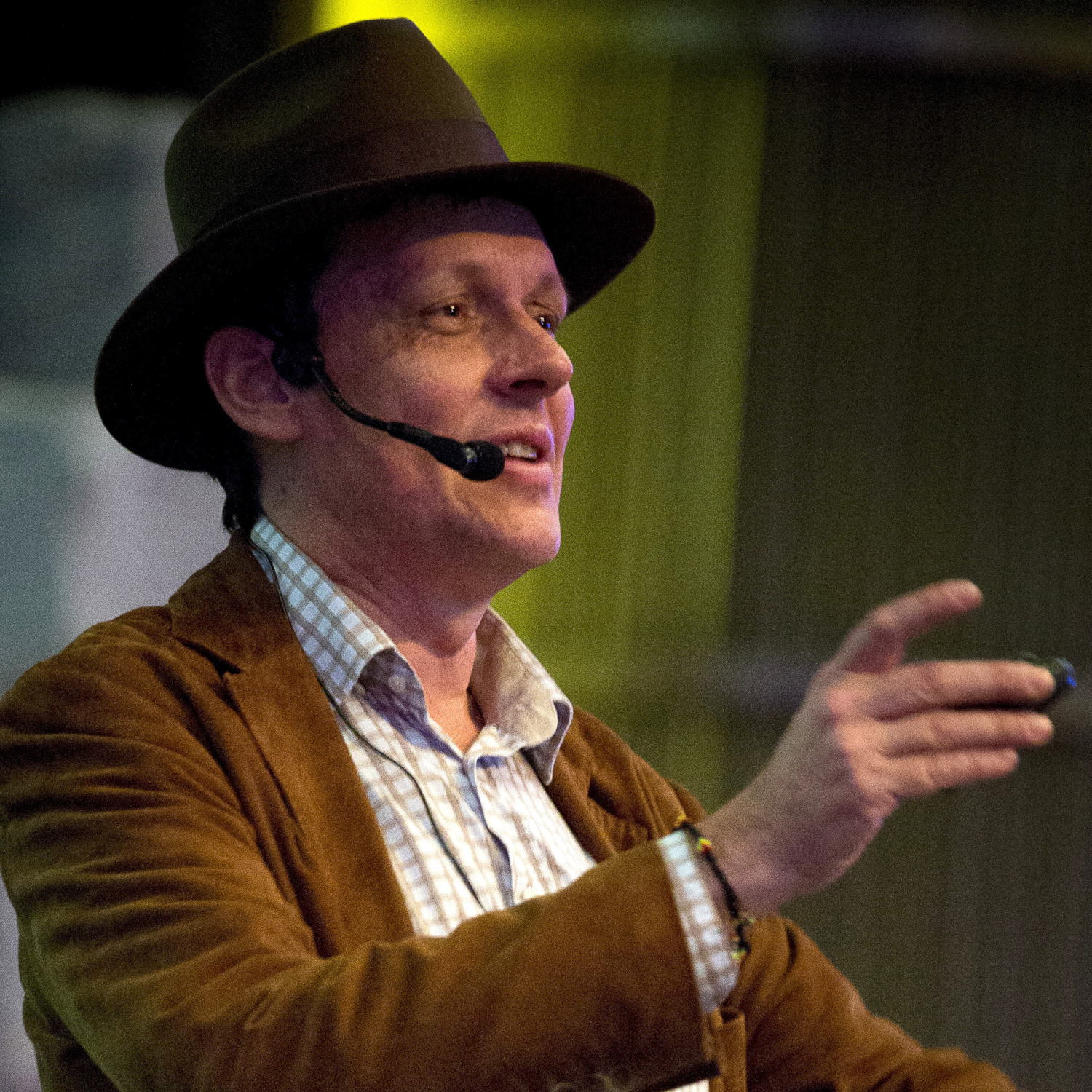 Shane has more than 25 years of public-speaking experience across five continents, and he can be found presenting about travel, tourism and social media at different trade shows and conferences. He is the Conference Director for TBEX Europe, the largest online travel media conference in Europe. Shane's travel tips and tales can be heard on the American Forces Radio Network (via OnTravel Media) and on radio station, Dubai Eye.
Here, in his own words, is an insight into the connections that Shane has made with people and places accross the globe.
Assertive Girl in Axum, Ethiopia
In the back streets of Axum, away from the major tourist sites of the stelae, tombs and churches, a thriving Ethiopian community lives. The paved brick streets always host some form of activity – camels hauling goods to and from the market, people going about their daily lives, or the children that use these streets as their playground.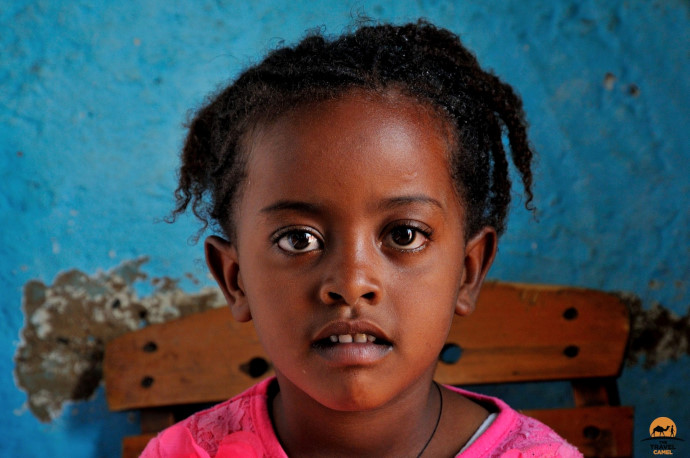 One day, a group of young boys surrounded me, asking in excited voices to take photos of them. After finding a nearby wall with a conveniently placed chair, I was about to ask the first child to come forth when suddenly the crowd parted. A very young girl who was smaller than all the boys pushed her way to the front and sat in the chair. This assertive girl stared at the lens with her large eyes waiting to be the first child to be photographed. Her wish was granted.
Boy at the At Chabysh Festival, Tajikistan
The excitement of the gathered crowd gently increased with every passing minute. It was a harsh environment for the At Chabysh Festival in Murghab, Tajikistan. The sun bore a ferocity at this high altitude and strong gusts of wind caused clouds of dirt to swirl around the horses and people. Typical of the Pamir Mountains, there was no tree in sight, with the only shelter being some yurts erected to one side of the festival.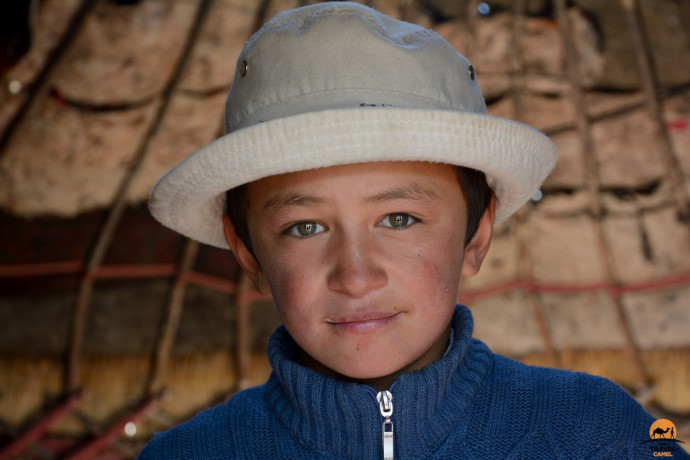 Whilst wandering and waiting for the first horse race of the day to commence, a young boy and I kept passing each other – quite remarkable considering the number of people in the area. He always gave a warm wave, sincere smile and enjoyed comparing the hat he was wearing with my own. Despite a difference in age, we shared a common connection of our love of stylish hats.
Conversations on Tanna Island, Vanuatu
On Tanna Island, Vanuatu, the dirt roads have soil darkened by the presence of one of the world's most active volcanoes, Mt Yasur. On a particular steamy, humid day on this tropical island, I was part of a small group that walked along a bumpy road covered by a canopy of trees that allowed patches of sunshine to pattern the path.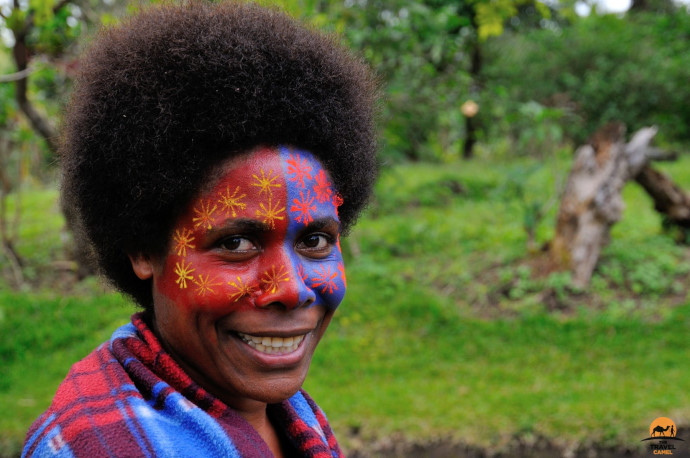 The others in my group were Ni-Vanuatu who were journeying to another village, and travelling by foot is the most common form of transport on the island. We happened upon a brightly painted young lady who had just been performing in a traditional dance. At this point, the talking started, and it continued for some time. There are never any short conversations on Tanna Island, they are too important – talking and connecting with others deserves a lot of time.
Conversation with a Sadhu, Kathmandu
The canyon of concrete ghats rose up on either side at the Pashupatinath Temple in Kathmandu. It was a scene of celebration and sadness – the vibrant aarti on one side of the creek was a contrast to the smoky cremations on the other side. Life and death being played out so dramatically within close view of each other.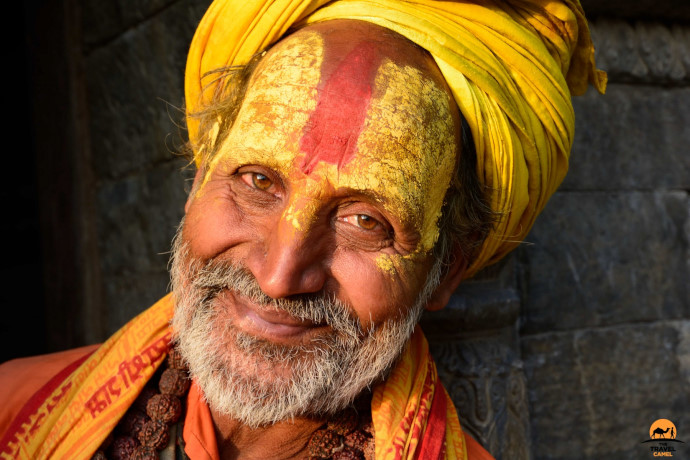 Many sadhus wait to provide sage advice and blessings at this holy place in Nepal. Among them was a sadhu who I often saw during my visits to the temple. As the setting sun bathed the temple with its amber glow, we sat together and talked, oblivious to the constant hum of people who walked past us. He was a man full of wit and charm, and as the day came to and end, so too did our conversation. This was yet another connection gained from the experience of travel.
Dusk at Kilima Camp, Kenya
The sprawling grass plains of the Mara in Kenya are famous for the annual Great Migration, where two million animals make the journey from the adjoining Serengeti in Tanzania in search of literally greener pastures. The undulating landscape is a sea of beige, with the vastness of the ground matched by the vastness of the blue sky.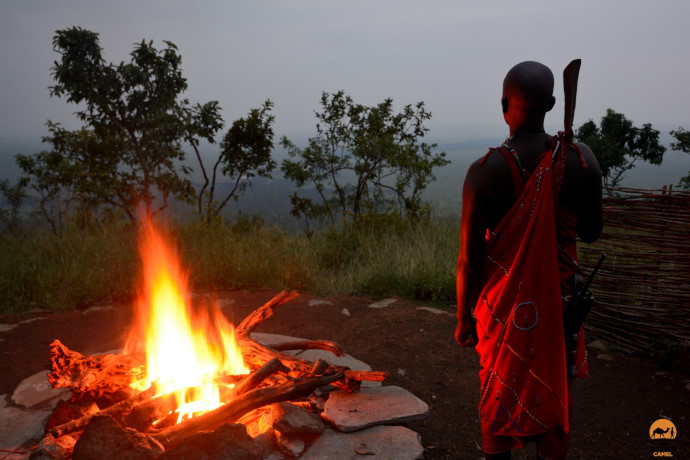 Living in this area are the Maasai, the most famous tribe of eastern Africa. Wearing their distinctive red attire, they have lived on this land for many thousands of years. As dusk approaches and the warmth of the sun was replaced by the cool of evening, a Maasai warrior stands on a high vantage overlooking the ever darkening scene – a warrior strongly connected to his land that is strongly connected to his culture.
Friendly Faisal, Somaliland
Dust and dirt was kicked up by the passing traffic, and when it parted, I could espy men sitting in front of whitewashed walls, sipping a hot beverage and conversing beneath the warm sun. Children gambolled in the side streets among small squat homes with flat roofs, whilst the colour to this scene was added by the vibrant hues of the hijab worn by the women.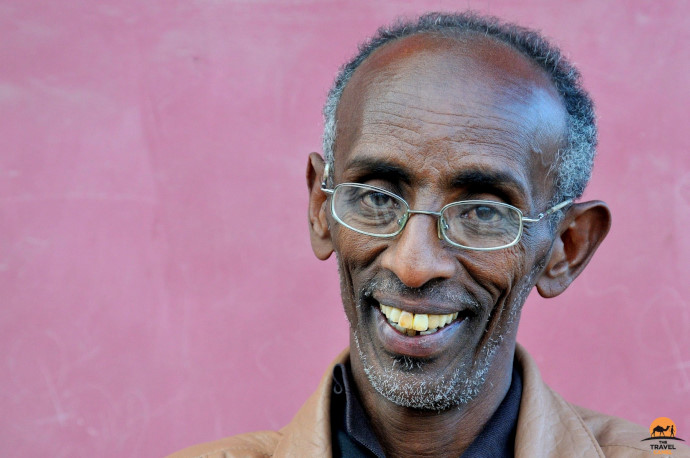 Hargeisa is the capital of Somaliland, and it is one of the safest and most welcoming cities in Africa. The hospitality is almost overwhelming with many locals ready to ask questions, share stories and offer opinions. Staying for many days in Hargeisa allowed for many strong connections – such as the money changers, shopkeepers and the friendly Faisal, who would always have a chat whenever he saw me.
Interior of the Russian Orthodox Church, Pyongyang
One of the most fascinating locations to visit in Pyongyang is the Russian Orthodox Church – a place that sees very few foreign visitors, even by North Korean standards. This was a church seemingly without any parishioners – no North Koreans followed the Orthodox religion, nor do any of the expatriate Russians. The interior of the church was immaculate, everything was clean, new and largely unused.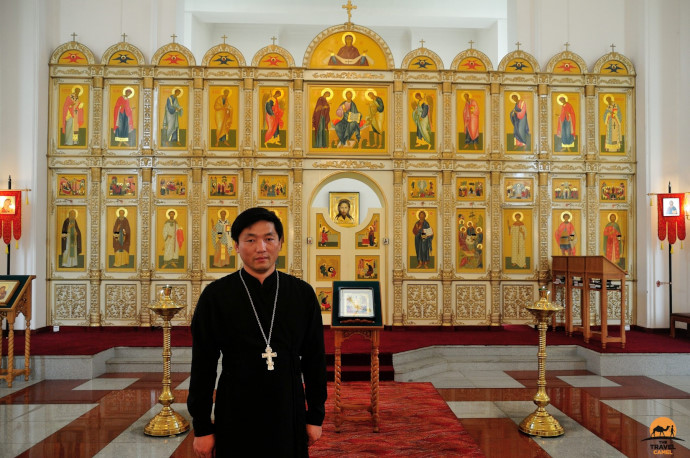 I was introduced to the priest, a quietly spoken and peaceful man who possessed great knowledge about many topics. The more we spoke, the more we connected. This priest radiated warmth and calm and he was most interesting person I encountered during more than a week in the country. Strong connections can sometimes occur in the most unexpected of places.
Karo Warrior, Ethiopia
On a very dry afternoon in Ethiopia, a welcome breeze blew across the trees and huts of the village of Kolcho, home of the Karo people. It had been a very warm day, but with the sun now sinking toward the horizon, it was a truly glorious afternoon. From this high vantage, one could gaze across the Omo River far below and the untouched carpet of trees that stretched as far as the eye could see.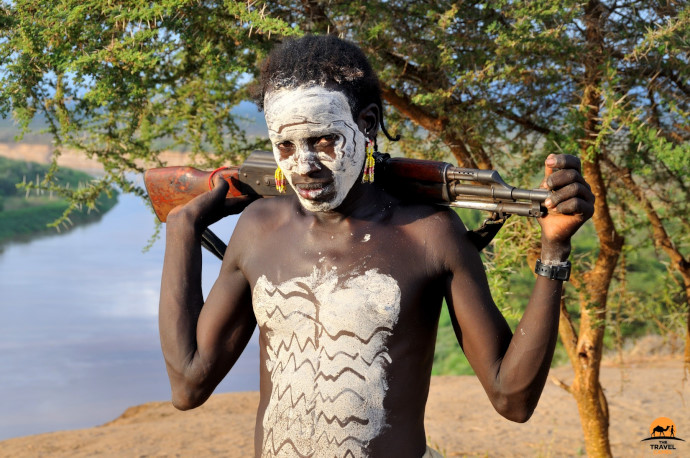 During my visit, I spent much time with a Karo warrior. Though we had no common language, we could still communicate through gestures and facial expressions, and we smiled and laughed as we awkwardly tried to communicate. He was fascinated to see my photos of other tribes, and I was equally fascinated by the quality of his body painting. When it was time to leave, there was a genuine sadness and emotion at our parting. One doesn't need a common language to form a connection with other people.
Lady making clothes, Romania
An uneven cobblestone road lined by old houses and tall trees lay at the foot of the historic Viscri Fortified Church in Romania. It was a scene of slumber, and even the sellers offering their wares at the side of the road were languidly waiting for customers, and at this time, I was the only customer to be seen.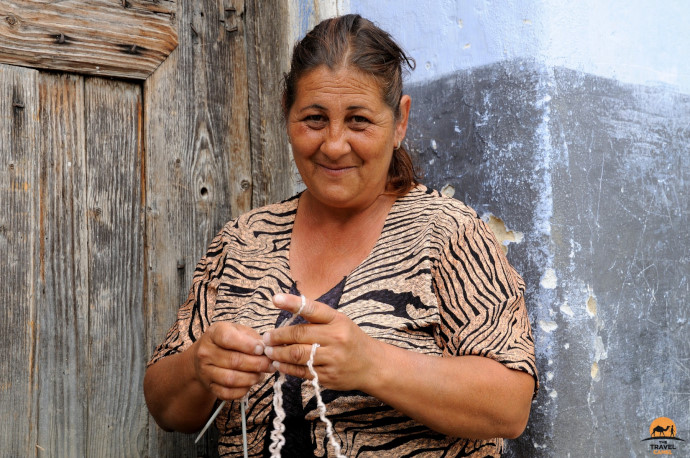 Sitting by the side of the road in a low chair that rested close to a concrete wall and door worn with age, was a lady who was quietly knitting. She was obviously an expert of her craft because the clothes on display were of beautiful quality. Using my guide as an interpreter we talked about her clothes and after agreeing to have her photo taken, she informed me with a cheeky glint in her eyes 'If you photograph me, you will be famous!'.
Man and his donkey, Syria
The Aleppo Souq is one of the world's greatest markets – its hazy interior crammed with the sights, sounds and smells of an important part of the local culture. As was usual in Syria, one could not walk far without someone welcoming you to their country. The intended brief visit turned into a stay of many hours as many conversations and connections ensued.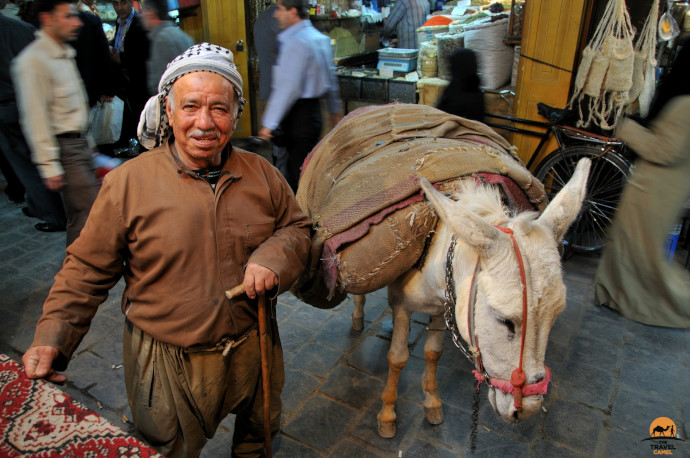 Whilst relaxing in a shop engaging in yet another conversation, a part of the passing crowd was an elderly man with a cane who shuffled along with an obedient donkey by his side. He passed many times – always moving at the same pace but with the donkey becoming gradually more burdened with a larger volume of goods. It was apparent that the connection between these two was complete as they followed a routine they had undertaken together for many years.
Mansoor the silversmith, Iran
The sprawling Qeysarriyeh Bazaar in Esfahan, Iran, is filled with people, lights and every imaginable craft and souvenirs was akin to a maze – narrower passages led off from the main shopping walkways – some would meander back from whence they came, whereas others reached a dead end. It was at one of these unassuming dead ends where I was introduced to Mansoor, a silversmith of more than 35 years experience.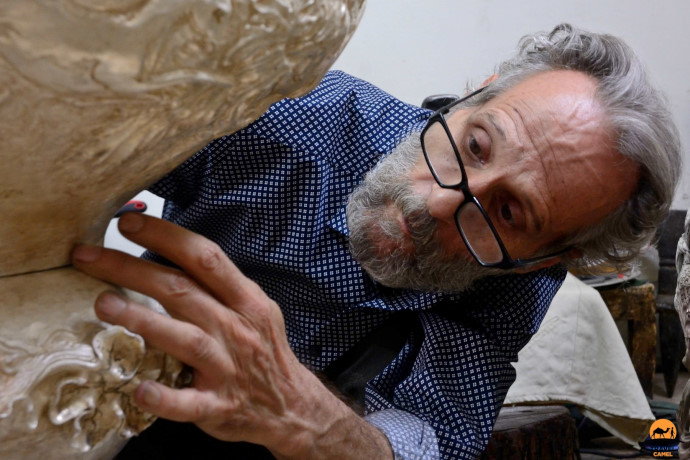 In his modest two-room workshop illuminated by bright florescent lights, Mansoor engaged in conversation with the local photographer who led me here. I silently sat to one side and observed not only the exchange of words, but Mansoor hammering and shaping silver until it was a picture of perfection. Mansoor's connection to his silver pieces was absolute – he was a master of his trade.
Rashid scans the wall, Kurdish Iraq
Sitting across from me in the Qaysari Bazaar in Erbil's most famous tea house, was a stout, elderly Kurdish man. This former Peshmarga ('soldier' in Kurdish) named Rashid kept looking in my direction and he eventually approached where I was seated. With a mischievous glint in his eye, he gazed at me intently and gave me the strongest of handshakes, after which he proudly displayed the menacing knife he carried in his belt.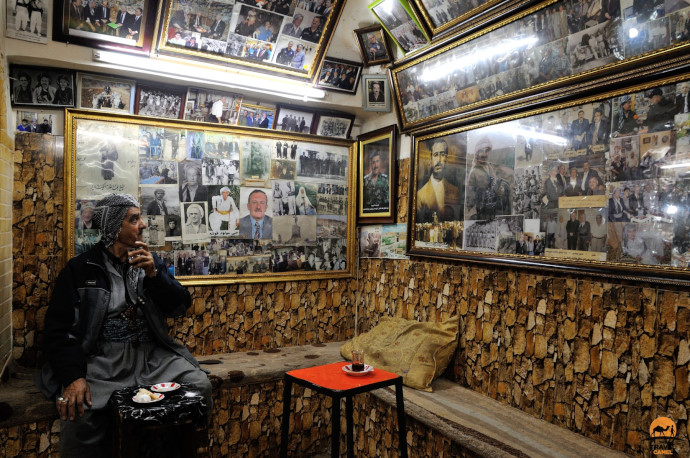 With a younger Kurd who I had been drinking tea with acting as a translator, Rashid boasted that he has never spent a day in hospital, a fine achievement for a man of 75. He gazed at the walls filled with photos of important people in Kurdish history, and with a mix of information and reminiscence, Rashid identified people he knew personally amongst the images.
Eyes of a woman and child, Afghanistan
The village of Qala Ouest in Afghanistan sits beneath stupendous snow-capped mountains that are common in the Wakhan Corridor. Most of the landscape in lower parts of the corridor is grey or brown and dominated by rocks and sand, but this village was an oasis of green fed by narrow streams of clear water that gurgled from higher ground. The land was so lush here that it could even sustain crops, and cattle could be seen quietly grazing under the shade of a tree.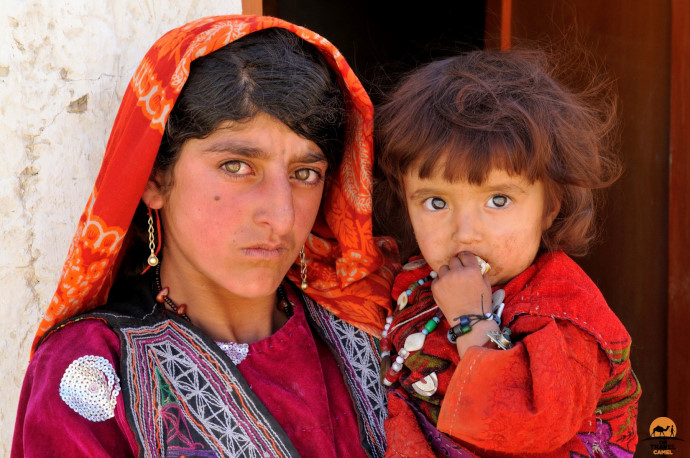 Upon meeting some of the villagers in a dimly lit common room, the village elder lamented 'Hikers and mountaineers do not stop here. They go straight to the mountains'. 'Why should they stop in Qala Ouest?' I questioned, and he responded 'Because we can welcome them'. In order to know the towering mountains of Afghanistan, you need to connect with and understand the hearts of the people that live around them.
Travelling across Placid Langa Langa Lagoon, Solomon Islands
Disembarking from the ferry that arrived on the island of Malaita in the Solomon Islands, I was met by Thomas, the village host during my visit. We walked through the wide streets of the town of Auki that seemed to contain only off-road vehicles or small trucks, and where food sellers sat on squat seats under wide verandas who engaged in hearty conversation with each other.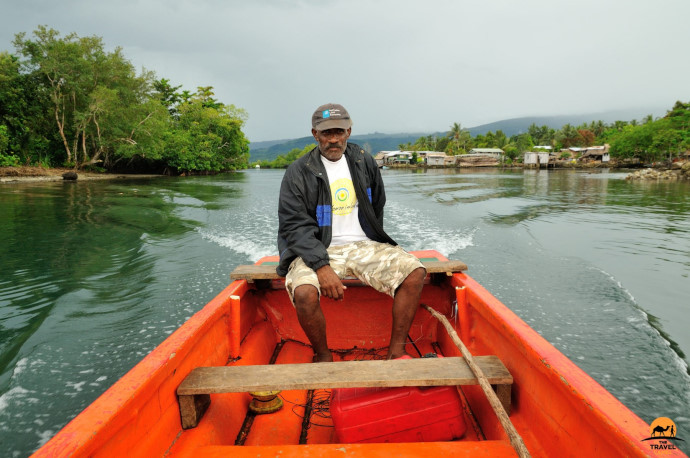 After boarding a dinghy, Thomas navigated the rather choppy waters with ease, and we then entered the incredibly placid Langa Langa Lagoon. Under leaden skies, we arrived at Busu, an artificial island built on a base of coral that was home to 400 Baekwa people, who still use crafted shells as a form of currency. These are people who have formed an enduring connection with the marine world, and they revere the octopus, stingray and especially the shark.
---
You can find more of Shane's photos on his website, Twitter and Instagram pages:
www.thetravelcamel.com/best-travel-photos