Travelling across the country to promote her book, Dog-Friendly Weekends, Lottie Gross has spent the last few months talking to thousands of dog owners at events throughout Britain. We sat down with her to find out what she learnt from a summer of DogFest.
How many events have you done this summer? Did you have a favourite?
I've done seven events with DogFest this summer, and the best one by far was the first – which was held in Loseley Park in Guilford. This took place just a few days after Dog-Friendly Weekends was released, before it was even available on the shelves!
I had a delivery of books arrive at my house three days before the event, and I brought them over to Loseley Park on the morning of DogFest. I set up a little gazebo next to the live stage and, for the first time ever, had the opportunity to stand and tell people all about the book that I'd written.
The whole experience was made even more exciting by how well the book was received – by 2pm on Saturday, I was entirely sold out! I returned to Loseley Park on Sunday (having brought more books from home) and sold out again. Overall, it was a really amazing and uplifting weekend of talking to dog owners from all over the country.
How did the events you attended differ from what you expected?
I didn't really know what to expect from DogFest. Largely because I'd never been before, and I hadn't really been told what might happen. I think the thing that surprised me most was the sheer volume of dogs in attendance. I know that sounds strange, but I must have stroked at least several hundred dogs this summer, all because of DogFest! It was amazing to see so many of them gathered together in one big field, all generally having a very lovely time sniffing each other's bums.
Another thing that surprised me was just how excited people were about my book. Attendees would often walk past my stand, looking a little confused at the sign that read: 'Dog-Friendly Weekends: the ultimate guide to dog-friendly holidays in Britain.' Because of this, I had lots of people approach me to find out more.
Once I explained what the book was all about, people seemed genuinely thrilled to discover that there was something like it on the market. I was told countless times 'This is exactly what I need', or 'My friends having been looking for something just like this'. To receive that kind of feedback so quickly, and without people having even read the book, was incredible.
How many dog owners have you talked to about your book?
So many. I must have spoken to upwards of two or three thousand people about this book. I sold 1,000 copies directly, and was told by countless other people that they planned to return home and order the book online that evening.
I reckon around 70% of the people I spoke to at DogFest went on to purchase a copy one way or another.
What's the most common question people ask you about your book?
The most common question people asked was: 'Is the book just about dog-friendly accommodation?' So many of the titles currently on the market focus solely on this topic. While each of them might include a recommended walk or a pub nearby, they're not interested in detailing the all-encompassing, well-rounded weekends that help set my book apart.
When people asked me this summer if Dog-Friendly Weekends was 'just about hotels', I would say no – it's about everything. It includes self-catering options, campsites, walks, steam trains, museums, aquariums, zoos and all manner of dog-friendly places that you probably wouldn't expect!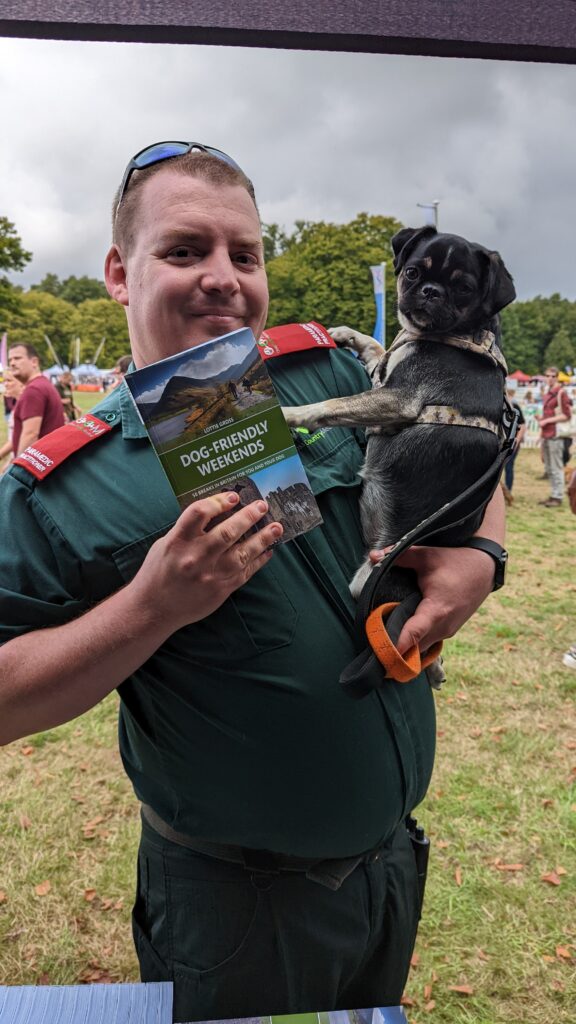 How does this book differ from other dog accommodation books on the market?
Dog-Friendly Weekends gives you everything you need to know about travelling with your dog in any of the destinations covered. It will tell you where to stay, where to eat and most importantly, what to do. There's information on recommended walks and top beaches to visit, all of which have dogs in mind.
All of the hotels listed will allow you to bring your dog down to breakfast and most of the self-catering places have enclosed gardens where your dog can run free. I've noted where there might be cattle or sheep roaming, and explained where there might be plants that are dangerous to your animals as well. If you have a copy of this book with you on your travels, you really won't need anything else.
How do you define 'dog-friendly'?
There is a big difference between 'dog-friendly' and 'dog-tolerant'. The latter might be where a hotel or a restaurant allows your dog inside, but don't want to see, hear or smell it.
I think 'dog-friendly' is when a place understands what dog owners want and need. It's the hotel that recognises the importance of having direct access to outside spaces from its bedrooms. It's the café that offers an outdoor showerhead so you can clean off your dog before you sit down for lunch. It's the pub that provides a little tin of dog biscuits so that you can bribe your pet into behaving while you enjoy a sandwich or a pint. It's the self-catering accommodation that provides old towels that you can use to dry your dog off when you're coming in from a wet walk.
Ultimately, dog-friendly places are all about providing dog owners with a seamless experience. After all, why should we be made to feel guilty for choosing to travel with our pet?
Why do people need your book?
One of the first people to walk past my stand at Loseley Park looked at it and said, 'Why would I buy that when I could just look it all up on Google?' The answer is pretty simple. The internet is so full of information that it can be incredibly difficult to sift through and find what's right for you.
Trickier still, it also plays host to lots of misleading and incomplete information. A list of the 'best dog-friendly hotels' in Bath or York might seem helpful on the surface, but if you've got two dogs, does that article tell you how many of those hotels cater to multiple pets? Does it let you know if it's ok to bring your dog down for breakfast in the morning? A lot of the information available online is partial, whereas this book provides all the minute details you need to enjoy a well-rounded weekend away.
Besides, who wants to spend half of their holiday on Google sifting through all of the rubbish on the internet to find out where to go, when somebody else has already done it for you?
What has been your biggest takeaway from a summer of DogFest?
Ultimately, Britain is very much a nation of dog lovers. While I have been both surprised and impressed at how intrepid and adventurous people are when travelling with their dogs, it's realising just how much we value our pets that has been my biggest takeaway. For so many, dogs are such a cherished part of the family that people are increasingly refusing to travel without them.
I think this is a very exciting and interesting time for anyone working in the dog-friendly travel market, as well as for us dog owners. The more mad, dog loving people there are in the world, the easier it will become for us to travel with our four-legged friends!
---
More information
Didn't make it down to DogFest this summer? Get your copy of Lottie's book with a 10% discount: