Written by Dana Facaros & Michael Pauls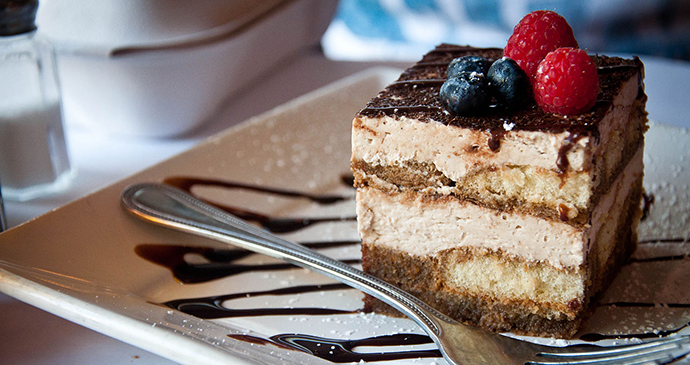 Tiramisù means 'pick me up' in Italian © Wikimedia Commons
Just who invented Italy's most famous dessert? Since the 1980s the Ristorante Alle Beccherie in Treviso has claimed the honour of inventing tiramisù initially as an aphrodisiac for clients of the local brothels (the name means 'pick me up'). In August 2018, when the Veneto region announced its intention of officially registering the name with the EU, the headlines in Italy were all about the Ministry for Agriculture's refusal – and the shocking declaration that tiramisù was actually a 'traditional product' not of the Veneto, but of Friuli.
The Governor of the Veneto appealed, but the Friuli side produced two cases that considerably pre-dated Alle Beccherie's claims. In the early 1950s, chef Norma Pielli in Tolmezzo's Albergo Roma reworked the classic Dolce Torino dell'Artusi (made with layers of ladyfingers and buttered whipped cream) into a new dessert by moistening the ladyfingers with coffee and replacing the heavy butter with mascarpone (a menu of 1952 calls it 'trancia al mascarpone'). But patrons nicknamed it tiramisù for its revitalising virtues, a name Norma started to use for her dessert of mascarpone, coffee, biscuits, eggs, sugar and cocoa by 1959.
An even earlier tiramisù, however, was noted in a once-famous restaurant called Al Vetturino in San Canzian d'Isonzo near Gorizia. Mario Cosolo, the son of the owner, was a chef on the royal yacht Savoia when he invented a new dessert: sponge cake soaked in Marsala topped by layers of chocolate mousse and creamy eggnog served in a glass. It was introduced in the restaurant as Coppa Vetturino in the late 1940s, but was soon renamed tiramisù by appreciative clients; a photo taken in Al Vetturino in 1950 of boxer Tiberio Mitri with Fulvia Franco (Miss Italy 1948) has a poster in the background advertising the virtues of tiramisù.
So the name seems to have originated in San Canzian d'Isonzo in the 1940s, and the proper recipe with the mascarpone in Tolmezzo in the 1950s, but Treviso gets the credit for its excellent PR.
---
Keen to explore more of Friuli Venezia Giulia? Start planning your trip with 10% off our guide: