Written by Andrew Bostock
To celebrate the release of the new edition of our Greece: The Peloponnese guidebook, we chat to author Andy Bostock about he first stumbled on the peninsula and his tips for those visiting.
How did you first stumble upon the Peloponnese?
I've always loved the idea of Greece since reading the myths as a kid. Later on, I found Paddy Leigh Fermor's books in my mum's bedside pile. As a war hero and someone who bunked out of school to walk across Europe, he was rather an inspiration. I learnt that he lived in the southern mainland of Greece. I bought what was probably the second edition of Mark Ellingham's Rough Guide to the country and aged 15, my friend and I set off to Athens with our backpacks, flying via Prague for some reason. Also slightly inexplicably, we decided to walk from the airport to Piraeus at 03.00, catching a ferry from there to the island of Aegina, and then fairly quickly on to the Peloponnese. My first night was spent under a bush in the carpark of the ancient theatre of Epidavros after seeing a performance of Oedipus at Colonus. Later we slept on beaches, in olive groves and abandoned tower houses, surviving on lemons and biscuits. The landscape, history and people hooked me and have never let go since.
What's been your most memorable experience when travelling in the region?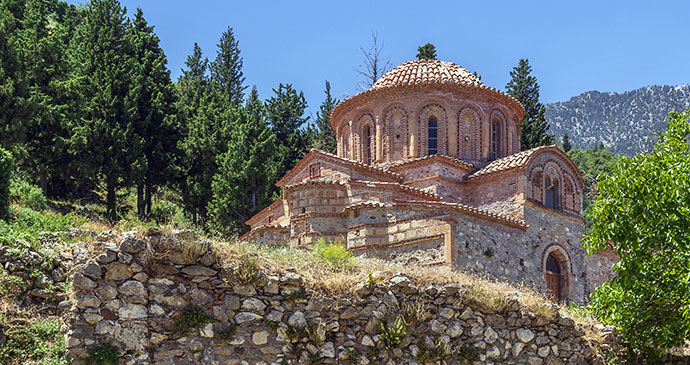 The Church of Agios Nikolaos at Mystra, one of Andy's favourite places in the region © Borisb17, Shutterstock
I should probably say the birth of my daughter, now nine, in Kalamata, but that's not strictly travel! That aside, it's a rather difficult question, as I have lived and travelled in the region for many years. The thing I dream about when I'm not there is the journey over the Taygetos Mountains towards Sparta. There's a taverna just above the village of Artemisia that offers views and great local food. Over the road is the village spring where the water carafes are filled up, and there's often mountain herbs and spring-cooled watermelons for sale. Just before Sparta is the Byzantine ghost town of Mystra – the highest point of its fortress walls is probably my favourite spot on the planet.
If you were to recommend just one of the region's Classical ruins, which would it be and why?
One of the amazing things about the Peloponnese is the extraordinary range of the history there. The question talks about 'Classical' ruins which would include Olympia, Corinth and Epidavros – all world-class archaeological sites. But the region also has the Bronze Age ruins of Mycenae and Tiryns, whose imposing walls were as ancient to the builders of Olympia as they are to us. On top of this are hundreds of Byzantine churches, medieval castles and 19th-century tower houses. So, if I had to pick one 'Classical' ruin I would go for the theatre at Epidavros, whose proportions are simply perfect (although Delphi and the Parthenon are equally stunning and not to far from the Peloponnese – and hence included in the new edition of my book). If I can go out of the classical era, I'd have to go for Mystra.
The Peloponnese offers a magnificent natural landscape that is perfect to explore on foot. What is your favourite walking route and why?
Another hard call, but it would have to be the walk down to Kardamyli from the mountain village of Sotirianika. It includes a couple of perfect old churches, a switchback kalderimi descent into a gorge (the old cobbled mule paths of the region), a castle, a Mycenaean tholos tomb (albeit a tiny one), village kafenions with ridiculously cheap ouzo, and finally a lovely pebble beach where there is cold beer. You can swim in May and still see snow-capped mountains.
If you had to choose between the picture-perfect towns of Nafplio and Monemvasia, which would it be?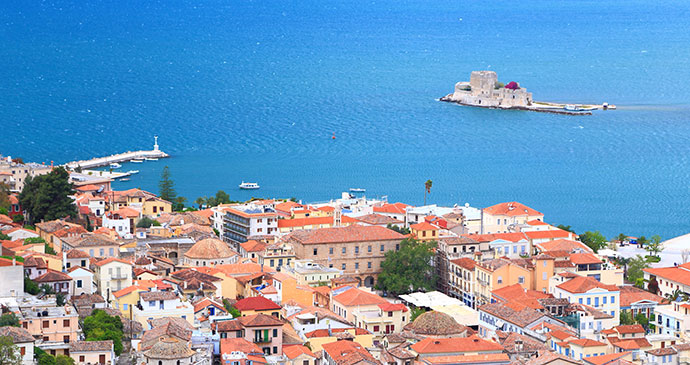 The view over the terracotta roofs of Nafplio © wyman, Shutterstock
Both of these are lovely towns with a romantic air to them, but they are also very different. Monemvasia has never seen a car and has preserved its medieval layout and atmosphere. It's a place to indulge in a special hotel (of which there are several) and unwind from the world. Nafplio is more sophisticated and modern (in the 19th century at least) and delights in cafés, restaurants and bars. We used to live in a fairly rural environment and Nafplio was a great contrast, so I'd probably plump for it. The central square, flagged in marble, is one of those wonderful Greek spaces where adults can meet and people watch in the cafés whilst the kids play.
What are your travel plans for the rest of the year?
We just got back from Gothenburg, which was a fun change from our normal destinations. We did Greece a lot last year so may give it a miss this year (although I always say this and often end up there anyway). In the slightly longer term, we've been looking into spending a year or two in northern Greece. Thessaloniki is becoming more popular as a city break, and there are some other well-known destinations, but much of the area is little known. The bits I've explored remind me of the Peloponnese 20 years ago, and I can't wait to do more.
Click here to buy Andy's Greece: The Peloponnese guidebook.
---

Throughout March we have joined together with Sunvil to promote the Peloponnese as our Destination of the Month. Sunvil are one of the UK's leading tour operators and has a 60-strong expert team of passionate travellers. Enthusiastic advocates of truly sustainable tourism, the family-run company specialises in holidays to Greece, the Azores and Scandinavia.