Written by Elizabeth Gowing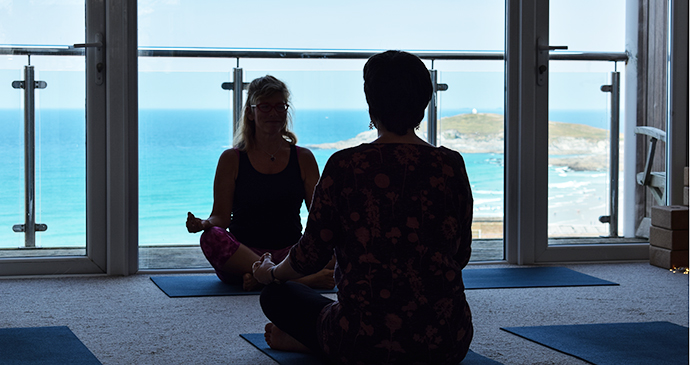 A room with a view… looking out onto Fistral Bay © Charlie Fripp
It's less than twenty-four miles from Port Isaac to Newquay. By car it takes about forty-five minutes. By public transport it's two and a half hours, and three buses. The buses will get me there just a little faster than if I took the centuries-old Cornish sea route and rowed there by pilot gig.
But bus travel is one of the charms of my Cornish life. It might be that I only take the buses when I have time enough to enjoy their eccentricities, but there is an enforced leisure to the culture of the Duchy's buses which is rivalled only by the life of upper-middle-class women in Victorian England. Time does not waste you – here you devise ever more elaborate ways to waste it. This is the land of I-spy, of number-plate bingo, of looking out to be the first to spot the sea in order to earn sixpence (even the currency is that of those Victorian women). Time stops being something you wrestle panting to the ground, or a winged creature at your back, its breath hot on your neck. Time doesn't run through your fingers like spilt milk, here it thickens and clots like cream, becomes spreadable; something that tops even jam.
This leisurely 'yin' approach to travel was probably the most appropriate way to get to my destination today – Oceanflow Studio – avoiding frenetic Bikram motorways. And I came well-equipped for my long journey with an audio book (I had no travelling companion for I-spy). I was listening to the 1,700-year-old wisdom of the Yoga Sutras of Patanjali as the first of my buses trundled through the tight Cornish lanes bound with dry-stone walls, fringed with valerian and studded with beach asters:
Undisturbed calmness of mind is attained by cultivating friendliness toward the happy, compassion for the unhappy, delight in the virtuous, and indifference toward the wicked.
For those who have an intense urge for Spirit and wisdom, it sits near them, waiting.
Sloth is the great enemy – the inspirer of cowardice, irresolution, self-pitying grief, and trivial, hairsplitting doubts.
The strident vibrations of selfishness, lust and hate are to be stilled by meditation.
When travelling I listen to books rather than reading them because if I try reading while I'm on the move I get motion sickness right away. But audio books have another benefit, which is that they free your eyes. As Patanjali's sutras flowed from my earphones I could focus on hedgerows and seascapes but also on the people around me.
---
Want to read more of Elizabeth's yoga experiences around the Britain? Take a look at her book, Unlikely Positions (in Unlikely Places):