At Bradt we love to share the talents of the fantastic photographers who supply images for our guides, events and promotional materials. To celebrate them, we'll be inviting a different photographer to share their photos each month.
Luxembourg-born Laurent Nilles (@societyofexploration) is an amateur photographer who has always had an appetite for travelling the world. During his trips, he is attracted to people and their living heritage, particularly religions and cultures. For Laurent, religious beliefs play an important part in many people's lives and history; priests, shamans, monks and other religious personnel are often central in communities and are highly respected.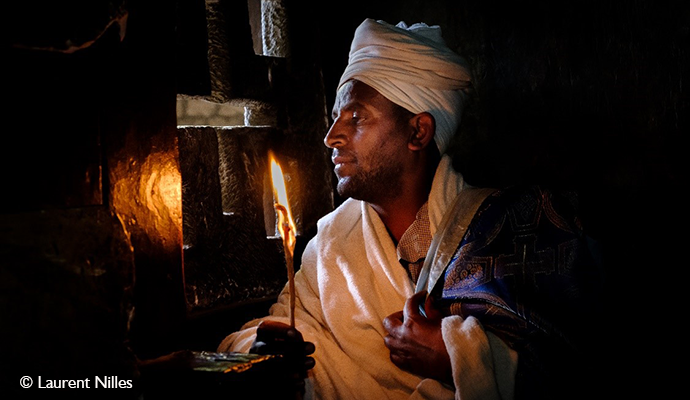 When travelling, he tries to get in touch with these protagonists of worship, and has had many positive experiences: most have been very happy to share their knowledge with him. He takes great care to photograph a respectful representation of these people and their faiths, and the story he tries to tell is never judging, and never disrespectful. Here is a selection of his personal favourite captures and the stories behind them, in his own words.
Benin
Traditional religions continue to play an important part in Beninese society, and ancient customs are still very much alive. The country is often called the heartland of Voodoo, and for good reason.
Fetish shrines and temples are commonplace and are attended to mostly by local fetish priests. While some events are public affairs, the majority of ceremonies are accessible only to the initiated and are often held in places where outsiders are strictly forbidden to enter.
Porto-Novo
I absolutely love this picture, depicting a Zangbeto casually walking the streets in Porto-Novo, that I shot during the celebrations for the 200th anniversary of former King Guézo's ascent to power. Zangbetos are highly revered, and are said to have special powers. They are the watchmen of the night, patrolling the streets and protecting the community from criminals.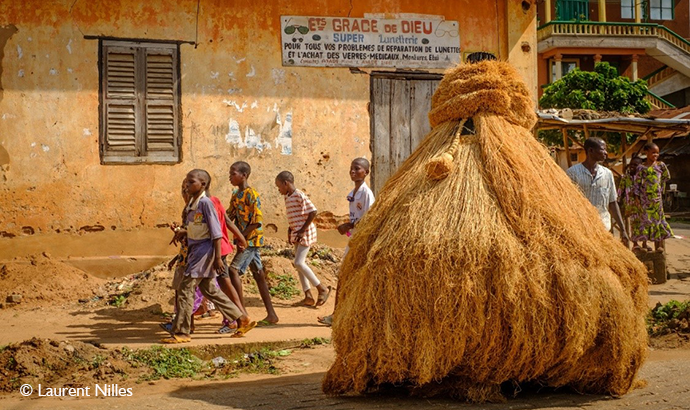 Moreover, they also play an important role in Voodoo religion; only the members of a secret society are allowed to learn their secrets. The background of the image shows a shop sign that is not unusual in Benin: entrepreneurs like to give their businesses a religious name, and this optician is called 'Ets Grâce de Dieu' ('Grace of God Ltd'), which has a clear Christian connotation.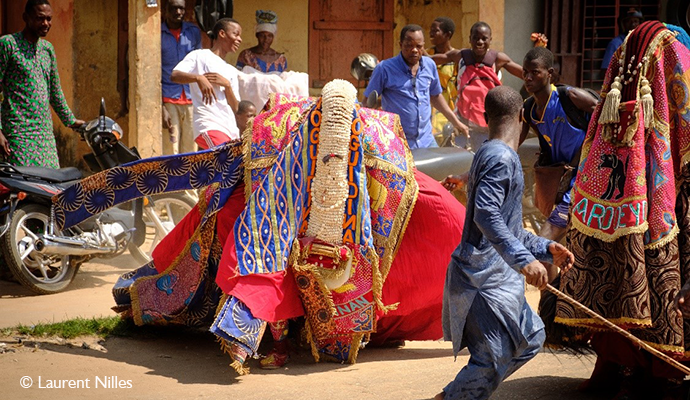 Another photo I took during the celebrations shows a feared Egungun chasing locals. The Egungun are a secret society in Voodoo, revenants that represent the dead members of society and form a bridge between the worlds of the living and the dead. It is strictly forbidden for non-initiates to enter an Egungun monastery – a crime that is punishable by death. Also, it is believed that if you are touched by an Egungun, an early death is inevitable.
Abomey
In this photo, Baba Wanfondé, an Abomey fetish priest, is attending to the Voodoo god Sakpata. He followed in the footsteps of his father and grandfather, who acted as priests in the same temple before him.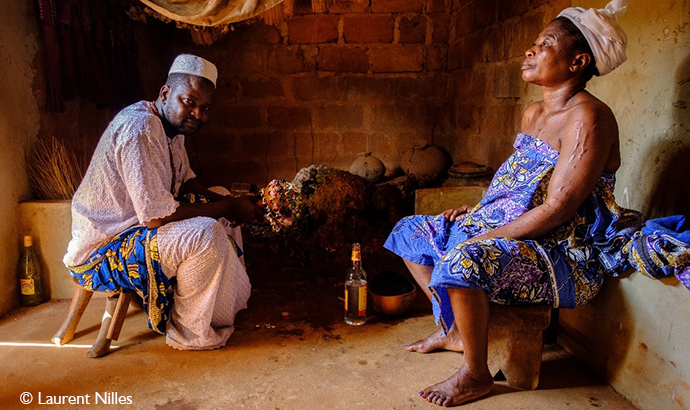 As with all matters of importance, succession is decided through questioning the Fa, the Voodoo oracle. When the Fa chose Baba instead of one of his brothers, he quit school and dedicated his life to Voodoo. The picture was shot after he and his priestess had performed a ceremony of protection, during which money and alcohol was sacrificed to the god.
Bopa
In Bopa, after some talks with the local priest and other Voodoo initiates, I hoped that the Fa would confirm the honest and good-willing nature of our visit so that we would be allowed to enter the temple.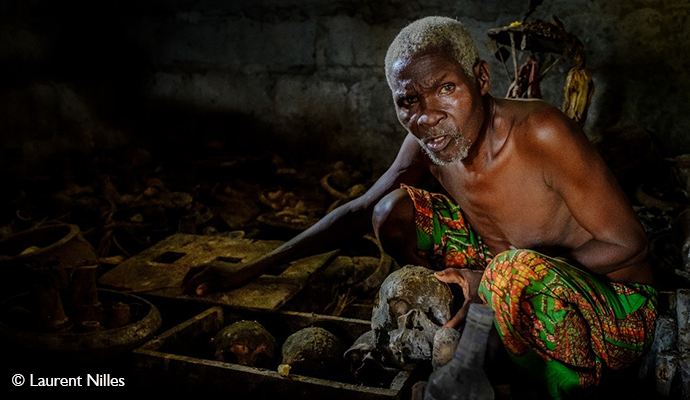 Once inside, we were shown the skulls of locals that had been killed by lightning strikes. People believe the priest here has extraordinary powers and can command lighting to kill 'bad' people. Afterwards, the corpse is brought to the temple, where a ceremony brings the victim back to life, but only to confess his sins and be sent to death again. This photo shows the priest's first assistant holding one of the skulls.
Ghana
While the main religions in Ghana are Christianity and Islam, some traditional beliefs still remain.
Tongo Hills
In the Tongo Hills lies the Tengzug Shrine, said to be one of the most powerful shrines in the region. It sits in a cave on top of a hill and it is mandatory (for men and women alike) to complete the ascent bare breasted.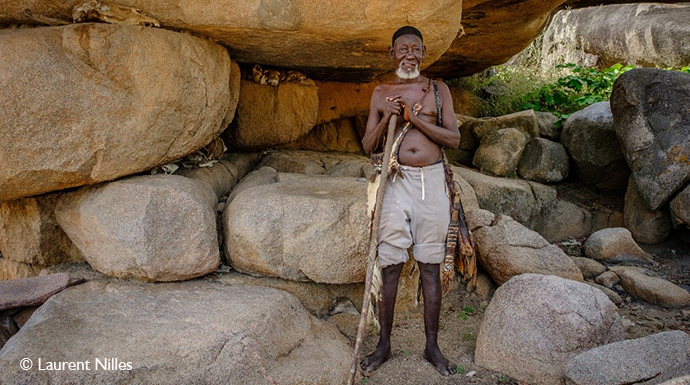 Although it is strictly forbidden to photograph inside the main shrine, the priest was kind enough to let me take his picture in another cave, where donkey sacrifices are made. On our way back to the nearest town we shared a car with two brothers who had travelled for three days from Burkina Faso to make a sacrifice here.
Ethiopia
Lalibela
Lalibela is famous for its 12th- and 13th-century rock churches, and the most spectacular of these is Bet Giyorgis (St George). As our visit coincided with St George's Day, we were lucky enough to witness a huge religious celebration, with many pilgrims coming from neighbouring villages to honour the patron saint.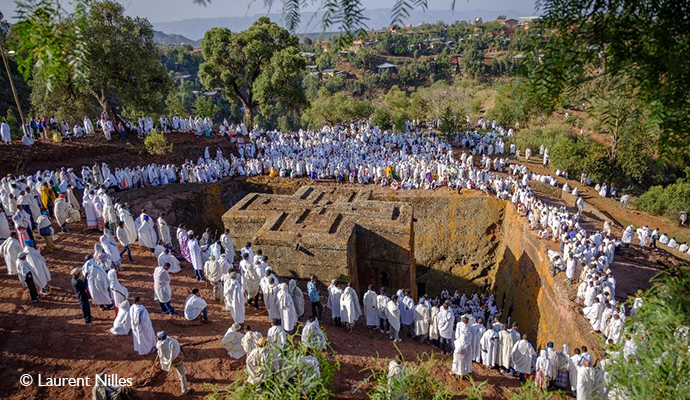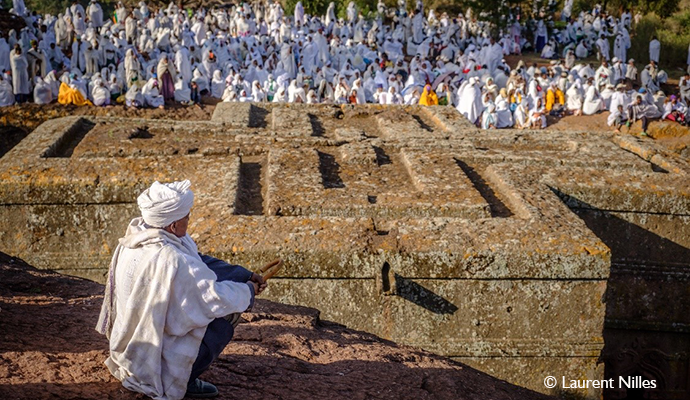 Celebrating mass is a serious undertaking in the Ethiopian Orthodox Church and can last many hours, normally starting in the middle of the night. Most pilgrims carry a special walking stick that allows them to support themselves during the long hours of prayer.
Northern Ethiopia
In northern Ethiopia, a big part of the experience is meeting the priests and monks who take care of the ancient churches and monasteries.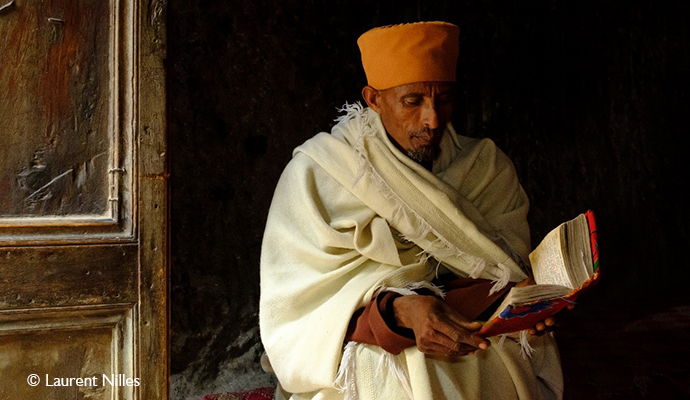 They take great pride in the religious artefacts that are passed down from generation to generation, and during my time in the country I was often shown antique bibles and other important books, as well as crowns, silver and even gold crosses that date back many centuries. This picture was shot at Asheton Maryam, a monastery accessible only by a half-day trek from Lalibela.
Myanmar
Buddhist influence cannot be missed in Myanmar, a country that is home to thousands of pagodas and temples.
Mrauk U
Today this is a sleepy town, where only the majestic temples, built some 500 years ago, give testimony to the powerful Arakan kingdom that once ruled here. Most of these ancient temples are still in use, and it would be considered highly disrespectful to enter even the tiniest pagoda ruin with shoes on your feet.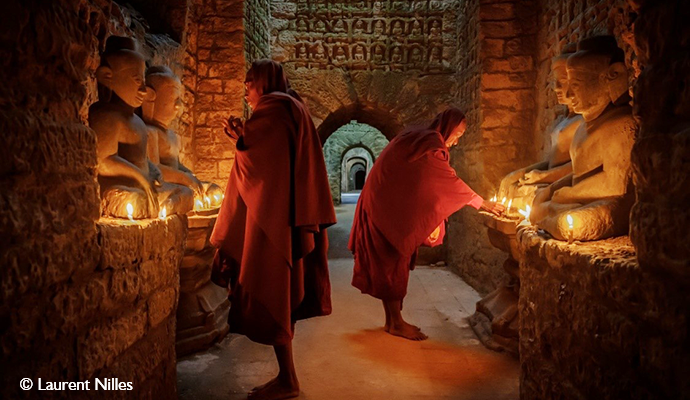 Unlike many other pagodas in Myanmar, which have been modernised in recent years with LED and neon lights, the temples in Mrauk U still conserve their original feel. This serene picture of two senior monks was taken in Koe-Thaung – the temple of 90,000 images, so named after its many Buddha representations.
Mandalay
The decline of Mrauk U was sealed in 1784 when the city was taken by the rival kingdom of Ava, and its most treasured statue was carried off to Mandalay by the victorious Bamar. Even today, the Mahamuni Buddha is still the single-most revered Buddha statue in the country, with an estimated five million visitors every year.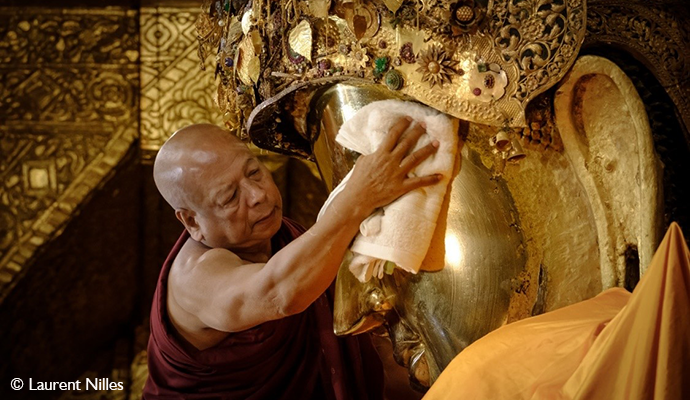 I strongly recommend getting up early to witness the daily ceremonial face washing (04.00), performed with great reverence by a senior monk, and attended by a small crowd of devotees. The water used for the washing is afterwards distributed to the waiting faithful.
Bagan
Home to more than 2,000 temples and pagodas, most of which date back to between the 11th and 13th centuries, Bagan is probably the single-most important tourist attraction in the country. However, venturing a little off the beaten track here can be very rewarding.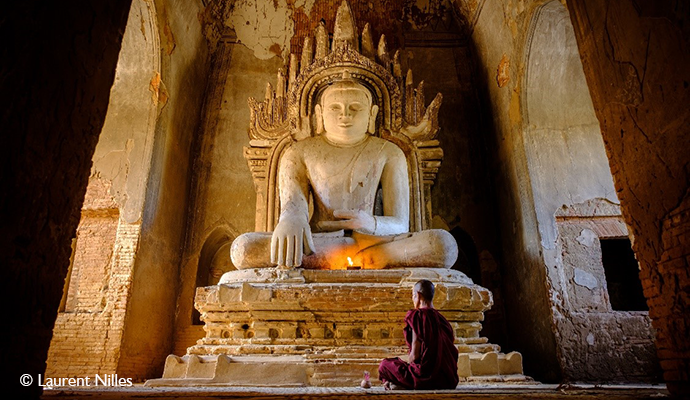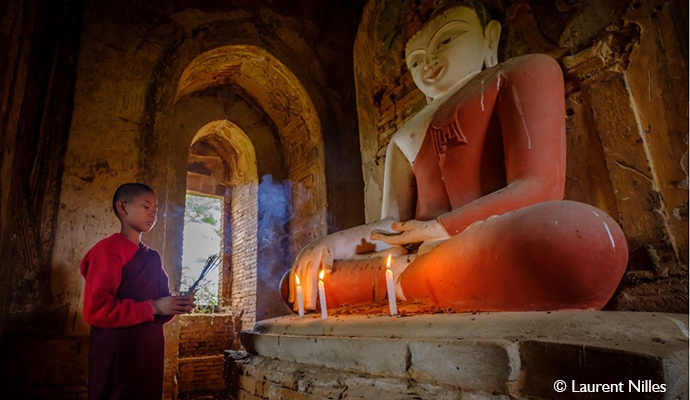 Thet Kya Muni is a small group of beautiful temples, located just outside the temple plains on a small hill. The occasional visitor is rewarded not only with great river views, but also with the opportunity to meet the friendly local monks. While most novices leave the monastery after their studies, the young boy in the photograph below told me his wish was to become a lifetime monk.
Nyaung Shwe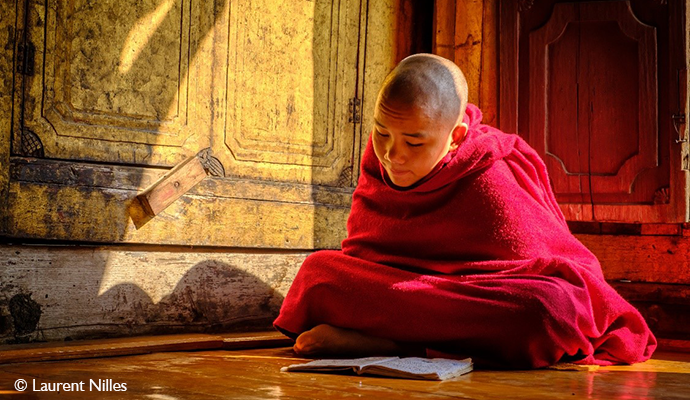 A novice studying at Nyang Shwe © Laurent Nilles
Monasteries have played an important role in education for many centuries, and continue to do so for the estimated 300,000 children throughout Myanmar. I photographed this novice studying in the main hall of Shwe Yan Pyay, close to Inle Lake.
India
Tamil Nadu
In 2018, I participated in the Rickshaw Challenge, driving a three-wheeled tuk-tuk through the south Indian state of Tamil Nadu. Besides visiting the famous temples of Brihadeeshwara (Thanjavur) and Meenakshi (Madurai), I also stopped at many magnificent local temples en route. The ringing of the bell is important in Hindu practices, as it is believed to scare away evil and prepare for the arrival of the divine.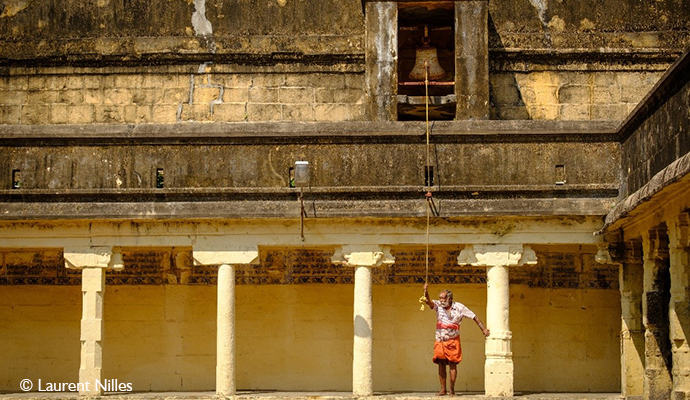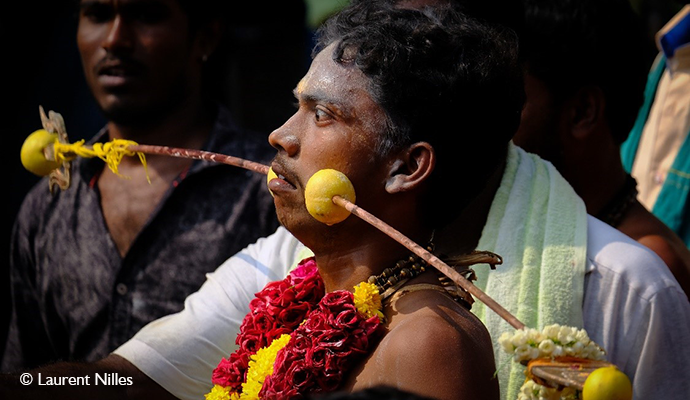 During the same trip, I ran into a procession starring a young man whose cheeks were (painfully) pierced by a huge wooden stick. It was explained that after praying to the gods, the man had had a wish fulfilled. The procession we witnessed, where the man was accompanied by drummers and flute players and encouraged by a crowd of people, was the conclusion and the highlight of the thanking ceremony, which also included a period of fasting.