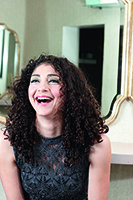 Maria Pieri – one of the contributors to Kidding Around: Tales of Travel with Children – is the Editorial Director for National Geographic Traveller (UK), and has championed and curated the family content for the title for over ten years. She has written widely on the highs and lows of travelling with babies, toddlers and soon-to-be-teens. As a parent, she believes that travel provides unmissable learning experiences; as an editor, she has witnessed the changing travel trends in the family sector, from sun and sea, to stay at home, city breaks and multi-gen travel.
What is the best age to take them on a winter Christmas adventure?
While they still believe in Father Christmas. The Christmas trip we took was just the right timing for them (they were 9 and 7 then). They were genuinely excited and still believed.
What has been your most successful family trip and why?
Destination-wise, Italy is a firm favourite, for the things to do and see, as well as the cuisine, but otherwise anywhere with a pool/beach and sun along with some adventure – things for me/the family to do. Cornwall continues to be an almost annual adventure, with a recent Porthleven trip hailed as one of my son's all-time favourites.
How do you choose where to go?
Often I will present a few ideas and we will vote on it, but sometimes, I just decide for them. It's definitely harder to select somewhere to please the whole family now that they are older and have developed their own interests. For example, city breaks are still difficult but worth the effort if I do the research to combine kid-friendly activities and pitstops with the sightseeing.
What has been your worst family trip?
Morocco without a doubt. Our luggage was lost for most of the trip, we got covered in mud on the way down from the Atlas mountains as it poured with rain (and had no clothes to get changed into), and my daughter got salmonella poisoning and was off school for two weeks in her first reception year. Not the best. Having said that, we did a glamping trip this year with no Wi-Fi, which arguably the kids will say was their worst in recent memory (it wasn't).
How would you recommend tackling an adventure trip with your family?
Our most successful trips are when we've combined an active itinerary with a few days of rest – ideally one day on, one day off. On one particular Italian adventure the itinerary included a few days in Florence, a week in a villa, a few days in Siena and then back to Florence, which took a while to organise, but worked really well for us.
What trends are you noticing in travel?
The trend or movement in travel is to focus people's mind on the 'journey' and be more mindful about how and where people travel to – from carbon off-setting to using alternative modes of travel. That's not to say no to all air travel, but to be more considerate about how often we all travel and decrease the number of annual air journeys. Our Morzine summer trip of 2012 saw us travel via rail and it was much more fun and less stressful than flying. We're also really partial to Cornwall (as mentioned above) and discovering more of the UK.
And where are people going?
Greece has done really well the last few years, as has Croatia and Turkey (when it is incident free) and Spain and France are still very resilient for family travel from the UK. Sri Lanka and Egypt are also seeing a bounce-back. In terms of what type of trips families are looking to do – there is an increase in adventurous trips with Costa Rica, Peru and Mexico all proving popular for long haul. But multi-gen trips, culinary trips, tailor made and staying closer to home (UK and Europe) are also on the rise.
Your tale in Kidding Around describes a hair-raising husky ride with your family. Are your kids still scared of huskies?
Yes, and it extends to all dogs now. They are better with it all than they were, but…
---
To read Maria's story or to discover more intrepid tales of travelling with kids, check out our anthology: