In the era of a new pandemic, Slow travel writer Helen Moat takes a walk through 17th-century Derbyshire to Eyam, a village almost wiped out by one of the worst epidemics in history – the Great Plague.
---
The story begins with a delivery of cloth from London to George Viccars, an Eyam tailor. Discovering the material was damp, he laid it out in front of the fire to dry. It seems that Viccars had not just been sent fabric, but some of London's wildlife. The cloth, infested with fleas, was blamed for carrying the bubonic plague from the city to one of the Peak District's most idyllic upland villages. Within a week George Viccars was dead, and by the time the Great Plague had taken its last victim, 14 months later in October 1666, a third of Eyam's population had succumbed to the disease.
But this isn't just a story of tragedy, it's a story of astonishing fortitude and sacrifice. At the behest of vicar William Mompesson and fellow cleric, Thomas Stanley, the residents of this Peak village isolated themselves during the plague in a way that's unimaginable for 21st-century Brits, who, used to travelling far and wide, have struggled to adjust to lockdown in our very own modern-day pandemic. Perhaps, it was easier for our 17th-century forefathers who rarely travelled more than a handful of miles from home, mostly on foot.
But let's take a step back in time. Imagine you are a resident of Stoney Middleton in 1666. The Great Plague has, at last, died out in Eyam and you may visit the out-of-bounds settlement on the hill above you. You've not seen anyone from your neighbouring village for more than a year, even though Eyam is just a mile away.
Rumours and stories abound, but no-one really knows what has been going on. What will you find there? How did the villagers cope with the isolation? Did they have enough to eat? Were they able to harvest their crops and vegetables or care for their animals and homes through all the sickness and death? What will the village look like now? And above all, who survived?
You follow the Bank, the Fold and Bottom Cliff through Stoney Middleton to the ridge that leads to Eyam. The sky is clear and the woodlands are bright with autumn colour. The air is gentle and warm and filled with hope. You pause at the Boundary Stone. This was as far as you could go during the isolation period. During the Plague, you'd scanned the hillside to ensure none of the neighbouring villagers were coming your way. When safe, you'd taken a coin soaked in vinegar – left in one of the six holes drilled into the rock – and deposited food and medicine in exchange.
You walk on now, your heart pounding. It seems odd to be continuing to Eyam when it has been closed off for so long. But your heart quietens as you take in the woodlands of fiery copper, burnt-orange and aubergine. On the edge of the village, you pass a small stone enclosure that contains the first plague graves of George Darby and his daughter.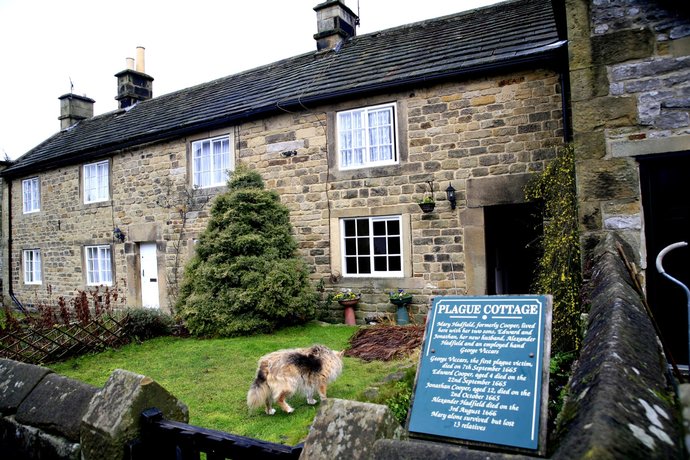 You reach the main street. Outside the Hadfield's cottage, where the fated George Viccars had resided, you take off your hat and stand with bowed head. You learn Mary Hadfield lost 13 relatives, including her husband and two sons. You find out the street has been decimated by the Plague. All nine inhabitants of Rose Cottage were taken. Next door, Jane Hawksworth lost 25 family members.
Across the road at Bagshaw House, nine members of the Syddall family succumbed, leaving three-year-old Joseph behind. One of the children, Emmott Syddall, was the sweetheart of Rowland Torre, the son of Stoney Middleton's flour miller. You know their story: how they had called to each other across the Delf at Cucklet Church during the pandemic, not daring to get any closer; how Rowland had run up the hill to Eyam as soon as the lockdown was lifted to find out his betrothed hadn't made it.
What you don't yet know is how the village will pick itself up, carry on with the same resilience and fortitude it demonstrated in isolation, and that it will thrive again. You can't imagine how the 'Plague Village' – as it will come to be known – will attract visitors from across the world. There won't be just an inn and village shop, but tearooms selling scrumptious cakes and exotic coffee exported from far-away lands.
You can't imagine it, but there will be a 'Plague Museum' telling your story. Perhaps you'd be offended by the visitors from a far-off future who giggle at the quack remedies of your time: indulging in debauchery; laying tails of pigeons on sores; keeping large and speckled spiders in the sickroom; ringing bells or discharging cannons; snuffing tobacco or bottling wind. If you could only look into a crystal ball, you might remind them of their own 21st-century quackery from across the world: boiled water with garlic, seven peppercorns under the tongue; probiotic-packed sauerkraut; deep breathing; sun salutation and bleach.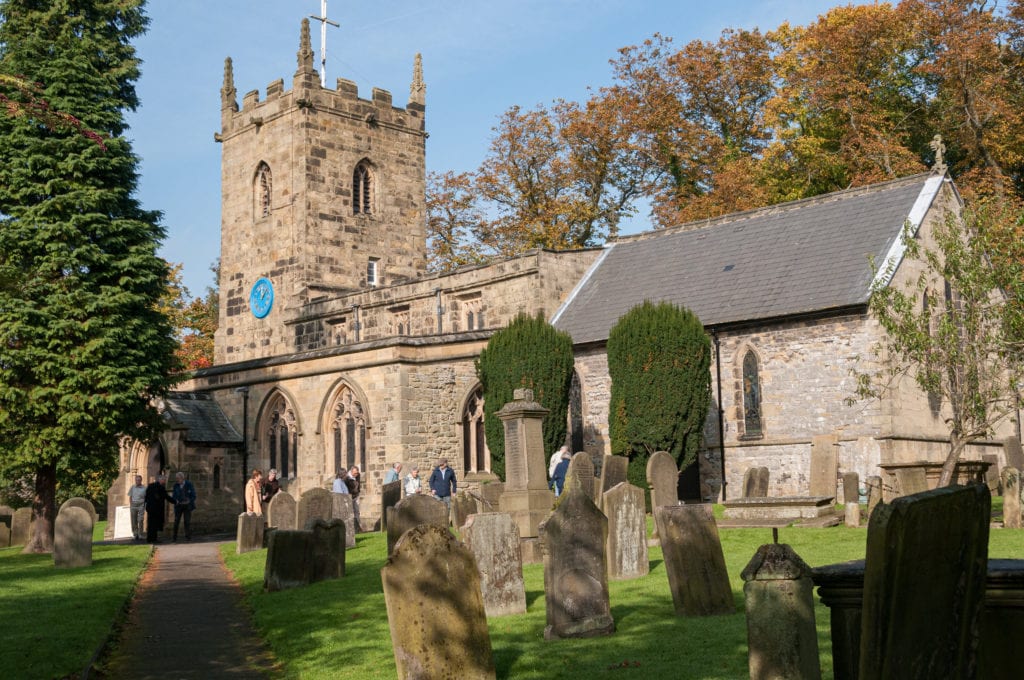 You head for the church and see William Mompesson in the graveyard. He has survived, but not his wife. You step inside the church and give thanks for those who made it. The Plague Window that modern-day visitors will gaze at in wonder won't exist for centuries still. But you know the stories that will be depicted on the stained glass: the cloth arriving from London; the death of the tailor; Rev Mompesson preaching in the open air at the Delf; Mompesson and fellow cleric, Thomas Stanley, bent over a table, planning the quarantine; Emmott and Rowland calling to each other across the valley.
You head up Riley Lane and cross a hilltop meadow to another stone enclosure. You don't want to get too close: this is the place where Mrs Hancock dug the graves of her family, burying her husband and six children. You stand in this beautiful spot where the Peak District moorland ripples out to a distant horizon. Overhead, clouds scud across the sky. You drop down through whispering woodlands to a deeply grooved track, passing an ancient Roman bath on the edge of your village. You cannot know that other epidemics and pandemics will ebb and flow over the centuries to come, before they recede from consciousness.
Somewhere in a hedgerow, a robin starts to sing and you are filled with joy. It is over, it is over, it is over!
---