It's 15.00 in Gothenburg, and if you're not at a coffee shop with a baked confection in front of you, you're missing out on one of Sweden's finest pastimes. Fika (pronounced fee-kah) is not just a coffee break: it's a social and cultural institution, one which requires the accompaniment of delectable baked goods in excess. A mandatory work break for gossip with colleagues and plate-sized cinnamon rolls? Yes, please!
In anticipation of the publication of our guide to West Sweden, the first guide of its kind exclusively to cover this stunning and lesser-visited region of Sweden, members of Bradt's editorial team took a short trip to Gothenburg and the Bohuslän coast. Between the Oyster Opening Championships in Grebbestad, a seafood safari with the spectacular Adriaan and Lars in Lysekil and sightseeing in Gothenburg with Lena, Göteborg.com tourist board staffer and tour guide extraordinaire, we still found time to (over)indulge in fika. As an avid coffee lover and frequenter of independent coffee shops across the globe, I can say with complete confidence that, for me, Gothenburg has one of the best coffeehouse scenes in Europe, and fika may be to blame.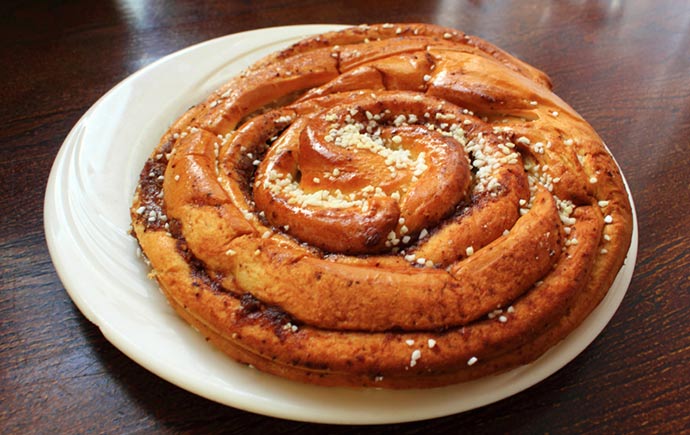 Cafe Husaren's giant kanelbullar are a highlight of a fika tour of Gothenburg © Kelly Randell
One of the great things about Gothenburg's scene is its quirky, alternative nature which reflects the city itself: it leaves the fuss of pretension to the capital and grabs your elbow and the corner booth for an hour of cheeky chat, laughter and general merriment. Put your feet up: you don't rush fika in this town. We've gathered a few of our favourite places below, so whatever kind of experience you're looking for, you're sure to find it here (you can thank us later).
Språkcaféet
Coffee and conversation go together like rock and roll (or cinnamon and sugar?), and Språkcaféet has gone one step further: turning a multicultural clientele's desire to socialise into an engaging language-learning opportunity. Want to learn your fika from your ficka? Is it Monday night and you're desperate to practise your Hola, que tal? Head here for language conversation evenings Monday to Friday from 17.30 to 20.00 (check the website for daily language schedule).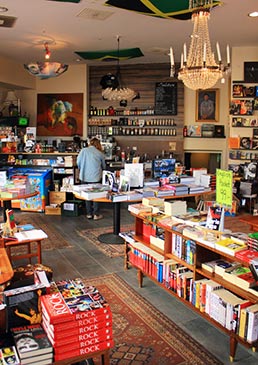 According to the Concise Dictionary of English Etymology, the English word 'fidget' is a Scandinavian-derived diminutive form of fidge, spelled fike in northern England, from Middle English fiken 'to hasten'. The original meaning of the Swedish term fika is 'to hunt after' or 'to hanker'. Also, in case you were wondering, ficka means 'pocket'. A different night, another part of the world to explore linguistically over a cappuccino and chocolate fountain (yes, you read that correctly). ¡Excelente!
Dirty Records and Café Santo Domingo
Looking for the Swedish hipsters? You'll find them along Andra Långgatan, their perfectly coiffed, plaid shirt-clad frames artfully draped over metal chairs outside microbreweries and bars that vie for space among the vintage shops and cafés. In this so-hip-it-hurts record shop/café, you can sip an organic, fair trade cuppa surrounded by Dylan and Guns 'n Roses LPs and try to absorb the coolness by osmosis.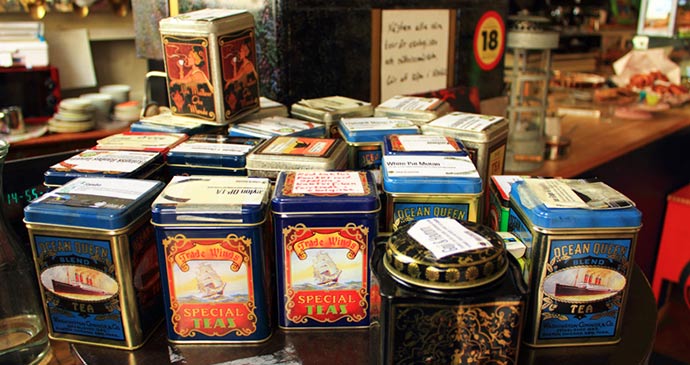 Not a coffee fan? Try Café Santo Domingo's superb selection of teas © Kelly Randell
There's also live music every Friday night at 18.00 (check their Facebook page for updates). No guarantees hanging out here will up your hipster quotient, but you'll definitely be invited to share a seat and a pint as you wander back along the brick-lined alleys: these are the friendliest hipsters around.
Cafe Husaren
Have you been single-mindedly distracted throughout this article since I mentioned plate-sized cinnamon rolls? I wouldn't blame you, but it's not a cruel exaggeration: these rolls are massive dinner-plate-for-a-giant-sized indecently delicious swirls of heaven that prove the universe wants us to be happy. And twenty stone. This famous place gets mentioned in all the Swedish foodie articles but it lives up to the hype – though consider yourself warned: it will be crowded.
We actually sought this place out twice – the first time, we were crushed: late to fika and all the kanelbullar (cinnamon rolls) were gone. Silver lining? We ordered one of every other Swedish confection available (so if you get distracted by sightseeing in this beautiful city and arrive later, we promise you won't starve), shared with the delightful West Sweden tourist board staffer Emelie, then came back the next day for round two. Let's just say it took four Bradt staffers to finish one roll, so you come to your own size conclusions. Afterwards, we could have died blissfully happy: instead, we trawled charming Haga Nygata for antiques and haberdashery and walked it off, almost defeated by dessert. But what a way to go.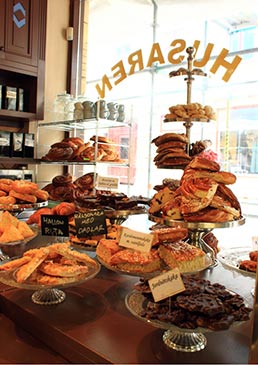 There were so many honourable mentions in the coffee-shop category that I could go on for pages, but you're just going to have to ramble around the city yourself with your nose for freshly poured espresso and discover more hidden gems.
Which leads to the burning question: can one have an ample sufficiency of kanelbullar? Before our trip to West Sweden, I would have guffawed and said absolutely not. After our trip? I avoided sugary cinnamon-spiced products for weeks, but luckily this unfortunate obstacle has been overcome. Desperate to replicate the fika experience in London, I was relieved to find Big Smoke equivalents at places like Nordic Bakery just off Oxford Street, Bageriet on Rose Street near Covent Garden or the eponymous Fika on Brick Lane – all sorted and sated. Whew. Not in London? Make your own at home! Find our favourite recipe here and post your creations on our Twitter or Facebook! Get your baking on, Bradtpackers.
They say it's always 5 o'clock somewhere. I say forget about 5 o'clock and give me 3 o'clock in Sweden: it's fika time.
---
Discover more about Swedish fika in our guide: