Written by Emma Thomson
Flanders' events calendar is jam-packed, reaching its zenith during the summer months when open-air music festivals dominate the social scene, and the Gentse Feesten (Ghent Festivities) sees 2 million tourists pour into Ghent. In addition, in February and March, most towns hold an annual carnival, entailing locals donning fancy dress and getting severely sloshed. The main religious festivals are Ommegang in Brussels and the Heilig-Bloedprocessie in Bruges. Here are some of the highlights.
Aalst Carnival
Join the tourist-free drunken revelry of Aalst Carnival © alexandre tziripouloff, Shutterstock
Celebrates Aalst's town mascot Voil Jeannetten – a drunk transvestite – and features the prince carnaval who is allowed to 'rule' town for three days.
Kattenstoet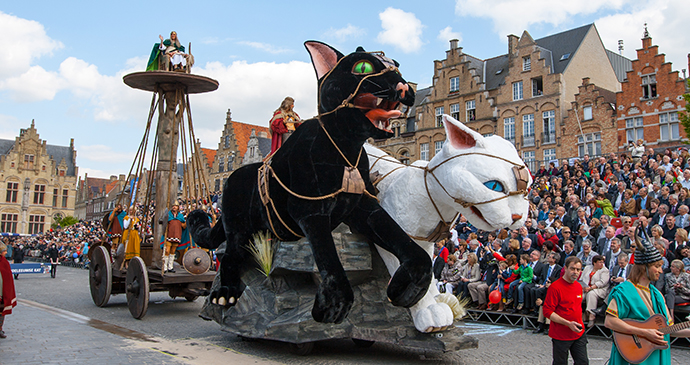 The Cat Parade is undoubtedly one of Flanders' more unusual festivals © Maxim Mayorov, Shutterstock
Every three years on the second Sunday of May, Ypres hosts the inimitable, utterly fascinating and – yes, rather odd – Kattenstoet or Cat Parade. Cats and Ypres go way back; in the Middle Ages, the city's Lakenhalle was overrun by mice, so cats were brought in to solve the problem – only to become a problem themselves when their numbers spiralled. Whether or not it's an apocryphal tale, one story goes that the only pest control the locals could think of was to throw the poor pusses off the top of the belfry; another interpretation might be that cats were considered an ill omen at the time. The last cat was thrown to its doom in 1817, though the tradition was revived in 1955 – this time, thankfully, with velvet moggies sating the crowds. During the festival, a parade of catthemed f otillas and puppets weaves through town.
Heilig Bloedprocessie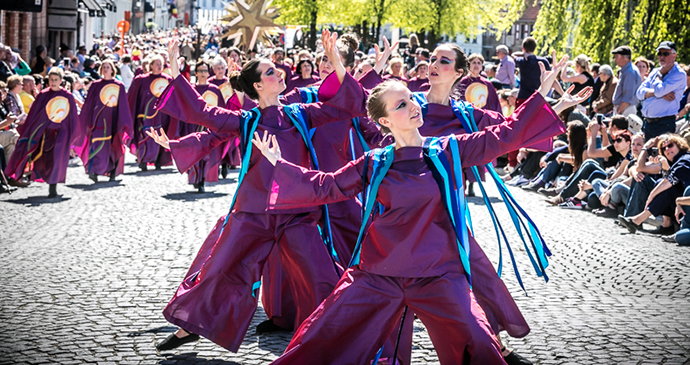 This medieval parade has been held every May in Bruges for over 700 years © Heilige bloedprocessie vzw Frank Toussaint
Held in Bruges on Ascension Day, this important parade, dating from medieval times, sees a relic reportedly containing drops of Christ's blood borne through the town's streets.
Brussels Ommegang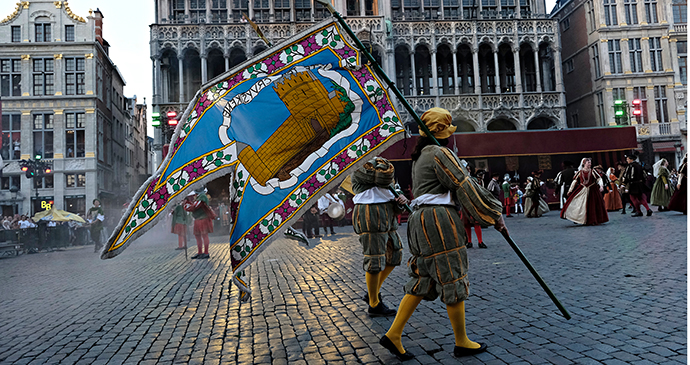 This is one of the region's most important historic re-enactments © Alexandros Michailidis, Shutterstock
Between late June and early July, this important folkloric procession – held on the Grand-Place – takes the form of a historical re-enactment of the entry of Emperor Charles V into Brussels in 1549. Expect more than a thousand extras in period costumes, stilt walkers, puppets and jousting.
Gentse Feesten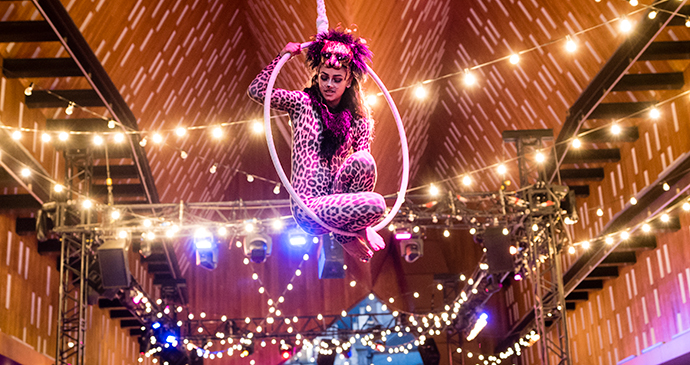 This visual extravaganza attracts some 2 million tourists to Ghent © Stad Gent, VisitFlanders
A must-see extravaganza of free openair gigs and events (including Ghent Jazz Festival), street entertainers, food stands and parties that take over Ghent city centre for ten days in late July, drawing 2 million visitors.
Tomorrowland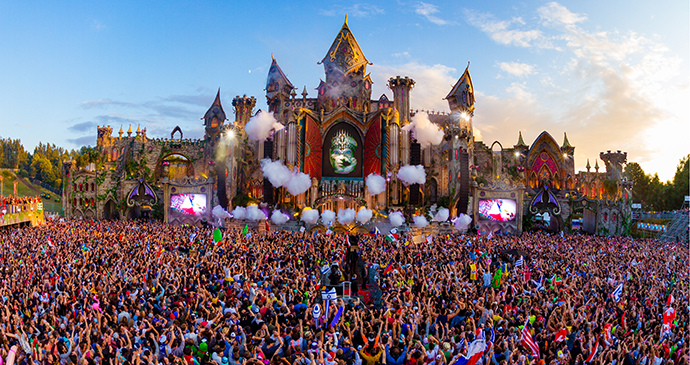 Held in Antwerp, this electronic music festival is full of colourful displays © Tomorrowland, VisitFlanders
The world's largest electronic music festival, famed for its wacky themes and extravagant scenography. Held near Antwerp on the last two weekends of July.
---
Discover more about Flanders' festival calendar in our comprehensive guide: