Written by Heather Haynes
On a recent flying visit to Brussels and Leuven, I was dished up an amuse bouche of Belgian culture, glimpsing just a little of what make Belgians tick. Knowing little about this country beyond the fact that Bruges is impossibly quaint and the capital is home to the neverending Brexit wranglings, I was pretty much a blank canvas, keen to soak up everything the region had to offer. Ok, I admit I was expecting chocolate, waffles and probably beer, but I was unprepared for – though highly delighted by – the friendliness and quirky humour I encountered.
Bruegel in Brussels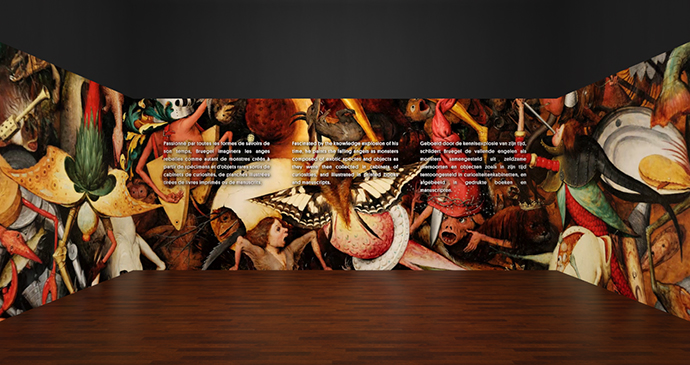 The Bruegel Box offers a 3D insight into the artist's works © KMSKB, VisitFlanders
From London, it was a smooth journey aboard the Eurostar to Brussels Central, a hub for Belgian trains travelling all over the country. First stop for me though was the Royal Museum of Fine Arts for an immersive experience in Bruegel. Literally. With this year being the 450th anniversary of Bruegel's death, Brussels has gone into overdrive with displaying his work. It's not surprising that he is so celebrated – Bruegel is one of Belgium's finest sons, a man who rose to become one of the most significant artists of Flemish Renaissance painting, and is particularly famed for his landscapes and peasant scenes. My immersion into his work began with a wander around the gallery, marvelling at his glorious paintings hanging on the walls; this was followed by a seat in the Bruegel Box where I experienced the world of Bruegel in 3D, inhabiting his space as his painted figures enlarged and moved around me to the sound of an informative commentary. Quite brilliant.
Bruegel celebrated the peasant in all his doings, which were often manic. One of his crowded scenes places a drunken man face down on a table, alongside another snipping the bristles from a pig's hide. A third bangs his head against a brick wall while another throws a dish of coins off a roof. The more you look, the more you see. His paintings are totally absorbing and at times anarchic, often featuring a world that is topsy-turvy – perhaps showing a vision of how things seemed to a humble 17th-century peasant, or more probably how one might feel after imbibing a vast quantity of beer. More on this subject later.
Brussels city itself remained tantalisingly unexplored, however, as my main port of call for the weekend was Leuven, some 15 miles away in Brabant. So there was only time for a whistle-stop walk past the highlights before catching the train to the east.
Raise your glasses to Leuven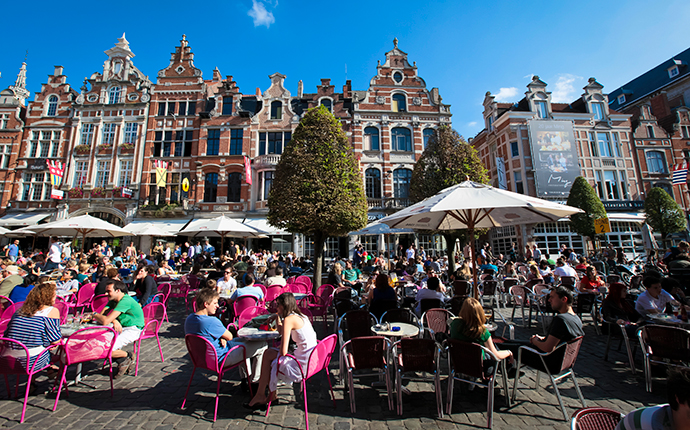 Leuven's Oude Markt is overflowing with streetside cafés and bars © Toerisme Leuven, VisitFlanders
While alcohol could explain many of Bruegel's paintings, it also predominates in Leuven. At one time this city vied with Brussels for the prized title of capital, which might explain its glorious architecture. Brussels won, however, and Leuven now prides itself on having possibly the more enviable title of beer capital instead. Arriving here on the weekend of the 2019 Leuven Innovation Beer Festival, I quickly learnt just how seriously the Belgians take their beer. As I bounced my suitcase over the cobbled streets towards Martin's Kloosterhotel, a beautifully converted monastery where I was spending the next two nights, I lost count of the number of pubs and bars I passed. The Belgians' love affair with beer began in the 12th century when, unable to grow vines because of their northern geographical position, medieval Belgium began to cultivate hops, ideally suited to its cooler climate and marshy landscape. Since then, this innovative race has crafted all manner of delicious beers from sour lambic beers to the much-sought-after Trappist ales.
The beer festival, held in the historic brewing hall of De Hoorn (where in 1926 the first Stella Artois was brewed), welcomes craft and artisan brewers from all over the world. Here you could taste champagne-like blonde beers, sour beers fermented with cherries, or even beer that has been filtered with juniper twigs and fermented with baking yeast (which was perhaps stretching it a bit far…). Between each taster, you could cleanse your palate with a crisp slice of apple. What a refreshing change from a packet of crisps.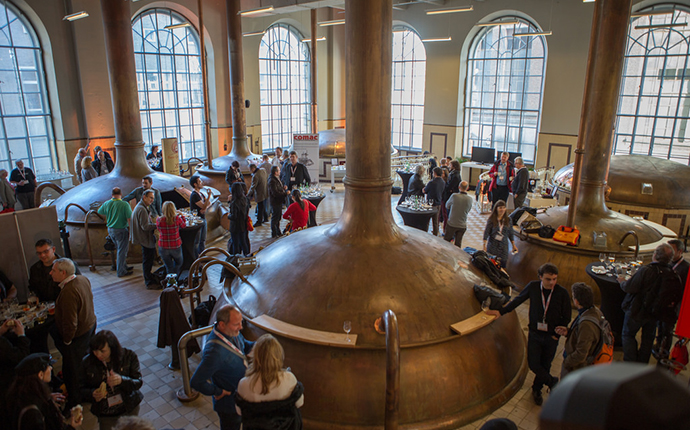 Historic De Hoorn is where the first Stella Artois was brewed in 1926 © Bart Van Der Perren, VisitFlanders
While I could have easily whiled away the day slurping my way through the entire list of artisan beers, I was keen to see more of what Leuven had to offer. Despite initial impressions, the city is more than just a beer capital; it is also a university city, home to KU Leuven, which will celebrate its 600th anniversary in 2025, making it one of Europe's oldest learning establishments. This institution has the double honour of being the oldest university in the Low Countries and the oldest extant Catholic university in the world.
Leuven is a lovely place to explore (perhaps more wisely done before the beer tasting) with its narrow cobbled streets radiating out from the Grote Markt, a large square watched over by the resplendent town hall, whose Gothic decoration takes your breath away. Leuven's University library and tower are also well worth visiting but if stunning architecture is too much, you can always wander down the Oude Markt, the so-called longest counter of Europe, full of pubs, bars and cafés, and sip on – you guessed it – another beer. As an example of their quirky humour, the statue in the main square, De Kotmadam, features a woman holding a tankard and sprawled on a bench.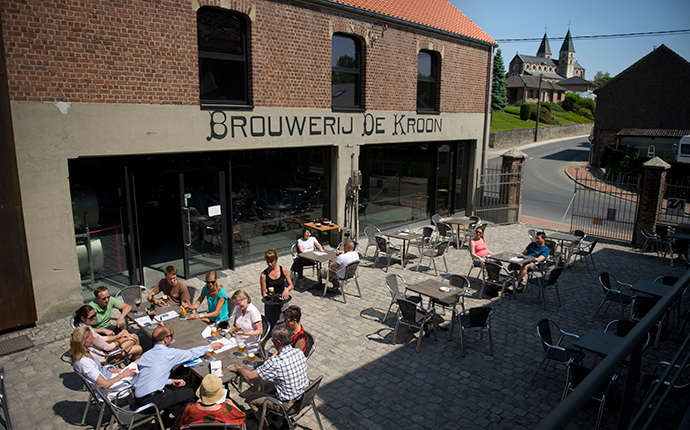 Just outside Leuven, De Kroon offers an insight into the history of brewing © Toerisme Leuven, VisitFlanders
Part of my weekend visit included a trip to the De Kroon brewery and museum in the village of Neerijse, just outside Leuven. This proved to be a fascinating exploration of the way beer used to be brewed in huge copper vats, using long-handled shovels to stir the mash, while a Heath Robinson-type arrangement of pipes transferred the brew to the cooling trays. One particularly rickety flight of wooden stairs was given the moniker of the 'drunken steps' as they actually leaned outwards – either that or the alcoholic fumes made you feel like you were doing so. To top off the tour, we were given a taster of their beer, and then treated to a lunch at Kokoon, a restaurant where a different beer is served to compliment each course. Hard work, obviously, but someone has to do it …
A beginner's guide to the béguinage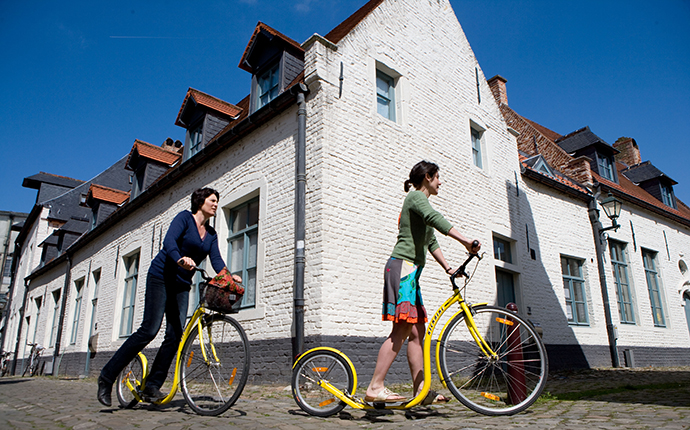 Leuven's béguinages are easily explored on two wheels © Toerisme Leuven, VisitFlanders
One aspect of Leuven I discovered to my delight was the begijnhof or béguinage. Located all over Belgium, béguinages were small communities where single or widowed women lived either with their children or on their own. Unlike nunneries, where lives were dedicated to prayer and worship, the béguines worked and lived as a community in their little walled village within the city itself. In Leuven there is both a small and a great béguinage: the former is a charming street lined with small terraced houses, while the latter is more of a village within the city. Now owned by Leuven's university, the great béguinage in particular is an utterly delightful retreat away from the hustle and bustle of the present day. Within its walls is a meandering maze of narrow cobbled lanes lined with pretty terraces, all of which surround a church. A hump-backed bridge leads you across the river that bisects the béguinage and ancient magnolia and apple blossom trees rustle in the hushed gardens – a glimpse of a long-vanished way of life. No cars are allowed within the béguinage, but bikes abound, as tutors and graduate students can apply to live here for a time. The quiet streets offer a place for contemplation and reflection just as they once allowed the béguines a place to thrive.
So, at the end of the weekend, what did I come away with? A few boxes of chocolates, several bottles of beer, a glimpse into the mind of Bruegel and a hankering to live in a béguinage… And I hadn't even scratched the surface. Belgium is now back on my bucket list.
---
This trip was courtesy of VisitFlanders and Visit Leuven.
Discover more about the region in our comprehensive guide: