The Portuguese are wise; they keep the best for themselves: their finest wines, their choicest olives, and the beaches of the Alentejo. Let the foreigners crowd the Algarve, they say, waving them south, while themselves choosing to linger in the Alentejo, lounging languidly on its vast empty beaches and quiet, concealed coves.
From Alcácer do Sal in the north to Zambujeira in the south the shoreline is nigh empty, with meadows of wild flowers in place of evergreen golf resorts, and rural homestays rather than tourist towns of sugar-white villas. It's quiet here – not a place to party in, but to walk through, on the sinuous São Vicente coastal path that winds along the entire coast. Hikers come here to contemplate the edge of Europe as it drops in cliffs, bays and strands of sand into the seemingly infinite blue of the ocean. They come to watch birds and butterflies in a string of glorious national parks and protected areas; to eat catch of the day actually caught on the day; and to enjoy the hospitality of locals as yet untired of tourism.
It's worth spending a few days to a week on the coast, working slowly to or from Lisbon, basing yourself in one or several of the coastal villages – perhaps Alcácer for the Sado estuary, Grândola for the beaches and Vila Nova de Milfontes for the south. None is as spectacular as the towns of the interior; settlements on the coast take a back seat to nature. So check in, then grab a towel, suncream and walking shoes, and wander the meadows, the cliffs and the cork oak woodlands in search of a lonely beach.
Getting to the Alentejo coast
The nearest airports are at Lisbon and Faro (in the Algarve). Three daily trains connect Lisbon's Oriente, Santa Apolónia or Cais do Sodré stations with Grândola. There are also international trains to Grândola from Seville via Faro in the Algarve.
The region is also connected to Lisbon, the Algarve and other towns within the Alto and Baixo Alentejo by intercity buses that run to Alcácer do Sal, Grândola, Odemira and Sines.
Alcácer do Sal
One of the Alentejo's oldest towns sits forlornly by the winding Sado River – sad that it sees most visitors only as they pass through. This is a shame. The tiny town has a wonderfully romantic castle (now a luxury pousada), is replete with history and has far more character than Tróia.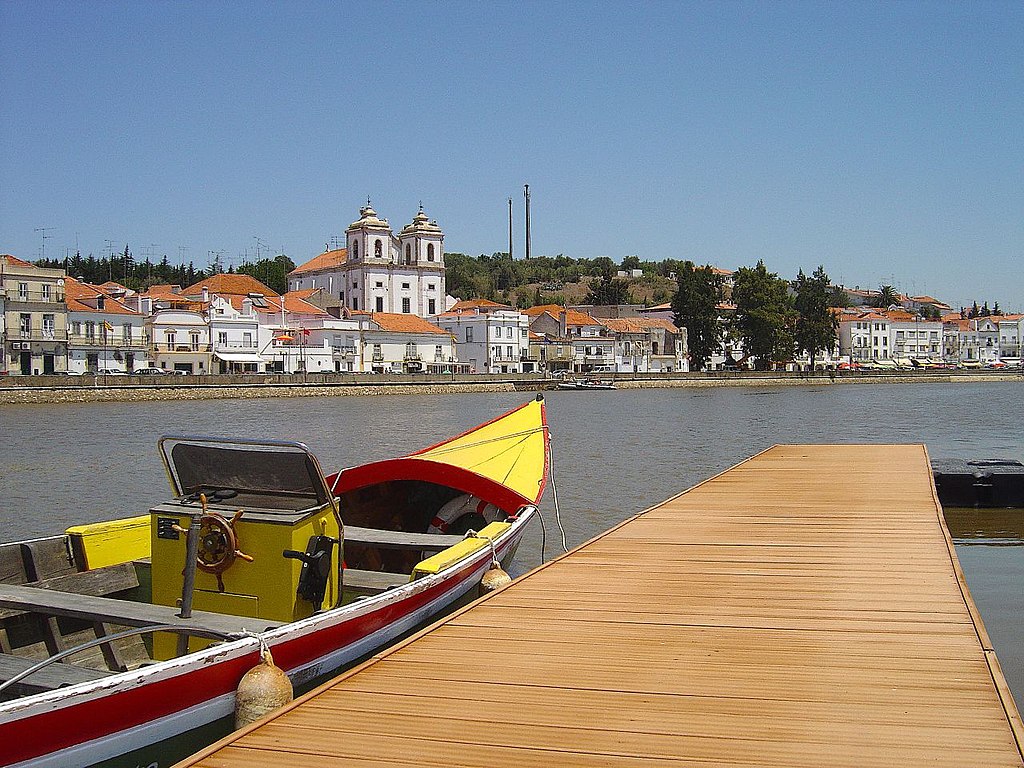 The bone-white cuboid Lar de Idosos da Santa Casa da Misericórdia nursing home just outside the town was a finalist in the 2013 Mies van der Rohe international architecture awards. If you don't need to be right on the sand Alcácer makes a good alternative base for the far northern Alentejan beaches. Even if you're in a rush to get to the coast, consider stopping for a break here, for lunch and a wander.
Comporta
West of Alcácer do Sal at the low-key condominium village of Comporta is Comporta Beach – a long, broad stretch of golden sand backed by dunes and with a decent little restaurant, the Comporta Café. Comporta is quietly developing as an under-the-radar celebrity retreat. Philippe Starck and Christian
Louboutin have luxurious mansions here and Madonna is said to be a visitor. But don't let that put you off. The beaches remain delightfully local and low-key – with tens of kilometres of empty sand.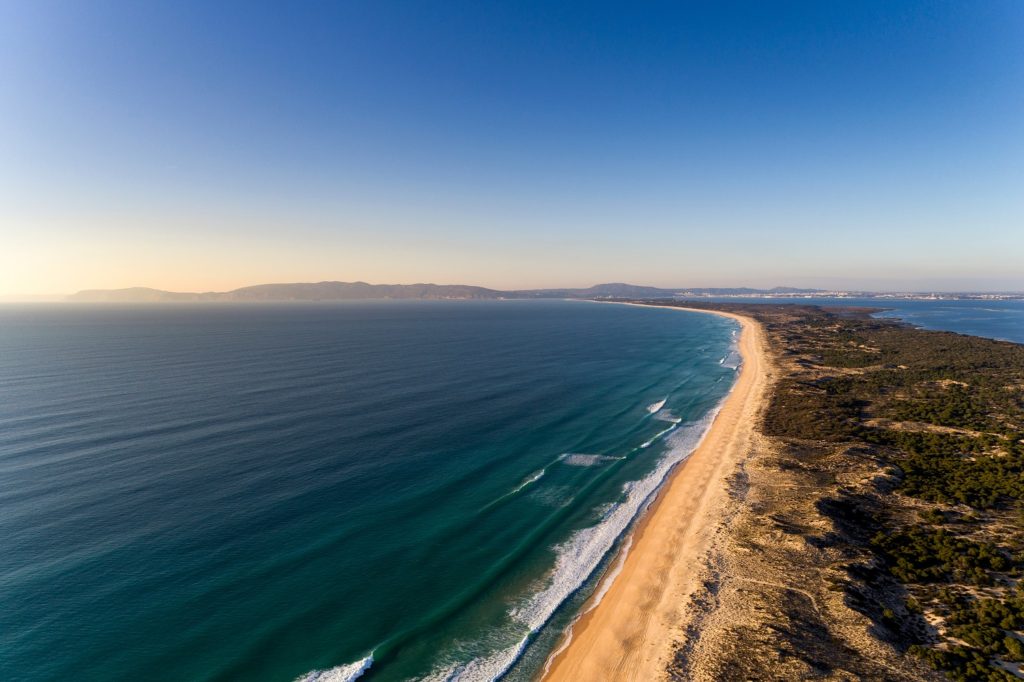 There's also a winery, the Adega de Herdade da Comporta whose wines are served at the restaurant in the Museu do Arroz, an old rice warehouse set behind working paddy fields, which tells the story of rice production in the area and doubles up as an excellent restaurant.
Porto Côvo
The southern coast gets beautiful just as the industrial spires of Sines fade in the rear-view mirror. The first village of any note is Porto Côvo – a sprawl of villas, caravan parks and bungalows spreading around the pedestrianised Rua Vasco da Gama and sitting behind a low clifftop. This affords wonderful views out over the ocean to the west and south to a rocky cove that serves as a natural harbour dotted with bobbing fishing boats.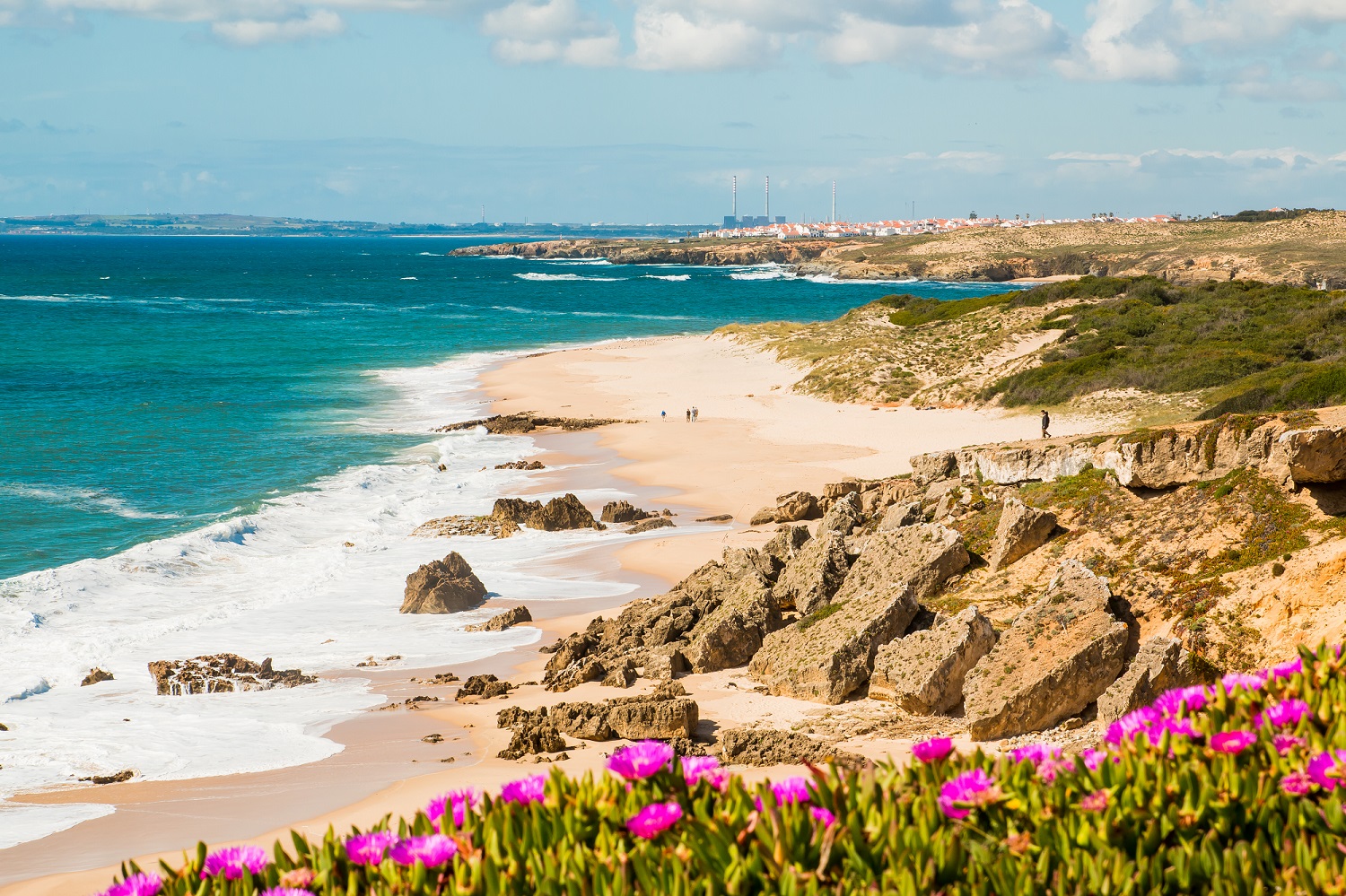 The Costa Vicentina path cuts up the cliff from here along one of its most popular stretches – a 2km path running next to the inky blue ocean, past a Bronze Age burial site, over dunes and beaches to the Ilha do Pessegueiro (Peach Tree Isle). This tiny island lies just offshore, like a flattened, minuscule St Michael's Mount, complete with the crumbling walls of a derelict fort. You could almost throw a stone on to its shores from the beach. Fishermen in Porto Côvo offer half-day trips here.
Vila Nova de Milfontes
The southern coast's prettiest seaside town lies a few kilometres further south from Porto Côvo. The town has no outstanding sights, although it still preserves the remnants of an old medieval fishermen's village, with a tiny church and a filigree of winding, whitewashed streets huddled in a hinterland of villas behind a crumbling castle. But it sits in a gorgeous location perched over the limpid, aquamarine Mira River and surrounded by myriad marvellous beaches, from sweeping strands of white sand to rocky coves with the rusting ruins of wrecked ships.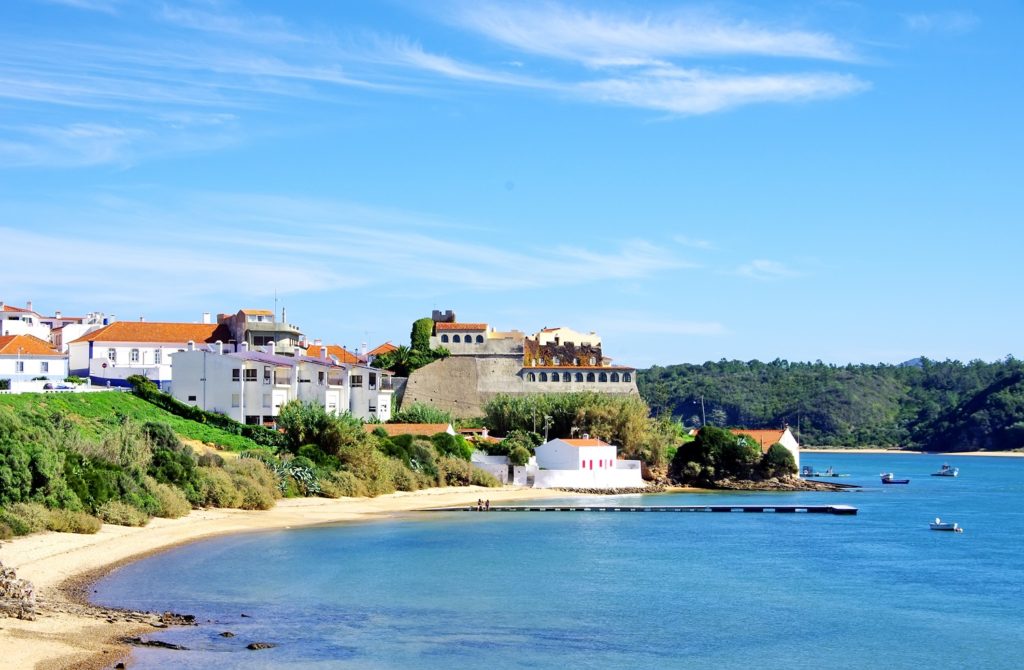 The locals are warm and welcoming and there is a good choice of hotels and one excellent restaurant. The castle, or Forte do São Clemente (not open to the public), as it is properly known, was an important bastion against pirate raids from North Africa after the Reconquest of southern Portugal. It subsequently passed into private hands and was briefly opened as a luxury hotel and restaurant, although it appears derelict now.
Almograve
Almograve is a pocket-sized resort town whose beaches are crammed in around the crashing rocks and very crowded in high season. The town beach – Praia Grande do Almograve or Praia Grande is one of the largest – long and broad, backed by shifting dunes, crowned with low cliffs and pocked with rocks, the largest of which abuts the cliffs right in the centre of the beach, breaking it into two stretches at high tide. It's very popular with families, especially at weekends, and has excellent facilities, including showers, a snack bar and lifeguards.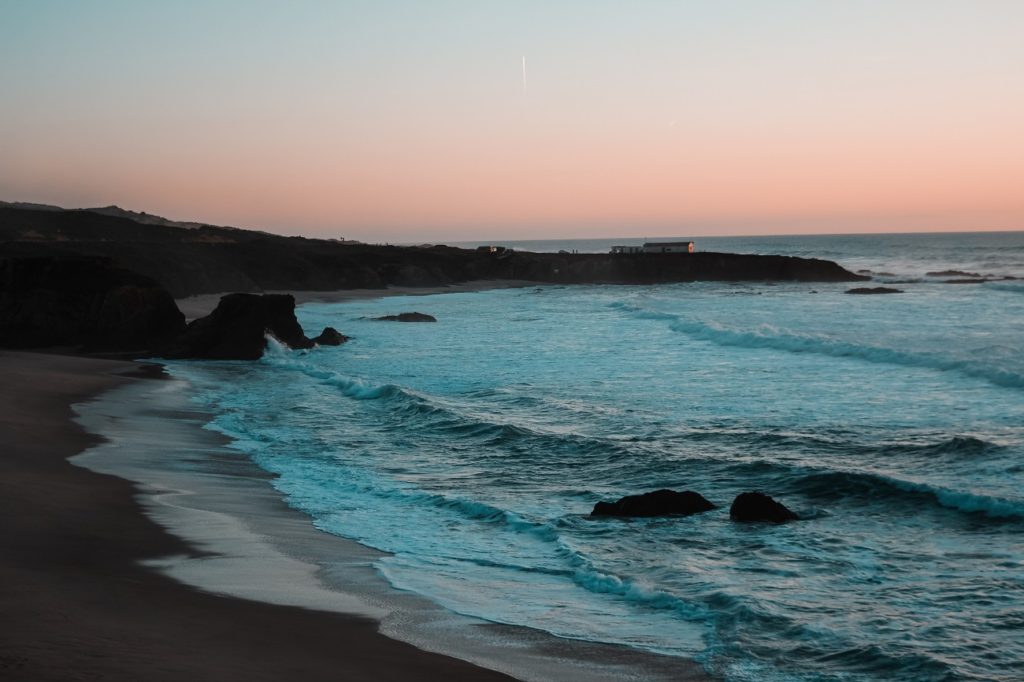 There is access to quieter beaches on trails that run north and south of town. These include, to the north, the Praia de Nossa Senhora, a rocky cove reachable by steep steps, and the Praia da Foz dos Ouriços, a sandy inlet rippled with rocks set between dunes and cliffs where a stream runs from hills through a narrow valley on to the sand.
Zambujeira do Mar
Backpackers have been tramping to this surfing mecca since the town was a fishing village, and there is still a laidback, hippy feel to the place. Bars sat in the cliff behind the whitewashed pedestrian centre play Ibiza-style chill-out music to post-surf sundowners, and in August the town hosts a big four-day music festival, the Festival do Sudoeste, when big-name DJs like Fatboy Slim and performers and bands who have included Emeli Sandé, Oasis, Muse and Black Uhuru play throughout the day and night and the crowds reach their apex.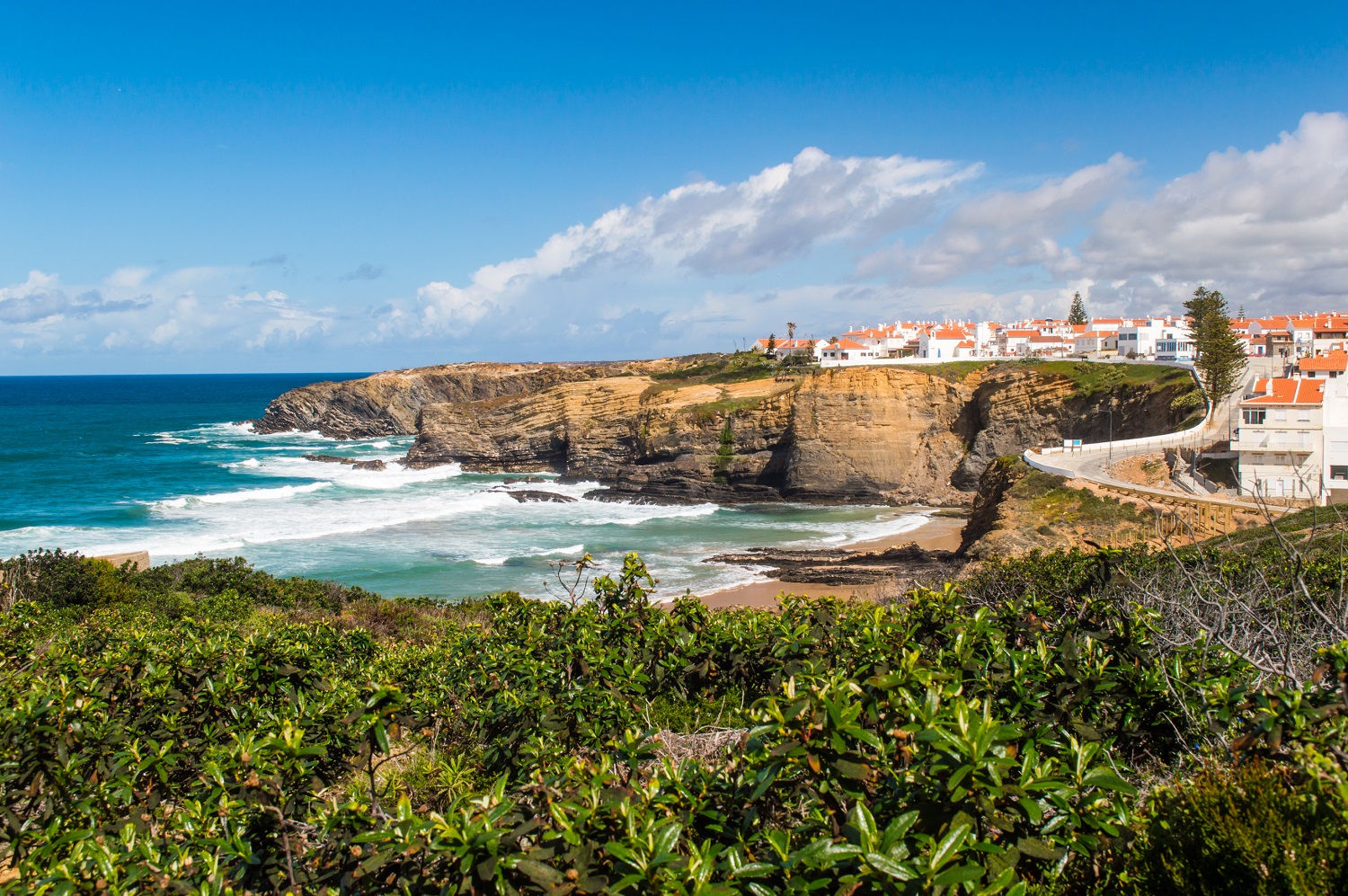 The beaches around Zambujeira are smaller – bays and coves set beneath rocky cliffs rather than long broad sweeps of sand. The town beach sits immediately south of Zambujeira, below a steep cliff. By Alentejan standards, it's nothing special. Better beaches lie to the south and include the Praia dos Alteirinhos, a nudist beach a kilometre south of town, and the Praia das Bernosas, a kilometre further on, fringing a tiny bay and reached along a steep trail.
A helping hand from Sunvil
With Portugal confirmed as a green destination, Sunvil are offering travellers to the Alentejo region two free PCR tests per person for stays of five nights or more (saving £120 pp). This includes:
1 x PCR test pp prior to departure from the UK
1 x PCR test pp 48 hours after return from UK
Sunvil guests will only need to pay for their test to return to the UK (according to Government guidance).
More information