The shape of the Peloponnese lends itself to a circular tour, with one or more excursions inland, but, as distances are not that great, it is also easy enough to base yourself somewhere and make excursions around.
Highlights and itineraries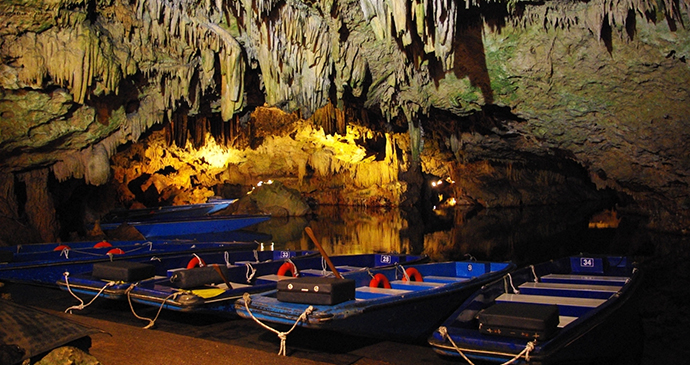 Ancient Corinth The streets where St Paul preached can still be walked on, and the bulk of Acrocorinth above delivers on the majestic views it seems to promise.
Nafplio Easily the prettiest town on the Peloponnese, and an excellent base for exploring, it also provides a bit of culture and sophistication amongst the rural backwaters.
Epidavros The classical theatre of the ancient Greeks is something most people have an image of in their head. Epidavros is where this image steps, spectacularly, into reality. Try and catch a play here.
The rack-and-pinion railway This scenic short ride between Kalavryta and Diakopto is definitely not just for the railway buffs and, if you are not a walker, it's your best chance to see a mountain gorge up close.
Mycenae A monumental structure of stone perched on a ridge between two mountains, Mycenae was already old at the time of the ancient Greeks.
Diros Caves For something completely different allow yourself to be punted around these extraordinary sea caves.
Mystra Many visitors are surprised by the exquisite beauty of Byzantine churches. This ghost town, in the foothills of the mountains, is full of them.
Olympia Set in a peaceful river valley, it is hard to ignore the atmosphere of Olympia, which saw the athletic games take place for more than 1,000 years.
Voidokilia There are plenty of fantastic beaches around, but this one, backed by a lagoon, is amongst the best. The postcard printers certainly seem to think so.
Monemvasia The little village that is hidden away on this 'Greek Gibraltar' has never seen a car. It is almost impossibly romantic.