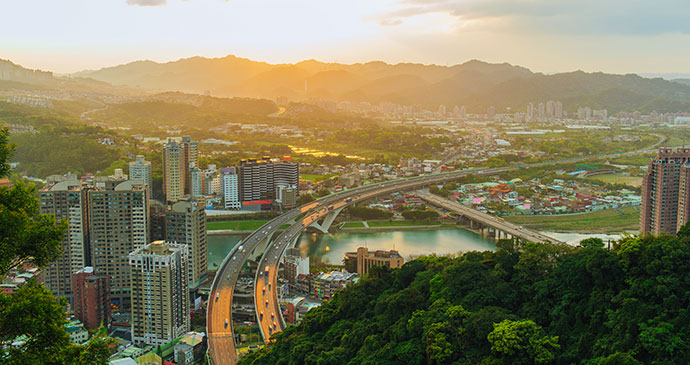 The delightful metropolis of Taipei is a hive of cultural activity © Richie Chan, Shutterstock
Taiwan's vibrant capital has plenty to offer visitors, with the world-class National Palace Museum as the undisputed jewel in the crown.
Twenty-first-century Taipei is a delightful metropolis in which to spend time. It's safe and easy to get around and there's plenty to see and do in multiple categories including museums, temples, gastronomy, nature rambles and shopping.
Taiwan's capital, often compared with Hong Kong or Singapore and found lacking, is the nearest Greater China has to a renaissance city. The money-making here is avid, to be sure, but feels less visceral than in Hong Kong. Compared with Singapore, far less English is spoken but more genuine friendliness is expressed. There's greater freedom and civility here than in any other Han-majority metropolis. With 2.67 million people, Taipei will never rival London, Paris or Tokyo in artistic output or economic significance, but, it certainly holds its own when compared with Asian cities twice the size – and thanks to the mountains that limit Taipei's sprawl, getting lungfuls of fresh air and eyefuls of green forest isn't difficult.
Relatively few of Taipei's buildings are older than the Chiang Kai-shek Memorial Hall (completed in 1980) yet the city is streaked with veins of antiquity. The richest of these are in Wanhua, a down-at-heel, Taiwan-as-Formosa-used-to-be neighbourhood, and the riverside district called Dadaocheng.
For many, the mere fact that Taipei has the world-class National Palace Museum justifies time in the capital. Visitors shouldn't, however, obsess about that stupendous repository to the exclusion of other attractions, such as the exquisite Baoan Temple. Nor should they pack their schedule with too much sightseeing, as one of Taipei's most pleasurable pastimes is simply lingering on a busy street and watching passers-by: office workers in the latest fashions, Buddhist nuns, Tibetan monks, southeast Asian labourers and swarms of college and high-school students.