Thingvellir is Iceland's most historic national park © Smallredgirl, Dreamstime
Highlights
National parks and nature reserves  
Iceland has four official national parks: Thingvellir is the most historic and nothing at all like the frozen volcano of Snæfellsjökull, the dramatic gorges of Jökulsárgljúfur and the great glaciers of Skaftafell. Of Iceland's many nature reserves, Mývatn offers pure serenity and Askja the volcanic wilderness, Ingólfshöfði is steeped in historical meaning and a gorgeous bit of seashore, Hornstrandir is Iceland at its most extreme, and the lakes and rivers of Vatnsfjörður are stunning.
Islands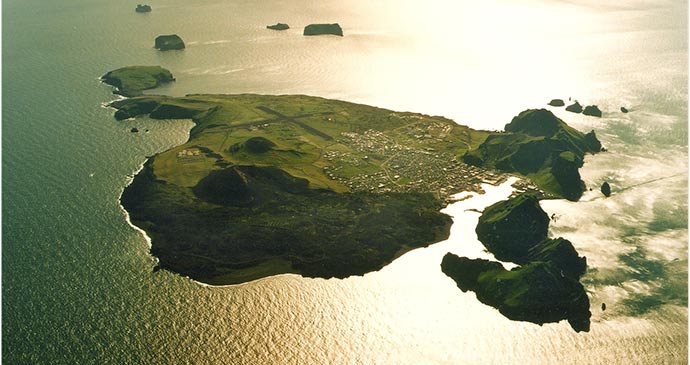 Each of Iceland's islands is a unique gem © Visit South Iceland
Every one of Iceland's offshore islands is a unique gem. To strand yourself on some poetic isle, consider the volcanic Westmann Islands, the windswept cliffs of Grímsey, or the history of tiny Flatey. For romantic day trips, visit the homestead on Vigur, the grassy hills of Papey, easy-access Hrísey or hard-to-get-to Drangey.
Fjords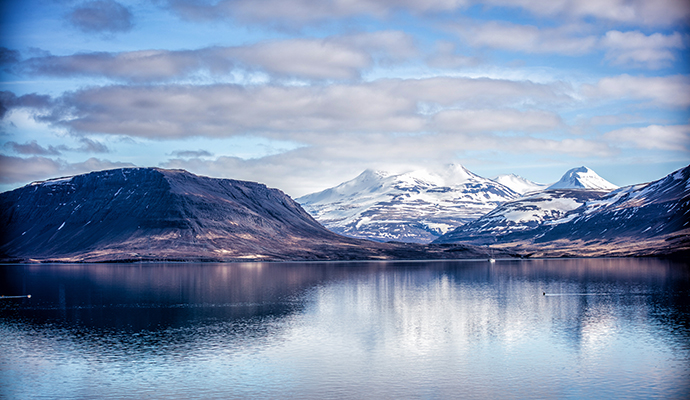 Hvalfjörður is one of Iceland's most underrated fjords © Visit West Iceland
Picking fjords is like picking perfume – it's very personal. A few favourites include the now-forgotten Hvalfjörður, the secluded channel of Arnarfjörður, and Iceland's longest fjord, Eyjafjörður.
Geothermal spots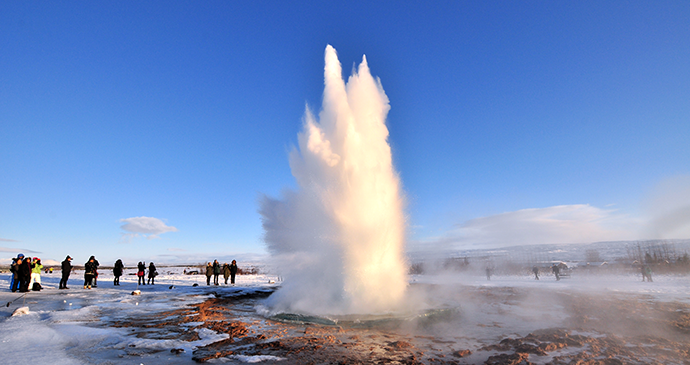 Iceland is home to many geothermal spots © Wojtek Chmielewski, Shutterstock
Besides the well-known Geysir, visit the scorched-earth landscape of Námaskarð, the hot pools and natural steam jets of Hveravellir, 'smoky' Reykjanes, and the largest springs in Iceland at Deildartunguhver.
Towns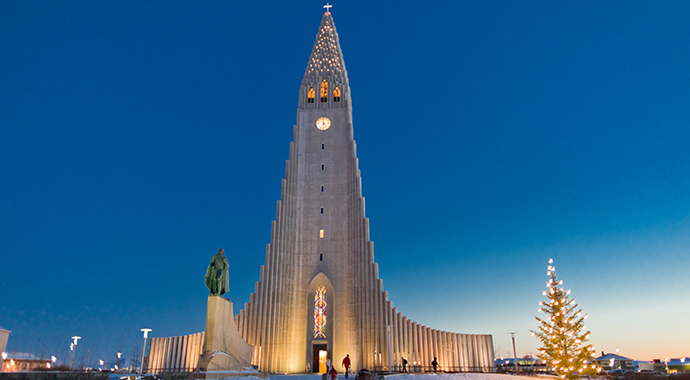 Reykjavík is the vibrant, must-see capital © Visit Iceland
Obviously Reykjavík is the must-see capital and the most vibrant urban space in Iceland. The other 'big city' of Akureyri is artistic and quirky, and isolated Ísafjörður is an architectural treasure chest. For obscure Icelandic fishing villages with that something special, visit Grundarfjörður, Siglufjörður, Eskifjörður, Djúpivogur, or Suðureyri.
Hiking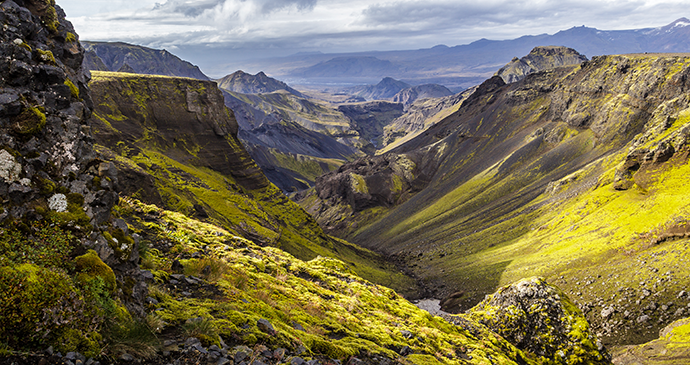 Iceland's landscapes offer prime trekking © Felix Nendzig, Shutterstock
The most touted trails for their volcanic/glacial terrain include Landmannalaugar and Thórsmörk, and both deserve the fame. All the national parks offer prime trekking, especially Skaftafell and Snæfellsjökull. Tröllaskagi in the north is fantastic climbing country. For wanderings with less mountain and more mystique, walk the under-appreciated lava fields of Reykjanes, or the landscapes around Mývatn. To really step off the beaten track, venture into Í Fjörðum, Borgarfjörður eystri, and Lönsöræfi. Though it's not easy, the hiking in Hornstrandir is in a league of its own.
Wildlife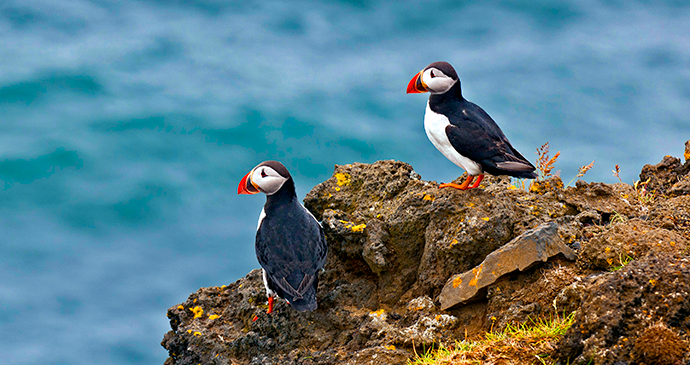 Spotting a puffin is a definite highlight of any trip to Iceland © Visit Iceland
For seals, visit Hvammstangi, for whales, visit Húsavík or Ólafsvík, for reindeer, visit Snæfell, and for Arctic fox, try Hornstrandir or Skaftafell. The birds are everywhere, but for mind-blowing birdwatching, you must visit the cliffs at Látrabjarg.
Suggested itineraries
Iceland is a great place for either independent or pre-planned itineraries, but it's not wise to have a really tight schedule or be fixated on a single plan. Unexpected fog can erase the view that you hoped to see on Day 3 and a sudden storm might force you indoors. As long as you're flexible, everything will be fine. The suggested itineraries are simply guidelines that might help you think about what you want to see and do.
One week
Town and country: Westmann Islands (2 nights)–Thjórsárdalur (2 nights)–Reykjavík (2 nights)
The west: Reykjavík–Borg–Reykholt/Húsafell–Stykkishólmur–Grundarfjörður–Snæfellsnes
Classic trekking: Laugavegurinn (Landmannalaugar–Thórsmörk) (5 nights + 1 night recovery in Reykjavík)
Ten days
Classic ring road: Reykjavík–Borgarnes–Skagafjörður–Akureyri–Mývatn–Egilsstaðir–Höfn (Vatnajökull)–Skógar–Golden Circle–Reykjavík
Two weeks
National parks of Iceland (by bus or car, camping or guesthouses): Reykjavík (1 night), Snæfellsjökull (2 nights), Akureyri (travel) (1 night), Mývatn (2 nights), Jökulsárgljúfur (2 nights), East Fjords (travel) (1 night), Skaftafell (2 nights), Thingvellir (1 night), Reykjavík (1 night)
From the ferry (a fair amount of driving in parts): Möðrudalur (1 night) via Seyðisfjörður and Egilsstaðir, Mývatn (2 nights) (via Dettifoss), Akureyri (1 night), Varmahlíð (1 night), Stykkishólmur (1 night), Snæfellsjökull (1 night), Reykjavík (2 nights), south coast (Vík, Skógar, or Kirkjubæjarklaustur) (1 night), Skaftafell (1 night), Djúpivogur (1 night), Seyðisfjörður (1 night)
Go west: Reykjavík (1 night), Borg (1 night), Snæfellsjökull (2 nights), Stykkishólmur (take Breiðafjörður ferry) (1 night), Flatey (1 night), Flókalundur (1 night), Látrabjarg (1 night), Thingeyri (1 night), Ísafjörður (2 nights), Hólmavík (1 night), Brú (1 night), return via Reykjavík
Three weeks
Week 1: Reykjavík–Golden Circle–south–Skaftafell–East Fjords
Week 2: Mývatn/Jökulsárgljúfur–Akureyri–Grímsey–Hólar/Sauðárkrókur
Week 3: Hvamsstangi–west Iceland–Reykjavík
One month grand tour:
Week 1: Reykjavík–Borgarnes–Snæfellsnes Peninsula–Breiðafjörður–West Fjords
Week 2: Látrabjarg–Ísafjörður–Hólmavík–Skagafjörður–Siglufjörður–Akureyri
Week 3: Húsavík–Mývatn–Jökulsárgljúfur–Melrakkaslétta–Vopnafjörður
Week 4: East Fjords–Vatnajökull–Westmann Islands–Golden Circle–Reykjavík