Highlights
The Faroe Islands have three things in plenty: vast areas of unspoilt mountainous terrain perfect for hiking; vertical sea cliffs teeming with birdlife ideal for ornithologists; and picturesque villages of wooden houses topped with turf roofs waiting to be discovered.
If you have only a couple of days in the Faroes, it makes sense to concentrate on the capital, Tórshavn, and the immediate vicinity, perhaps adding in a visit to the medieval cathedral at Kirkjubøur or a boat trip across to Nólsoy. With three days, it's definitely worth seeing the spectacular bird cliffs at Vestmanna, a boat tour every visitor to the islands should try to make, and taking a trip anywhere by helicopter, though you should book well in advance to secure a seat.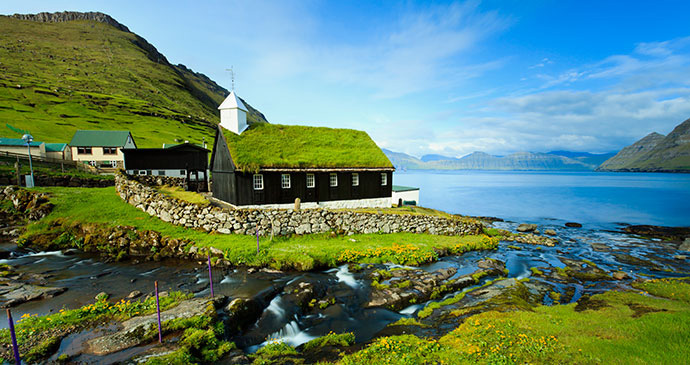 An ideal week's holiday in the islands could include all the above plus a trip to Mykines to see the puffins and gannets or a visit to Klaksvík and a tour of the northern islands – a hike out to one of the world's tallest vertical sea cliffs, Enniberg on Viðoy, or an unforgettable boat trip across stormy seas to the island of Fugloy where there are some wonderful coastlines to discover (returning by helicopter if you can), or a hike out to the lighthouse on northern Kalsoy for the best views anywhere in the country.
With two weeks at your disposal it's well worth considering adding Suðuroy to your itinerary. The main towns of Tvøroyri and Vágur are both worth a visit, though you should also try to get to Akraberg, the southernmost point in the Faroes for some dramatic seascapes.
Hiking, perhaps on Suðuroy, or alternatively on Vágar, is also something to consider or why not tour the villages of Streymoy and Eysturoy, in particular Saksun, Tjørnuvík and Gjógv? Try, too, to add in a visit to Gásadalur for its dramatic location and picturesque waterfall which cascades into the sea below the village.