Highlights
Armenia's religious heritage sites are uniquely popular attractions that form many visitors' strongest impressions of the country. Any risk of overload is compensated for by the fact that they are often situated in stunning natural landscapes that offer good hiking opportunities.
Though there are literally hundreds of such sites, Noravank with its splendid gorge and wonderful carvings is at the top of most 'must-see' lists, with at least a half-day's worth of walking in the vicinity. Khor Virap, about as close as you can get to Mount Ararat without leaving Armenia, is a worthwhile stop on the same route from Yerevan, especially if visibility is good. 
Other comparable sites are the monasteries of Haghpat, Goshavank, Haghartsin and Amberd (together with its adjacent fortress), Selim Caravanserai, the field of khachkars at Noratus, and the prehistoric stones at Karahunj. The rock-carved monastery of Geghard is another must-see, easily reached from Yerevan and often combined with a visit to Garni Temple. Tatev Monastery, with its dramatic clifftop setting, can now be reached by the world's longest cable car, as well as by road.
Less visited but among the more unique sites include the wonderful carvings at Makaravank, the reconstructed fortress of Smbataberd on its ridge (together with the nearby Tsakhatskar Monastery), Spitakavor Monastery (another good walk), Akhtala Monastery (with its wonderful frescoes), Kobayr Monastery (a short uphill walk again with some excellent nearby hiking), the petroglyphs at Ughtasar (requiring a 4×4 or a very long hike), and the monastery of Harichavank (together with the other small churches of the area).
Some of Yerevan's museums and art galleries are also must-sees, especially the History Museum and the National Gallery (in the same building), the Matenadaran for a glimpse of Armenia's wonderful illuminated manuscripts, and the equally illuminating Armenian Genocide Museum-Institute and Tsitsernakaberd Memorial Complex, which is less harrowing and more educational than it might sound.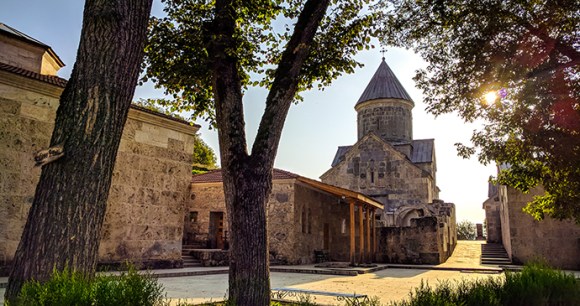 Beyond the cultural and historical sites, outdoor enthusiasts may explore Armenia's rich natural heritage via more than 200km of waymarked trails in Dilijan National Park; the gorges of Vayots Dzor; the Debed Canyon in Lori province; and, in Syunik province, around Mount Khustup and Tatev. For the truly adventurous, the volcanic Geghama Mountains represent some of the most unique landscapes anywhere in the Caucasus.
Suggested itineraries
A minimum of two or three days should be devoted to Yerevan, though if you plan to visit any museums do check the opening hours when researching your trip: Mondays are usually non-working days. Try to be in Yerevan at the weekend when the Vernissage arts and crafts market is in full swing. An extra two or three days in the city would allow for some worthwhile day trips to nearby sites.
In planning a trip round the rest of the country, there are three major factors to consider: whether to use public transport and taxis or to hire a car (and, if so, whether to hire a 4×4); whether or not one wishes to do any hiking; and whether some of the chosen places to visit will be inaccessible because of snow.
Destination highlights