Here's our pick of the highlights of the country:
Hiking
Cape Verde is a superb hiking destination – the vistas from the mountains of Santo Antão or from the depth of its gorges, the lonely slopes of Brava and the stunning interior of the brooding volcano crater of Fogo make for a unique experience. Much of the walking on Cape Verde is on the extraordinary cobbled paths that have been constructed in the most unlikely corners and up the steepest of slopes, making the walking much easier than might be construed from the map.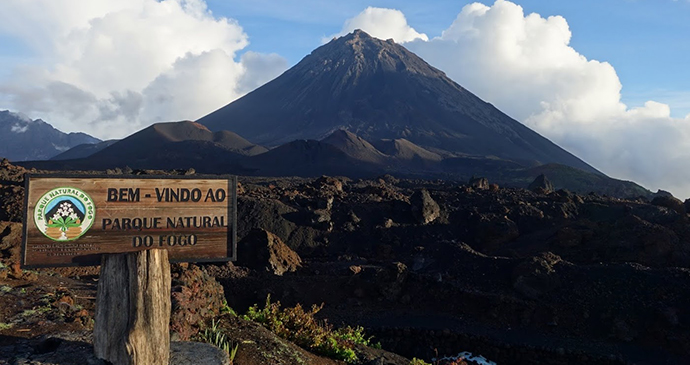 On Santo Antão the classic walks are up or down the ribeiras, taking transport at the beginning or end. On Fogo, the highlight for many is to ascend the Pico, the 2,829m spectacular volcano cone and, for some, to spend a night or two in its shadow. On Brava there are endless walks criss-crossing the steep 'flower' island where you are unlikely to meet any other travellers.
São Nicolau is a gentle and quiet island with a hidden, green and mountainous heartland filled with beautiful walks, whilst Santiago has its own mountainous spine with some fine walks between it and the coast. Most of the walks require a certain amount of fitness because they are steep, and a certain elasticity of knee for the descents. For those seeking very gentle hikes there are options in Santo Antão and Boavista, but few attractive flat walks on the other islands. You can penetrate quite far by vehicle, however – into Fogo's crater and far up one or two of Santo Antão's ribeiras.
Beaches
Cape Verde has miles and miles of virgin coastline, but without the palm trees. Sal, Boavista and Maio have the best white sands. Whether white or black sands, the shores are breathtakingly beautiful – and many of them are remote and desolate too. Luxury holiday resorts are now very common in Santa Maria on Sal and there are a few, too, on Boavista.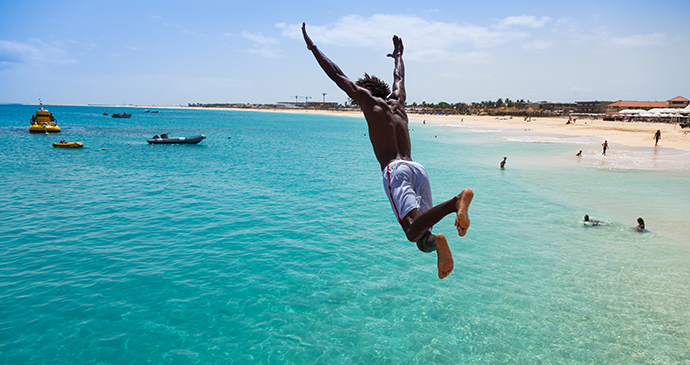 There are more under construction and some seemingly abandoned projects on Maio and São Nicolau. Beware, though, that some beach tourists complain about the wind and some seem to be plagued in the rainy months by flies, too; others have complained that swimming was not safe in front of their hotel: check before you book. Keen swimmers might want to choose accommodation with a pool, rather than rely on the ocean.
Diving
with Jacquie Cozens
Will Cape Verde soon rival the Red Sea for diving or is it all just hype? The marine life is certainly abundant and there is the novelty of being in the Atlantic yet encountering tropical fish such as parrotfish, angelfish or the occasional whale shark.
In addition, flight times from Europe are relatively short, you are never likely to tie up on a crowded dive site and there are exciting seasonal events such as the migration of humpback whales and the breeding of turtles. That said, there are no classic coral reefs, there are occasional strong currents and wind, the water is colder and diving is in its infancy.
The potential as a diving destination is huge, as the relative isolation in the middle of a vast ocean is likely to lead to exciting and unexpected encounters.
Although there are centres on five of the islands, most of the focus is on Sal which has a variety of sites in Santa Maria Bay within 10 to 15 minutes' boat ride, a few along the west coast and some less frequently visited places on the east coast. The underground topography consists of rocky ridges, pinnacles and boulders and underwater arches and caves.
On Sal there are five wrecks at between 5m and 30m, the latest having been sunk in April 2008 by Manta Diving Center, though actually diving them can be difficult. Sal also offers the opportunity to dive in caves that have been formed by lava in the north of the island. A classic dive is Buracona, a 40m tunnel that emerges at the 'Blue Eye', a pool where you can surface to see the surprised faces of land-based tourists looking down on you.
Dive sites in Cape Verde are usually ridges with big overhangs smothered in bright-yellow polyps and populated with large aggregations of surgeonfish, goatfish, parrotfish, Atlantic bigeyes, enormous scribbled filefish and metre-long cornet fish. At certain times papaguia (Guinea grunts) form huge balls of up to 1,000 fish. The macro life is also abundant, with numerous nudibranchs, tiny coral eels, sharpnose puffers and frogfish.
Large marine life you may encounter include dolphins and five species of turtles, including loggerheads which come ashore to nest between June and October. Species such as endangered tiger sharks and bull sharks were once common but are now more often seen being gutted on the pier. Sometimes there are nurse sharks, lemon sharks, reef sharks and manta rays. Humpback whales visit in the spring.
In general the diving around all the islands is reliably good and, compellingly, it is very underexplored. The potential as a diving destination is huge, as the relative isolation in the middle of a vast ocean is likely to lead to exciting and unexpected encounters. Water temperatures range from 21°C to 27°C. Diving and courses are available on Sal, Boavista, Santiago, São Vicente and Santo Antão. All the centres have rental gear. Be aware that there is no operational recompression chamber on any of the islands.
Fishing
Cape Verde has superlative big-game fishing. Blue marlin, for example, is big both in numbers and in size (fish up to 750lb have been caught here). There are also tiger shark, sailfish, swordfish, kingfish and striped and white marlin. Closer in to shore there are wahoo, albacore, yellowfin tuna, grouper and dorado. Big-game fishing is best from São Nicolau and between São Vicente and Santo Antão, though it is also possible from Maio.
Hiring a boat for the day for such a trip is around €700–1,000 per day, depending on whether it is a local fishing boat or not, while booking an all-inclusive week's trip is around €1,800–2,800, depending on numbers. Around the archipelago it is possible to join local fishermen on their trips, a great experience whether you personally catch anything or not. Often they go out a few hundred metres, drop anchor, and fish for skipjack, grouper, squirrelfish and many other varieties. Some go night-fishing for morays.
The locals use harpoons to catch lobster, octopus and parrotfish. As sport fishing grows in popularity, so do less than ecologically sound practices. Many operators with limited knowledge of marine life take undersized fish and target marginal species such as sharks, marlin and other billfish. If you don't want to contribute to this indiscriminate practice look out for a skipper who practises catch and release.
Watersports
With the trade winds providing a remarkably steady force 5 to 6 in winter falling to a gentler force 3 to 4 in summer, wind is never lacking, and Cape Verde has become an international windsurfing and kitesurfing destination.
Sailing
Sailing around the islands is still quite unusual. At any one time there might be 20 or more boats moored in the main harbour of São Vicente, and a few more to be found in those of Sal and Santiago.
A promised new marina project in Praia has not materialised. Facilities are far inferior to the Azores or Canaries, but there are beautiful anchorages at Murdeira Bay on Sal, at the remote Fajã d'Água on Brava and at Tarrafal in north Santiago. In fact, each island has some sort of shelter but it may be a long trek to get provisions and an even longer one if you need spare parts.
There are many day excursions in large sailing boats and powerboats on Sal but less available on other islands. Yachts can also be rented, with or without skipper, in São Vicente. The Itoma is a 23m (70ft) motor-catamaran with room for 16 passengers; its owners organise cruising, diving and windsurfing tours. 
Surfing
Cape Verde has 965km of coastline, spotted with reefs and points and steady wind throughout the year, and its reputation as an international windsurfing, kitesurfing and surfing destination is growing. The water is warm and the swell from the open Atlantic, during the winter, can be big. It is similar to the Canaries and the Azores in the kind of swell it picks up – but it is warmer.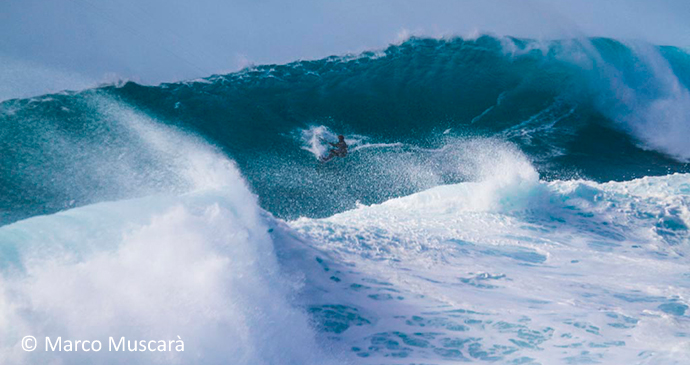 The Barlavento – the islands in the north – are in the best position for winter surf, while the Sotavento – southern islands – pick up summer, tropical swells and swells from far away in the south Atlantic. The wind is strongest in the winter and calmest from May to September.
The winter swell season runs from January to March and at this time the average deep-swell height is about 1.8m. The swells tend to hit the western coasts of the islands and wrap around into spots heading south. The result is off shore conditions with northeast winds.
The best-known island for surfing is Sal, whose most famous wave is at Ponta Preta – a long, classic right-hand reef with 200m rides. There are also surfing spots on Santiago – Tarrafal, and the coast in the southeast, south of Ponte de Lobo. The surf is mostly reef breaks but there are some beach breaks. Boards are available for hire in Sal, São Vicente and in Tarrafal on Santiago.
Windsurfing
Cape Verde is a popular destination for windsurfers from Europe to Hawaii, and regularly hosts championships. The two main islands for windsurfing are Boavista and Sal, with São Vicente and São Nicolau offering a lot of potential but little as yet in the way of facilities.
November to the end of May is the windy season. During this time, the winds range from 18 knots to 22 knots and are good for both intermediate and advanced riders. Even during the windiest times there will be days that are good for beginners.
If you want to avoid strong winds, the best time to learn is during the summer. Sal has a dedicated kitesurfing bay and also has Ponta Preta, whose huge breakers, kicked up by a strong offshore wind, led to the venue being added to the World Wave Circuit in 2007 and the Professional Windsurfers Association World Cup in 2008, 2009 and 2010.
In São Vicente, in the bay of Mindelo, the average wind speed between January and June is 16 knots, with gusts of up to 30 knots. Round the coast in São Pedro Bay, world windsurfing speed records have been set and the current record is over 40 knots.