Our founder, Hilary Bradt, shares her thoughts on our choice for 2017 – the Cotswolds' town of Cirencester.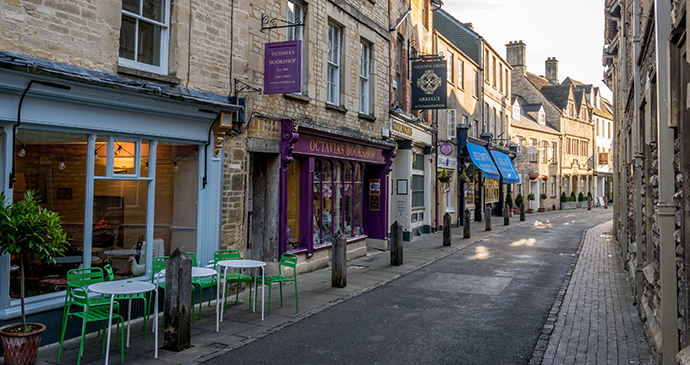 In September 2017 – on the recommendation of Caroline Mills, author of our Slow Travel guide to the Cotswolds – the Bradt publishing team took a trip to Cirencester. 'This is my sort of place!' said one of our editors when we arrived. 'Good shops and lots to see. I'm going to come back with a friend.' I felt the same way.
You can click on the relevant hyperlinks in this article to read fuller write-ups of the trip's very best bits. Caroline herself led us on a wonderful walk over Minchinhampton Common; a meal at The Fleece restaurant will stay a happy memory for a long time; and we enjoyed a comfortable night's rest at The Barrel Store.
Of course, Caroline's Bradt guide provides so much more information about the city and region. But there were two aspects of Cirencester that I focused on – the Romans and the parish church.
So, the Romans. I knew that Cirencester was once an important Roman city called Corinium, but I had no idea how much still remains of the Romans, and just how good the Corinium Museum is. It was all put into perspective on our walk with Cherry Hubbard.
I learned that the Roman walls that used to encircle our ancient towns were to keep wild animals such as wolves out, as well as human marauders; I learned that, until Hadrian, Romans plucked out all their facial hair (ouch!) because Barbarians had beards (as their name suggests); I learned that Roman women dyed their hair and used make-up in very much the same way as we do today.  I learned that 'Romans' came from all over the extensive Roman Empire, not just from what we now call Italy – and that as the empire started to collapse, so the Roman inhabitants of Corinium were called back to deal with insurgencies nearer to home.
I could have spent all day in the Corinium Museum (actually I had to be chased out at five o'clock by a worried-looking staff member who had nearly locked me in). I never cease to be amazed at the imagination and skill of artists so many centuries ago. The museum's glory is its mosaics, which are gorgeous, with natural-coloured stones creating scenes pulsing with life.
Here is the unfortunate Actaeon in the process of turning into a stag and being eaten by his own hunting dogs – an unduly tough punishment for having accidentally seen Diana bathing. Here, too, is a prowling lioness that would not look amiss in a nature film. From the Romans we move through the medieval period, and the Civil War, to the present day with 19th-century engravings of the Market Place showing the lofty tower of the Parish Church of St John the Baptist, the Wool Church, which was my next visit.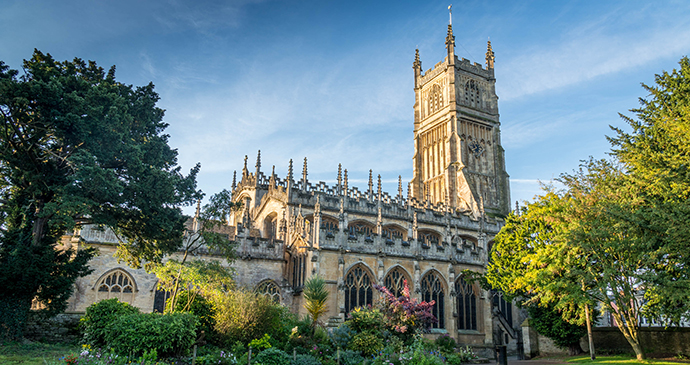 I love old churches. Here you can see the unbroken line of history from Norman times to the present day. The Wool Church is no exception. There were some wonderful old memorial brasses of knights in armour which brought back memories of brass rubbing when I was a youngster, and a coffin cart covered by knitted red poppies. On the wall was a memorial to a printer, Samuel Rudder, who died in 1801. And he was not just a printer: 'His history of Gloucestershire will establish his character as a Writer.' Perhaps he wrote the first Slow Travel guide and we at Bradt are simply following in his footsteps?
Christianity was established after the Romans left – indeed there might have been some overlap if some stragglers remained in Britain – and as I listened to the story of the Romans I was reminded of one of my favourite poems. It's by Rudyard Kipling and is called The Roman Centurion's Song.
Legate, I had the news last night – my cohort ordered home
By ships to Portus Itius and thence by road to Rome.
I've marched the companies aboard, the arms are stowed below:
Now let another take my sword. Command me not to go!
I've served in Britain forty years, from Vectis to the Wall,
I have none other home than this, nor any life at all.
Last night I did not understand, but, now the hour draws near
That calls me to my native land, I feel that land is here.
Here where men say my name was made, here where my work was done;
Here where my dearest dead are laid – my wife – my wife and son;
Here where time, custom, grief and toil, age, memory, service, love,
Have rooted me in British soil. Ah, how can I remove?
For me this land, that sea, these airs, those folk and fields suffice.
What purple Southern pomp can match our changeful Northern skies,
Black with December snows unshed or pearled with August haze –
The clanging arch of steel-grey March, or June's long-lighted days?
You'll follow widening Rhodanus till vine and olive lean
Aslant before the sunny breeze that sweeps Nemausus clean
To Arelate's triple gate; but let me linger on,
Here where our stiff-necked British oaks confront Euroclydon!
You'll take the old Aurelian Road through shore-descending pines
Where, blue as any peacock's neck, the Tyrrhene Ocean shines.
You'll go where laurel crowns are won, but will you e'er forget
The scent of hawthorn in the sun, or bracken in the wet?
Let me work here for Britain's sake – at any task you will –
A marsh to drain, a road to make or native troops to drill.
Some Western camp (I know the Pict) or granite Border keep,
Mid seas of heather derelict, where our old messmates sleep.
Legate, I come to you in tears – My cohort ordered home!
I've served in Britain forty years. What should I do in Rome?
Here is my heart, my soul, my mind – the only life I know.
I cannot leave it all behind. Command me not to go!