Written by Bradt Travel Guides
Because Guyana has never experienced the droves of tourists common to other South American countries, everything is done on a smaller and more intimate scale here. Lodges found throughout the countryside are small family- or community-run affairs that welcome visitors as old friends. Community tourism efforts in Guyana not only provide villages with much-needed income, they also teach them the importance of conservation and sustainable land-use issues. Expect to be called by your first name, often upon arrival, and to be remembered should you ever return to these seven must-see lodges.
Arrowpoint Nature Resort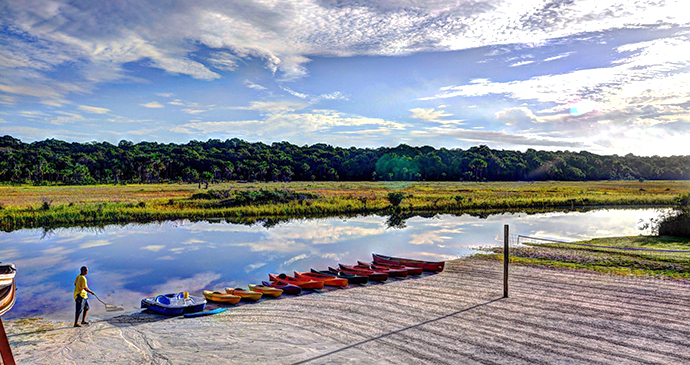 Don't miss a birdwatching trip to the nearby Amerindian village of Santa Mission © Marco Farouk-Basir, Wikimedia Commons
For an easy transition upon arrival in the country, Arrowpoint Nature Resort offers a comfortable lodge, mountain biking, kayaking trips and nature hikes a short distance from the international airport. The resort itself, with four self-contained cabins and one large central building, is designed and operated as an expression of Amerindian culture. While the mountain biking, surf biking and pedal boating may not be reflections of Amerindian culture, the cassava bread making, wabani expedition, canoeing, spear fishing and jungle hikes are more reflective of their traditional lifestyle.
Caiman House Field Station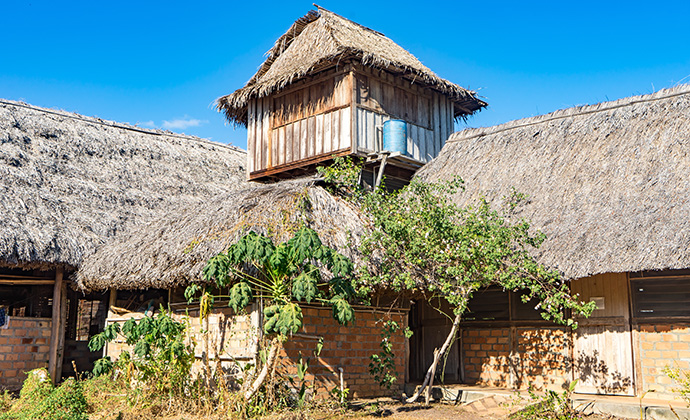 Black caiman are found in abundance in the waters around Caiman House © Gail Johnson, Shutterstock
Caiman House was built in 2005 in Yupukari by Americans Peter Taylor and Alice Layton, who came so Peter – a keeper and supervisor at the Bronx and St Louis zoos for nearly 20 years – could conduct an ongoing field study on black caiman. Today the field station provides a home base for researchers and volunteers, and visitors share the public area with them and their laptops, books and research gadgets that are scattered around one end of the main room. Guests are invited to join the caiman research crew in a night of caiman capturing or accompany them on research trips – it's a bit like having a job with a National Geographic crew. There are also other important projects such as a turtle-rearing programme and a jaguar camera-trapping survey.
Rock View Lodge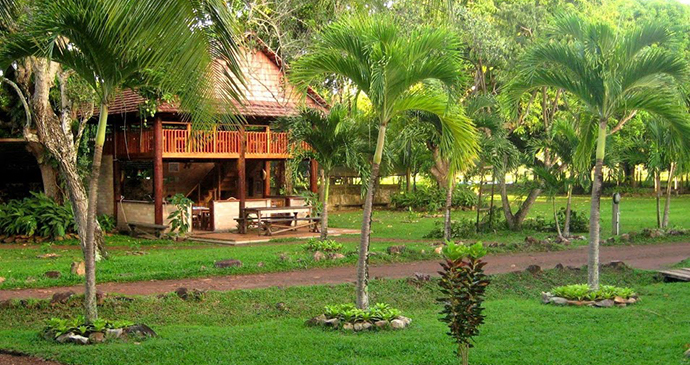 This oasis provides access to good deciduous forest and savannah birding © Courtesy of Wilderness Explorers
With beautiful gardens, a swimming pool and a central location, the unexpectedly comfortable Rock View Lodge is an oasis in the northern savannahs. The lodge is located on the edge of the savannah, where the Pakaraima Mountain foothills begin to rise to the north. The location is idyllic and the accommodation has been built to match. Allow guide Hendricks Daniel to lead you in search of brownthroated parakeet, Finsch's euphonia, cayenne jay, and double-striped thick-knee, and don't miss sunrise from the top of the lodge's namesake rock.
Surama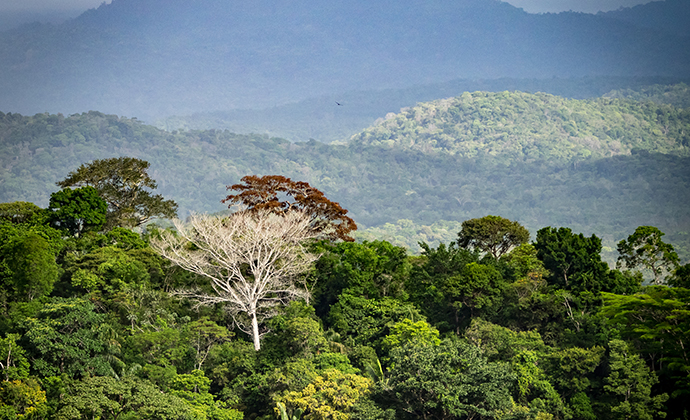 The original community lodge and the biggest success story, Surama is the model for many other ecolodges in remote villages © Gail Johnson, Shutterstock
Set in 13km2 of open savannah lands surrounded by the jungle-covered Pakaraima Mountains. Surama is a small Amerindian village where the 300-odd Makushi inhabitants rely mainly on farming, hunting and fishing for sustenance and have lifestyles and customs that have changed little in many generations. Today Surama has become the award-winning role model for community-based ecotourism in Guyana; all other villages building a tourism product look to Surama as their guide. The setting is truly idyllic, the guides are virtual walking jungle encyclopaedias and the villagers welcome visitors warmly.
Rewa Eco-Lodge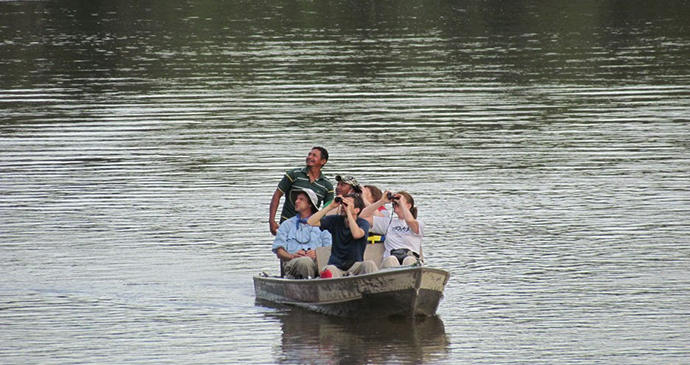 Rewa Eco-Lodge can only be reached by river © Courtesy of Wilderness Explorers
A standout example of Guyana's community lodges is Rewa Eco-Lodge, which can only be reached by river and offers comfortable accommodation, great wildlife and fishing, and easy access to some of Guyana's more undisturbed forests. Located at the confluence of the Rewa and Rupununi rivers, Rewa Village is a small community of roughly 300 inhabitants. It's more isolated than other tourism destinations in the north – it's most commonly reached by a 2- to 5-hour boat ride from Kwatamang Landing or Apoteri – but it also has one of the most beautiful settings and equals Surama for a destination for adventurous tourists. The area offers visitors one of the best chances of seeing many of Guyana's great mammals, including jaguar, tapir, capybara, giant armadillo, and seven different monkey species.
Karanambu Lodge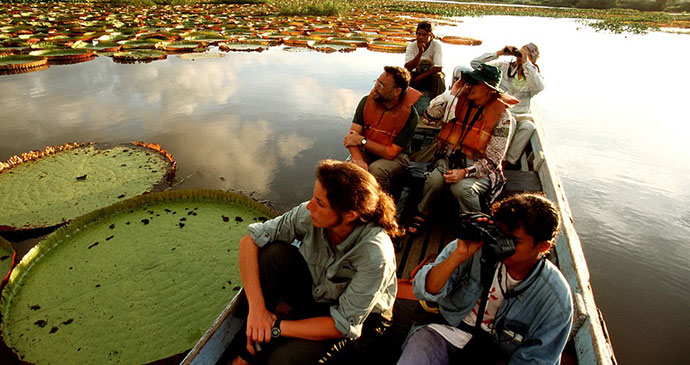 Nature-lovers shouldn't miss the extraordinary Karanambu Lodge © Courtesy of Wildlife Explorers
Nature-lovers shouldn't miss the extraordinary Karanambu Lodge, one of Guyana's true tourism highlights. It's a place steeped in local history, extremely rich in nature and very much in tune with the local surroundings. In more recent years it has become widely known for the late owner Diane McTurk's work rehabilitating wild, orphaned giant river otters. You'll be treated like family while exploring the 50ha of protected lands, home to more than 300 species of birds and a significant population of threatened or endangered species, including giant anteaters that you can often see in the morning before breakfast.
Dadanawa Ranch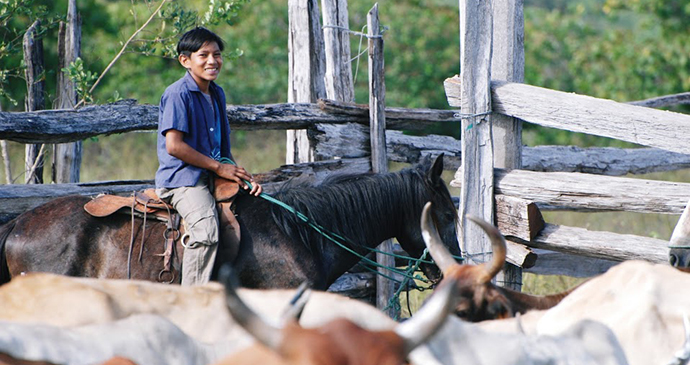 Dadanawa Ranch offers one of Guyana's most unique experiences © Courtesy of Wilderness Explorers
Relive the days of the Wild West on a cattle drive at Dadanawa – Guyana's biggest cattle ranch. Dadanawa is a place where visitors can join vaqueros on an overnight ride to round up cattle one day and birdwatch the next, seeing as many as 80 different species in a few hours around the ranch. You can see the age-old process of tanning leathers and watch vaqueros attempt to tame wild horses one afternoon and then leave the next morning for some of Guyana's most remote terrain, with some of Guyana's best and most knowledgeable guides to lead you.
---
To discover more about where to stay and what to do in Guyana, check out our new guide: