Written by Bradt Travel Guides
Although one of Europe's lesser-known countries, Georgia is also one of its most captivating. Tbilisi, the stylish capital, is home to an exquisite blend of architecture, but the country's rural roots remain strong – away from the cities you'll find remote mountain villages and countless walking trails. Set against the backdrop of the High Caucasus, it's a dreamland for any hiker or climber.
Tbilisi – a cultural crossroads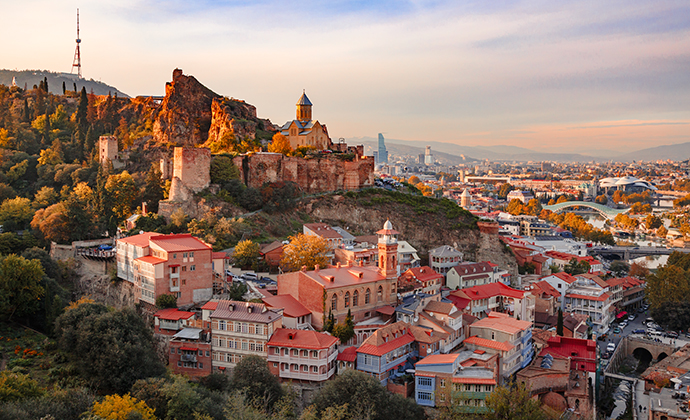 Tbilisi is an intriguing array of architectural styles © MiGol, Shutterstock
Georgia's capital is cultural mêlée, with a whole host of different architectural styles. The Old Town of Tbilisi (the Kala) lies higgledy-piggledy on the crowded slopes between the river and the citadel of Narikala. Here, in an area inhabited, at various times, by Persians, Tatars, Jews and Armenians, you can visit a mosque, a synagogue, and Armenian and Georgian churches, all still in use, and a Roman Catholic church, built in 1804 and reconsecrated by the Pope in 1999. In contrast, the New Town, with stately Rustaveli Avenue running through its heart, is moving into the 21st century, with a number of ambitious building projects underway.
The great outdoors
The High Caucasus offers a range of beautiful and exciting hikes for all levels of ability © Rosalik Oleksandr, Shutterstock
Georgia is the dream destination for any hiker or climber. Its dominant feature is of course the High Caucasus, a young and dynamic range stretching for roughly 1,200km and containing over 2,000 glaciers. With subalpine forests, meadows, oak woodlands, caves and mountain gorges, it is ecologically very interesting, and provides a spectacular backdrop for hikes of all difficulties.
Old-world settlements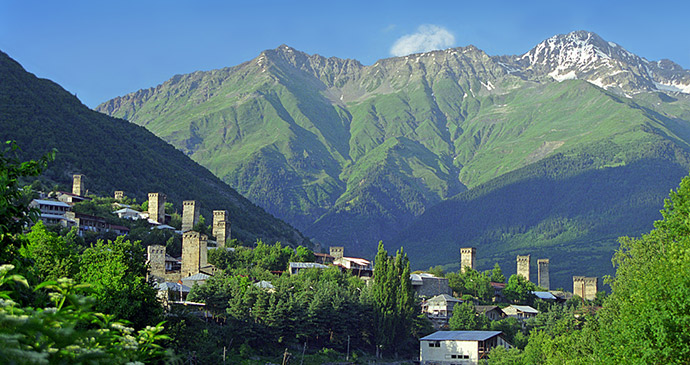 Defensive towers and stone houses can be seen all across Svaneti © Tony Hanmer
Hidden in the remotest reaches of the High Caucasus and dotted with ancient towers and frescoed churches, the land of the Svans is seen by many as the spiritual heartland of Georgia. Mestia, the region's capital, is the most popular of Svaneti's many settlements – the old town's backstreets are pure Svan, with steep stony alleys, hairy, free-range pigs, rough stone houses and defensive towers.
Davit-Gareja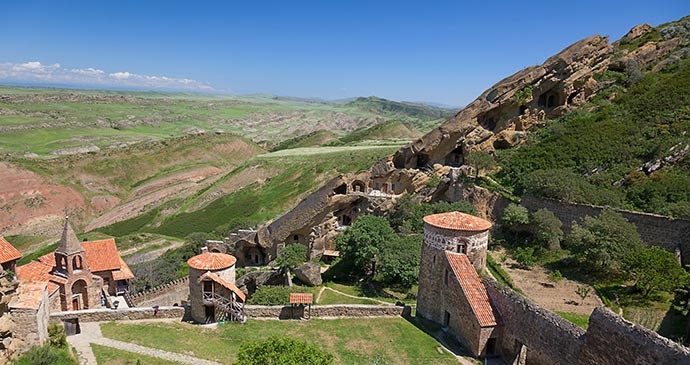 Davit-Gareja Monastery is surrounded by an almost lunar landscape of dry steppe © Ilia Torlin, Shutterstock
This spectacular group of cave monasteries lies in the desert landscape of Kakheti, and is accessible as a day trip from Tbilisi. Founded in the mid-6th century by St David (one of the 13 Holy Assyrian Fathers), and his disciple Lukian, after his stay on Tbilisi's Holy Mountain, there are two dozen monasteries here, but only a few are widely known or visited and just three are in use. Set into cliff faces, with magnificent views of the surroundings and stunning frescoes, they are definitely worth the day trip from Tbilisi. Do note, though, that the roads are bad, and although cars can get here, it's best to have a 4×4.
The finest tipples of the Caucasus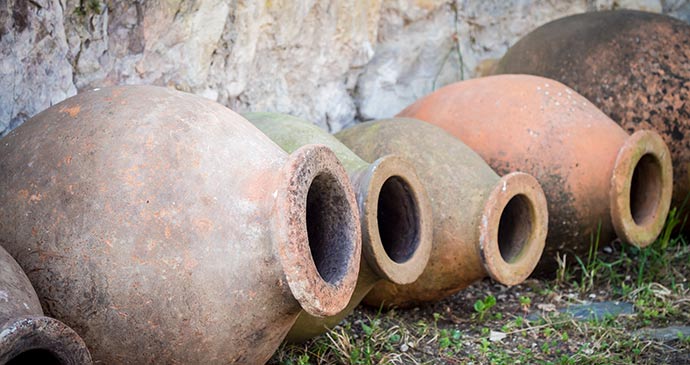 Traditional clay qvevri vessels are key to the huge revival in natural wines © Magdalena Paluchowska, Shutterstock
There's been wine in Georgia almost as long as there have been Georgians: around 6,000–7,000 years. It is absolutely central to the Georgian lifestyle and to their self-image, and everyone (especially men) drinks large quantities and will want you to do the same. A trip to a winery is a must for any visitor – interest is growing fast in the wines of Kakheti in particular, increasingly famed as the home of natural qvevri wines; new hotels are opening, in both the towns and the vineyards themselves.
---
Want to start planning a trip? Get 10% off our Georgia guide: