Written by Jonathan Campion
In this extract from his story, Bulgarian Lessons, author Jonathan Campion describes the delight of experiencing a culture through a child's eyes, as his four-year-old son, Andrew, meets his partner's family for the first time.
---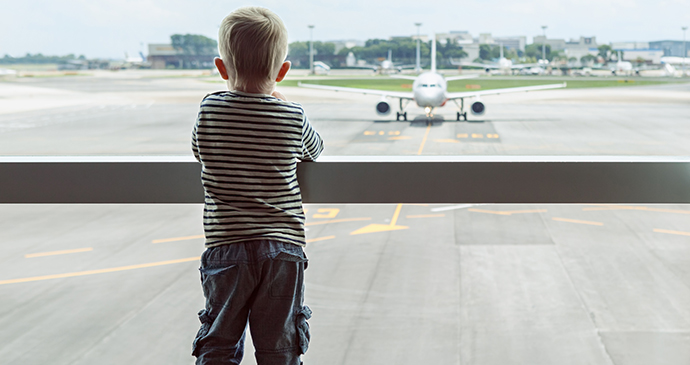 © Tropical studio, Shutterstock
From the market, we took a taxi to the bus station. The bus was as chaotic as the bazaar: passengers jostling for seats, shoving bags into every spare inch, restless at the prospect of a five-hour, crosscountry slog. As we set off, old ladies bellowed into their phones to tell their families that they were on the way home. Then everyone opened snacks. It's a long road to the Thracian Valley; bottles of Zagorka and Kamenitza beer were flipped open too.
As the grey outskirts of the capital faded into the rugged greens and browns of Bulgaria's plains, another noise filled the bus: gentle snores coming from the head in my lap.
In Yambol that evening, Pavlina's mother (Lilyana) and stepfather (Bob), brought us home to a Bulgarian welcome: the aroma from a coffee pot warmed the apartment, and the living-room table was covered with plates of food. We had come for a double-celebration weekend: Lilyana's retirement party and her birthday. Gifts were exchanged. I gave Lilyana a scarf; she presented Andrew with a full set of new clothes and an autumn coat.
This part of Bulgaria once lay in a region known as Thrace, a land now shared with the northern parts of neighbouring Greece and Turkey. Yambol is famous for its wine, made from delicious Mavrud grapes cultivated in Thracian vineyards – or often fermented at home. Lilyana toasted our arrival with both versions. Then it was Andrew's bedtime. Once Bob and Pavlina's father Dimitar had each fed me a tumbler of homemade rakia, Bulgaria's overpowering grape spirit, my bed was calling too.
Andrew's initiation the next morning was gentler. Over glasses of apple juice, Pavlina's two nieces, Ivayla and Lili, practiced their English on him. Andrew learned some Bulgarian words – and with them took a crash course in the country's culture. When you come home, you take off your shoes and put on some woolly slippers called shushonki. Before you take a first sip of drink, you say nazdrave ('to your health'). Instead of goodbye, it's dovizhdane ('until I see you again'). By the afternoon Andrew was proudly saying haide ('let's go!'), with a Yambol accent to boot.
When the children ran out of words, they still found a common language. Bulgarian kids play the piano and dance around to music videos. Bulgaria has toy cupboards with costumes, parks with playgrounds, cafés with ice cream. Bulgarians give hugs and kisses. Andrew made himself at home.
Watching Andrew and the girls playing, racking their brains to find things they had in common, I thought of the friendships I had refused by fixating on differences. A few years previously when I was studying near Moscow, some Russian students invited me to play volleyball with them. I felt my weak hits didn't fit in, so I slid away early, without saying goodbye. Too often we assume that other cultures are much different to ours. It takes children to notice what is familiar.
---
To read the full story or to discover more intrepid tales of travelling with children, check out our anthology: