After months of being cooped up inside, it's no wonder that stand-up paddleboarding has exploded in popularity. Across the UK's rivers, lakes and shorelines, a new wave of people who wouldn't normally take up watersports have been enjoying the meditative delights that gliding across the water on an SUP brings.
But if you're worried about the crowds, then don't fret. Here, SUP expert Lizzie Carr (author of Paddling Britain) shares her favourite places to explore England's waterways in peace.
Helford River, Cornwall
The village of Helford crams a lot of personality and some serious history into its small size. Nestled quietly between Falmouth Bay to the north and the Lizard Peninsula to the south, the Helford River is equally as impressive as its neighbours.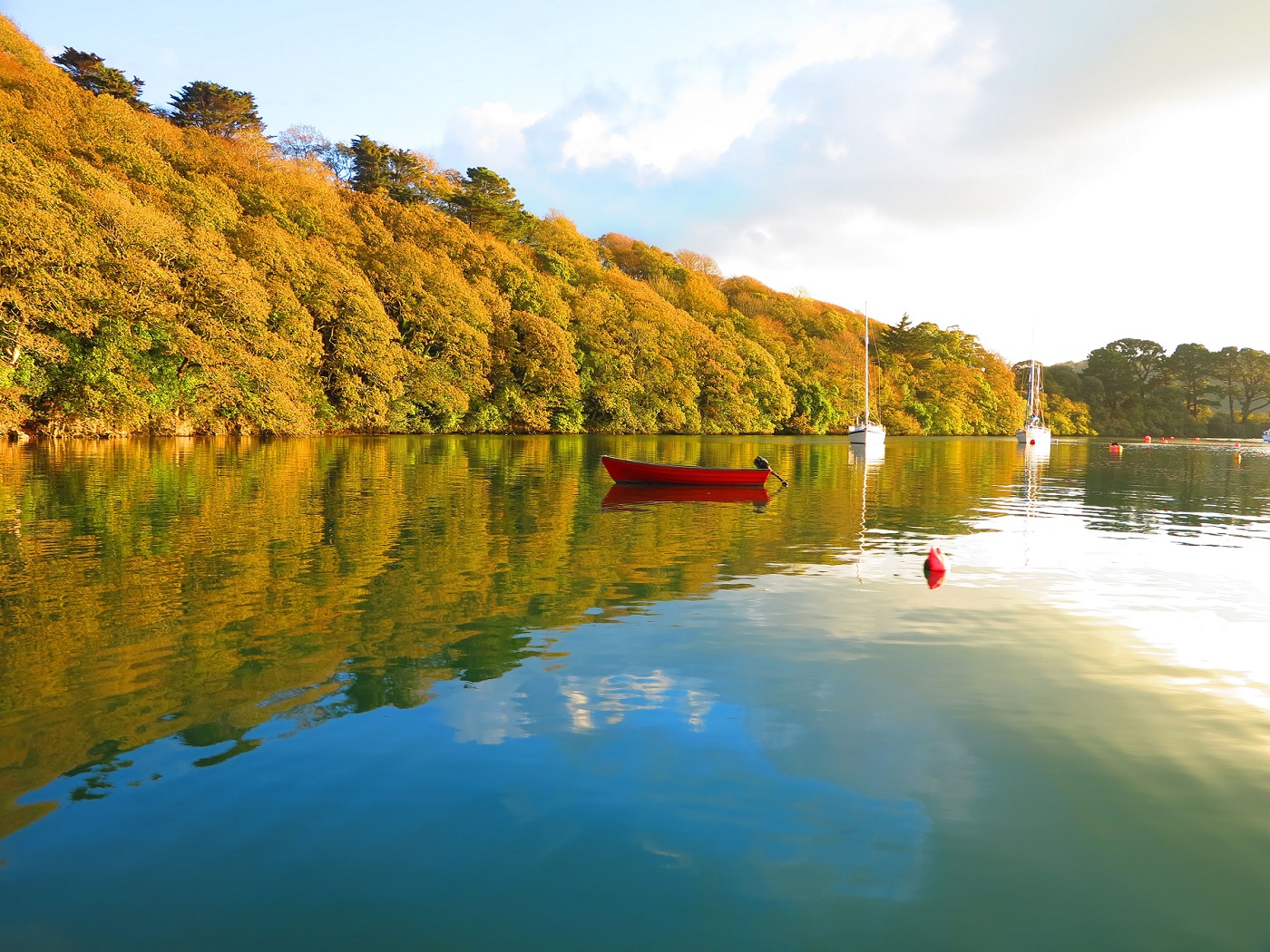 Helford's shoreline is varied and enchanting. Intrepid paddlers have plenty to explore: quaint villages and secluded beaches, quiet coves and peaceful creeks. Helford village could hardly be more quintessentially English, with its thatched cottages, boathouses and historic features (including an old red phone box). Now a peaceful retreat, the Helford was once a thriving industrial and agricultural trade route for mines, quarries and farms as well as local fishermen. There at least, little has changed: fishermen still land their daily catch on the river's shoreline.
Helford is well known for its hidden creeks. The most renowned is Frenchman's Creek, which secured fame in Daphne Du Maurier's novel of the same name. Sitting upstream of the suggested paddle route, this quiet wooded creek brims with wild garlic and bluebells in spring. Gillan Creek is equally beautiful. Fringed with trees, its steep sides rise sharply. On its narrow muddy margins, look out for little egrets (which only properly arrived in Britain less than 30 years ago, but are now common and widespread) and grey herons, which fish stealthily and surprisingly unobtrusively.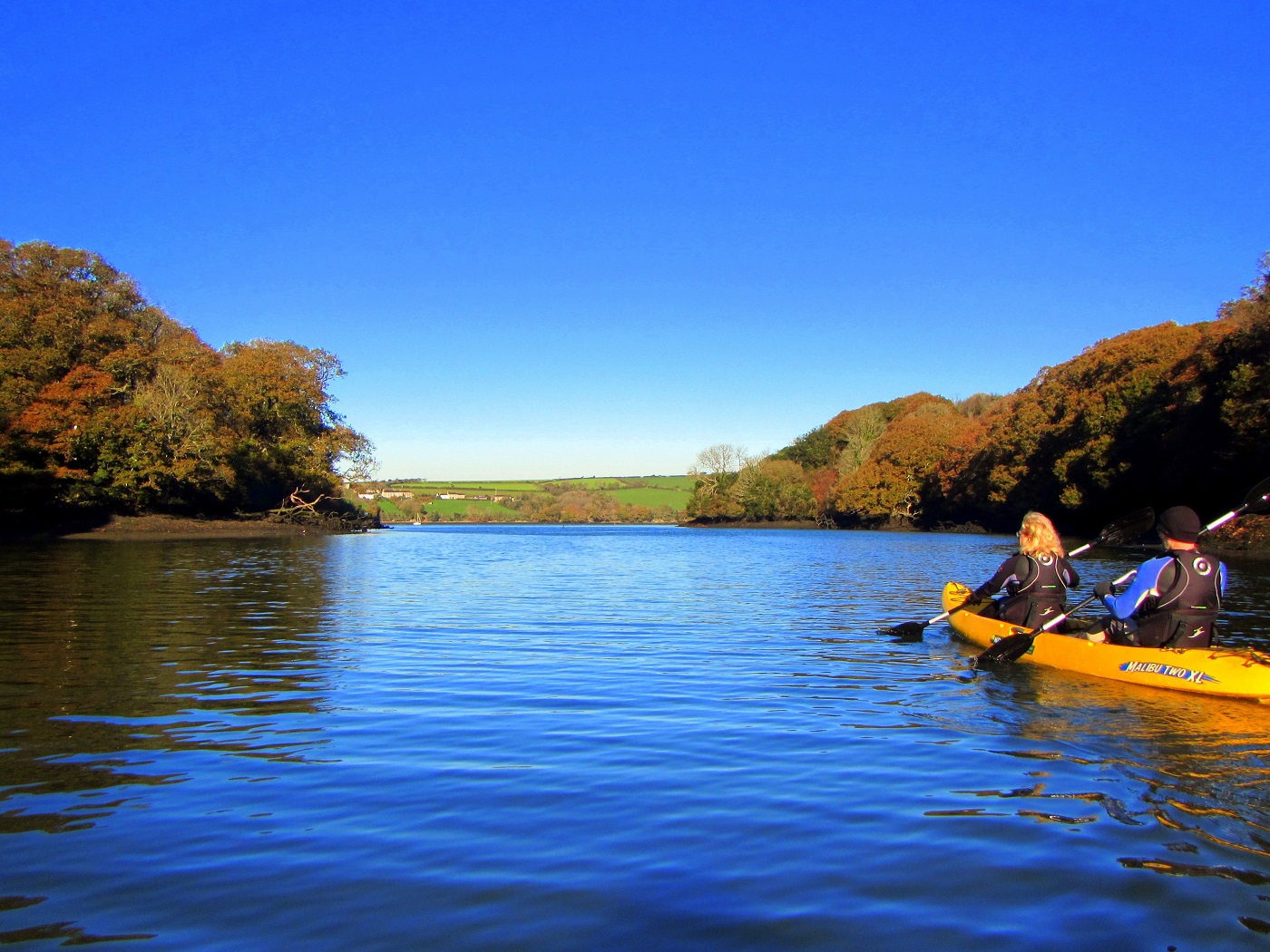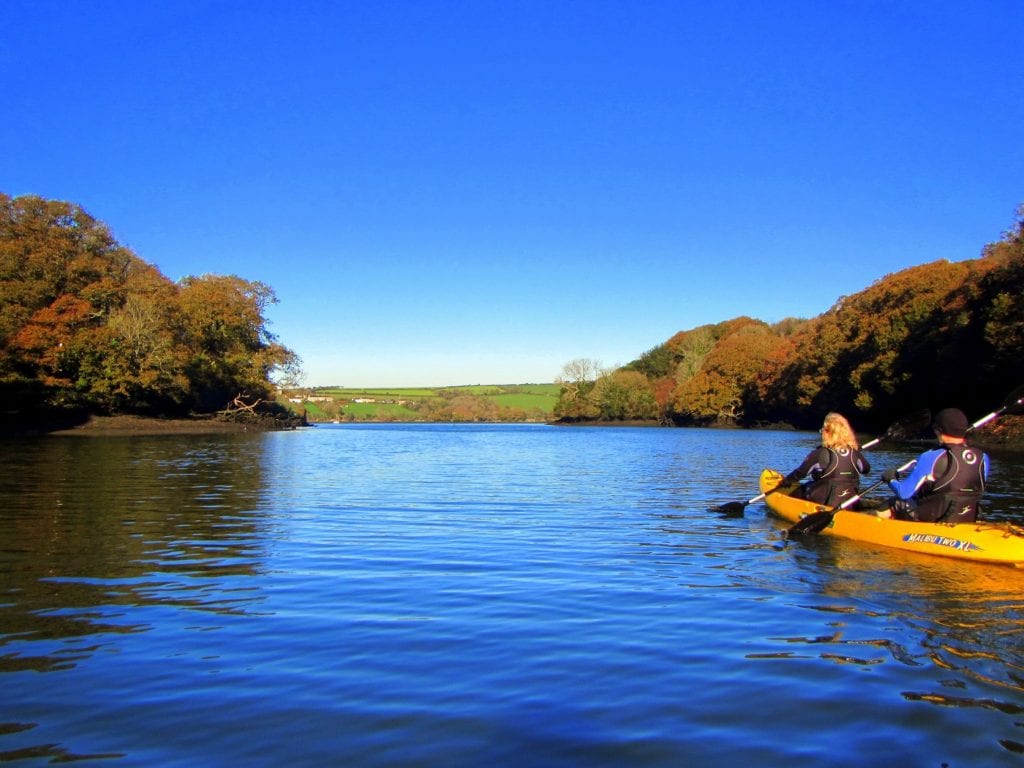 As for coves, try Bosahan. This small rocky bay lolls between Helford and Gillan Creek and is certainly worth a second (and third) glance. Even better, dedicate some quality time to unveil its unusual charm. Instead of lofty cliffs offering shelter, the shrub-layered rocks of this quiet hollow impart the sense of an enchanted woodland. As is the (brilliant!) norm among Cornish coves, Bosahan is quite the picture-perfect picnic spot. Just one word of caution: be aware that recent landslides have left the ground quite unstable and rocky in some locations.
Recommended operator: If you fancy exploring while sitting down, Koru Kayaking offers guided kayak tours, specialising in the Helford River.
Stour River, Dorset
There are a handful of different rivers called the Stour in Britain (all in England), but this River Stour winds 100km (60 miles) through the countryside of Wiltshire and Dorset. As the river journeys southwards, it encounters landscapes as varied as heathland, marshes and the chalk ridge of the Dorset Downs, eventually draining into the English Channel.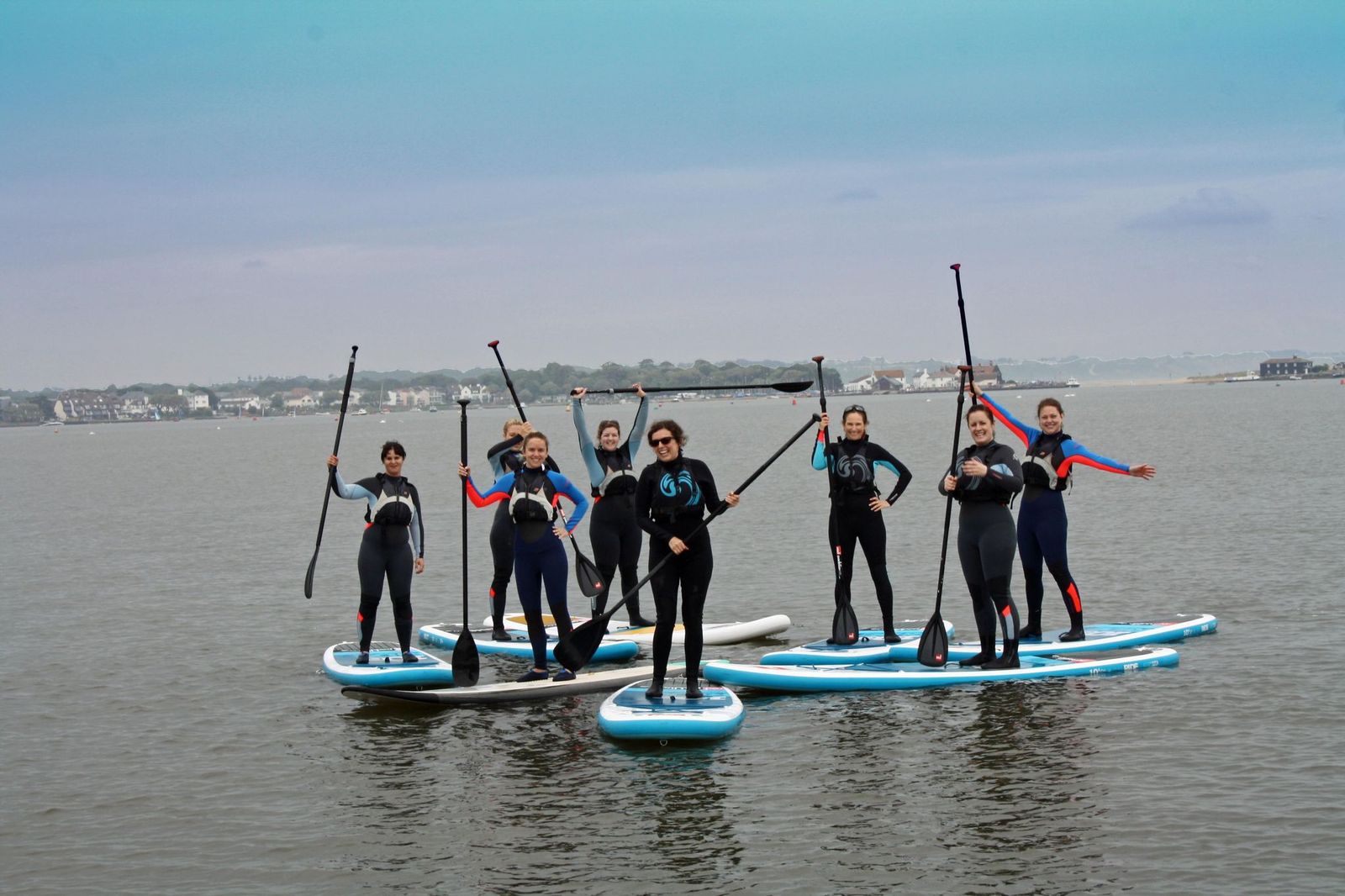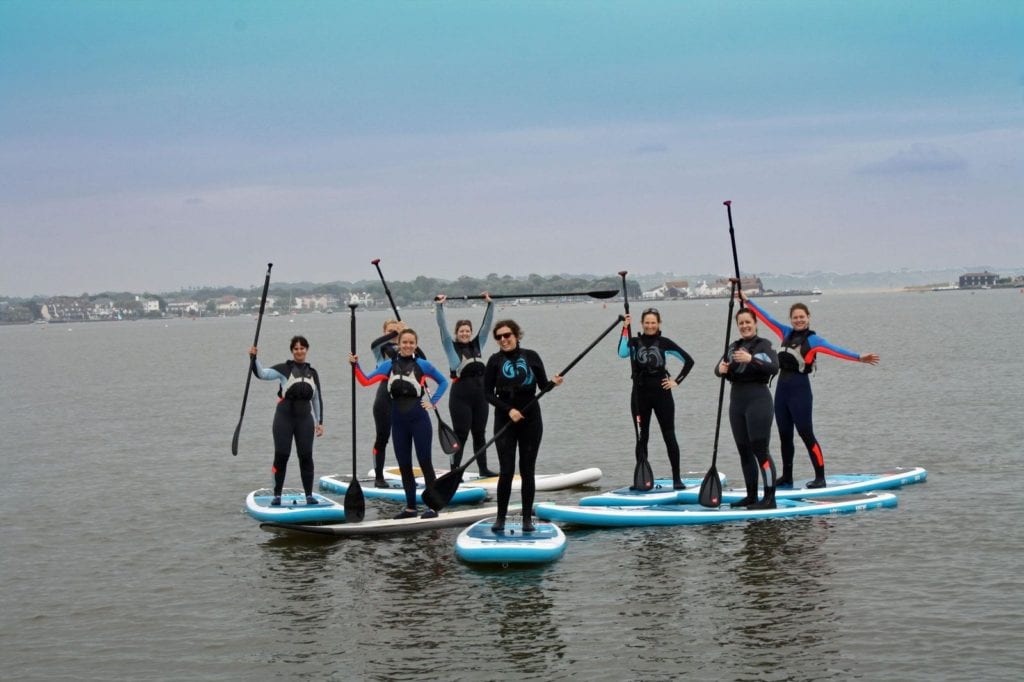 The low water levels of summer reveal diverse, botanically rich habitats along the river margin. These abound with colourful dragonflies and damselflies while different tones are provided by plants such as the appropriately vibrantly named purple loosestrife, whose impressive spikes are a magnet for butterflies, moths and bumblebees. Definitely worth keeping an eye out for.
Among birds, the usual suspects frolicking on the water include mallards, mute swans and moorhens. But also look (and listen) out for smaller species such as kingfishers (a strident cheeeek! heralds a glaucous-blue whirr of wings), sedge and reed warblers (brown birds chuntering noisily) and reed bunting (the male with a black head and white moustache) that call the Stour home. It's also worth remembering to look up, as aerial interest includes birds of prey such as kestrel.
The other big (and I mean 'big') appeal of the Stour is its otter population. Just 40 years ago otters were on the verge of extinction across England, but clean-up initiatives have enabled otters to return to this stretch of waterway. While this exciting animal is normally tricky to spot given its unsocial hours (freshwater otters tend to be most active after dusk) and shy disposition, those of the Stour dispense with such etiquette and are regularly sighted splashing about unabashedly in broad daylight.
Although sightings along this stretch are less frequent than the well-known (and comparatively extrovert) otters upstream at Blandford Forum, look for clues such as bubbles indicating an animal swimming underwater, a v-shaped furrow through the river or panicking ducks.
Recommended operator: Shoresports based in Christchurch harbour offer hire, tours and lessons for SUPs and kayaks.
Kingston-upon-Thames, London
Along its course of 345km (215 miles), the River Thames meanders through some of England's most historically, culturally and architecturally significant sites, and has been a crucial trade thoroughfare throughout British history. A book on paddling without a route along this waterway is simply unthinkable.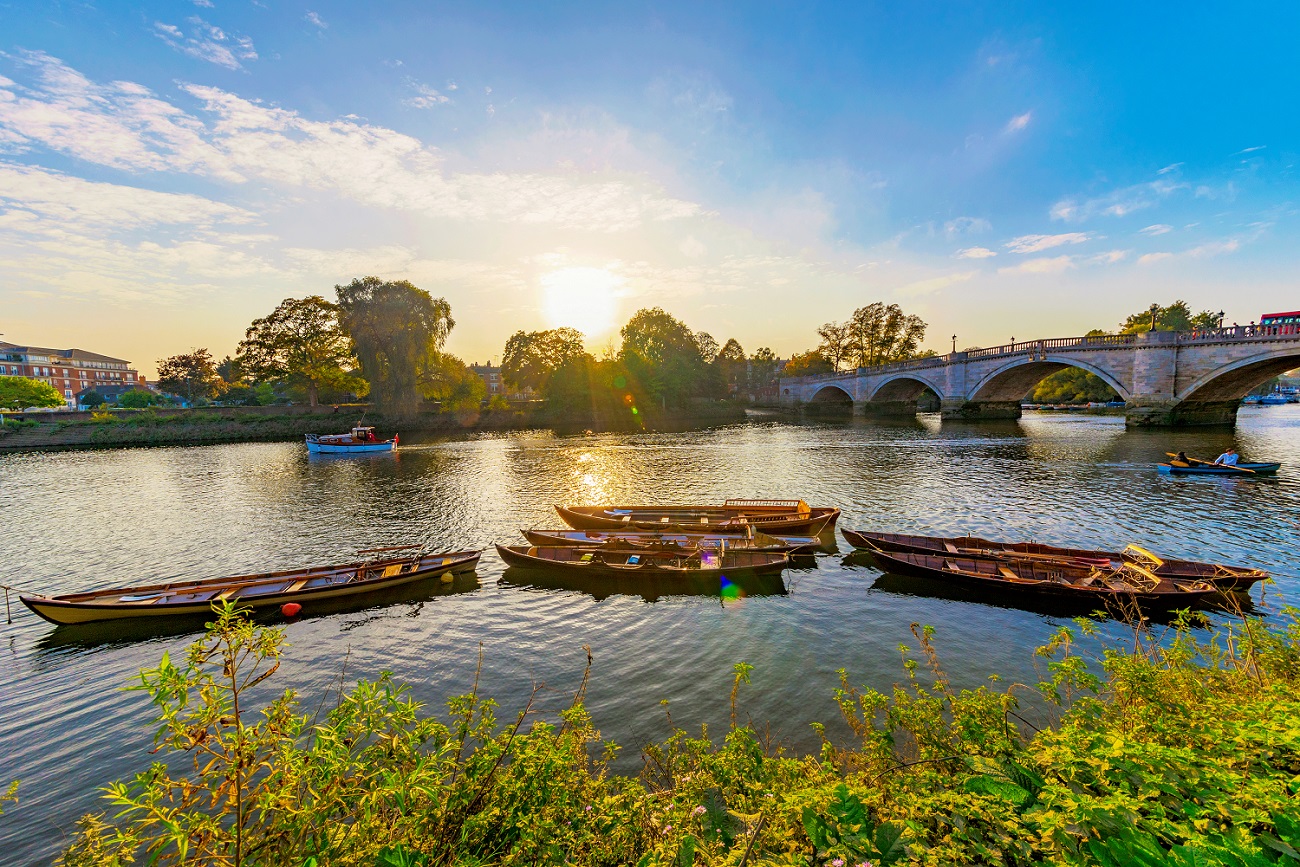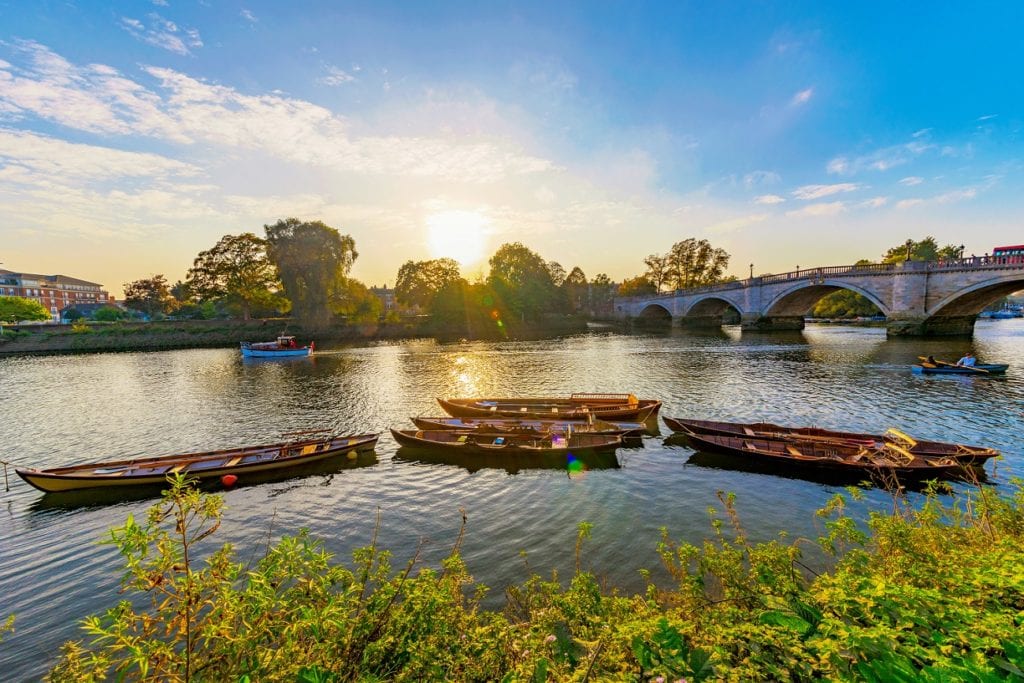 Indeed, what would London have been without the Thames? What is now a multi-cultural metropolis was first and foremost a port, developed as such by the Romans who settled on a site named Londinium–right beside the River Thames. Later the Saxons, the Normans and the Tudors all benefited Londonium's status as a centre for trading and shipbuilding.
But which section of the Thames should one paddle? I favour the stretch between Kingston and Richmond, upstream from the city. This brings a wealth of interesting, significant landmarks and scenery. Moreover, the route is far enough from the chaos of the city to enable you to feel that you have escaped, yet close enough to make it easily accessible for those coming from (or via) the capital.
Recommended operator: Richmond-based Back of Beyond runs SUP and kayaking lessons as well as wild camps via canoe, SUP and kayak.
Cuckmere River, East Sussex
It is believed that the name Cuckmere derives from an Old English word meaning 'fast flowing'. Given the River Cuckmere's steep descent of more than 100m in its initial 6km (4 miles), this is both perfectly plausible and a fitting tribute. On the assumption that you are not a fearless thrill-seeker, you'll be relieved to learn that this route – at the very end of the river's course in the heart of Sussex's Seven Sisters Country Park – is not all a white-knuckle ride. A section of nontidal waters here is just the ticket for those who prefer calmer paddles.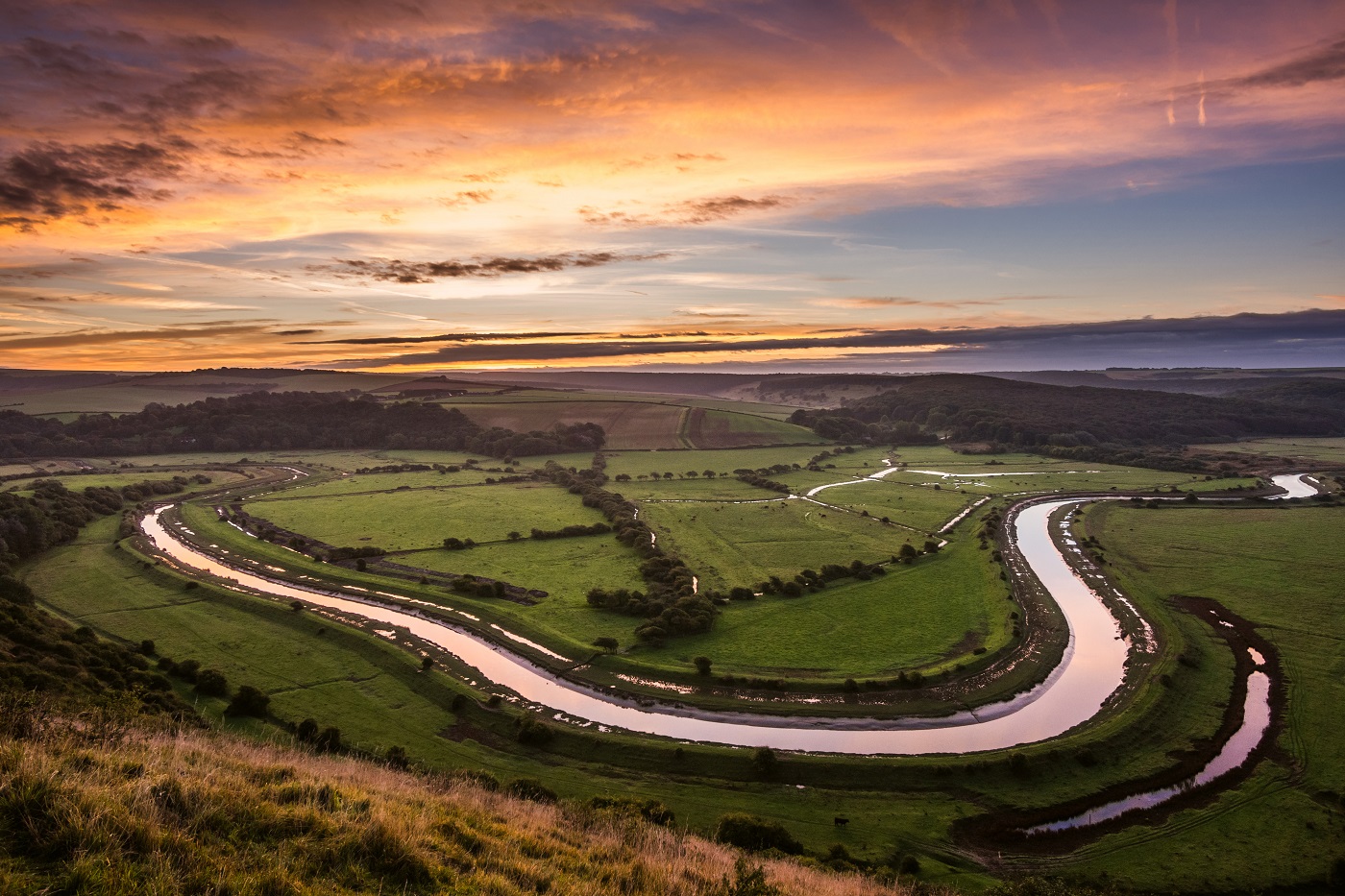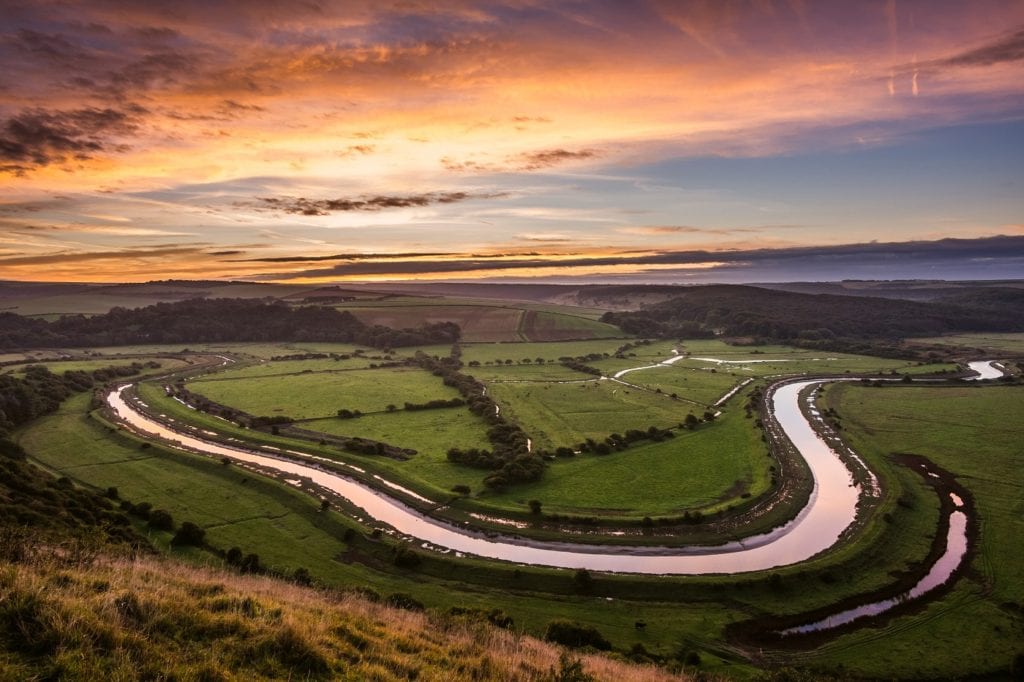 In 1847, a straight cut was added to the Cuckmere River, creating two separate channels. The new section diverted any flow from the meanders and instead sent water straight down the river. This ultimately protected the river from the force of the sea. The resulting verdant floodplain, with steep chalk downland rising to the east, is that happy by-product: the perfect spot for a gentle paddle.
Adrenaline junkies can warm up here then head for a feistier adventure on the tidal stretch of the Cuckmere – the river mouth, where fresh water greets the salty sea at Cuckmere Haven. Here you'll witness the famous Seven Sisters – an astonishing series of domineering chalk cliffs stretching towards 100m high. These culminate in Britain's highest coastal cliff made of the white stuff – Beachy Head, at 162m above sea level. (If you don't get a cricked neck looking up at Seven Sisters, paddling on to Beachy Head ought to do the trick!)
Recommended operator: Buzz Active Cuckmere is co-located with the Cuckmere Valley Canoe Club and rents boards for use on the meanders
Chelmer and Blackwater Navigation, Essex
Mention the word 'Essex' and a succession of rather brash or boring stereotypes may spring to mind. Put any such thoughts to one side, and instead let yourself be surprised by the county through a visit to the River Chelmer and its waterway subsidiary, the Chelmer and Blackwater Navigation. Even if you're already an Essex fan, this paddle will enable to you to experience an altogether different side of this county.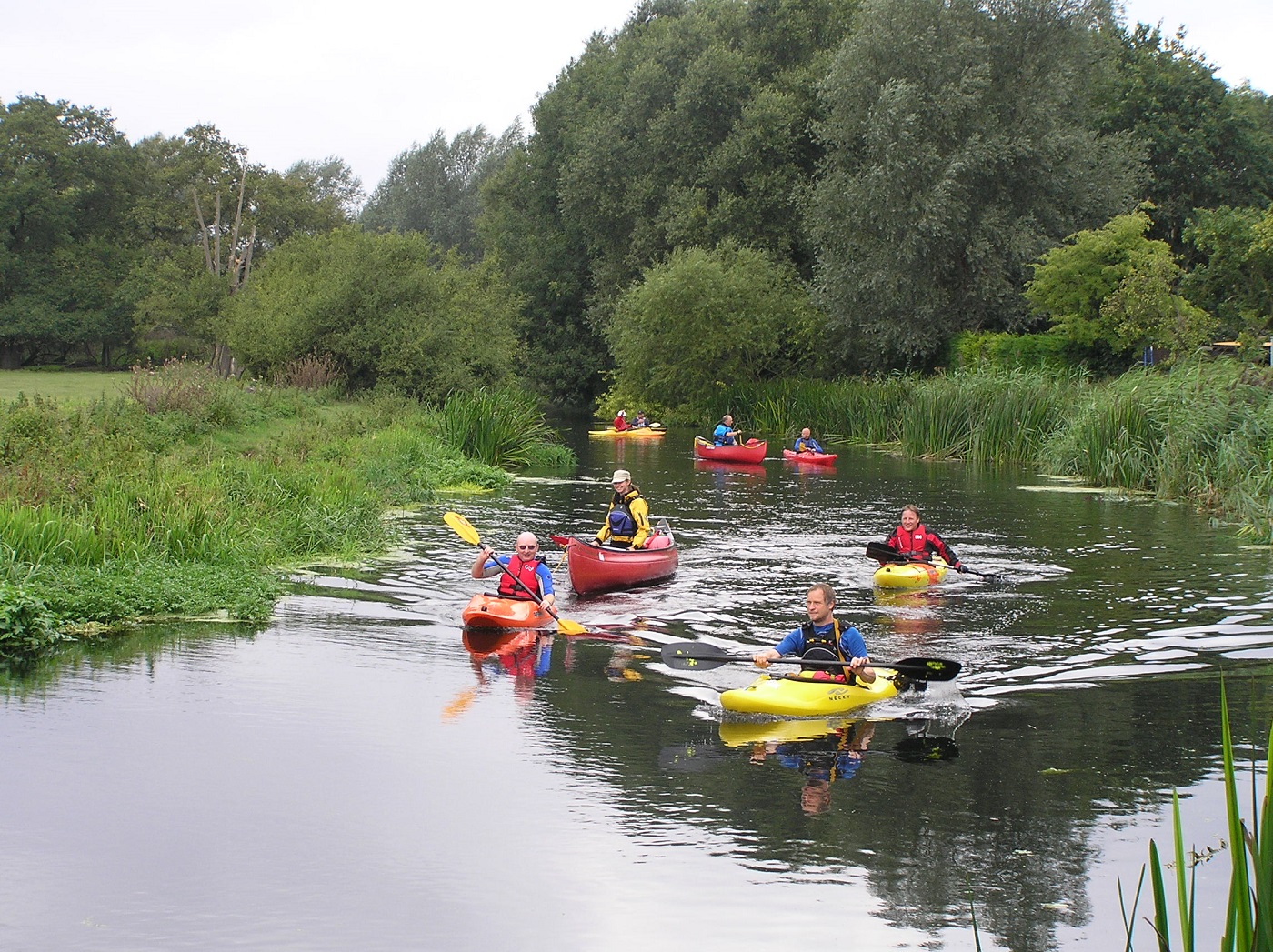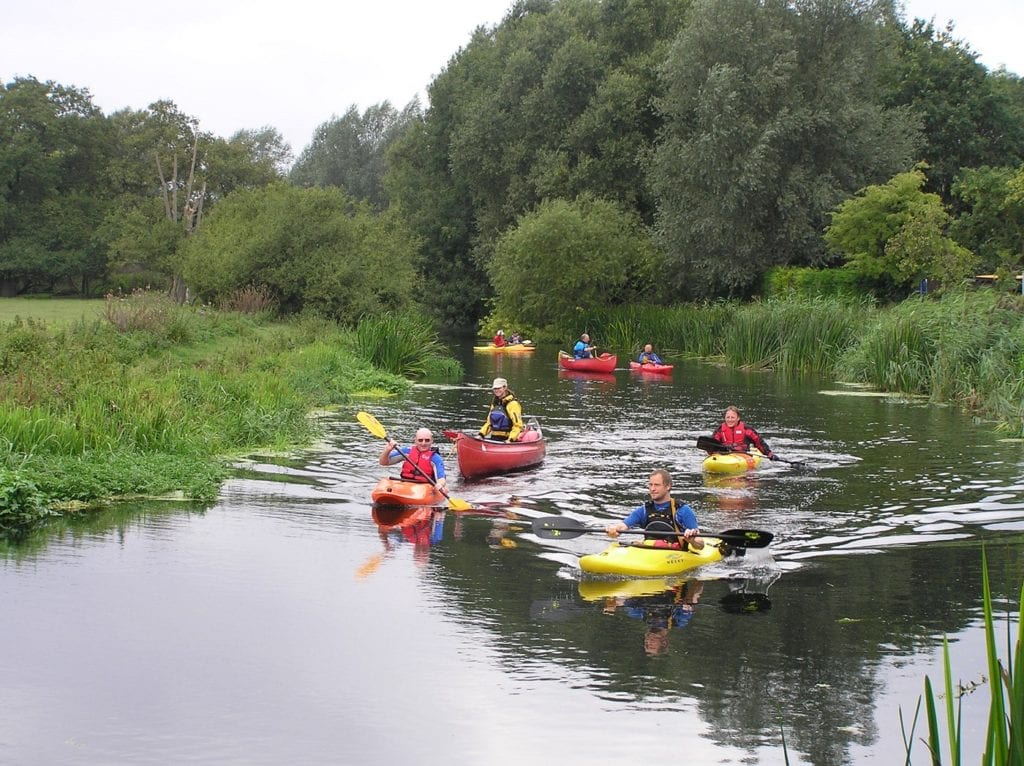 The River Chelmer belongs entirely to the county of Essex. It begins in Debden near Thaxted, flowing 65km (40 miles) from near the county's northwest border, through Chelmsford, before joining forces with the River Blackwater and flowing into the North Sea near Maldon. The Chelmer and Blackwater Navigation comprises 22km (14 miles) of canal that connects the two rivers; this route sits roughly in the middle.
Originally, the Chelmer was named the River Baddow, which may be derived from the Old English for 'bad water' or for 'birch stream'. Today, the Chelmer is a river with pristine waters and picturesque views, both reason enough for its inclusion in this book. While this waterway still divulges clues to its industrial past from beneath its low-hanging willows, the section featuring this route–between Little Baddow and Ulting, midway between Chelmsford and Maldon–harbours fine, unspoilt and quintessentially English countryside plus a notably beautiful stone church.
Recommended operator: Wet'N'Dry SUP in Chelmsford offer lessons, tours and hire equipment.
River Trent, Derbyshire/Nottinghamshire
England's third-longest river (after the Thames and Severn), the Trent dominates the heart of the country. The Trent comes with an illustrious history too. Archaeological remains tell of Saxon villages, but greater significance is evident in its role as a transport 'highway' during the 19th-century industrialisation of the Midlands.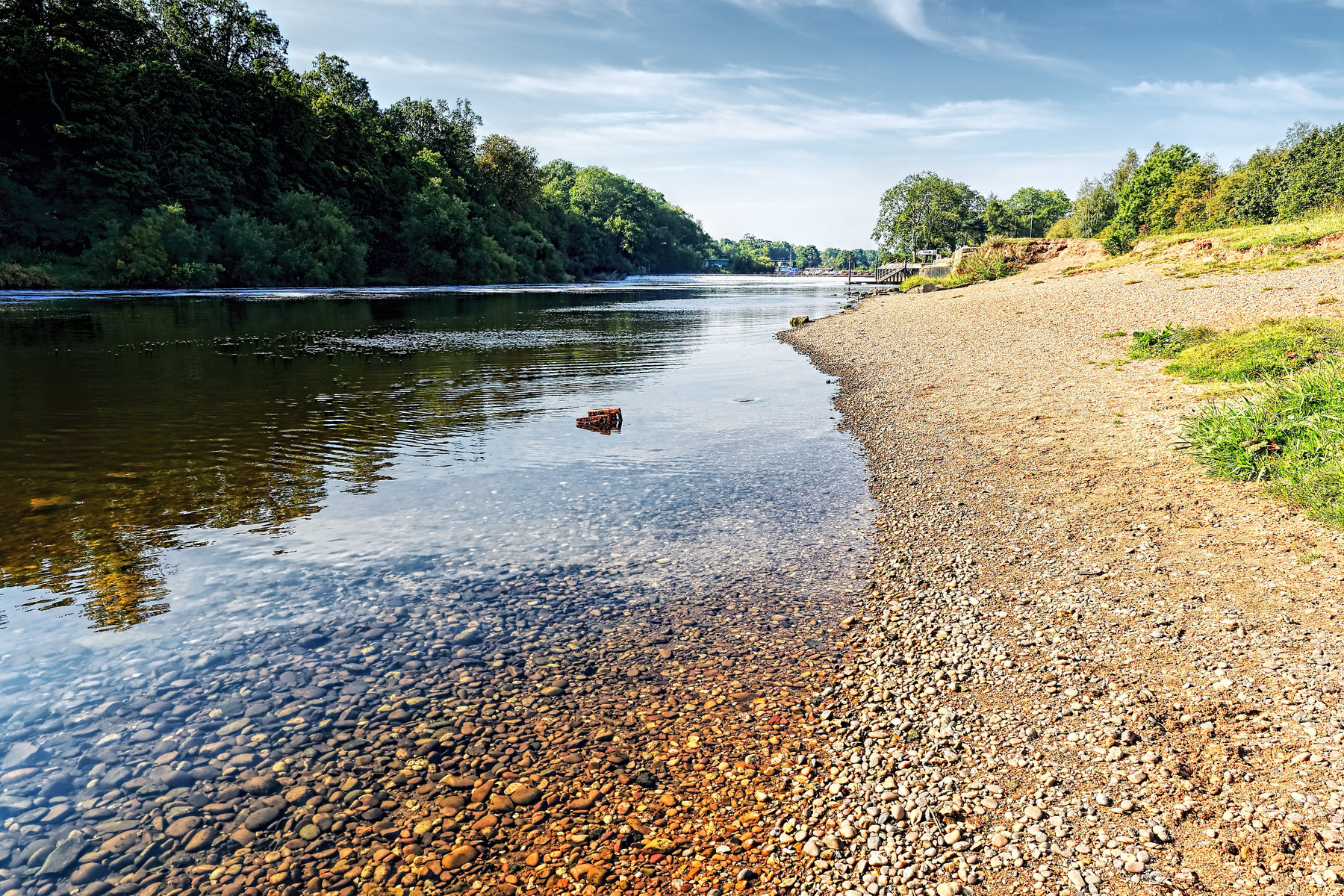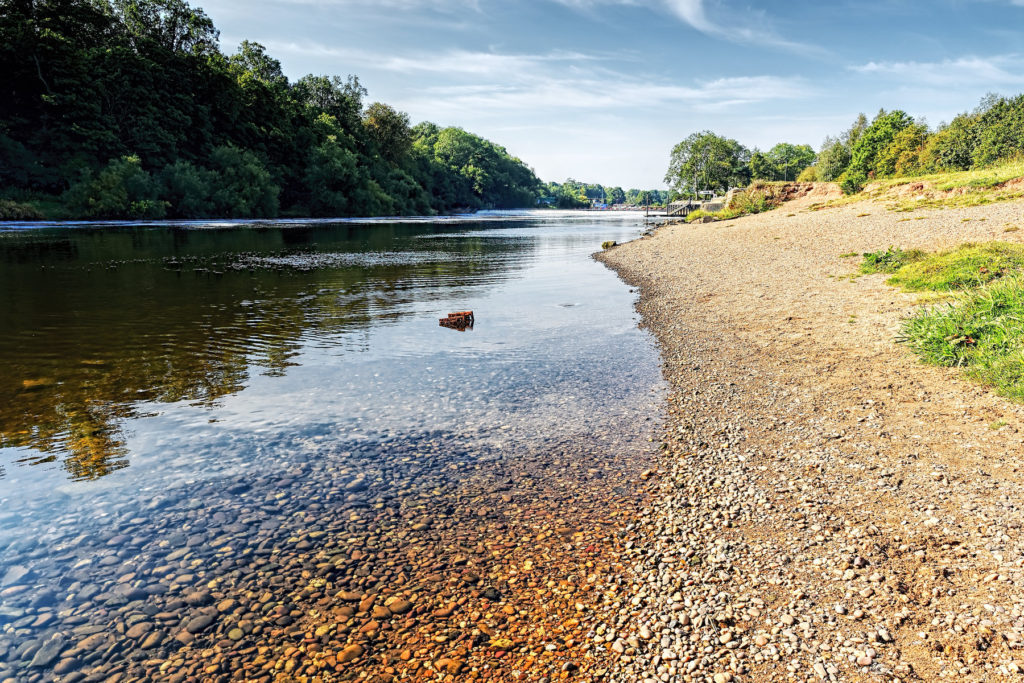 Indeed, the Trent was a major working river until after World War II. With its heyday long gone, the Trent may still meander the same course but it does so largely unnoticed and underappreciated. It's time to pay homage to a great river.
The hefty paddle from Trent Lock in Nottingham to Newark is a nod to the Trent's historic, natural and cultural relevance. It's a route of two halves. Upstream of Hazleford Lock is mostly scenic countryside with an abundance of wildlife. Downstream towards Newark, the paddle chimes a more historical tone as you pass through Newark locks to reach Newark Castle. Built in the 12th century, this fort came into its own during the English Civil War when it assumed strategic importance, controlling a principal route between northern and southern England.
Recommended operator: You should be able to hire equipment from the National Water Sports Centre in Holme Pierrepoint.
More information
To discover more of the best paddleboarding routes in Britain, check our Lizzie's guide: