The Alentejo – known as the breadbasket of Portugal – is one of Europe's undiscovered culinary destinations. Check out our guide to some of the best flavours this region has to offer.
Alentejan pork
Many of Alentejo's signature dishes feature the pork that comes from the uniquely Antelejan black pigs that forage semi-wild in the woodlands and pastures of the region.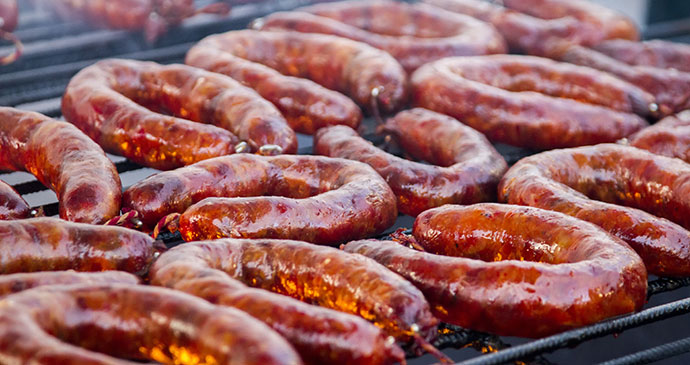 The presunto (cured ham) is particularly fine, and don't miss sampling the unique flavour of the chouriço sausages, which comes from the herbaceous fodder and nutty acorns upon which the black pigs graze.
Queijo de Serpa
Serpa is famous throughout Portugal for its full-flavoured hard sheep's milk cheeses, which taste a little like Spain's famous Manchego, matured over around four months and protected under European Union law as PDO (protected designation of origin) – like Stilton, Champagne and Cognac. Serpa cheeses can be bought everywhere from local grocers to cafés, including at Janeirinho e Filho grocers. The best are officially accredited by the Associação de Criadores de Ovinos do Sul (ACOS). Look for the indication on the label.
Olive oil
With its fertile soils, Alentejo has been used for growing olives since Roman times, and thus swathes of olive groves are a common site as you travel through the region. Thus, Portugal produces some of the finest olive oil in the world, and it comes in an astonishing variety. Here you can buy olive oil straight from the manufacturer, and most adegas sell their own oils. The younger the fruit, the spicier the taste.
Seafood
Alentejo's long stretches of coastline means there is plenty on offer for seafood lovers who holiday here.
Some of the specialities of the region include ameijoas à bulhão pato (clams in white wine and fresh herbs), arroz de lingueirão (a kind of risotto stew made with razor clams), choco (cuttlefish), delicately flavoured dourada (gilthead bream), and white fish like pescada (hake) and robalo (bass).
Desserts
Many Alentejan convents and monsateries are famous for their homemade desserts, so don't miss the chance to sample these specialities as you're passing through the small towns and villages in the region.
Some of our favourites include encharcada (sweet chestnut mousses made from sieved egg yolks swirled into a skillet of boiling sugar syrup), elvas da sericaia (baked on a traditional tin plate and served with ripe plums), or pão de rala, a cake made with almonds and pumpkin, first made by the nuns of St Helena do Monte Calvário.
Check out our guide for more on food and drink in Alentejo in our comprehensive guide.