Between North Tyneside and Berwick-upon-Tweed lies one of the finest stretches of coastlines anywhere in England. For much of its 70-mile length, Northumberland's seaboard is a desolate sweep of sea, soft sands, dunes, offshore islands and rocky promontories, interrupted only by medieval castles and the odd old fishing village and town.
Though popular with families, hikers, birdwatchers and watersports enthusiasts, the coast is wonderfully unspoilt and crowd free, so much so that fellow walkers and cyclists often greet each other on passing. Here are just a few of Northumberland's finest beaches.
Cresswell Beach
Cresswell's soft sands are easily accessible from the coast road and the first family-friendly beach you come to as you cross into Northumberland. Picture a pristine bay, high dunes and a great ice-cream shop, Cresswell Ices, that also sells buckets and spades. The beach is reached via some steps to the rear of the shop, but to find your very own stretch of sand, head north out of the village for half a mile or so where a few paths snake through the dunes and on to the beach.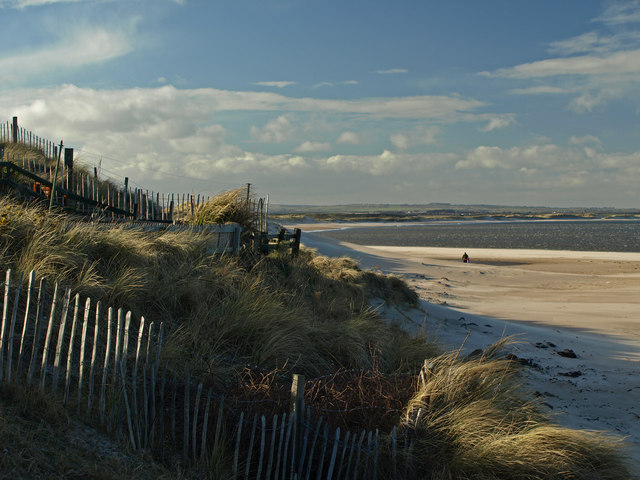 Also here is a nature reserve – a brackish lagoon fringed by reeds and a known stopping-off point for migrant birds (look out for pink-footed geese and snow buntings in autumn/winter). Cresswell village itself is not remarkable though it does shelter the ruins of a 14th-century pele tower (facing the ice-cream shop across the large green).
Druridge Bay
One of Northumberland's most deserted beaches is a sweeping expanse of sand backed by high dunes that extends for six wind-whipped miles from Cresswell to just south of Amble. More popular with walkers than families with buckets and spades (who tend to gravitate to Cresswell), you'll easily find a spot to yourself.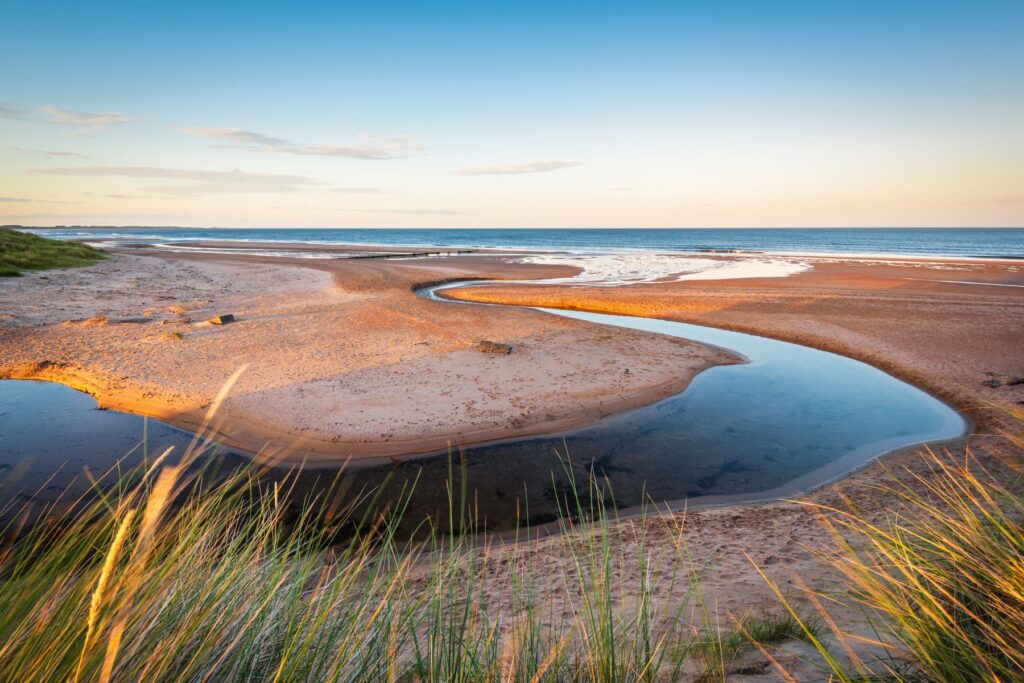 Behind the dunes is a broken chain of (sheltered) lagoons fringed by reedbeds and farmland that attract large numbers of wildfowl in winter. They are linked by the coast path, which takes a varied route along the beach, tracks and grassy dunes. The wetland nature reserves, which were reclaimed from old coal mines, attract rare migrants, as well as overwintering species, notably pink-footed geese, bitterns, short-eared owls and whooper swans.
Within the Druridge Bay Country Park (access from Red Row) is Ladyburn Lake, where there's a visitor centre, café and large picnic area. If you have your own canoe, windsurfing board or sailing boat, purchase a permit from the visitor centre to use the lake (Apr–Oct); otherwise you can hire kayaks or stand-up paddle boards from the Coquet Shorebase Trust the day before you want to go out.
Alnmouth Bay
From the town of Warkworth, a glorious long stretch of pale sand backed by thick dunes shoots north to Alnmouth. To reach the beach, take the paved track heading east from the north side of Warkworth's medieval bridge. After half a mile you come to a parking area with toilets. From here it's a short downhill stroll to the beach. When you meet the dunes, a fingerpost directs you to Alnmouth (4½ miles) along the coast path.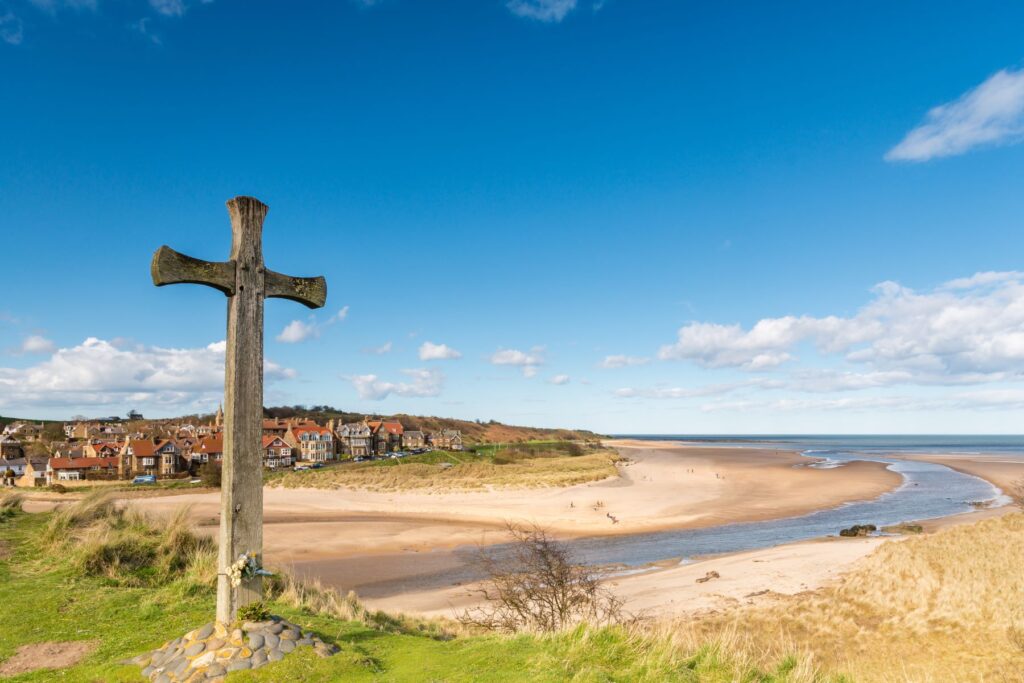 If there were a footbridge crossing the estuary at Alnmouth, this would be one of the most popular beach walks in Northumberland. Unfortunately you get within a hop, skip and a jump (almost) of Alnmouth and have to turn back unless, that is, you're prepared to remove your socks and shoes, roll up your trousers and wade through the fast-flowing water that crosses the bay – but be wary of quicksand. Alternatively, pick up the coast path that heads inland and follows the road into the village.
Sugar Sands
Whin Sill outcrops and limestone between the villages of Boulmer and Craster come together to create a very striking and unusual shoreline, particularly near Craster where horizontal sheets of rock heave in great shelves on to the beach. Hidden along this coastline are three sandy bays perfect for families.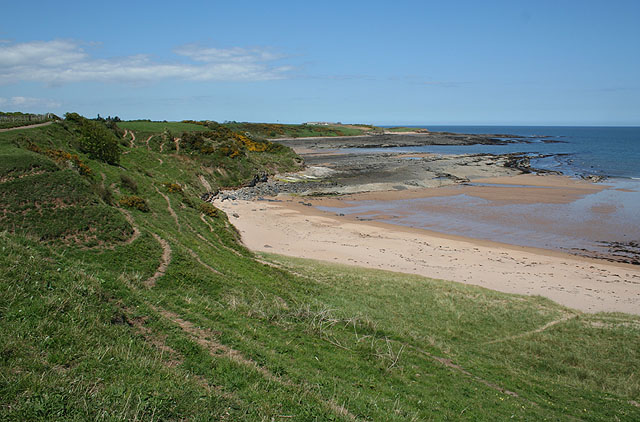 The middle beach is Sugar Sands – one of Northumberland's finest secluded coves. The bays are reached in quick succession from the coast path (a rough track for most of the way from Boulmer to Howick and suitable for cyclists).
Rumbling Kern
Such an evocative name for a beach (just north of Sugar Sands), piled with rocks and with plenty of holes and channels for the sea to roar through. At low tide this is a great bay for rock pooling and beachcombing. Its secluded location also makes it very private and you may well find you have this little sandy cove all to yourself. At the north end, there's a tempting swimming hole cut into the rock.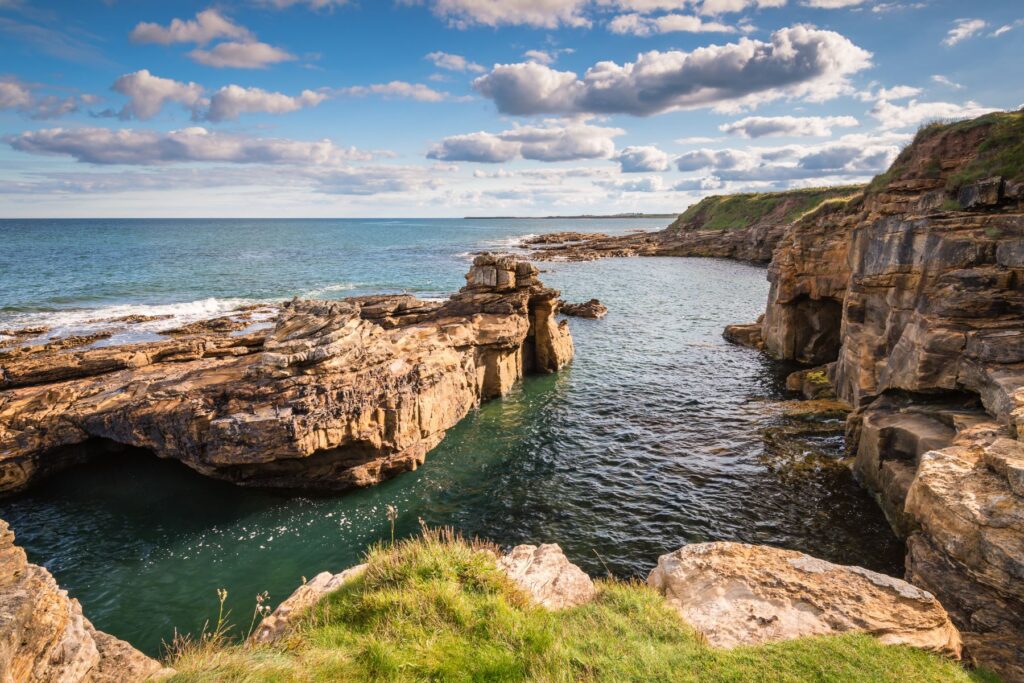 The Victorian house on the headland (now a holiday cottage) is the Bathing House, built by the 2nd Earl Grey of nearby Howick Hall for his 15 children to stay in while enjoying a dip in the sea below.
Embleton Bay & Newton Haven
Between Newton-by-the-Sea and Dunstanburgh Castle is a glorious stretch of buttery-coloured sand (technically two bays) and one of the most popular family beaches in Northumberland. That said, even on hot days in summer, kite-boarders can still find an empty run of sand, and children can be lord of their own dune.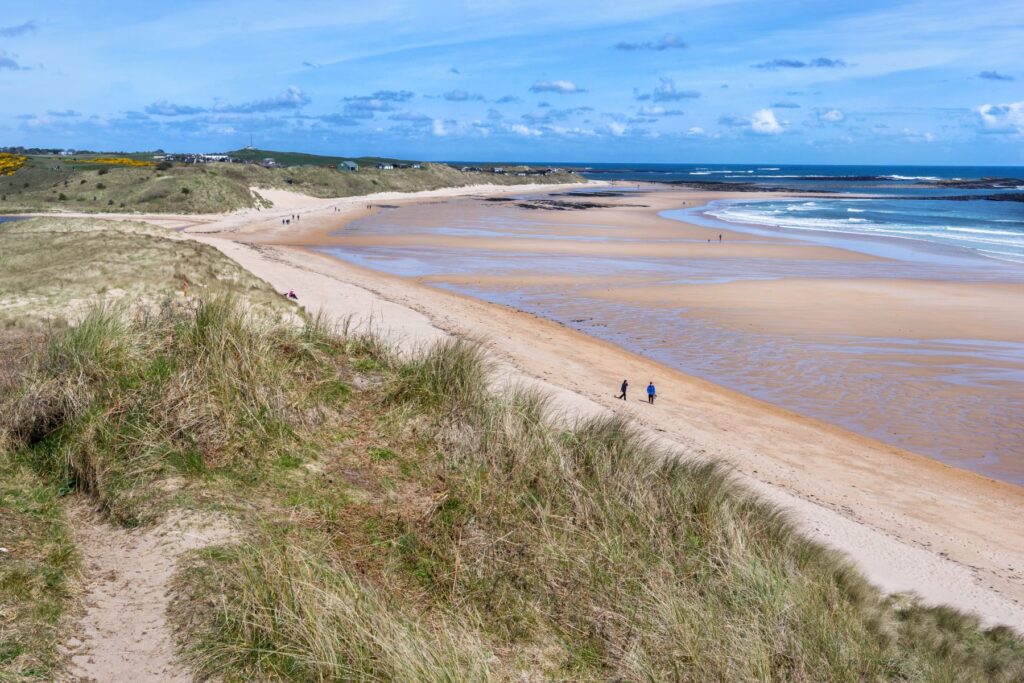 The most accessible rock pools are at the northern end by Newton but the Emblestones (halfway along) are also full of anemones, starfish, hermit crabs and so on. Look (and listen) out for grey seals hauled up on the furthermost rocks. Surfing and paddle-boarding lessons can be arranged throughout the year along Northumberland's popular beaches, including at Embleton, through Northside Surf.
If it gets too crowded at Newton, wander north on the coast path (accessed via a kissing gate opposite the post box on the main road into Newton) over the headland to Football Hole – a small, secluded bay – and hunker down in the dunes.
Beadnell Bay
A pristine sandy beach padded with dunes and lapped by blue water is not easily found anywhere in England, but to come across one as crowd-free as Beadnell is rare indeed. Families, walkers and birdwatchers will love it here. Watersports enthusiasts (from beginners up) can book kitesurfing and paddleboarding lessons from KA Kitesurfing Adventure Sports based in Beadnell's car park.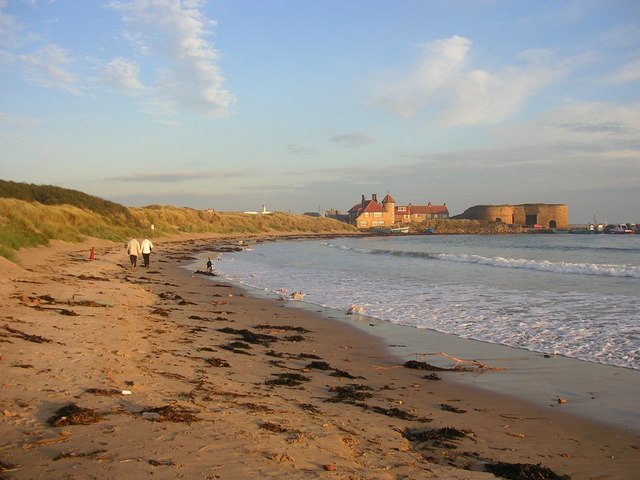 Halfway along is Long Nanny – an inlet by a hut that is well known for its breeding Arctic terns, little terns and ringed plovers that nest in the dune grasses. This is the largest breeding colony of Arctic terns on mainland Britain. The hut is manned by National Trust wardens around the clock until late July and it is the best place to watch the birds at close range without disturbing them.
Ross Back Sands
The beach at Ross is a gloriously deserted sandy spit that extends for three breezy miles from Budle Bay almost to Lindisfarne. Access is via a mile-long footpath through Ross Farm and across the dunes, which puts off the few travellers who venture to this remote place. A word of caution: make a mental picture of where the footpath enters the beach as it is difficult to find on your return.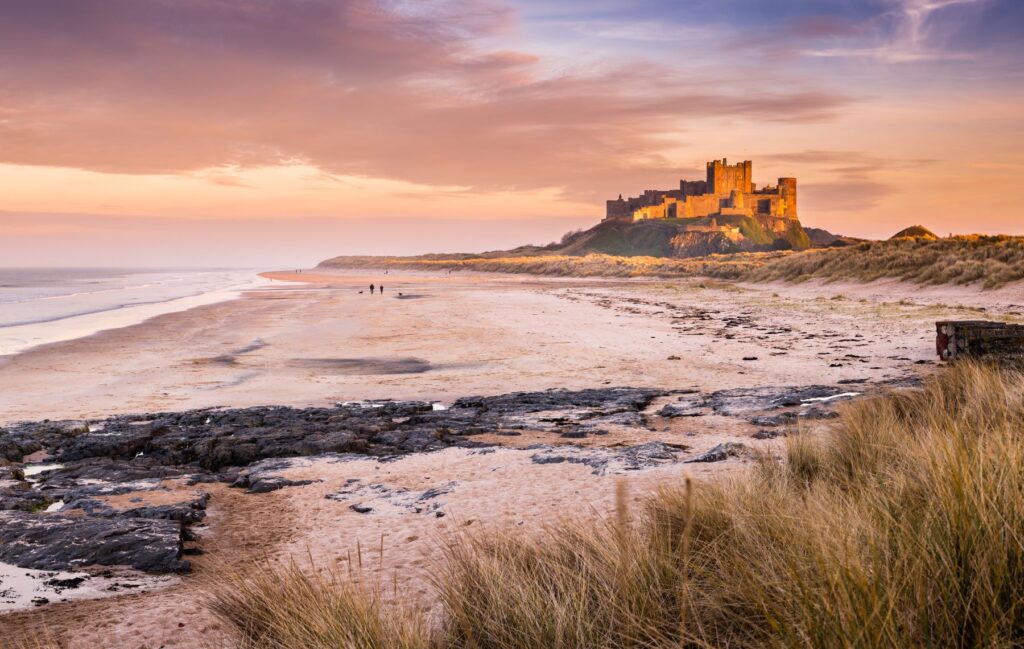 Your reward, however, is an unbeatable panorama: all sky, sea and white sands with Lindisfarne Castle at one end and Bamburgh Castle and the Farne Islands at the other. A pair of binoculars will come in handy, both to check out the seals lazing on sand humps in Lindisfarne's bay (best viewed from Guile Point) and to scan the sea for divers, grebes and scoters in winter, and terns in summer.
At the northern end of the spit on Guile Point (out of bounds from May to July because of nesting birds) you'll see two triangular navigation towers. They help keep mariners on the right course through the dangerous waters that have claimed many boats, including the remains of two shipwrecks you see by walking the length of the beach. Keep in mind that from the main access point on to the sands (roughly the midway point of the spit) the towers look deceptively close but they take over an hour to reach.
Cheswick Sands & Cocklawburn Beach
Located far from any settlement of note means that those who do make it to this runway-straight stretch of desolate coastline between Lindisfarne and the distant outskirts of Berwick find it blissfully free of people. At low tide, the vast expanse of Goswick Sands north of Lindisfarne reveals itself. Take care here: the incoming tide progresses quickly across the beach.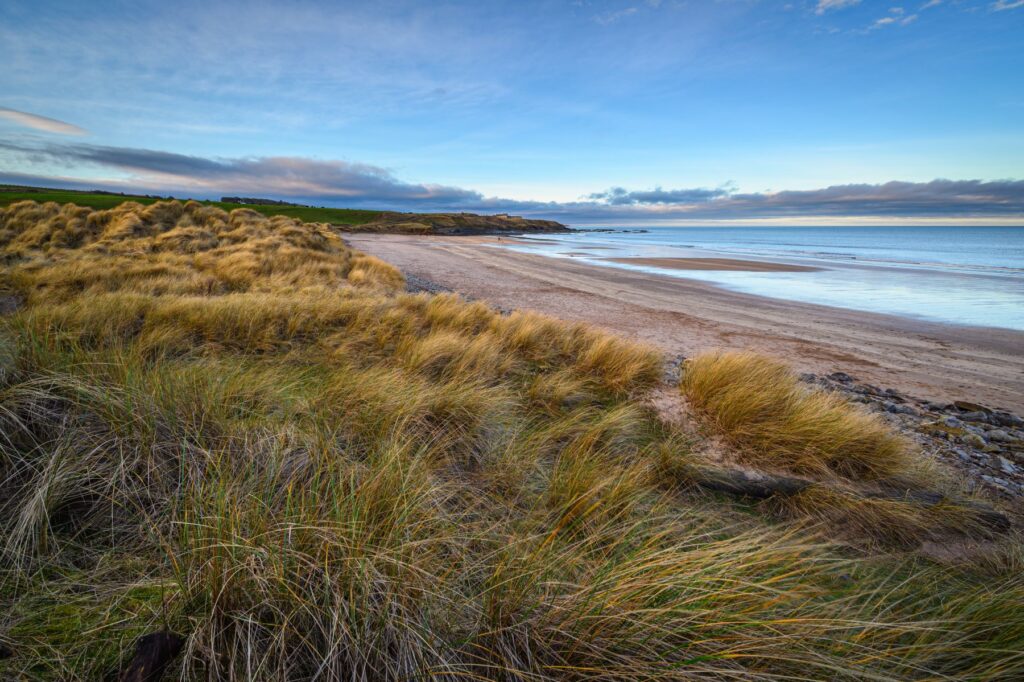 At its northern end, Cheswick Sands merges with Cocklawburn Beach, a picturesque family-friendly cove, beyond some impressive limestone rocks (crumbling lime kilns are evidence of past industry on this stretch of the coast).The coastal cycleway (NCN route 1) running along the inland edge of the dunes makes getting here by bicycle straightforward; drivers can park at several rough pull-in areas reached from Cheswick (signed off the A1).
---