The Blue Ball Inn
57 Broadway, Grantchester
The oldest pub in Grantchester village, The Blue Ball Inn has two light and airy rooms with modern bathrooms, a sitting area and views across the meadows or gardens. You can walk beside the river into Cambridge from here.
Cambridge University Rooms
Various Cambridge colleges
Several Cambridge University colleges open their rooms up for guests during vacation times (Easter, summer and Christmas). An excellent budget option that gives you a sneak peek of university life, they range from self-catering accommodation at Lucy Cavendish College to B&B rooms at Downing College and Queens College, which sit beside the River Cam.
Crafts Hill Barn
31 Oakington Rd, Dry Drayton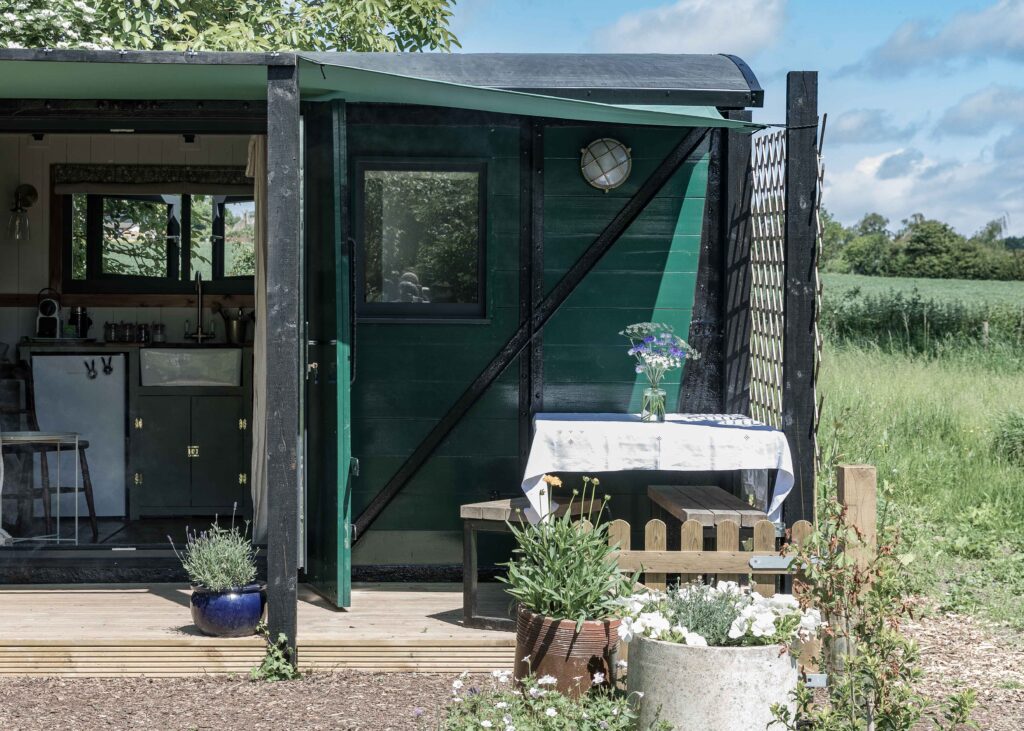 Set in five acres of land with a swimming pond, this series of outbuildings has been converted into beautifully styled, self-contained guest suites for two – the Cowshed, Pigsty, Dragonfly Cabin and Wildflower Wagon. All have exposed timbers or original brickwork and include kitchenettes and comfy seats to snuggle up in. Continental breakfast includes homemade granola, with Aga-cooked porridge or full English breakfasts on weekends. Deli platters, firepit packs and pizza kits can be delivered to your door. Near to Madingley village and Cambridge American Cemetery.
Eagle Mill
Houghton Hill
This extended 18th-century millworker's cottage is surrounded by fruit trees and paddocks and is within walking distance of Houghton Mill. There are five unique luxury rooms, plus two individual suites in the orchard, one with a hot tub. Breakfasts include local meats, fenland veg and, when available, their own apple juice.
The Elm
Moat Ln, Abbots Ripton
Owned by the local Fellowes family, this thatched and Grade II listed pub has four simply styled rooms with modern bathrooms. Some of the furnishings are made using timber from the Fellowes' estate.
The Lodge at Hemingford Grey House
Hemingford Grey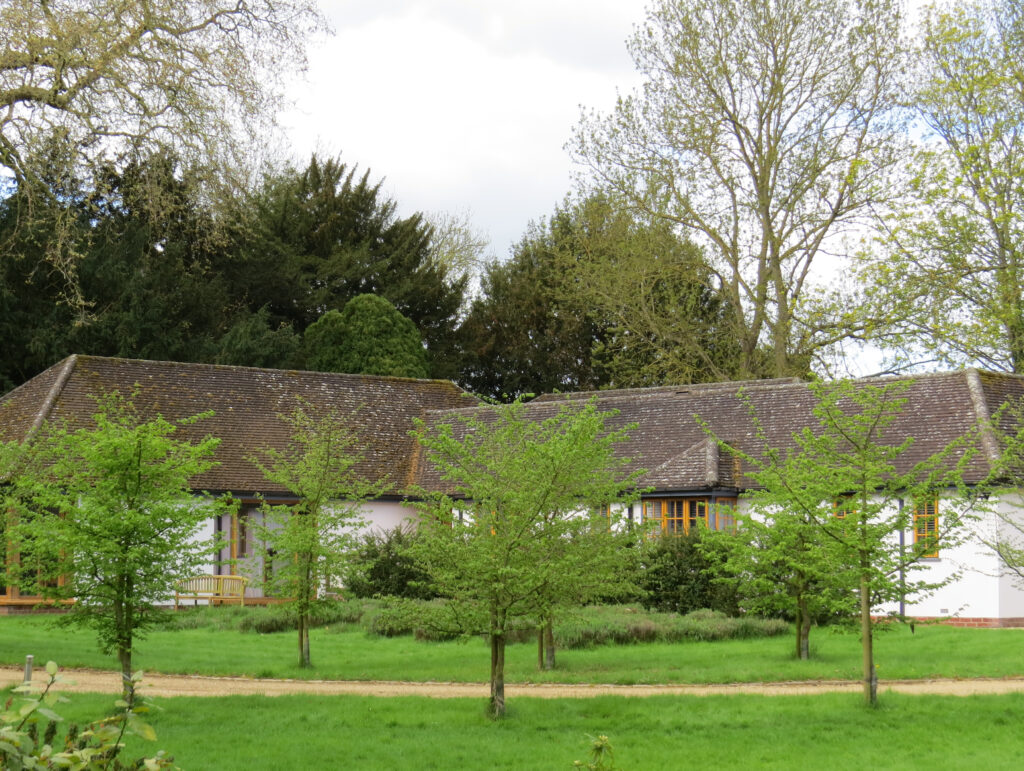 This B&B has a stunning setting in the grounds of Hemingford Grey House, near to the pub and river. Six unique rooms range from 'cosy' to 'generous', and guests have access to a large dining/sitting room, plus a courtyard in the beautiful gardens. Breakfasts use local produce where possible.
The Bluebell
10 Woodgate, Helpston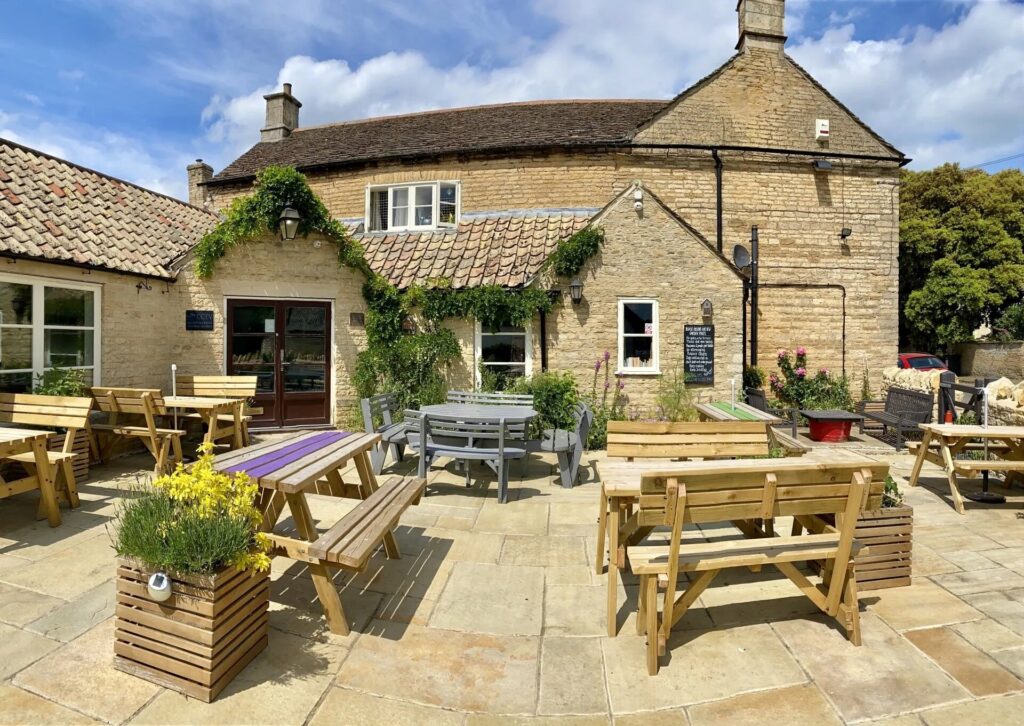 In the heart of Helpston, next to the John Clare Museum. The Bluebell's accommodation is a separate building to the pub, with a choice of four modern, country-style rooms that include books, games and more. Each room has a different theme – the Blacksmith's has a huge John Clare quote on the wall, and the Brewer's is decorated with old wooden kegs and stoneware flagons. Lovely countryside walks and cycle rides from the doorstep.
The Crown Inn
Elton
This thatched, rural village pub has eight five-star rooms, each decorated in stylish wallpapers and fabrics, and themed after local areas – the Elton has lovely views, and Burghley and Wadenhoe have French doors to private gardens. Footpaths lead from the pub into the countryside.
The White Hart
Main St, Ufford
Set in a picturesque village, this country pub is within walking distance of Southey Wood and is well placed for visiting Burghley House and Peterborough Cathedral. The 12 individually decorated rooms include a choice of small doubles, classic doubles and twins, some of which are located in the old brewery building and the cart hovel, opposite the main building. The pub has a reputation for good food, and guests have use of a gym in Stamford (five miles away).
The Cross Keys
12–15 Market Hill, Chatteris
This much-loved pub is full of history. It has 15 guest rooms, which range from twins and family rooms to four-poster doubles and bridal suites. The rooms have as much character as the pub, with distinctive furniture, traditional wallpaper, and exposed beams and brickwork. Ask the landlord to share some stories of the historic guests who have stayed here over the centuries.
Dog in a Doublet
North Side
This very quirky bar/restaurant and farm has ten guest rooms, some with vaulted ceilings and views across the Fens. The restaurant serves big portions of fenland food, with much produce sourced from their own farm. Some rooms are in need of TLC but prices are lower than average.
The Blue Cow
29 Chequer St, Fenstanton
A self-contained converted stables with a double bedroom, lounge, shower room and breakfast room with kitchenette, giving you complete privacy during your stay. Guests are provided with locally sourced breakfast items (full English, smoked salmon, pancakes or Continental) to prepare at your leisure in the simple kitchen, with washing up taken care of by the hosts.
Old School House Rooms
9 Greenside, Waterbeach
Overlooking the village green, this former schoolhouse has six en-suite rooms. There's also the option of a two-bed self-catering lodge/bungalow with private garden. From here, you can walk or cycle along the river into Cambridge (roughly four miles). Waterbeach train station is a short walk away, and there are pubs, a café, shops and a bus stop on the doorstep.
Peacocks Fine B&B
65 Waterside, Ely
Tucked away in a quiet spot by the river, a short walk from Ely Cathedral and marketplace, this traditional tea room has two upstairs suites with king-size beds, antique furniture and private living rooms. Expect a centuries-old building with cottage style décor and home comforts, like old maps, books and pretty wallpaper.
Swan on the River
1 Sandhill, Littleport
On the outskirts of Littleport, this riverside pub has five modern country-style rooms in a separate building, all with private decking areas that overlook the barges, rowers and swans on the Great Ouse. Breakfasts use local ingredients, including Newmarket sausages and free-range eggs.
Thornhouse B&B
Church St, Fen Drayton
Set in tranquil Fen Drayton village, this B&B offers two self-contained dwellings with private entrances – both sleep up to four (with sofa bed) and one includes a kitchenette. Breakfast is brought to the door and the village pub is down the road. Walking distance t RSPB Fen Drayton Lakes.
The Three Pickerels
19 Bridge Rd, Mepal
This unique fenland pub has a lovely setting by the river, on the edge of Mepal village. The four guest rooms range from a twin to spacious doubles, all with solid oak furniture and views of the countryside and New Bedford River. Countryside walks on the doorstep.
The Black Bull Inn
27 High St, Balsham
This thatched gastropub has five ground-floor bedrooms in the annexe, all with oak floors and handmade furniture. A good location for walkers, with Fleam Dyke, the Harcamlow Way and Icknield Way nearby.
The British Queen
94 High Street, Meldreth
This popular village pub has four contemporary bedrooms (including one family room) with countryside touches like cow artwork and rabbit-print cushions. The pub has a large riverside garden and is within walking distance from Meldreth train station, which has trains to Cambridge and London.
Hall Farm B&B
Chishill Hall, 110 Hall Ln, Great Chishill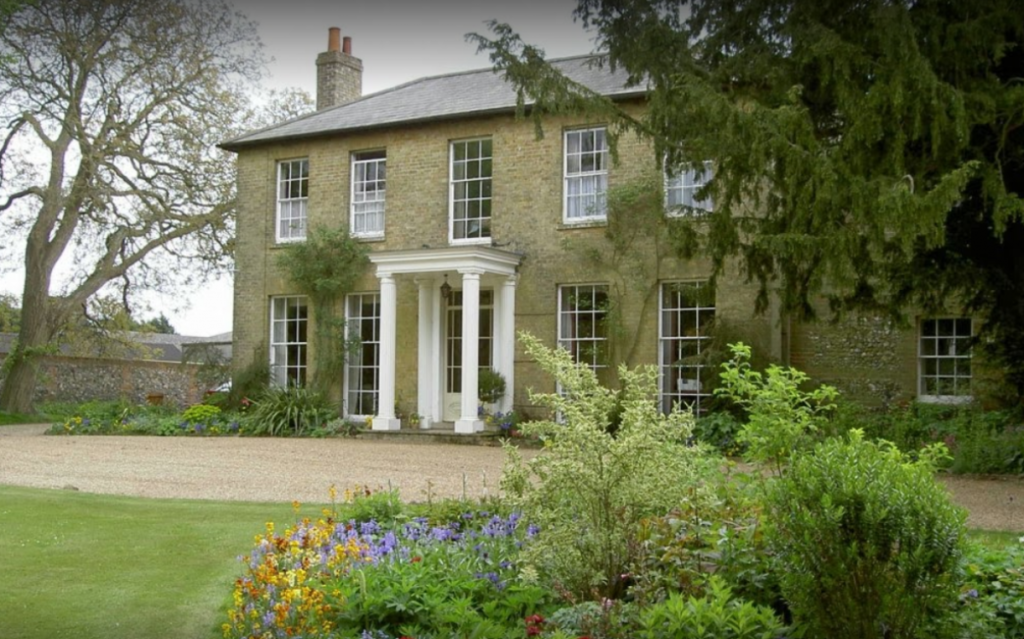 B&B or self-catering accommodation at a Georgian Farmhouse and 500-acre family farm, next to the highest point in Cambridgeshire and within walking distance from Great Chishill Windmill. Good value single, double and family rooms.
The John Barleycorn
Moorfield Rd, Duxford
This charming thatched pub has simple, clean rooms in an annex next foor. Each room is named after a local pilot – this is a great location for visiting IWM Duxford. It's also cycling distance from Cambridge (8 miles on NCN11) and a mile and a half from Whittlesford Park train station.
The Pear Tree Inn
High St, Hildersham
Choose between the three-room loft (sleeps up to 4) and a separate cottage (sleeps up to 3) with kitchenette. Breads, jams and farm-fresh milk str provided for breakfast, and you also have a farm shop, café and the Pear & Olive Scratch Kitchen next door. Holds a British Institute of Innkeeping Heart of Community Award.
The Red Lion
32 High St, Hinxton
Eight contemporary guest rooms in a flint and brick building, next to The Red Lion pub. Located in the chocolate-box village of Hinxton, this is a good spot for IWM Duxford (4 miles away) and cycle rides into Cambridge (10 miles on NCN11).
The Three Blackbirds
36 Ditton Green, Woodditton
This 17th-century pub in a rural village has a reputation for good food and is a short walk from Devil's Dyke footpath. Nine stylish bedrooms are located in 'the Barn', all with king-size beds, rainfall showers and ethical bathroom products. Weekend rates can be higher than average.
The Three Hills
Dean Rd, Bartlow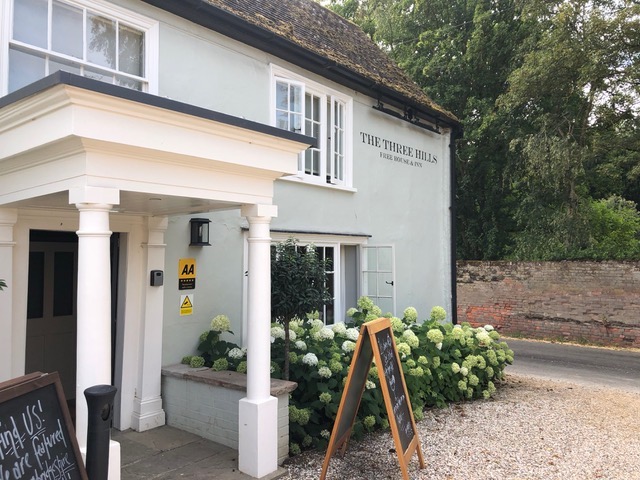 Next to the Bartlow Hills, this welcoming village pub has six double rooms – four in an annex and two in the pub building, which also has a two-bed flat. Freshly decorated in a contemporary country style, all rooms include Rosette radios, Nespresso machines and White Company products. The flat includes a kitchen for self-catering and a small lounge area.
---