Nicole Smoot is an Alaskan traveller turned photographer and blogger who found her way to the Middle East and Central Asia several years back and continues to return again and again.
Peculiar, misunderstood and otherworldly places have always fascinated Nicole, who continues to travel to hard-to-reach destinations to capture their natural beauty and foster a deeper understanding of the cultures that make them so special. Here, she shares some of her favourite captures from around the world.
Welcome to Arabia Felix: Sana'a, Yemen
I arrived in Sana'a on a January morning in 2014 not knowing what to expect as the country had been teetering on the brink of war for several years. What would unfurl over the next weeks would be the most transformative in all my travels to that point in time.
Never had I been so warmly welcomed into a country, until Yemen. I learned more in those weeks about our fundamental similarities as humans, diving headfirst into a culture that couldn't be more vastly different from mine. 
This photo takes me back to my first day on the ground in Sana'a, listening to the voices of the city's muezzins recite the Maghrib (sunset) call to prayer as it rang out over the ancient white-trimmed, mud-brick architecture of the city.
Sana'a has been inhabited for over 2,500 years, making it among the oldest inhabited cities on Earth.
Shepherdesses of Wadi Hadhramaut, Yemen
Bumping along dusty roads in Central Yemen's Hadhramaut region you'll eventually see the conical 'witch hat' madhalla worn by Hadhrami women herding sheep and goats in the craggy canyons that scar the Earth in this part of Yemen.
The madhalla are striking, sat atop shepherdesses enveloped in solid black from head to toe: abaya, headscarf, and niqab, with nothing more than their eyes exposed. Their purpose to help keep the wearer cool under the brutal Yemeni sun. 
We passed several shepherdesses as we travelled across the Hadhramaut region, all resulting in failed images due to much movement, sudden braking, etc. I managed to capture the most serene scene of them all with the two shepherdesses paused with their livestock in a field along the road as we made our way back to Seiyun at the end of the trip. Extremely fast shutter speeds, quick focus, and a bit of luck were the trick to snapping this photo.
Stargazing in the Sahara: Erg Chebbi, Morocco
Near the Morocco-Algerian border, close to the village of Merzouga sits one of the Sahara's famed seas of dunes: Erg Chebbi.
Erg Chebbi's constantly shifting burnt-orange dunes rise to heights of 150 meters from the flat hamada, encompassing the approximately 170 square kilometer sea of dunes.
We set out to spend a night camping under the stars here in Erg Chebbi and the heavens didn't disappoint that night. More fun than shooting these photos of the stars among waves of sand was hearing the excitement in some of our fellow travellers' voices who were seeing the Milky Way with the naked eye for the first time.
A friendly kidnapping: Wakhan Corridor, Afghanistan
I arrived in the northeast extremity of Afghanistan's Badakhshan Province without a plan. Chance had it I would meet Malang Darya, one of the most experienced guides in the Wakhan who forged a blueprint for my time in the Wakhan Corridor. After spending a night in Eshkashim and gathering all the permits and paperwork necessary, I was finally headed out to the village of Qazideh for a night before continuing further into the corridor to trek into the Great Pamir.
Instantly, after I opened the car door, I felt my hand clasped by a young girl who then proceeded to parade me around Qazideh, proudly giving me the grand tour of her home village. Friendly locals stopped me, holding their hands up to their faces as if taking a picture, inviting me to snap their photos.
As the sun began to reflect gold off of the wheat fields in the late afternoon, four women spotted us laughing in the valley. Before long, my impromptu guide and I were grabbed by the hand and brought into the women's home. What followed were shir chai (milk tea), bread, fried vegetables, and conversations in a combination of Dari and English about everything from home life to school work and future aspirations.
Eventually, I paused because the light coming in from the Pamiri ceiling above was casting perfect light into the black room of the home. I had expected to receive a stern 'no' from the women. I somewhat nervously asked if I could take their photo, prepared to plead my case about how beautiful the room was, but before I continued on I was given a resounding nod of approval from all the ladies.
Since then I've become more comfortable with taking photos with human subjects, it took until that day to realize that all I needed to do was as;, the worst they could say is no.
Tiles that bind a community: Mazar e Sharif, Afghanistan
The blue-tile-clad Shrine of Hazrat Ali, better known as the Blue Mosque of Mazar e Sharif, is more than the city's main holy site. It also serves as a meeting point for the community.
Early in the morning, in the middle of the day, or as the sky shifts from gold to mauve to purple in the early evening, the grounds surrounding the Blue Mosque are full of life, with friendly locals sat chatting among family and friends, young children playing with balloons and chasing doves, and teens trying to perfect their selfie game.
Constructed in the 1100s, destroyed by Genghis Khan by the 1200s, and rebuilt yet again in 1481, it is believed by some to be the tomb of Ali, the son-in-law and cousin of the Prophet Mohammed. It is also believed that Ali's tomb is located in Najaf, Iraq.
Capturing the aurora: Eagle River, Alaska
Being born and raised in Alaska I've had the opportunity to witness the aurora borealis more often than most. However, it wasn't until the winter of 2015-2016 that I made a point to learn how to capture them.
Unpredictable, pausing and changing tempo erratically, often hidden behind a cloak of cloud, and often requiring spending many late-night hours in subzero temperatures, make photographing the northern lights no small task.
But I had spent that winter watching and learning night after night, sleeping from 6pm to midnight, bundling up and heading out, not coming home until 3, 4, 5, or sometimes 6 am to get ready and go to work all day – and do it all over again the following night.
Getting a feel for what camera settings I needed to roll my dials to depending on the light pollution, moon phase, time, and pace of the aurora's dance, I worked towards snapping the image I had envisioned.
In the first week of May 2016, I managed to capture this photo. I had climbed a mountain that night hoping to get photos of the northern lights, but eventually, around 2am decided to wrap it up for the night, and season as the activity was minimal. Right as I was about to turn onto my street the sky exploded. I quickly veered back onto the main road and continued down about a mile from my house to get this picture of the northern lights reflected in a swamp pond just off the road.
The hunt for the galactic centre: Dixsam Plateau, Socotra, Yemen
When I first arrived in Socotra in 2014, I barely knew how to use a camera, let alone at night. Determined, I returned several years later (and several more times) with a little more experience and a goal in mind: to capture the Milky Way over one of Socotra's famed dragon blood trees.
One night, as the sun began to set, we left camp on the Dixsam Plateau in Socotra's interior to go map the perfect tree. After a bit of wandering around, until it turned pitched black we pinned several trees – our future models – onto a GPS map.
I had tracked the movement of the Milky Way to verify what time we should wake up and make the roughly 30-minute journey to 'Tree #1' on our GPS. At 1:30 am we set out with headlamps, tripods, cameras, and remotes to begin.
The first few photos turned out great; however, our chosen dragon was a silhouette, and I had other ideas in mind. We began light painting the tree with headlamps for different durations on each exposure until we found the ideal number of seconds to shine a lamp for, diffused through a sweatshirt to bring out the dragon blood tree's details without overexposing.
We clicked away through the night until the sun began to show signs of life below the horizon. This added a whole new consideration to our shoot; we now had to adjust our shutter speeds and ISO, as well as painting to account for increasing light as the sun snuck up the horizon. It had never occurred to me to try and shoot the stars into the sunrise hours before, but the results of this unintended variable added more depth to the photos.
City scenes: Hadiboh, Socotra, Yemen
Hadiboh is the big city as far as Socotra is concerned, though to the rest of the world it surely looks like an overgrown village. Most visitors to Socotra either briefly spend time there grabbing provisions and many skip it altogether. Understandably so, Hadiboh is unfortunately full of rubbish.
There isn't yet a system in place to manage the garbage on Socotra, much of which is plastic. As Hadiboh is the largest and most populous place on the island, it is extremely evident here in the city.
With that said, Hadiboh is a fun place to photograph, especially in the afternoon, with a number of people that will pause for you to take their photo.
Camping at the end of the world: Sary Goram, Tajikistan
It was in Sary Goram, Tajikistan, that I met 18-year-old Guldar, at her semi-nomadic family's cluster of yurts, a mere 10 kilometers from the Afghan border, with nothing but a single mountain range separating us from Chaqmaqtin Lake and the Little Pamir (grassy valley). Guldar grew up spending winters in Murghab, and summers moving the yurt to green jailoo pastures in Sary Goram and other locations along the extreme southeast corner of Tajikistan. 
Life at 4,000 metres isn't easy, where even in summer, snow is not unheard of, and breaking down to move the yurts to greener pastures to graze livestock every few months is the norm.
The Murghab Plateau that forms a sizable area of Eastern Tajikistan's Gorno Badakhshan Autonomous Region sits mostly about the 3,500-meter mark, with a landscape sparsely dotted by yurts and largely inhabited by ethnic Kyrgyz families.
Mountain haze and perfect reflections: Fann Mountains, Tajikistan
The Fann Mountains are what initially lured me to Tajikistan after seeing photos of the area as a teenager in 2004. Little did I know that several years later I'd be embarking on the first of many trips exploring every peak and crevasse I could pack into a 45-day visa.
The Fanns surely didn't disappoint and have brought me back year after year. The one thing I walked away from the Fanns with, camera in hand after my first visit, was the importance of forcing yourself up to capture the spectrum of colors, from blue light to golden beams as the sun rises over mirror-like lakes and illuminates craggy mountain faces.
Fairytale waterfalls: Zontik Falls, Republic of Artsakh
Truth be told, I'd never found waterfalls that exciting. I knew people love to photograph them, especially at longer exposures to get that burring effect of the water. That was until I visited Zontik Falls.
I had arrived in Armenia on a whim a few years ago from Georgia. On the marshrutka down to Yerevan, I met a Czech traveler who had been planning a road trip to the Republic of Artsakh with two sisters he'd been chatting with on Couchsurfing.
They had room for one more, so without hesitation, I took them up on the invite and joined the three to explore the breakaway region that had recently changed its name from its old moniker, Nagorno-Karabakh.
One of our first stops after crossing the de facto border between Armenia and Artsakh was to a place called Hunot Canyon where the two sisters explained we would be walking to a waterfall.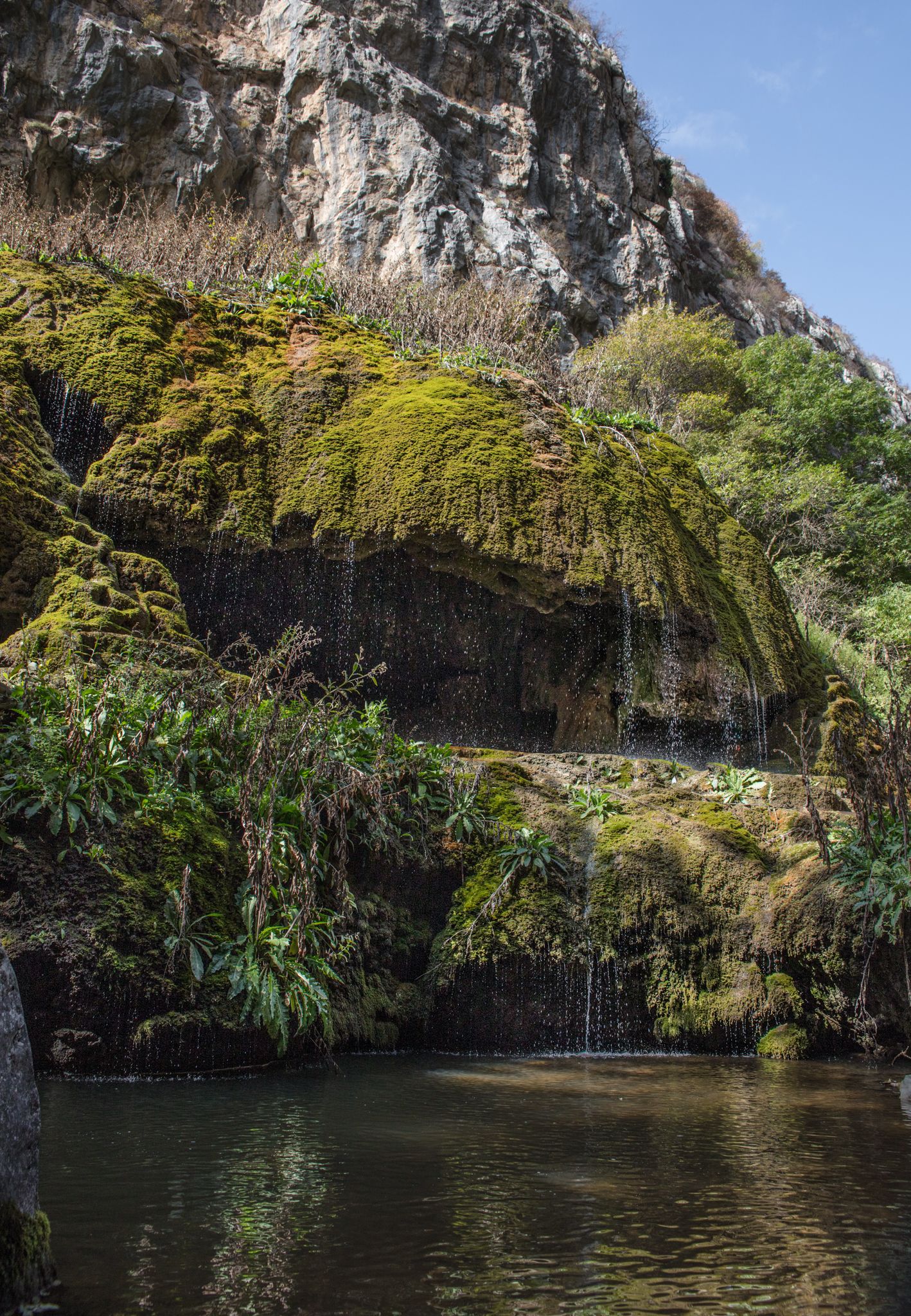 What I had envisioned versus reality were two very different things. Zontik Falls still is hands down the most unique waterfall I've run across in all my travels.
Where water runs red near rainbow caves: Hormuz Island, Iran
Hormuz Island blew my travel plans in Iran, for being a destination that never landed on my original itinerary. My loose agenda would see me head south to neighboring Qeshm Island, but after a few conversations with others along the road, my itinerary was quickly derailed in Hormuz where I extended my stay day by day.
While you can lap the entire island in about six hours on a bicycle, its relaxed atmosphere, artistic vibes, otherworldly rock formations, and bizarre beaches enticed me to keep extending my stay.
The rugged interior of the island offers beguiling rock features, with the otherworldly Rainbow Valley, the colorful Salt Mountain, and a small cluster of salt dusted mountains, that look like they've just received their first snowfall. Out on the coast, the Valley of Statues' eroded formations look like dragons, and the cliff has views down onto pink-and-orange-swirled waters that fade into the turquoise Persian Gulf.
Continuing along the coast the dirt road eventually starts turning red and builds in intensity by the time you make it to one of the strangest features Hormuz has to offer, Red Beach. A stretch of crumbling red hills drop to a black sand beach with glimmering silver grains, while blood-red waters lap the Mars-like beach.
A short hike will eventually bring you to the most interesting site on Hormuz, the Rainbow Cave. Just as it sounds, this outlandish cave is striated with mineral-laden rock.
More information
To see more of Nicole's incredible photography, visit her blog adventuresoflilnicki.com or follow her on Instagram, Twitter or Facebook.