Just a 2½-hour flight from London, Budapest has long been a popular destination with weekenders. As summer temperatures can reach a scorching 35°C in the capital, spring is perhaps a better time to take in the sights on both sides of the Danube, of which there are plenty – an impressive citadel, dozens of thermal baths, great markets, vibrant nightlife, and a guaranteed architectural gem on almost every street. Here's how to make the most of a weekend in the city.
Friday
Evening
After landing at the city's Ferenc Liszt airport, hop in a New York-esque yellow taxi (6,000–8,000Ft) and head for Pest. In terms of accommodation, we'd recommend the Bohem Art Hotel in District V, which has an excellent location, cosy rooms and the most extensive breakfast in Europe – pigs in blankets and pork bites for the meat lovers, plus homemade paleo truffles, vegan couscous and gluten-free breads for those with special dietary requirements.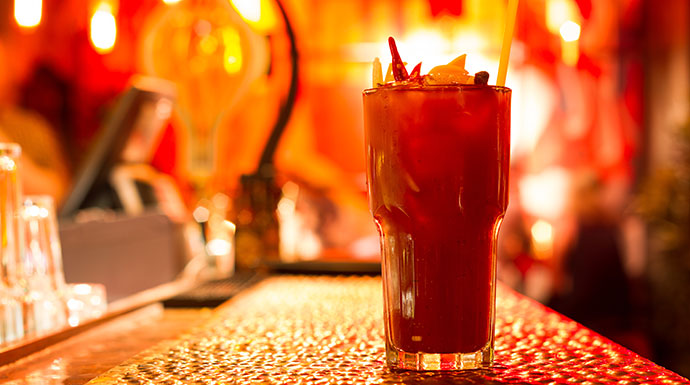 One of the many cocktails on offer at Spiler © Zsidai Group
Once you've checked in, take a stroll into downtown Pest – the main area for the city's shopping, dining and drinking options. There's no linear way of tackling this part of the city – you'll likely start on Vaci utca and branch off on to the bistro-lined squares and sidestreets that take your fancy. Try the sister venues of Spiler, Shanghai and Original, on opposite sides of the fairy-lit Gozsdu udvar – although they don't serve typical Hungarian fare, they are the place to be on a Friday evening. Enjoy meaty burgers, sizzling grills or hearty bowls of noodles (the tempura vegetables at Shanghai are a must), and wash them down with a shot of pálinka – Hungary's eye-watering fruit brandy.
Saturday
Morning
The hills and cobbles of Castle Hill, on the Buda side of the Danube, are best explored when you're fresh-legged. Take the funicular on the ride up (1,200Ft) – those with cameras (or selfie sticks) will want to aim for a spot in the bottom carriage. At the top, take a left out of the funicular station for the most specacular view in the city, where panoramas span all the way from Parliament to the Petőfi Bridge.
The cobbled streets of District I are an invitation to wander, and you'll pass many of the city's most famous landmarks: the dome-capped Buda Castle Palace, home to the National Museum and Gallery; the Gothic Matyas Church, complete with bell tower and extravagant roof; and the white-coned turrets of the Fisherman's Bastion, which are said to represent the seven Maygar tribes that settled in the Carpathian Basin in 896. There's even a Marzipan Museum for those with a sweet tooth.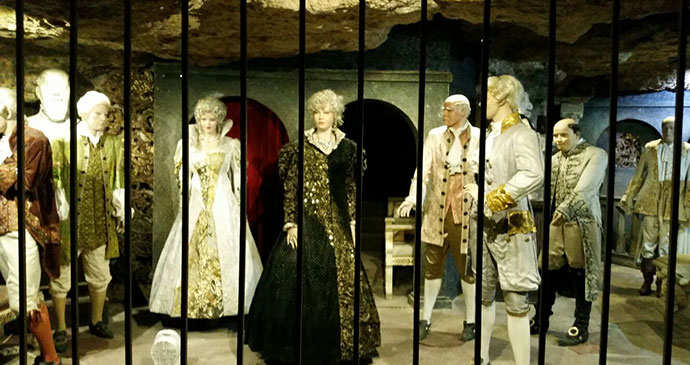 The caves running beneath Castle Hill are instilled with a number of slightly creepy waxworks © Laura Pidgley
It is what lies beneath the streets, however, that is the real highlight of this district – the Labirintus. This misty network of caves running below the cobbles is a real spine-tingler, where you'll come face to face with Dracula's torture chamber, who was held captive here during the 15th century, as well as eerie waxwork instillations dressed in costumes supplied by the Hungarian Opera. Take a torch – lighting is sparse, and being alone in the dark with only the drip, drip, drip of condensation is a frightening prospect.
Afternoon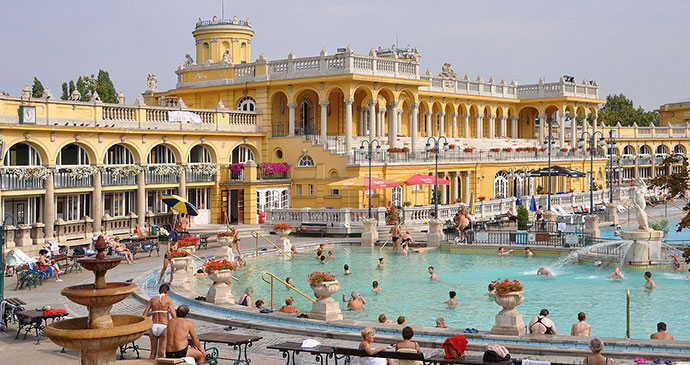 The Széchenyi Baths are some of the largest in Europe © Marc Ryckaert, Wikimedia Commons  
By now your feet will be starting to ache, so after a quick lunch stop in Pest, it's time to take a bath. Budapest sits on around 125 thermal springs, and taking a dip has been a ritual here since the Roman times. Today, there are around 40 different baths to choose from, but if you're short on time we'd recommend the biggest and most extravagant: the Széchenyi Baths. Situated at the northern end of City Park, this lavish Baroque complex houses 15 indoor and three outdoor pools, as well as sauna, steam rooms and a day hospital. The pools are supplied by two thermal springs, and water temperatures range from a toasty 40°C to a less comfortable 18°C – the plunge pool isn't for the faint-hearted. Bathing is mixed, and the baths are open year round – it is quite a sight to watch locals enjoying a beer over a game of floating chess while the rain trickles on to your cheeks.
Evening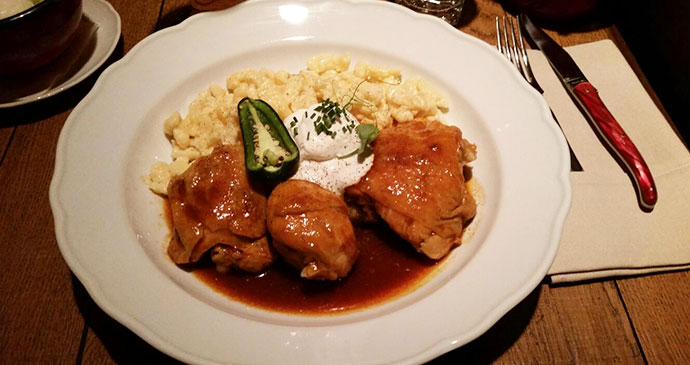 Try the chicken paprikash with buttered dumplings at Baltazar – a traditional Hungarian favourite © Laura Pidgley
For a traditional Hungarian experience with a twist, we'd recommend Baltazar on Castle Hill. This boutique hotel and grill is a little out of the way but is certainly worth the effort, and offers a modern take on traditional Hungarian fare in colourful surroundings.
Indulge in flavoursome paprikash with fluffy dumplings, rich goulash served in a little tin saucepan, or a hearty veal tongue stew. Be sure to check the specials – they were serving Hungarian donuts on our visit, which are not to be missed. High-quality food, charming hosts and a cool atmosphere – it really is great value for money.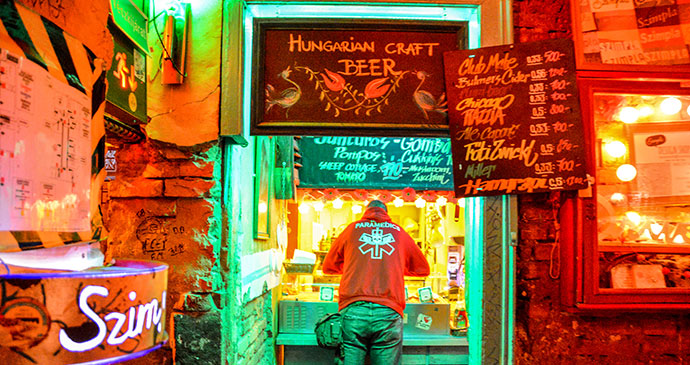 Szimpla kert – the capital's most popular ruin pub © Nigel Nudds, Dreamstime
A trip to Budapest wouldn't be complete without visiting a ruin pub (kert), and there are plenty to choose from in downtown Pest. They are exactly what they say on the tin – a bar within a ruined building – normally comprised of several different rooms, each with different and more bizarre décor than the next (we came across a giant climb-aboard dinosaur and bowls of Chuckie dolls during our visit). For a more casual vibe, Ellato kert is a good option, where you can lounge beneath swinging vines on mismatched sofas or challenge a stag do to a game of pool.
Those looking for the authentic experience, however, should head straight for Szimpla kert – the pioneer of the ruin pubs. Sit in an old bath tub and smoke shisha, dance among the potted tomato plants on the roof terrace, or even buy a T-shirt – something you might well need, as the cheap drinks could make you forget you've been there.  
Sunday
Morning
If you visit only one museum in Budapest, make it the House of Terror. This powder-blue apartment bore witness to some of the darkest years in Hungary's history, as headquarters for the Hungarian Nazis during their bloody 1944 regime, and then the base for communist police interrogations until 1956. Start on the second floor and work your way down through the various exhibitions detailing years of torment, persecution and murder through propaganda, video footage and torture props.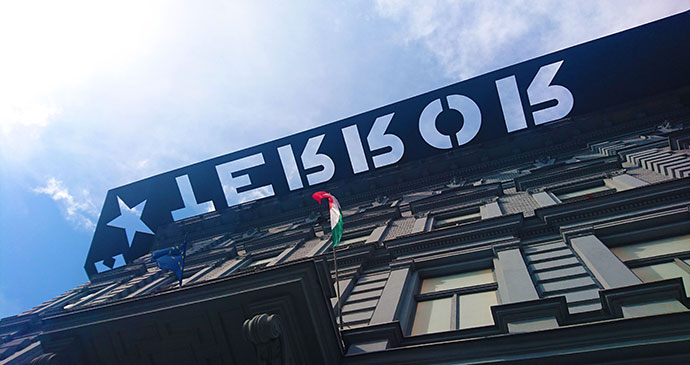 The façade of the House of Terror, arguably Budapest's most interesting museum © Laura Pidgley
Be prepared for the basement, where Jewish prisoners were questioned, tortured and even executed – the dank cells, rusty chains, rubber truncheons and bloody nooses tell a harrowing tale of suffering. The exhibition signs are mainly in Hungarian, so be sure to pick up an English information card upon entering each room.
Afternoon
From the House of Terror, take a wander down Andrássy út, one of the most spectacular streets in all of Budapest. Stretching for 2.5km from the colonnades of Heroes' Square in the north to Deák Ferenc tér in the south, the UNESCO-listed boulevard hosts block after block of Neo-Renaissance knock-outs, including the gorgeous Hungarian State Opera. It's a joy to explore, and there's plenty of street-side cafés and shady squares in which to pause for a spot of people-watching.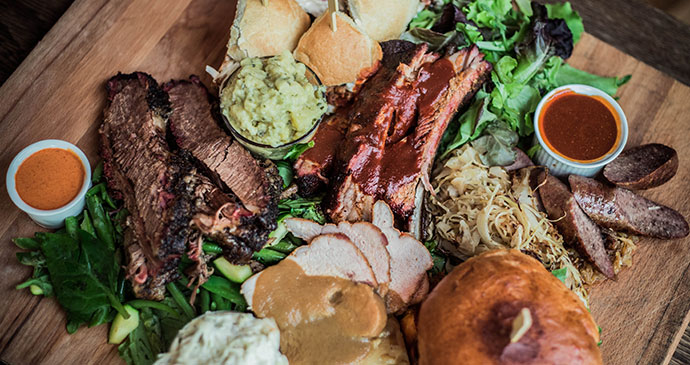 One of the Terminal's mouthwatering BBQ platters © Terminal
The end point of your stroll should be the Terminal – an excellent place to refuel after a morning of sightseeing. Situated in a converted bus station with floor-to-ceiling windows and a bright, open feel, this bistro specialises in one thing: meat. Their BBQ-based menu is a carnivore's heaven, with tender pork ribs, crispy ham hock, beef sausage and succulent chicken breast.
Indulge in a 'Terminal BBQ' and you'll be treated to plate upon plate of the finest meats, accompanied by fluffy cornbread and juicy gherkins. It's an excellent dining experience – and the pina coladas are a dream, too.
Evening
Adrian Phillips said in his Bradt guide to the capital that 'no city wears the night cloak quite as well as Budapest'. Sailing along the Danube, with the illuminating façade of Parliament on one side and the twinkling Citadel and Castle Palace on the other, you can see what he means.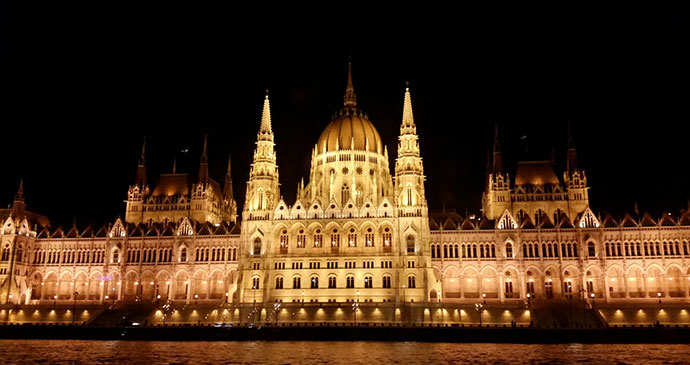 The illuminated Parliament looks even more spectacular when the sun goes down © Laura Pidgley
An evening river cruise is a great way to pack in some last-minute sightseeing before your flight home, and there are countless companies with stands up and down the Danube – we would recommend Legenda, who offer both sightseeing and dinner cruises with a free audio guide and complimentary glass of champagne (1hr/2½hrs 5500Ft/9300Ft). Be sure to get a seat at the back, though, as the glare from informative TV will play havoc with your photos.
---
For more Budapest, check out our city guide, written by our Managing Director, Adrian Phillips.