The whisky of Islay is world renowned. Irish monks are probably responsible for first introducing the distilling process to the island: it's very rich in peat, ancient layers of partially decayed vegetation that forms in bogs and contains a lot of energy. Peatland is naturally a very efficient carbon sink, locking carbon dioxide out of the air in the same manner as a fossil fuel, and has been burnt on Islay for many generations. In remote locations you will notice that the water runs an orangey brown; this is also due to the peat.
During whisky making, peat fires are used to dry malted barley, leaving a distinctive flavour. The peaty taste of whisky is calculated in ppm of phenol: Scottish whiskies generally have up to 30ppm; the Islay whiskies are often more than 50ppm.
In 1644, when the new Excise Act levied a tax on whisky, the operation went underground and illicit stills were hidden in remote corners of the island, in hidden coves and secret caves. The first official recorded distillery was Bowmore, founded in 1779.
Today there are nine working distilleries on Islay, most of which are grand, whitewashed buildings with slate roofs, distinctive pointed pagoda chimneys and their names painted neatly in enormous black letters, allowing them to be identified from out at sea.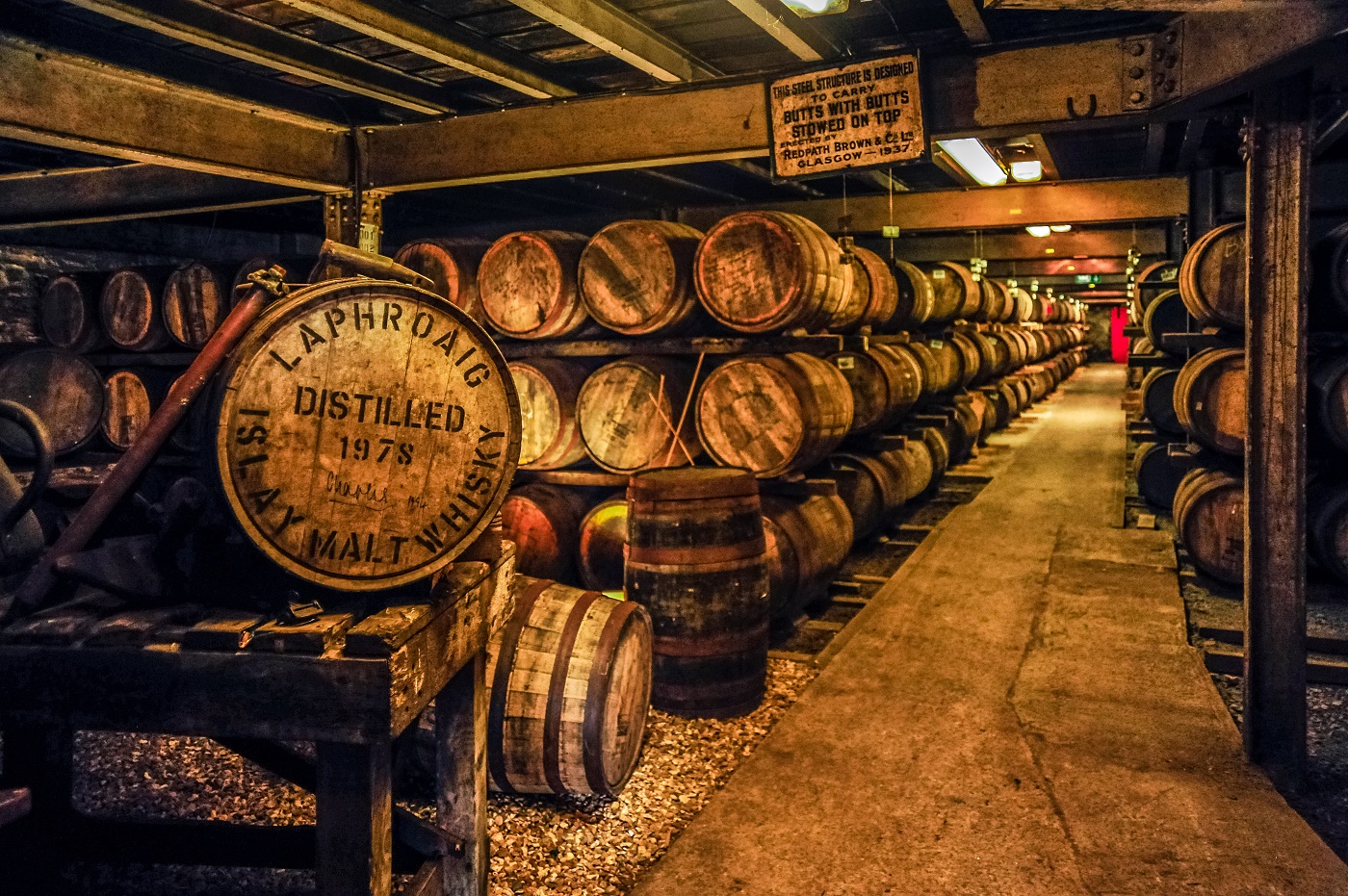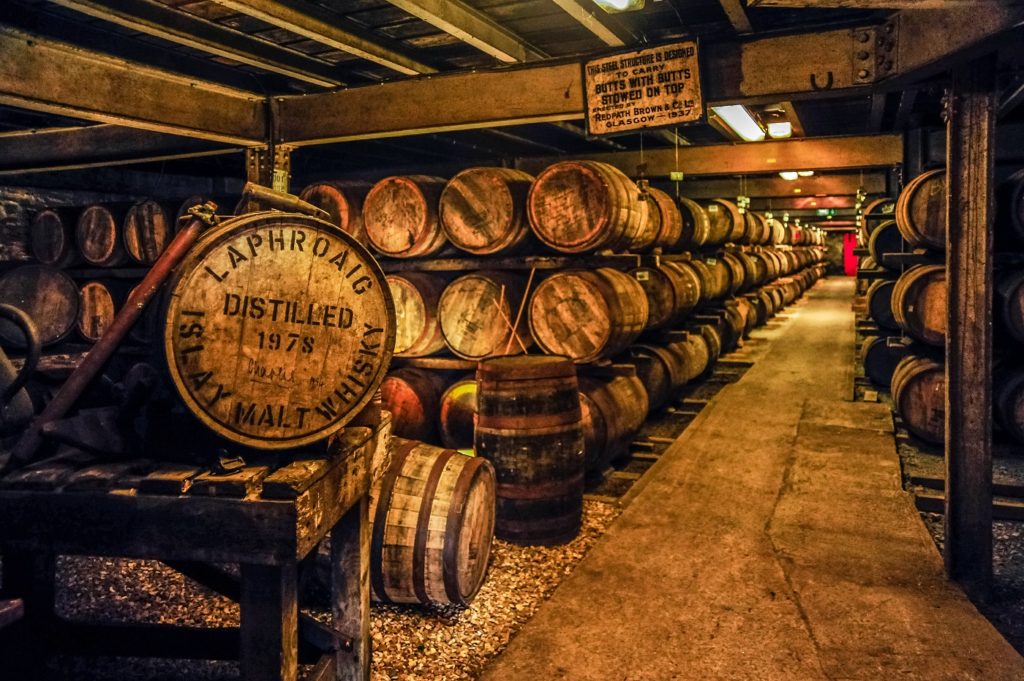 Ardbeg
From the Gaelic An Àird Bheag, meaning 'a small promontory', Ardbeg Distillery is an extensive collection of attractive white buildings. It produces distinctly smoky whiskies, known for their light and complex flavours, which have won a range of awards including Whisky Magazine's 'World's Best Single Malt Whisky' for their Galileo expression at the World Whiskies Awards in 2013.
Ardnahoe
Established in 2018, Ardnahoe is Islay's newest distillery, established by the Scottish blenders and bottlers Hunter Laing. As Ardnahoe's first single malt will not be released for some time, its tastings focus on Hunter Laing's single cask bottlings from different regions of Scotland.
The distillery is distinctly modern in its exterior appearance, though traditional techniques and equipment are used in the process. Tours provide an insight on Ardnahoe's use of unusual 'Worm Tub Condensors' in the production process. The on-site Illicit Still café has a panoramic view across to the Paps of Jura.
Bowmore
The oldest distillery on Islay, Bowmore was established in 1779 and home to the world's oldest whisky maturation warehouse. The distillery's bar, Bowmore Whisky Tasting Bar, is the perfect place to enjoy a special dram, with its fantastic view across Loch Indaal.
Bruichladdich
In the small township of Bruichladdich, this distills three single malts: an unpeated Bruichladdich, the heavily peated Port Charlotte and the super heavily peated Octomore, as well as The Botanist dry gin, which is made using 22 locally hand-foraged botanicals.
Bunnahabhain
One of Islay's traditional distilleries, Bunnahabhain was established in the late 19th century and is known for its delicate, fresh-tasting whisky. Tour options include straight from the cask tastings of non-peated and peated drams, a chance to buy and fill your own bottle, and relaxed walks around the distillery with its views across the Sound of Islay.
Kilchoman
This is the only independently owned distillery on Islay. Established in 2005, it was the island's first new distillery since 1881, as well as Islay's only farm distillery; Kilchoman has a distinctly different aesthetic from the historic coastal buildings of other distilleries. They also have a café serving lunches, cake and hot drinks.
Lagavulin
Traditional in appearance and one of Islay's oldest distilleries, Lagavulin officially dates from 1816, but it is thought that, like in many remote spots in the Hebrides, illicit distilling was carried out on the site from as early as 1742.
The modern distillery is owned by the British multinational company Diageo, who also own Caol Ila. Lagavulin is known for its full-bodied, smoky tasting whisky, rich in the peaty flavours that Islay is famous for.
Laphroaig
Pronounced 'la-froyg' and founded in 1815, Laphroaig is the only distillery in Scotland to hold the 'Royal Warrant', and uses traditional process methods such as floor maltings, hand-cut peat and a cold smoking process.
The distillery offers a range of tours and tastings, ranging from 1 hour around the distillery with three whiskies to try afterwards, to a more extensive 'water to whisky' excursion, which includes a tour of the distillery, picnic lunch and a walk to visit the distillery water source and peat banks (Apr–Sep; adults only). You can also just pop into Laphroaig Lounge for a dram.
More information
Learn more about the Inner Hebrides and the UK's whisky distilleries in our comprehensive guides: