In the penultimate instalment in this series, former editorial director Tricia Hayne reminisces on her years at Bradt in the 1990s – a decade of many firsts for the company.
If you missed the first chapters, you can read them here, here and here.
---
My initiation into Bradt in the early 1990s was typically quirky. Years of publishing experience, not to mention living in Bradtville – aka Chalfont St Peter in Buckinghamshire – were factors far less relevant, I learned, than how I fared at the Myers-Briggs personality test. That test revealed that I was Hilary Bradt's polar opposite – and, as such, precisely the sort of person that she wanted to recruit! And so began a whole new chapter.
Bradt's 21st anniversary the following year was celebrated with a bang. Or at least, a summer garden party in Windsor (though sadly not at the castle). In proper Bradt fashion, journalist Simon Calder hitchhiked to Windsor for the event, interviewed a few guests, ate a few nibbles and hitchhiked home. Very Simon!
Marking the anniversary was one of many Bradt firsts: a full-colour, hardback guide to Antarctica by the renowned naturalist Tony Soper. Illustrated by Dafila Scott – granddaughter of Captain Scott, and daughter of Peter Scott, and with an endorsement by Sir David Attenborough, it launched a small but acclaimed wildlife series focused on the unusual and the offbeat.
When the company came of age in 1995, Bradt's tally was nearing 100 titles, still managed by a team of just four. Helped by a guinea pig, and a dog. After 21 years, the 'state of the nation' was encapsulated in cartoons.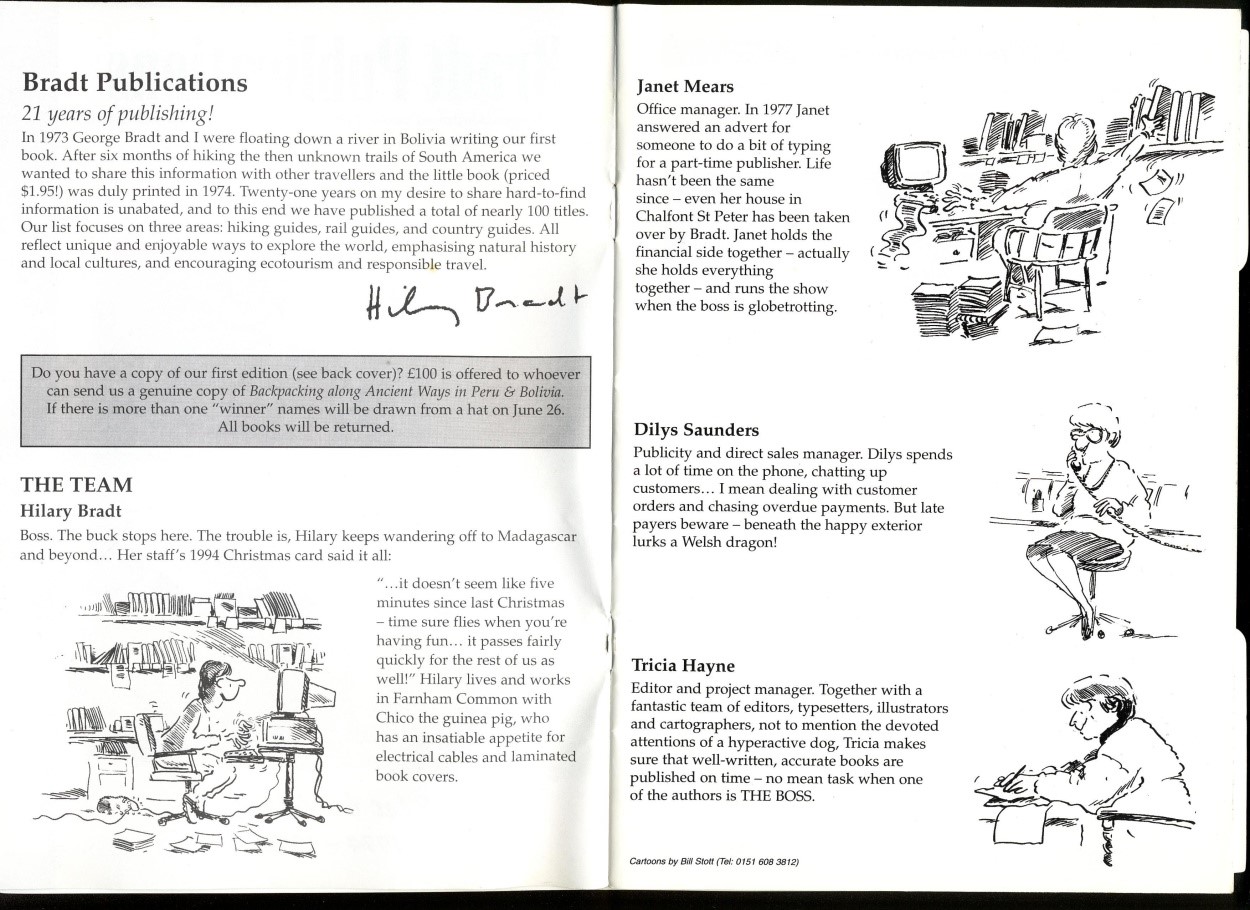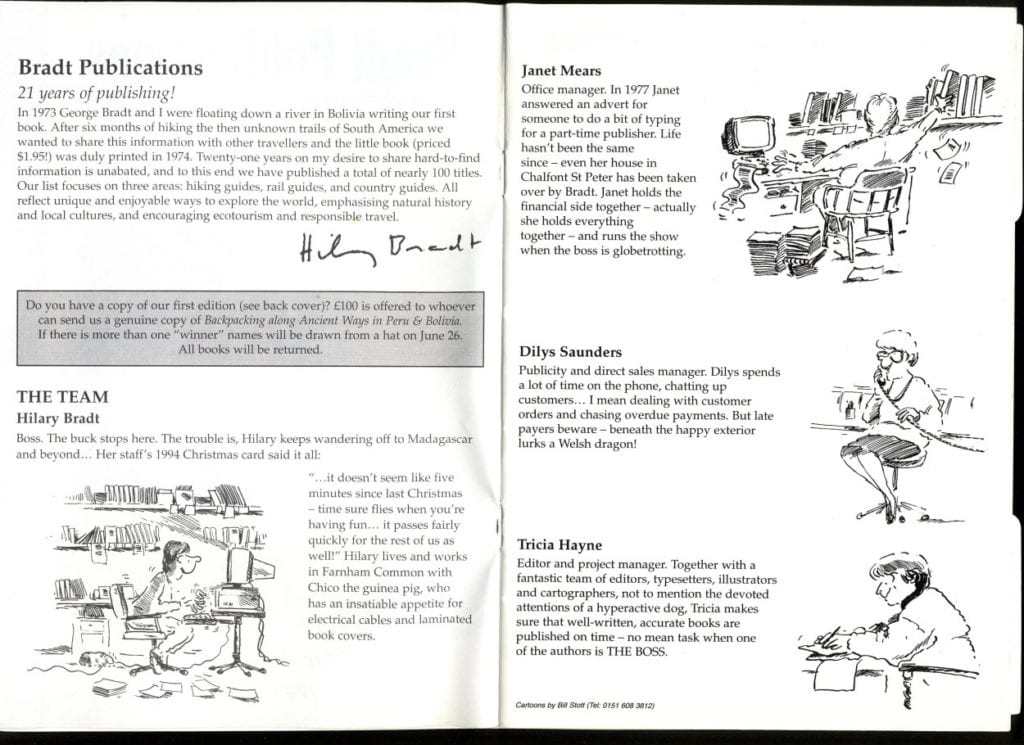 Beneath the frivolity, the books went from strength to strength. Along with improved editorial and production standards came a broader range of destinations. For a growing publishing company covering niche destinations, international politics of the 1990s provided no shortage of opportunity. Nelson Mandela's release from prison in 1990 triggered the first guide to South Africa. Namibia's independence in 1992 was marked by a Bradt guide, as was post-genocide Rwanda, and post-civil war Mozambique. The fall of the Iron Curtain gifted us the Baltic States – Estonia, Latvia and Lithuania – while hot on their heels came the individual countries of the Balkans, each title marking the rise of a new nation.
As the decade progressed, stair carpets of international fax messages and late nights laying out proofs while getting (inadvertently) high on Spray Mount became a thing of the past. The days of hand-drawn maps, too, were numbered, as digital technology outpaced the traditional. What didn't change was the company's focus on 'the road less travelled', hand in hand with 'ecotourism' – a core Bradt value long before the word itself was coined. It was a focus that was recognised in 1997 when we won The Sunday Times Small Publisher of the Year award.
Being a small publisher could present some serious challenges, few more so than our city guide to Kabul. First mooted in late 2002, it hit the bookshelves just six weeks later in what must be close to a publishing record. Iraq, though, was in an entirely different league. When war broke out in 2003 it was already at the printers, but cancellation was averted by huge international interest – resulting in sales of 3,000 copies to the Pentagon. Now that was a coup!
Running through the years like a thread, Frankfurt Book Fair loomed large each autumn. And each year, Hilary's generous and stoical friends valiantly put up the growing team, their hospitality stretching to the sofa, and even to other friends' houses. Until finally there was mention of a hotel. A hotel?! While 'real' publishers were billeted in orthodox establishments, the hardy Bradt crew shared rooms above an Indian restaurant in Frankfurt's red-light district. And from there, fuelled with curry-infused coffee, we set off each morning through a gauntlet of heroin addicts to the hallowed halls of books.
Back in leafy Buckinghamshire, changes were afoot. Retirement of the irreplaceable Janet Mears (though she never did really retire) meant finding a new base for the Bradt office – which had hitherto been in her home. The chosen premises were designated for retail purposes, and so 'shopkeeper' was added to the list of Bradt accomplishments. But along with proper display shelving came the real difference: space. There wasn't a lot of it, but there was room for an editorial desk – and so the list of destinations continued to expand.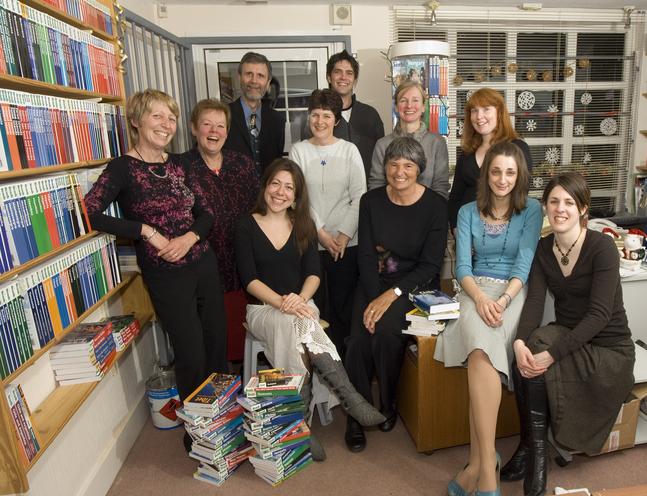 Once that office was outgrown, we moved next door: editorial on the top two floors; sales and administration (and the shop) beneath.
By the time of Bradt's 30th anniversary in 2004, our team of dedicated authors was supported by a staff of ten – and some wonderful freelancers – between them juggling a list that was now pushing 200 titles. As the strapline for the celebrations, held in the Bug House at London Zoo, said: 'We've come a long way'.
Tricia Hayne joined Bradt Travel Guides in 1993 following a chance meeting at Frankfurt Book Fair. In spite of 'retiring' in 2006 from the giddy heights of editorial director, she has never really left the mother ship, remaining on board as both author and editor.