We were standing barefoot on the deck of our cottage, soon after breakfast, when the otter swam into Castle Bay. The sea was as smooth as taut satin; we could clearly make out its head (flat-topped, low in the water) and a long arrow-shaped wake, glinting silver in the morning sunlight. Just as we reached for binoculars, the otter dived, flicking sparkling droplets from its tail, before surfacing a hundred metres or so further along the shore. It was clearly heading for a gently sloping rocky headland. Our first day on Shuna – we hadn't even started exploring the island – and we were watching an otter gambol ashore, shake itself vigorously, then slip back into the sea again.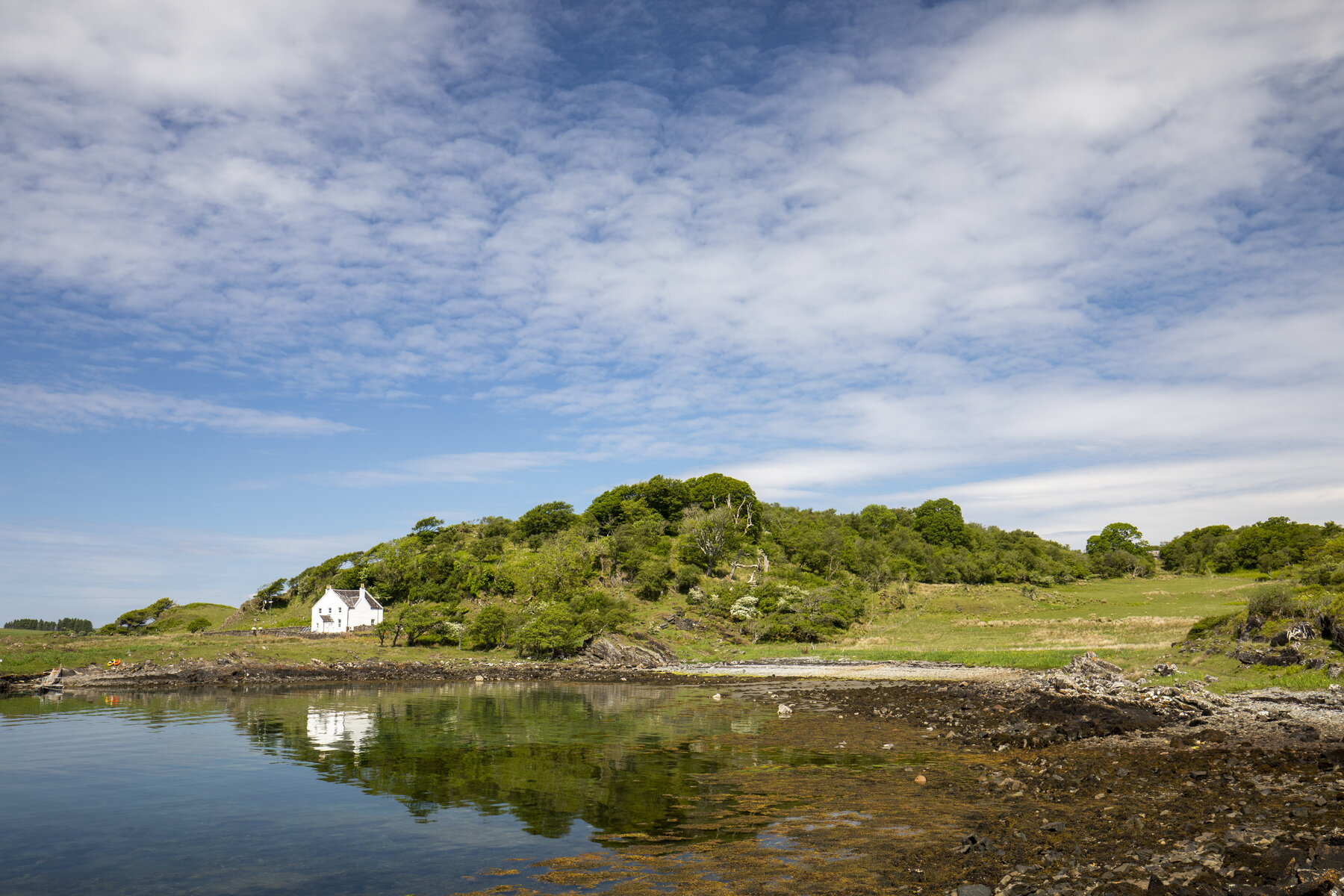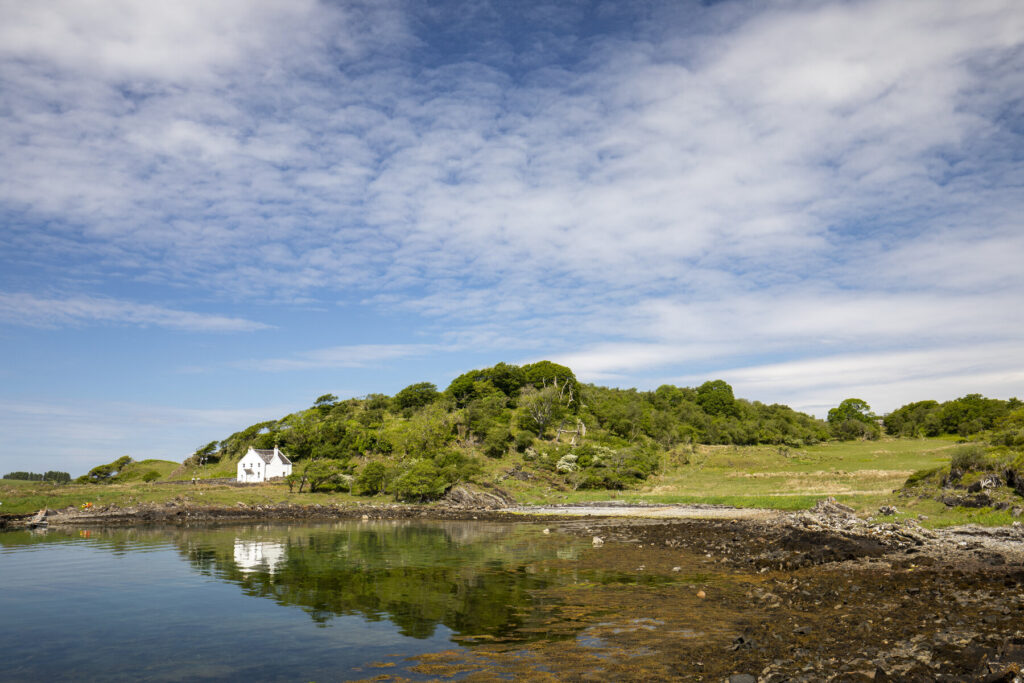 For the next week, our time on Shuna would reset to island life – the ebb and flow of the tides gurgling and popping through the seaweed-smothered rocks a few steps from our door; fallow deer tiptoeing outside our kitchen window at dawn and dusk, and the constant wildlife vigil – scanning 'our' patch of sea from the deck, waiting for the next otter, a harbour seal, or maybe even a porpoise.
Playing the castaway
A week on the Isle of Shuna is like a cottage holiday, mini-expedition and wildlife adventure rolled into one. You need to take all your food and supplies with you. There's no WiFi, shop, pub or roads… just a handful of cottages – some clustered around the rudimentary harbour, others dotted through the birch, oak and rhododendron forest that cloaks much of the island.
To get around, you either walk (a track known as the M1 links one end of the 5km-long island with the other), launch a sea kayak or hop into the small aluminium skiff, with small outboard engine, that comes with your cottage.
The adventure begins before you even set foot on the island. Reaching Shuna requires a carefully timed rendezvous at Arduaine's lonely pier, half an hour's drive south of Oban (the best place to stock up on supplies before casting yourself adrift from the mainland). A bright orange landing craft arrives to collect you and your gear for the 20-minute crossing.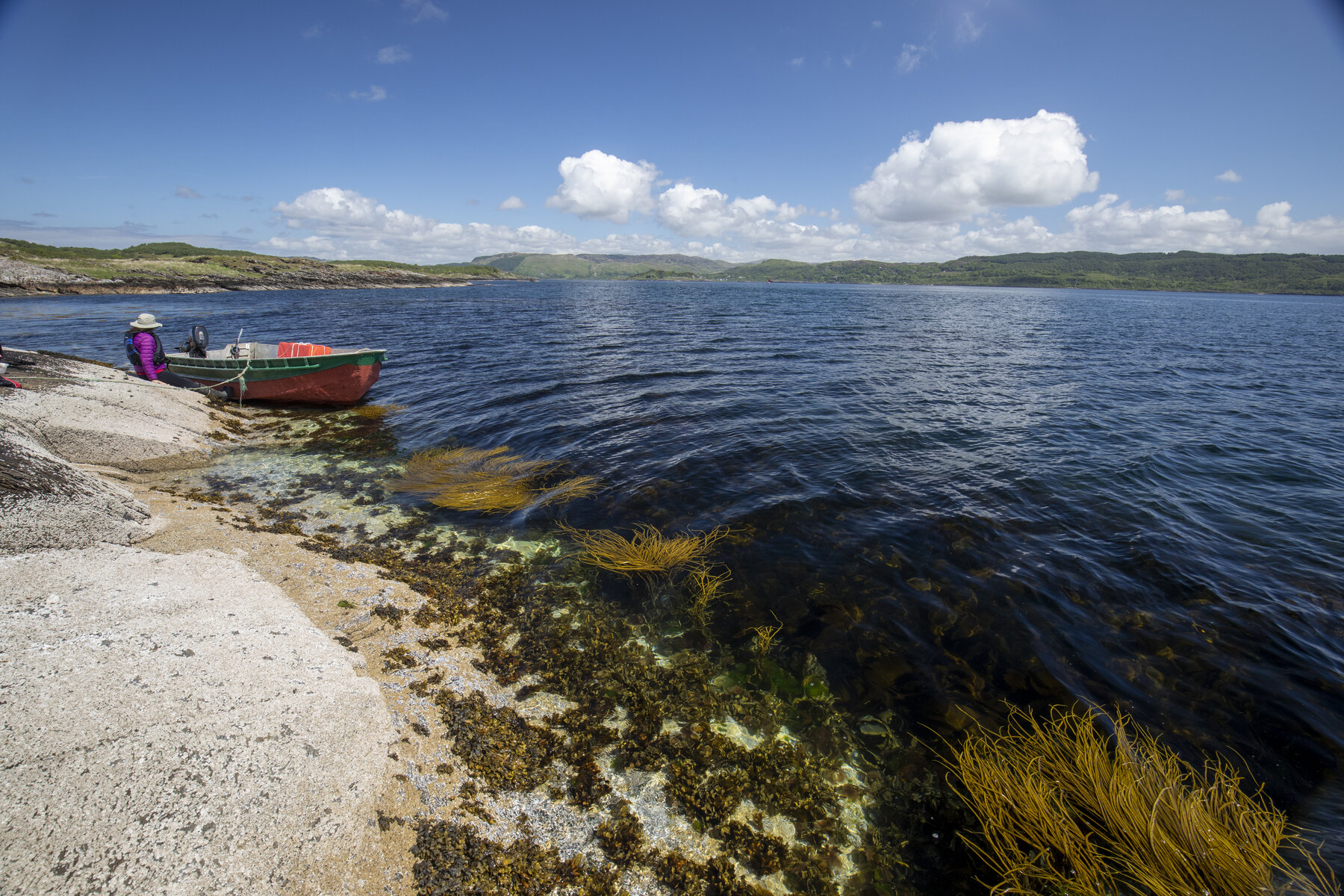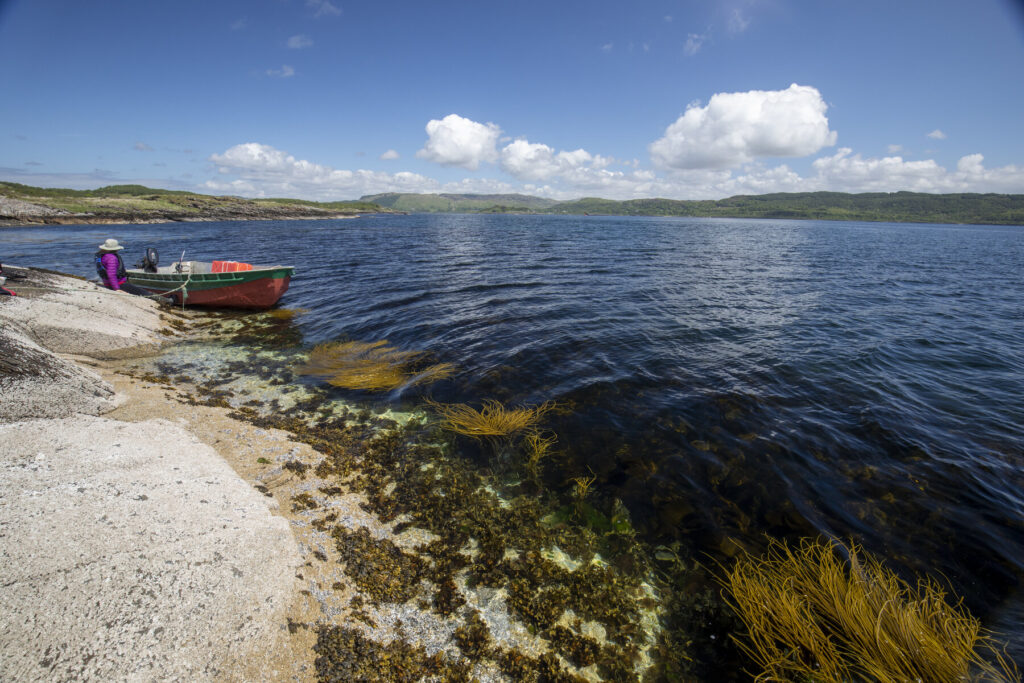 As you approach Shuna, you can't fail to notice a small castle poking above the island's low, wooded hills. Now abandoned and derelict, the mock-Edwardian pile was built by the adventurer and philanthopist George Alexander McLean Buckley in the early 1900s. A Stone Age burial mound near the southern tip of the island suggests Shuna may have been settled some 9,000 years earlier. Bronze Age swords dating from around 800AD have also been discovered, while the ruins of 18th-century lime kilns point to an industrial past before the island eventually passed to its current owners.
The Gully family live on nearby Seil, running Shuna as a low-impact holiday business, alongside sheep grazing and fish farming. On arrival, you're met by the island's resident caretakers, Rob and Kathryn James. A full briefing on island life, including how to operate your boat, is given the following morning.
Messing about in boats
This is a holiday that actively encourages children to get back to nature. As well as rockpooling, crabbing and otter spotting, you'll need to collect firewood, refine your stone-skimming skills, synchronise with the tides and become an avid weather watcher. After checking the daily forecast posted in the boathouse, you can plan your own boat trips, exploring the seas around Shuna and neighbouring islands.
Pottering past the rocky shoreline, the water is often so clear you can see kelp swirling several metres below you. Compass, lion's mane and moon jellyfish gently pulse through the calm shallows of sheltered bays – and you may also spot the closely related comb jelly. Look carefully at this cylindrical, almost transparent ctenophore and you may notice multicoloured ripples of bioluminescence flickering along the sides of its body. Tie up on a skerry at low tide and you'll find rockpools twitching with hermit crabs and scattered with beadlet anemones, like rubies burst from a treasure chest.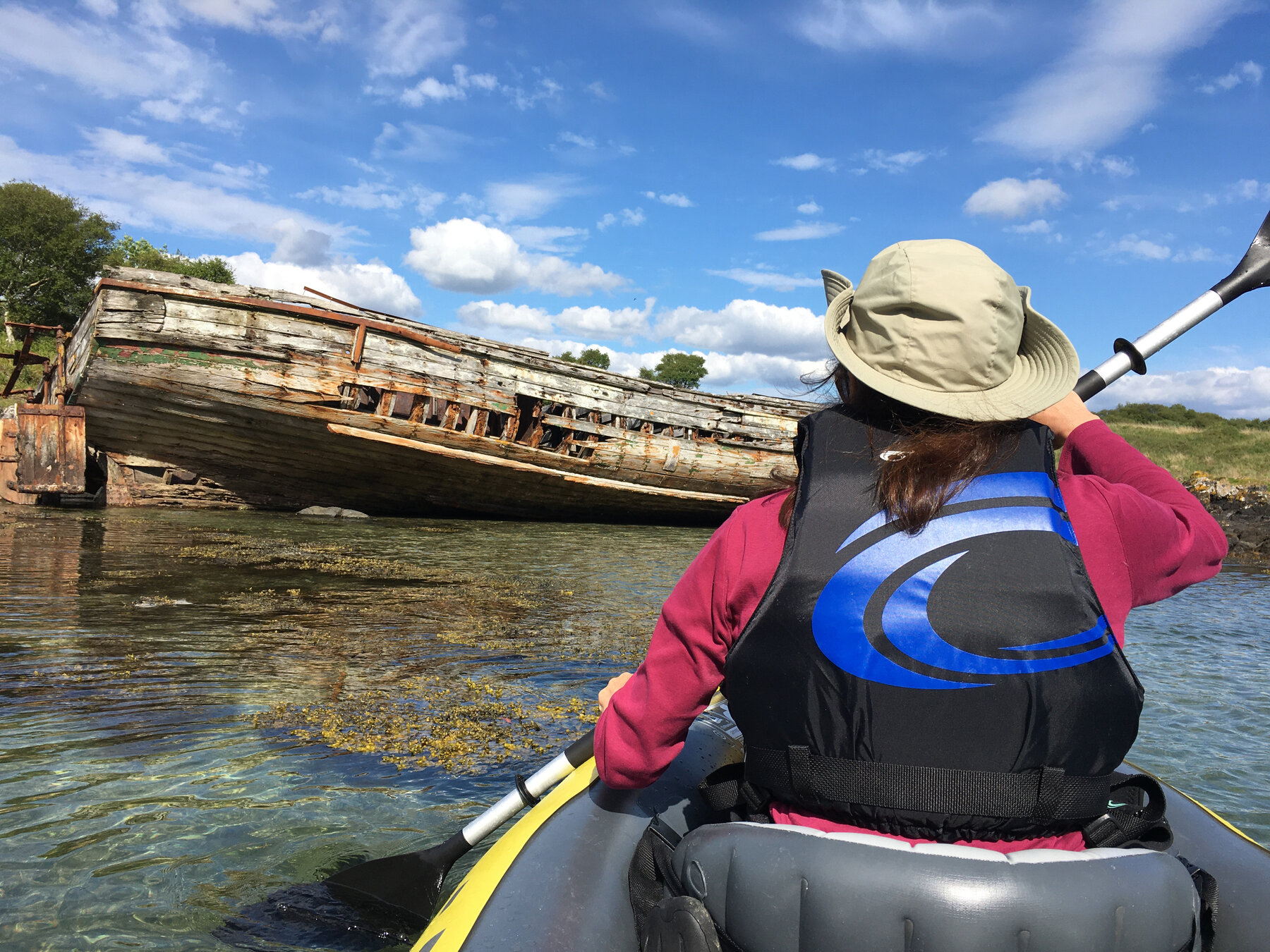 Oystercatchers, sandpipers, gulls, jackdaws and hooded crows are commonly seen foraging along the coast, but keep casting your gaze skywards for a chance to spot a white-tailed eagle soaring over the island.
Boat excursions can sometimes become impromptu whale-watching trips. Heading south along the Sound of Shuna, we encountered a pod of five harbour porpoises, their backs arching briefly above the surface. If you're lucky enough to spot cetaceans, always remember to slow down, maintain a constant speed and observe them from a distance of at least 100m. Never steer straight towards them or attempt to follow a pod. Don't get carried away either… the seas beyond the southern tip of Shuna's neighbouring island of Luing are a submarine training zone and strictly out-of-bounds to Shuna boats.
Kayaking and hiking
Paddling one of Shuna's sit-on kayaks north from the harbour takes you to a series of beautiful coves: black rocks daubed with rust-coloured Xanthoria lichen and a pink fuzz of thrift. Drift silently and you might encounter fallow deer browsing along the edge of the island's wild wood of twisted birches and moss-draped oaks. In Lime Kiln Bay, the wreck of the Maid of Luing lies high and dry, the timbers of the 1950s turntable car ferry split and flaking; rusty nails studding her wooden beams and deck boards.
You can also hike to the shipwreck, bushwacking through bracken and bog myrtle, before coasteering along the shoreline back to the harbour. A less challenging option is to follow Shuna's M1 walking trail – a 5km return hike between the harbour and South Bay.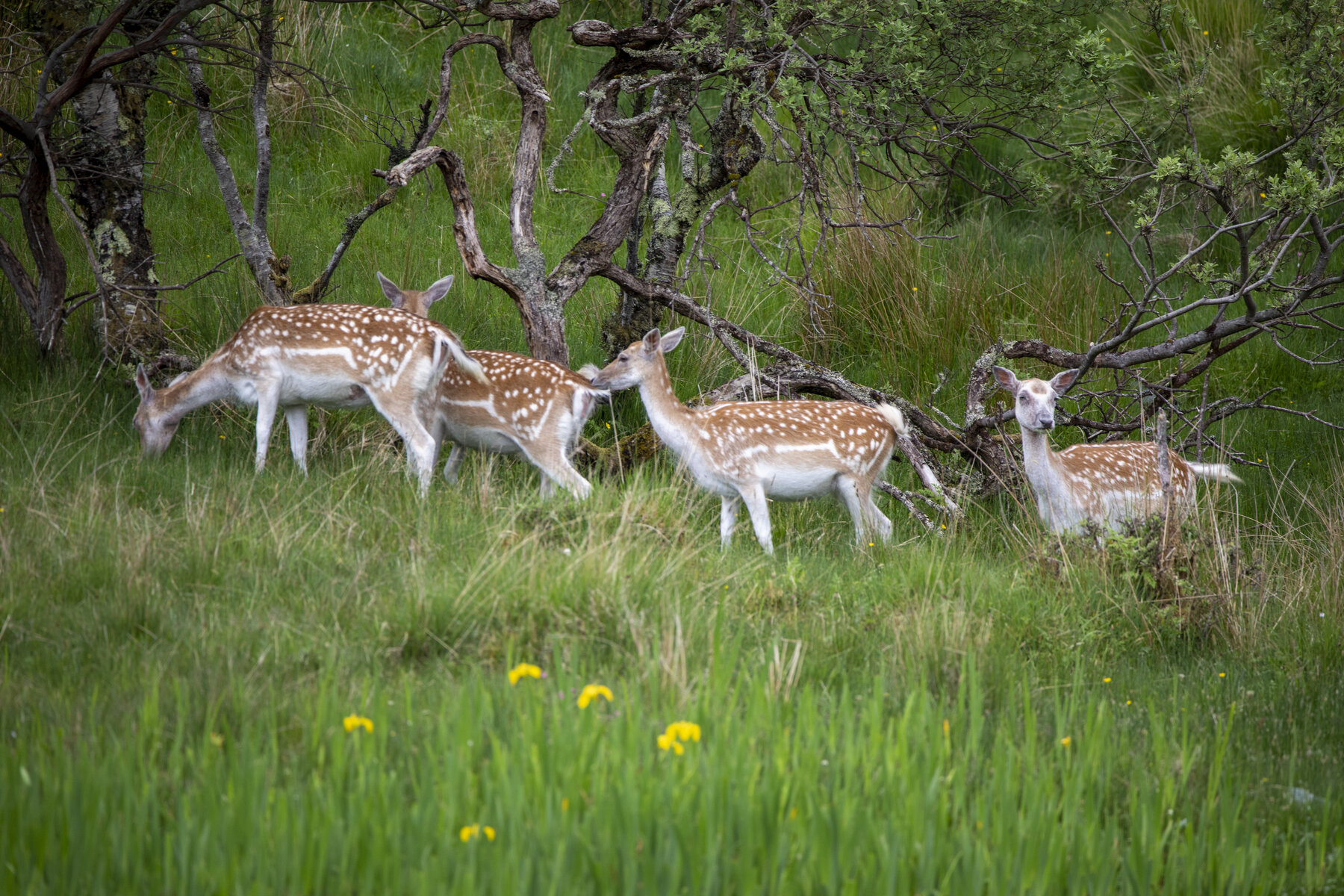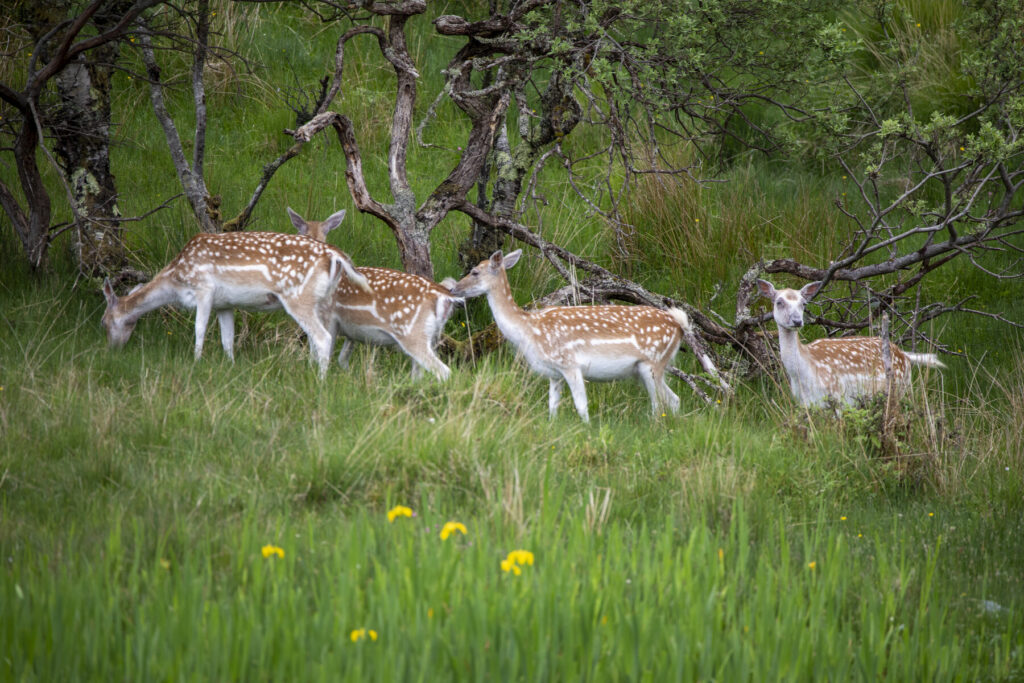 The track climbs through woodland before straddling the island's grassy interior, where skylark song fills the air and large red damselflies flash like sparks above peaty pools. After passing Stone Age and Bronze Age burial mounds, you reach South Bay, a lone cottage facing Jura and the Atlantic beyond.
The path fizzles out, but follow the shoreline a little further south and you'll find damp grassland stippled with ragged robin, its pink, frayed petals tusselled by the ocean breeze. Quivering spikes of northern marsh orchid add darker splashes of magenta, contrasting with the yellow slipper-shaped flowers of bird's-foot trefoil – a riot of summer colour matched by Shuna's equally mesmerising rockpools.
Practicalities
Located between the island of Luing and the mainland settlement of Craobh Haven, the 400-hectare Isle of Shuna is accessed by boat from Arduaine Pier, 30km south of Oban on the A816.
Shuna has seven holiday cottages, including Boat House (a luxury apartment for six with views of the harbour), Birchwood (an idyllic two- bedroom cottage with a deck overlooking a rocky cove), Garden Cottage (located next to the old walled gardens of the castle), Oakwood Cottage (sleeping ten and with its own track leading to a sheltered bay) and South End House (a secluded five-bedroom property with stunning views towards Jura). All have electricity (from the island's solar panels and small wind turbine), wood-burning stove, gas-powered fridge-freezer and filtered spring water.
A 5m-long assault craft with outboard engine is provided with each cottage – no previous boating experience is required and you are given a full briefing on reefs, safe routes etc. Sea kayaks are also available. You need to bring all your food and supplies with you (the nearest supermarket is in Oban) and be ready for collection at Arduaine on changeover days. Cars can be parked nearby while you are on Shuna.
---
More information
The above adventure was taken from William Gray's book Family Wildlife Adventures. For more like this, order your copy now: