Ludlow is a town that has enjoyed its fair share of praise over the years. Sir John Betjeman in 1951 described it as 'probably the loveliest town in England', while Henry James in 1884 imagined it a place where 'Miss Burney's and Miss Austen's heroines might perfectly well have had their first love affair'.
Indeed, Ludlow is picturesque, with a majestic church, castle ruins, rivers and bridges and around 500 listed buildings. This is an affluent town, founded on wool and cloth, which was by the 16th century a major administrative centre governing Wales and Shropshire's border counties.
Some of its medieval defensive walls remain and one of its seven gateways (Broad Gate on Silk Mill Lane) is complete with drum towers and portcullis arch. Naturally, handsome inns and well-to-do houses grew up here too. The Feathers Hotel on Bull Ring, the very model of a black-and-white Jacobean coaching inn, is one of the most photographed hotels in England.
But the beauty of Ludlow runs deeper than stone, water and history. Today many people make concerted efforts to protect and nurture what makes this market town unique, in order to improve the quality of life in Ludlow and beyond. Organisations such as Slow Food Ludlow Marches, Ludlow Farmshop and Local to Ludlow share the belief that supporting local suppliers, artisan producers and traditional skills are the secrets to a thriving town.
For more information, see Marie Kreft's guide to Shropshire.
The best things to see and do in Ludlow
Ludlow Castle
It's impossible to miss this Norman castle, described by Daniel Defoe as 'very perfection of decay'. The outer bailey encompasses almost four acres, while the inner bailey, protected by a thick curtain wall, includes four flanking towers and the surviving circular nave of the chapel of St Mary Magdalene. On a quiet day you won't have to work your imagination too hard to populate the courtyards with people, relight the fireplaces, and hang the chambers with bright tapestries.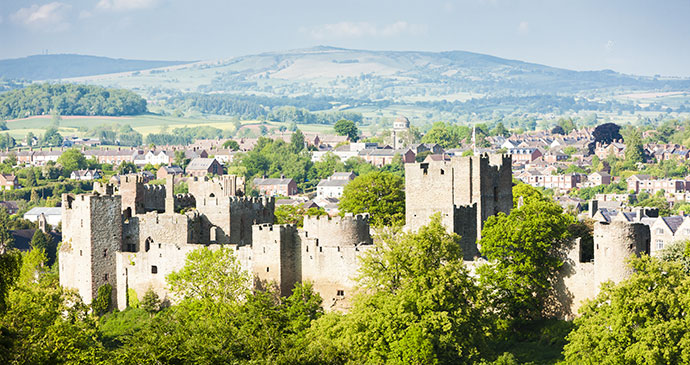 The castle began life in the late 11th century as the border stronghold of marcher lord Roger de Lacy and was enlarged by Roger Mortimer in the 14th century, becoming a magnificent palace. The walls withstood the War of the Roses, were home to the two sons of Edward IV and to this day keep the secrets of the honeymoon of 15-year-old Prince Arthur and his bride, Catherine of Aragon. Mary Tudor, who would later be Queen of England, spent three winters at Ludlow Castle, while in 1634 it provided the stage for the earliest performance of John Milton's court masque Comus.
The markets
At any time of year, you can enjoy the produce of the region and support local businesses by shopping at Ludlow's markets: one takes place in Castle Square on most days except Tuesday. General markets are on Monday, Wednesday, Friday and Saturday. Ludlow Local Produce Market is on the second and fourth Thursday of the month, showcasing food and drink produced within 30 miles of the town.
You can find out more at Local to Ludlow, or call into Local to Ludlow's HQ on Castle Square, which also functions as a small shop and café. Antique and flea markets are every first and third Sunday. Other craft, local food and antique markets are held on the days in between.
Whitcliffe Common
Cross the river via Dinham Bridge behind Ludlow Castle and you'll find yourself with 52 tranquil acres of Whitcliffe Common to explore – the remains of a much larger medieval common used for gathering hay, firewood, brushwood and stone, and for grazing livestock. Like the rest of geologically blessed Shropshire, Whitcliffe's story is millions of years older, having once lain under a shallow tropical sea.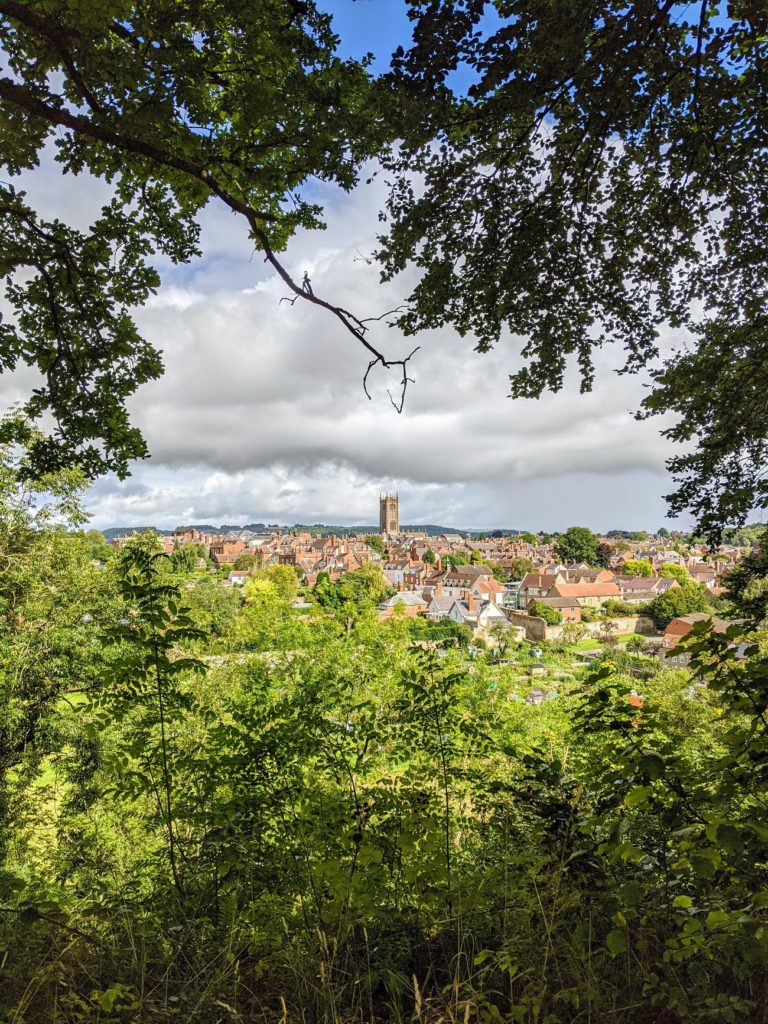 If your visit falls in autumn, you may see migrating salmon leaping upstream over the weirs of Mill Street and Dinham Mill. You might spot dippers, grey wagtails or kingfishers in the river too, alongside the occasional wild-swimming human.
Several routes run through Whitcliffe Common, outlined on interpretive boards. A popular option is the riverside Breadwalk to Ludford Bridge, so called because the labourers hired to lay out the path in the 1850s were paid (at least in part) in bread rather than coins to ensure their families benefited, and not the nearby hostelries. You can also pick up the Mortimer Trail through the woods, a 30-mile waymarked footpath from Ludlow to Kington in Herefordshire.
Ludlow Farmshop
You can't miss Ludlow Farmshop as you pass through Bromfield on the A49. Formerly known as Ludlow Food Centre, this shopping and eating hub on the Earl of Plymouth's Oakly Park Estate brings together farming, food production and retail to create a destination stop for sampling the region's fine food.
Around 80% of stock comes from Shropshire and surrounding counties, with beef, lamb, venison and Gloucester Old Spot pork originating at Oakly Park itself. Occasionally you can buy fruits and vegetables grown in Lady Windsor's walled garden, less than a mile away. Ludlow Farmshop is committed to preserving artisan skills too, and through production kitchen windows you can see bakers, cheesemakers, butchers and chefs at work.
Elsewhere in the area
The Land of Lost Content
Just down the road in Craven Arms, this ode to British popular culture is an absolute gem, packed with floor-to-ceiling memorabilia from ordinary British life over the past 100 years. Distilled in a broken doll; a packet for a discontinued sweet; the mocked-up trousseaus of pre- and post-war brides (seemingly filled with equal parts hope and nylon) is the powerful sense that the world changes, tastes change, children grow out of their toys, grow up and grow old.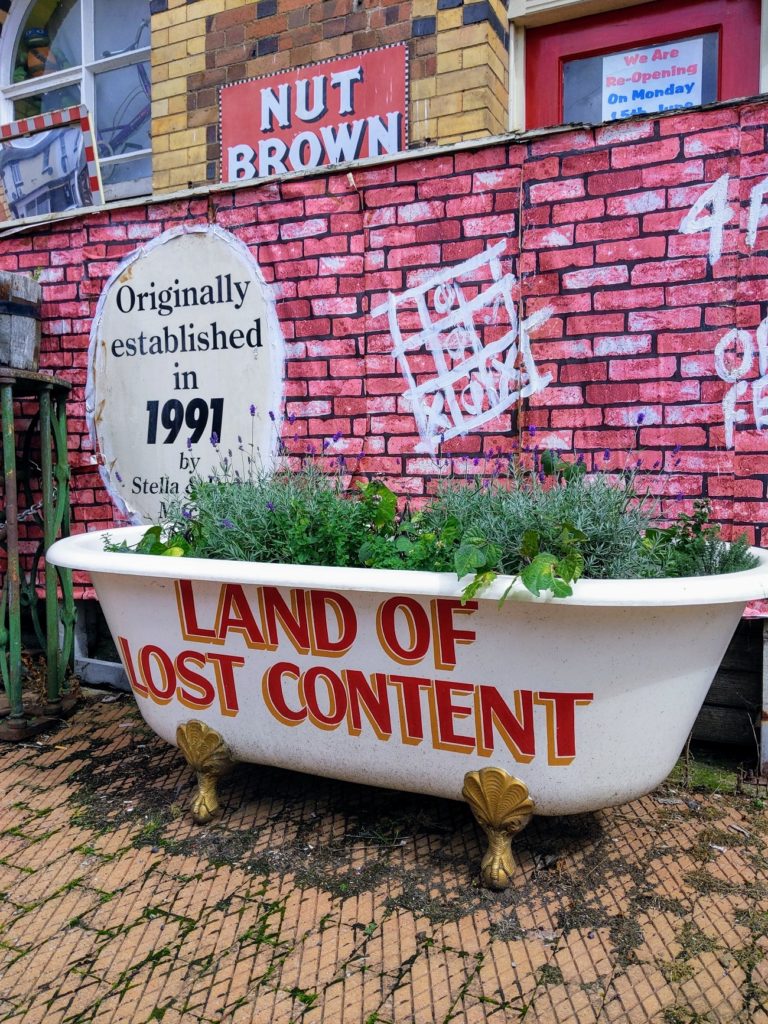 Curator Stella Mitchell borrowed the museum's name from A E Housman's elegy to the past. She and her husband Dave built the collection from scratch without funding, and have kept the museum going on 'a web of shoestrings'. Look out for Stella's handwritten museum notes which manage to be simultaneously literary, reflective and cynical.
Stokesay Castle
Between Ludlow and Craven Arms in the wooded valley of the River Onny is the village of Stokesay. It's a fittingly pretty setting for Stokesay 'Castle' – less romantically but more accurately described as a fortified medieval manor house. Built in the late 13th century by a wool merchant, Laurence of Ludlow, it is the best preserved and probably most magnificent example of its kind of England, having never been remodelled – only conserved – by later generations.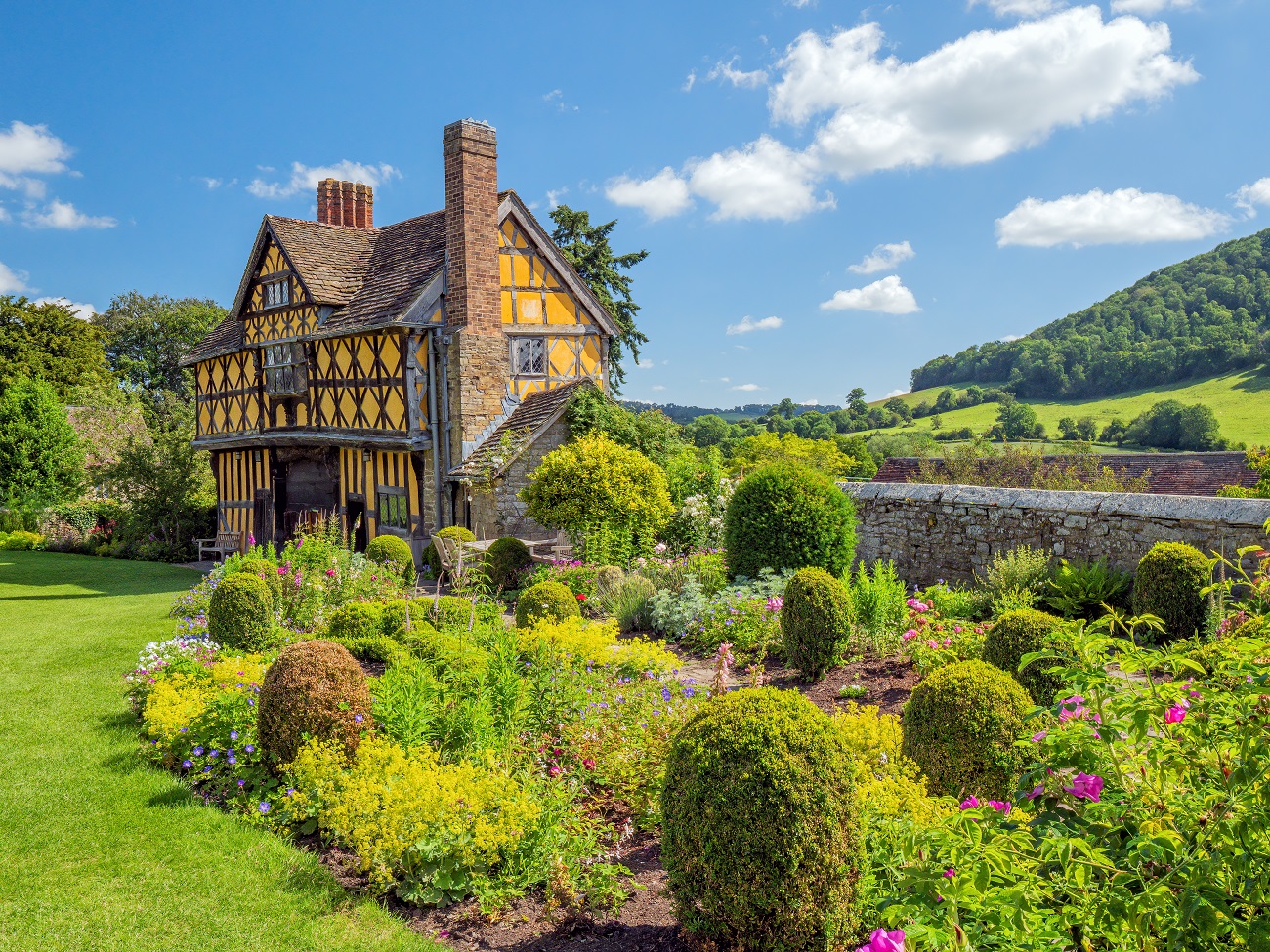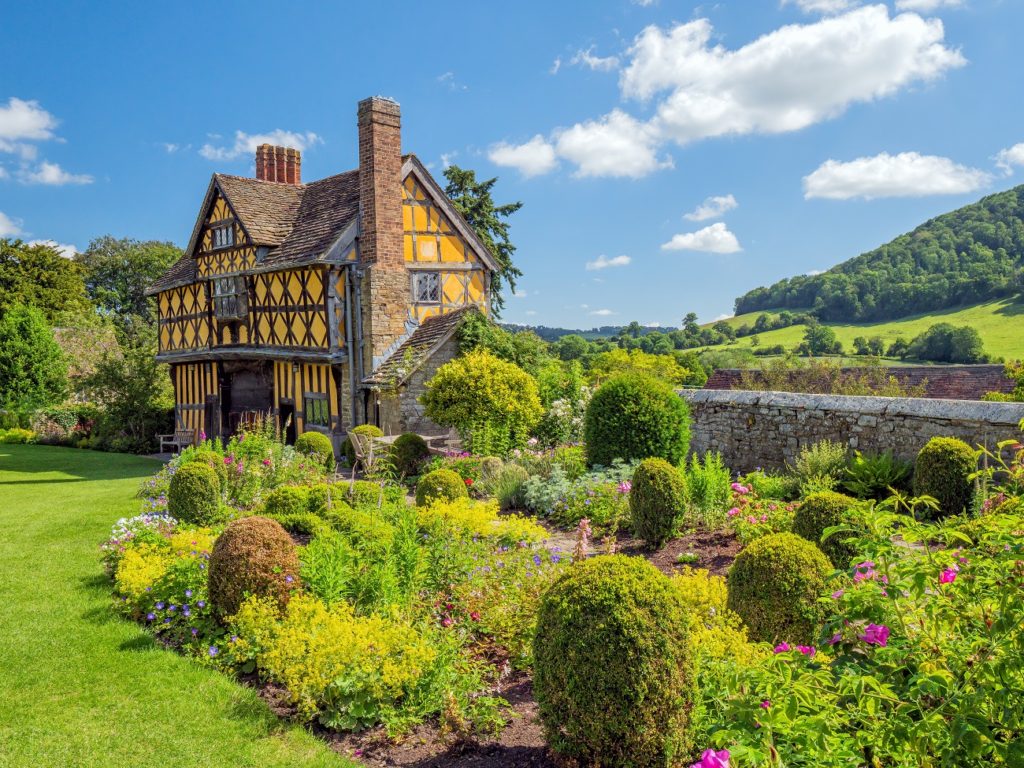 The property is small in scale so you won't need hours to view it, but you can stretch out your visit in the tea room, which has both outdoor seating and an indoor log burner, and serves Shropshire fare including fidget pie.
Flounders' Folly
A waymarked walk you can take from Shropshire Hills Discovery Centre is to Flounders' Folly on Callow Hill. This stone tower was built in 1838 by an industrial entrepreneur from Yorkshire named Benjamin Flounders. Standing 80ft high the folly is visible for miles around – particularly from the A49 between Church Stretton and Craven Arms.
In the folly's heyday people could climb to the viewing platform on the castellated top via a wooden staircase. But around World War II it began falling into disrepair. The land changed hands several times (film star Julie Christie was owner for a while) and by the late 1980s it was deemed unsafe. The stones from the top were placed on the ground and Flounders' Folly was fenced off.
In 2001 The Flounders' Folly Trust bought the freehold of the tower and the land it stands on for £1 and secured funds to restore it. On days when the St George's flag is flying, the folly is open from 11.00, giving you the opportunity to ascend the 78 stairs for a 360-degree view over south Shropshire and beyond.
The Long Mynd
In Welsh myndd means 'bare mountain', which is misleading here as Shropshire's Long Mynd is officially moorland: a wild, sweeping moorland plateau running for around ten miles, covering almost 6,000 heather-tufted acres and rising to 1,700ft above sea level.
The Long Mynd is clearly waymarked and not half as dangerous as it sounds, as long as you tackle it in fair weather. The ridge is flat with pleasant walking conditions: you'll see ponies and sheep grazing in the heather and bracken as you make your way over the grit and shale upland. The Long Mynd is easily accessible from Carding Mill Valley and Church Stretton. You can also drive over it via the single-track Burway, but with a gradient of one in five at times and a sheer drop at your side, it's safer and more fun on foot, horseback or bike.
Where to stay in Ludlow
Ludlow is well catered for when it comes to hotels and B&Bs, but our pick of the bunch has to be The Queens. This family-run pub, just a stone's throw from the High Street, offers three self-catering apartments set in converted outbuildings in a private courtyard at the back of the property.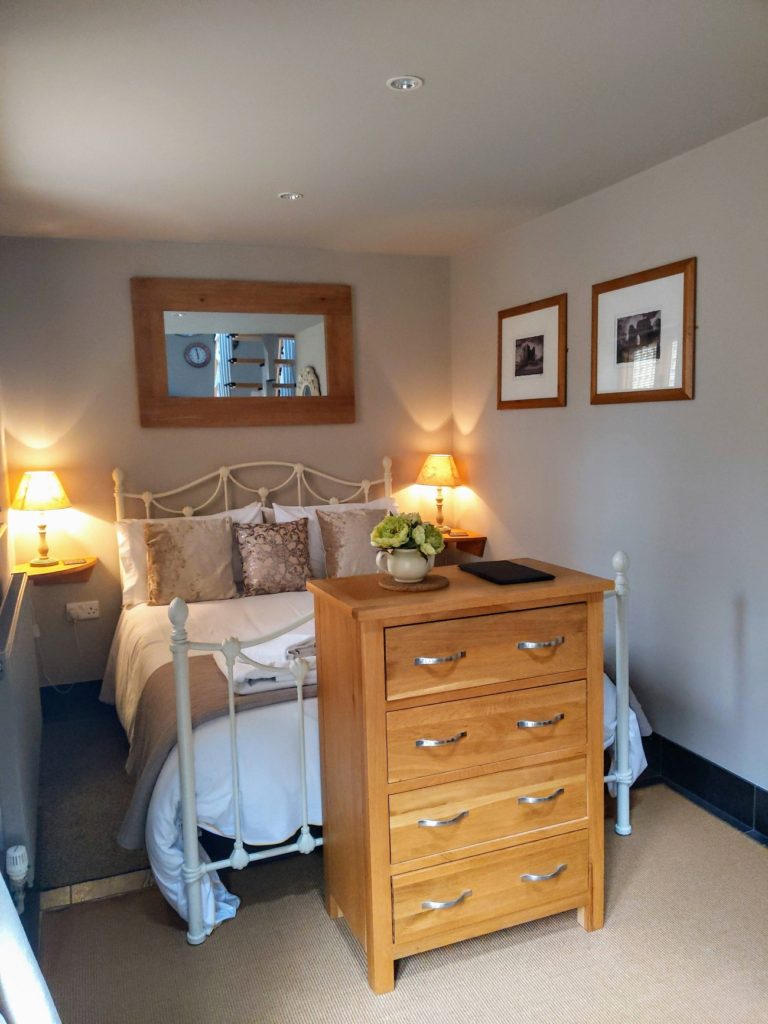 We were blown away by the warmth and detail of the apartments. Each is fitted to the highest standard, there were little touches like fresh flowers and chocolate treats, and even a little terrace on which we enjoyed our morning coffee. Breakfast is served in the form of a voucher for a nearby cafe, but lunch and dinner can be enjoyed in the wonderful pub – think traditional fare like fish and chips served (artistically!) in newspaper.
Indefatigable owner Jane Vaughan is an absolutely fantastic front of house, and really went above and beyond to ensure we had a pleasant stay.
Travel to Ludlow
Ludlow station is half a mile northwest of the town centre, on Station Drive. It's on the Welsh Marches line between Shrewsbury and Hereford, with connections from Manchester, Cardiff, Chester and the north Wales coast. One to two trains run every hour in each direction from Monday to Saturday.
If you're driving it's worth knowing about the cheap and frequent park and ride scheme from Ludlow Eco Business Park just off the A49 (use SY8 1ES or follow signs from the main approaches into Ludlow), which will drop you off by Ludlow Assembly Rooms. Once you arrive, you'll find Ludlow to be a compact town, ideal for exploring on foot.
---